Instagram for Windows 10 Mobile grabs new Stories feature in latest update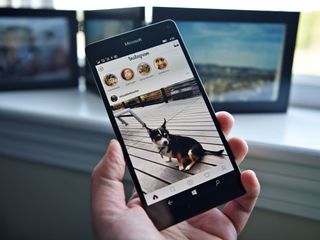 Instagram users on Windows 10 Mobile can rejoice as Instagram has been updated to 9.575.8218 and with comes the new Stories feature.
Stories from Instagram was announced on August 2 making this a nearly four-week turnaround before Windows 10 Mobile grabbed the feature. Stories has been compared to Snapchat's Stories right down to the same options like on-screen drawing, serial videos, and disappearing content (after 24-hours).
After the update and first launch users may need to relaunch the Instagram app to see the Stories feature, which lives in the main feed near the top.
It is not clear if other optimizations and fixes are included with the Instagramupdate, but we'll keep an eye out.
Download Instagram from the Windows Store (opens in new tab)
Daniel Rubino is the Executive Editor of Windows Central, head reviewer, podcast co-host, and analyst. He has been covering Microsoft here since 2007, back when this site was called WMExperts (and later Windows Phone Central). His interests include Windows, Microsoft Surface, laptops, next-gen computing, and arguing with people on the internet.
Next up...Facebook Live...I hope

I had that live feature for like 1 time when i opened Facebook but looks like it disappeared...

For me Facebook opened once and has been crashing since.

Sorry to hear that. Works well here.

The one time it opened, i really liked it. Especially viewing videos. It used to open within the app unlike before.

Try moving it to Phone Storage thats what i did and it doesnt crush but ofc it eats 500 mb (nearly)

We also need news feed from the new Facebook app to show up in the people app/hub

That was available for 8.1 I think

I think Facebook Live support is there in the app

I can view other people's Live feeds in the app, but not make my own unfortunately

The whole concept of OneCore and UWP works a treat, always good to see

Instagram is not a UWP, it is built on Osmeta which facebook bought.

I know that, point is would they bother without Windows 10 Desktop actually making a legitimate case for the platform as a whole?

Osmeta not works that well I think. They really having hard time to port a app. Beta stage takes about 1-2 months. Why beta? Just release it. And that black bar on top. I wish they make that app with Islandwood

I wish they would switch to Xamarin, it's by far the best framework out there. Betas are important though, to get feedback from a limited set of users really helps to improve everything long term, it also means we get access to apps a lot earlier than we normally would.

I don't think these osmeta ported apps work that well either. there's something to be said about the slow initial load time for all these Facebook apps. Also, i've experienced issues with touch input where touch stops working for only Facebook apps (facebook's own FB app, instagram, messenger). Touch would work fine in any other app and the os of course. Even force closing the app doesn't fix it. It requires a reboot to get those apps to work again.

I've run into that issue many times too, quite annoying but luckily I don't really use Facebook much at all

Also, sometimes auto suggest doesn't work in the FB app. Strange issues but hopfully they'll be fixed.

It's most likely down to the code optimisation. For instance the messenger app worked decentl (interms of responsiveness - compared to now) on the threshold, well for me any way. Now it's just bleugh...sometimes my IMs get chopped into several segments and in a large group that occurs constantly.

Yeah once you get that glitch on one FB app it affects the others, which is a very weird bug, I hope they finally polish this apps with almost no bugs or that we don't notice them at least

Yes I too have that issue. Don't know when they will fix that. I generally don't care about crashes but this app crashes so many times and sometimes while posting something the crashes are very frustating.

I couldn't upload video with it on my 950XL, gallery takes long to load, and sometimes app won't respond to touch. I agree it doesn't work well. Posted via the Windows Central App for Android

Always good to see this kind of updates

Wow...unprecedented support for a Windows app. Awesome to see....platform is hitting its groove after the anniversary update.

Loading the image is a lot faster and the loading animation circle is smaller now.

And crashing on startup, well done

Reinstalling fixes it, now works great!!!

++ if you use FB, now it works great with the new fb app!

What do you mean works great with the fb app

when you choose to sign in via fb it opens the app

Crashed for me too. Sad to see you get downvoted for making an observation in the comments.

A phone restart after the update fixed mine. :-)
- Lumia 640XL user here

Great to see new features arriving quite quickly... These ported apps (IG, FB, Messenger) are SO unstable and often unresponsive/slow on my 950 though. Something isn't quite right about any of them...

I have to agree with you on the Facebook app from.facebook is slow buggy and scrolling is horrible which is why I am.still.using the Microsoft version but the new Instagram app is great.

Of the three, Messenger is most reliable for me. Instagram is like scrolling through treacle for some reason and the new stories just crash when I try and add/edit text on an image... It's great that they're making the effort to get them ported over, and so relatively quickly, but the quality just isn't right just yet.

Exactly. I don't know why Instagram has such clunky scrolling. And FB crashes the first time I try to open it every time and then takes 25 seconds to launch the next time. Whole process takes a full minute. Messenger is slow to load, but works great.

Sounds like we're having the same experience. Glad they're all works in progress though.

Instagram and Facebook are the best for me. Messenger is unusable. Facebook and ig is smooth. Using the beta version of fb though

Seems they've created quite an inconsistent experience for everyone then!

FB Beta.. I've install/uninstall numerous times.. It just freezes after launch... (on L1520).. I use Edge now..

All apps are reliable for me on the 950xl anniversary release production. The only thing about facebook/messenger is that they initially take a bit of time to load. Once loaded though they just stay in memory and i use task switcher and works fine for me.

Well hopefully the people complaining about not having snap chat will stop. We have the clone now. Lol

Other than the fact that Instagram pictures/stories don't disappear.

Oh, well I stand corrected then.

stories do not apear to me... i've uninstall and install again, close the app, open again, made a soft reset and nothing

Fantastic to see, just updated and works really well.

It's nice to see features coming up, but Instagram takes up 400 mb on my phone. I believe it's cached data but I don't know how to erase it..anyone?

Delete the app and install it again. That's the only way.

All these ported apps taking huge amount of space in the phone. But have no choice to accept it and use.

Off topic but office lens got updated too

This update is MUCH MUCH faster than it used to be and they got rid of the stupid suggested people crap. I like it!

Actually they moved that suggested people menu to your profile, check it out. And yes its really useless. I mean I set my profile to private and I really dont want some people to find me lol.

This is a great update... Now lets get that Facebook Live on mobile update.

I appreciate all the new features that coming to the Instagram app but I really do want to allow Insta pushing the notifications as the battery saver is on. There is no options for that under the app in the settings.

That's an option in battery saver. You can allow the app to run in the background even when battery saver is on.

Actually there is no options to allow the insta app specifically.
This is a screenshot for what it shows me when I tap on the app to allow it..
http://m.ctrlv.in/834766

But are you able to allow it as the battery saver is on ? I just want to know is it just me or everyone..

My phone displays an option to "always allow in the background".

So I consider then to reinstall the OS once again and see if its fixed because I dont think that's the app bug.. Anyway thanks mate.

now all we need is that Facebook Live and Messenger Video calling.....FB get your game up SAANN

the stories thing is not aprearing to me on my 950 or 930, i heaven re install it... am i doing something wrong???

I had to uninstall, reinstall, open the app, close the app, then open it again and there it was.

i´ve done that... nothing new... even made a soft reset and nothing

About damn time. I almost thought they left us in the dirt again :(

So excited. Finally I can watch stories on any phone I use!

So Instagram has a new feature called stories and your only description of what it does is to say it's the same as the stories feature in Snapchat. Not very helpful for people who don't have Snapchat, i.e. everyone on Windows Phone.

i looked it up on youtube theres a pretty nice video explaining how everything works, but our app isn't quite as fluent.

Paypal for WP8.1 is gone. Did I miss that article? Anyway, I'm happy for you Instagram users finally getting a bone thrown your way.

My wife doesn't even have this update on her IPhone. Very nice.

She probably hasn't updated, I have had stories on my iPhone for weeks now.

An update is an update, especially with big new features, I think it's great to see !!!

My app now don't open after update..

Make them interactive both messenger, fb, twitter whatsapp, and Instagram

I notice it closes faster now. It used to take long to close after pressing the back button.

Very nice of Facebook. Now the ball is on Rudy Huyn's side of the court. 6tag deserves a long due update.
Btw, the desktop app Instapic (or is it UWP) supports stories since a couple of weeks ago.

Is it "definitely' better than 6TAG now, IYHO? (I'm an extremely light user of Instagram) Thank-you.

It's great to finally see this feature come to Windows Phone... But I've found it to be unstable when trying to size emoji's or sometimes even scrolling. Also, after doing a little research on it, being on android phones... We are also missing the flash button feature on the front face camera.

crashes everytime i try to post video to my story

These are changes that I see in this update, the background when viewing a pop-up photo being dark, everything becomes faster, swipe to the right to stories and to the left for dm in the home feed, notification at the following tabs in the love tab being unlimited, love to see this new update! :D

Crashing on startup since updated. It works fine for my brother if moved to internal memory, but I don't want to move it there.

I have an 950 XL ... I have Instagram installed on my internal hard drive and it still crash sometimes when I try using certain features for IG Stories

Stories really? Where the hell is my DTTW Firmware update? Lol.

You're barking up the wrong tree. Facebook doesn't handle windows mobile firmware updates...

In all honesty I'd prefer feature updates over optimization updates any day. At least we are now in parity with all other platforms' Instagram apps meaning it's one less sleight against Windows Mobile. Besides, performance will come with time. I have faith in Facebook. Compared to other major Devs, they've been damn good about getting their apps out.

I'm not getting the update yet. weird

Ok just got the update. Crashes a lot. Can't take pic for stories, does not register. And only able to take video, when trying to post, crashes. Although it's great to be able to see others stories. Hopefully more updates to fix issues soon.

The new version is more bugging that the last one

updated an now the app wont open. 950 on 14393. Nice try FB... Back to 6Tag.

Uninstall, reboot phone, and reinstall.

It was crashing at the start.. So as u said.. I uninstalled, rebooted and now i cant reinstall (error 8007139F)
Tried soft reset but couldn't help it..
So from 'Crashing instagram' it went to 'No instagram'..
Thank u so much, mate.. Edit: Got it installed. It works now. But need to see a 'stories' video on youtube first.

I'm sorry. That's not the experience I had, although the store does have issues from time to time. Try again in a few hours. If it still won't, they may be pushing a break fix update out. Or you can try 6tag.

I want the status bar to removed(like MSN News) when using Instagram. It looks ugly now.

Well, at least the status bar should turn into white from black when using Instagram as Instagram is of light theme.

I can confirm the update is real. I needed to uninstall, reboot, and reinstall for it to not crash at boot though. Good to go now. I like the status bar though so I can monitor my battery and the time as I browse through peoples posts. Thanks for finally adding that Facebook.

Very nice update. Scrolling has improved and so is the performance. Also like the black preview background introduced in this update

Since the update I can't open Instagram it does the open then close bid....

I cant open it after the update. Lumia 640. Did a soft reset, but still unable to open it.

Yes. I'm seeing many reviews on Store. Works fine on my device. I reinstalled the app.

Install it to the device memory

Works on my 950 XL. So now you can swipe left for direct message, swipe right for Stories. Updates are cool!

I'm using Lumia 535 and the OS is 8.1. My instragram installed in phone memory. But when open this app it force to close.
Please help.

This is not for windows 8.1

Dude Upgrade to Windows 10 now! Download Upgrade Advisor App from store and check for updates. L535 supports Windows 10 upgrade and runs RS1 perfectly. There is no sense to be on 8.1

I use both Instagram and 6tag. Good news is that 6tag UWP is near completion(around 98%). Waiting for the 6tag App too!

Anyone opened the app with Continuum?

Yep, and it's unusable. It's rotated 90 degrees and only on half of screen. This is the case with all the FB Osmeta apps. On phone the app is not aware of the Continuum 'bar' at top of screen and is slightly obscured by it. Pity.

Just updated the app. But there's no sign of stories anywhere here.

I also had tried to uninstale and still no sign of the stories, maybe it will come later, I hope Posted via the Windows Central App for Android

It's available. Try reinstalling. It will show up.

U have to close the app the reopen it to get it to show the stories after u update it

Yes, it is working now, thanks you all!

i have the same problem... no stories

THANK YOU!! LOVE INSTAGRAM IN WIN10M!!!!

Everytime i see a post at WC about an update i get so excited i just jump to store without checking the comments and update the thing as flash-quick as possible but then i realize that i let the bugs download into my mobile and **** everything..

I didn't realize we had this app...was using 6tag forever....

What's the point of this new feature we can't use it ' it crashes every time I uninstalled and reinstall same result.

I use InstaPic on pc, it's kinda amusing that an unofficial app allows downloading of pictures, which none of the official mobile apps allow. Posted via the Windows Central App for Android

Because that's unofficial app. 6tag on Mobile do that too.

Mine couldn't open after update & even after soft reset. I had to uninstall then reinstall, now ok. Lumia 640.

6tag please support this feature!
cc: Rudy Huyn

Finally working after uninstalled and reinstalled and turning the phone off and on. Working now woo hoo .

Video uploading is not working, app crashes after press the share button on Lumia 650.

Hi Snapchat, in your comicy ghosty face!

Uploading pics from last 24hrs feature not working

After the recent update, it crashes when I push the share photo button on my 950 XL

Fortunately for me, I did get it to work.
Windows Central Newsletter
Get the best of Windows Central in in your inbox, every day!
Thank you for signing up to Windows Central. You will receive a verification email shortly.
There was a problem. Please refresh the page and try again.