Intel's Compute Stick is a tiny $149 PC with Windows 8.1, set to arrive in March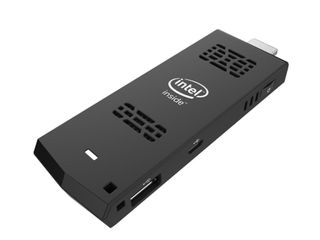 Would you like to have a full Windows 8.1 PC that can be held in your hand? Intel is showing off such a device during CES 2015 this week. The Intel Compute Stick is an upcoming HDMI dongle that's about the size of a Chromecast or Amazon Fire TV Stick that's due out in March for just $149 with Windows 8.1 with Bing installed.
Inside, the Intel Compute Stick will have an Atom Bay Trail processor with 2GB of RAM and 32GB of storage. It connects to a monitor or TV via the HDMI connector, but it also has a microSD card slot (for adding more storage, a regular USB port and a microUSB port that's intended to be the power connection for the PC.
Tom's Hardware reports that Intel eventually plans to release updated versions of the Compute Stick that would be powered directly from the HDMI port. Future versions could also have Intel chips based on their Cherry Trail and Core M processors.
Source: Intel, Tom's Hardware
Windows Central Newsletter
Get the best of Windows Central in in your inbox, every day!
You can get this one now with Windows, and Android❗
.................
http://rover.ebay.com/rover/1/711-53200-19255-0/1?ff3=4&pub=5575095911&t...

Do you just carry around a mini keyboard?

You should check out the PC remote app, they make the perfect couple

Have you ever heard touchscreen monitors ?

unless you dont need a keyboard

Not exactly the same thing but this is not bad for the price, http://m.gearbest.com/tv-box/pp_134110.html

@Kushki They also have the Meegopad T01 for 98.30 .

Only thing missing is the product key from what I remember hearing about these early versions of it in October. Wonder if w8 with bing is a standard preinstall key with its own cfg file if that's the case then we can see this probably being pirated

WHAT IS THIS WIZARDRY! AND HOW HAVE I NOT HEARD OF THIS! lol

The first line says: Wouldn't you like to have a full blown Windows 8.1 PC fit in your hand? I thought that was the idea behind wp10. Or, there about anyway. If we had OTG support, a proper BT stack, updated office apps, and Miracast that worked faithfully, we'd be pretty close.

Only thing missing is a portable power source

Power brick. We got that man.

Check amazon. You LL find the device u want for $100. Hint: It has a 3000mah battery

Me too, my parents really would like something like this as well. It's like WebTV Part Deux

This is why Windows phone should die and there should just be Windows 10, with a phone, in a pocketable form factor. Get to work, drop phone on Qi charger, wireless display, mouse and keyboard spring to life et voila, I'm at a PC. This is Microsoft's "value add"over Android.

That's still many years away from happening. Windows 10 may be the start of that convergence, but it's probably a couple more releases of Windows away from your vision. That's also assuming that it also gels with Microsoft's vision of the future. For all we know, Satya Nadella may be planning on ridding themselves of the remnants of the Nokia purchase and getting out of the hardware business.

eh? Windows 10 is most likely to be as converged as you'll get. It will have converged. They won't ever make a Windows 10 desktop / normal Windows edition run on a phone as you don't need the Desktop mode on a phone for example. The Nokia stuff, you're just massively and wildly speculating and FUDing.

this is been out for some quite some time, in the form of meegopad t01 with haha intel bay trail cpu and 32gb rom and 2gb at tabletland.com, got to said playing hearthstone on this baby is priceless on your tv, got it at tabletland.com

This is what I've been waiting for.

I'll wait for full specs but that would be something I would buy, if it gets sold at a reasonable price outsdie the US...

Now that's something actually very interesting.

Once we get our unified app platform with Windows 10 and this runs all the same apps as the Xbox One (official YouTube and Amazon Prime apps for example) this kind of device will be incredible and if they release a remote app for phone a brilliant media PC that's easily controlled in the same way a Roku stick or Chromecast is. Hopefully someone sees that at Microsoft and they actually do something exciting and consumer centric with it rather than just throw this randomly into the wind and see if anyone buys it without really knowing what it is or having any special features beyond it being USB sized Windows... There's a lot of potential here...

There already is a remote app on your phone for a PC...... You can use remote desktop to connect, or you can use mouse without borders as a trackpad / keyboard for your PC.....i already do this when I connect my SP3 to my tv.....its a bit clunky, but it works great. It could surely use some optimization, and be better integrated though

Oh yeah, that's there (and is pretty great) but it's hardly the nice easy consumer option they'd need. Fingers crossed they figure that out!

Do you really think they'll include Win 8.1 Professional on this device?

Include no (since it looks like it's Windows 8.1 with Bing), but it should be able to have Pro installed on it.

Pretty sure Xbox One apps wont just start miraculously working on Windows PC's with Windows 10, they'll still need modifying for different Windows platforms so I wouldn't hold my breath for any google or amazon apps being available on all Windows devices.

True, there'll have to be some modifications but I'm hopefuly MS will push for all new apps to be as universal as possible, especially media apps where they have uses across all major device types. But yeah, with Google and Amazon's stance on providing their Windows using customers a great native experience so far it's probably a bit farfeteched at this stage unfortunately.

I would love the ability to use legacy Adobe flash, like Android, to watch prime on the browser.

Yeah, but they still need to work on those apps. For which they need an incentive.

This is what I've been waiting for! Finally!

Wow... So here is where I plan to use it in regards to business: Projector computers in the conf rooms Replacing Wyse Thin clients in the production facilities Temporary replacement computers when we need to pull an end users computer/laptop for service Head unit for LCD Billboards throughout the facility (they run powerpoint slideshows)


Haha. What does that even mean?

Windows 8.1 with Bing is MS cheapest official version of Windows available for OEM's to use for practically nothing....
That's what it's called, "Windows 8.1 with Bing"
Where have you dudes been❓❓❓❓

Hiding under our phones, which are rocks compared with ios and Android regarding the attention they get!

Off topic, sorry
Lumia camera updated (classic)

Put these comments in the forums.

Just see the Lumia Camera update. Now requires Denim, but no love </3 for 930...

Anyone notice denim update just seemed to die of all of a sudden?

Isn't it supposed to have more releases on the 15th or 25th? I remember it had a 5 lol

Idk, just seems no one is talking about it and the phones that can use it (my effin 1520, effin is the new Lumia), don't have it in large numbers

Oh I'm not disagreeing with you. Itd be nice to have more news on it. I just think I remember reading that there was going to be another roll out on it. I'm eagerly awaiting it myself.

Oh, I know your not disagreeing, I just thought the lack of news was odd.

And once we can run apps from the SD Card on Windows 10 this gets even better!! I'll be getting one for my main tv. So awesome!

Technology is really evolving

I was reading some comments on the verge about Blu for Android, saying they spell the end of WP (morons, Blu make wp's)...i wanted to beat some as so bad, but I couldn't comment. Trust me, I've earned the name "permanently banned" lol.

Preorder please. Does it feature Bluetooth? That's pretty important with just one USB port.

You should update article mentioning - "802.11b/g/n, and also Bluetooth 4.0 support."

Ok so it does have support. Thats what I was going to ask. Awesome

well then, that just made it a must have for me. even if I only play with it

My wife runs the IT dept in a primary school. Buying 20 of these would be a great way to replace their current creaking desktop PCs. No mention of network connectivity in the article, but assume there is some?

Ah! Thanks. Just saw the post before mine mentioning connectivity.

I wouldn't buy these for a network environment. They're only running 8.1 with Bing and not 8.1 Professional which will be required to join a domain. (Little gotchas like this used to be the bane of my life when I supported primary schools, they'd rush out and buy stuff like this looking at CPU/RAM/HDD/Price but forget the OS version, it normally meant that the low cost of the unit was blown out the water when we then had to tell them they needed to purchase a new OS license). Hopefully there will be a pro version, as I now work in a college, and these would be ideal in a few rooms!!

I'm sure if she's in a Public School, they have Volume Licensing. With SCCM, it would just be a matter of imaging these little guys and finding a way to properly secure them (I don't see a Kensington lock unfortunately). I'm looking to see how we can implement them in my district.

Makes much more sense than some Amazon or Apple product that lets you only buy content from one source. And on this you get updates not like in those Android sticks or "smart" tvs that get outdated so fast. Some chinese manufactorers have devices like this with Windows already on the market.

Sounds very interesting and I'm surprised to see a full sized USB port on there too. Imagine plugging one of these into the side of an Xbox One. Xbox games and Windows apps all on the same screen.

Portable pc + 365. Or Lumia 1520.

Would be great to load vlc on it and stream home media too this is great.

Well that's stupid, needing a microusb cable dongling out of your usb dongle to power the usb dongle. That is so not ergonomic and doesnt improve a clutterfree experience. Why didnt they think of a design where the pc could be powered from the main usb or hdmi dongle. I could easily see the issue where I would have to fix this pc with tape to the tv because the gravity force with pull on the lengthy design and the microusb powercable with potentially pull the device down and influence the hdmi connection. Sigh.

This comment was actually so stupid that it was painful too read... How is it not ergonomic? That's a completely irrelevant concept considering you plug it into an HDMI port and leave it at that, out of sight: Out of mind. The Chromecast is also powered by Micro-USB, as are dozens of Miracast devices on the market, and I don't see any complaints of a widespread epidemic of them some how wearing out because of "gravity force" requiring the use of tape to be repaired. What are you getting at? This is actually a really neat little gizmo. The convenience of a Chromecast stick with the versatility of any Baytrail device. I could see home media server folks getting really hyped up about this, same with people who need a quick and dirty way to set up a computer to run the PowerPoint during a presentation.

Don't get me wrong the concept is okay, but when I look at the design picture it is flawed. If I understand the blog info this dongle could be plugged into the hdmi port of the tv. I presume that's the metal bit sticking out at the top of the picture. The blog text suggets that the machine then still does not work because you actually need a micro usb cable that has to be plugged into the side of this dongle and then you also probaly need a usb poweradapter, which is not standard all tv's. So you probably need a seperate usb poweradapter brick for the dongle only to plug into a wall outlet. That's sounds the start of more hardware clutter just to get such a small potential powerful stand alone device to work. Such a setup, with tv's quite a bit off the ground or on the wall, will add to the cable clutter. A microusbcable has some weight and in time will pull on the dongle. Such a dongle is usually plugged in horizontally. The momental force on the hdmi connection could loosen or bend the connection over time. It would be more logical if they made a dongle with a 90 degree angle built into the design so that the dongle and microusb connection at the back of the dongle, or even better a usb powercable built into the back of the dongle to be connected to make a more durable design, and makes the design less cable cluttered and improves the durability of the hdmi connection in line with sturdiness and less chance of things accidentally breaking over time. I would think with modern tvs that I would want less cable clutter. But the design of the pc dongle, if I understand correctly from the blog text and picture does not point in that direction. The idea is alright, but the execution seems flawed somehow. I don't mean it in a way that this product is rubbish, but I think more effort can be put in that some thought can be put inot logic of dureability in design and going as much cable clutter free and easier set up than what is currently presented. I'm speaking from experience with usb dongles that need an extra cable to power the device, instead of having the device power itself from the usb or hdmi socket that directly plugs into the tv or other device.

If you read the source article, you would have learned "An Intel spokesperson said that it would eventually be able to draw power over HDMI."

@dwigfor: I stand corrected. Thanks.

Intel has to make it MHL complaint and at least one of the HDMI ports of TV must support MHL. There are many TV's like Sony bravia which have MHL-HDMI ports. In such a case there is no need to power it from USB port of TV.

All very cool except price. How is it possible for HP to sell a 7" tablet for $100 and it includes a touch screen, battery, other sensors like accelerometer, etc. This new device appears to do less, cost more, and you have to supply the monitor. So $50-$75 yes. $150 no.

Then buy the Stream 7 and enjoy. Stop complaining online and vote with your wallet.

Sounds very interesting will have to wait for more details before I decide to buy.

Lets hope you do not have to turn this device on each time by reaching behind your tv and touching that little button.

Very true, that would quickly become a massive pain.

Cool, kind of like a tablet but smaller and no screen!

Therefore, nothing like a tablet.

I want it. I now a lot of things were it is a great system for. Now i work with the raspberry pi and that is Limited as You need a media player and this device can do that and is a full desktop. A bit like windows tv.

I wonder if you could run media centre on it and use a usb tv tuner, hmm...

You could, Maybe a small USB 3.0 Hub, 32gb is fine for the OS but, if your recording TV, you might get 2-3 shows on it. Things you would have to add, IR reciver (so you can use a remote), External HD (for recordedTV/Media or a 256gb USB drive maybe), and maybe a 4 tuner cable card tuner. Also dont forget about a keyboard and mouse (get a HTPC version 1 USB port) Assuming the video on this can output 1080p or higher. If done right, you could mount this to the back of a TV.... Would love to see someone try this, My Media Center PC is outputting 2160p for 4K video now, this is what am testing, with so far very impressive results...Not sure this device could handle 2160p @ 60hz...maybe

It's HDMI 1.4 so it can't do 2160p@60. Posted via the Windows Central App for Android

Nvidia supports 2160p @60hz over HDMI 1.4...my GTX750ti does

Is this better than those HP mini PCs that were announced the other day?

Well its cheaper and smaller than the HP ones so if you want it to plug into your tv, then yes, this is better. If you want to use it as an actual desktop PC, then the hp ones are probably better.

If it possible to plug into android tablet through otg? Sorry, sp3 is too expensive for me, but I wish to have a full blown windows tablet

im waiting for one with a cable and/or sat connection

I really wish if NVIDIA could collaborate with Intel and this $149 device could have a smaller version of 840m series GPU. A bit raise in price and size wouldn't matter much. And if this trend would continue, we could expect Alienware PC configuration on this device in the near future. Maybe? I like smaller devices but want hardware manufacturers try to make things more compact without sacrificing performance. It isn't impossible, is it?

Carry a PC in your pocket. Cool. I hope my new Windows 10 phone will have this capability considering it'll probably be $700. Really really hope so.

USB 3.0 ? Or 2.0 ? If 3.0 this could be epic.... Lots of stuff that can be done with it, even a whole DVR with Windows Media Center and a USB 3.0 hub....

http://c.dx.com/collection/201412/guleeki8/en/index.html?utm_source=yout... http://m.geekbuying.com/item/PIPO-X7-Windows-8-1-Smart-Mini-PC-TV-Box-Me... I'm just going to leave these here...

Whoa! If its 1tb memory its fabulous...

This will replace my jailbroken Apple TV, running Kodi(xbmc), Netflix app and adding native Windows media playback from my shared videos server not to mention a full Windows experience on the TV.

Shut up and take my money!!!! :-) Want one too!

this can definately save me money over buying/building a mini pc for my wife.

If only they hadnt killed Media Center, or will there be some kind of replacement in Windows 10?

I'm pretty sure they'll do sth like that fit windows 10 but we'll have to wait and see...

These PCs should come with Windows 8.1 Pro with Media Center preinstalled.

Exactly! Media Center Rules the big screen!!!

Definitely going to get it

Can Windows 8.1 with Bing be upgraded to Windows 8.1 Media Center!? :)

This is even faster and better than my first PC which had 1GB hard disk and 32 MB of RAM

I like this idea; I'm just trying to think why someone would use it? (I do like this concept though.)

I like this idea; I'm just wondering why someone would use/need it?

Wow...This is awesome for a media player....I'm guessing that USB port can power a wireless keyboard/mouse of some kind?

awesome! full-windows for just above the price of the OS!

I have read all of the specs for the stick. I run mostly Chrome, as I find it fills my needs. Once it is setup, this stick should be able to be run remotely from Chrome remote desk top. I presently run two Win7 computers from Chrome remote desk top. The stick would allow me to consolidate the two old Win7's, and an even older XP, into a much more efficient and portable machine. The only requirement would be power to the stick. No other physical connections should be necessary. This would give one a captive, licensed win8.1 computer in a Chrome environment. One should be able to go online from the stick if desired. No additional mouse, keyboard or monitor. I am running an HP Chromebook 14, into a 27 in monitor with wireless mouse and keyboard. This stick appeals to me in that it will allow running Win software for certain highly specific programs like geanalogy, and cartrige reloading. Any remote desktop program should be able to acomplish the same thing. I agree with Sibeans about the price

Nice Blog
Please visit
Intel Compute Stick Store Online
http://www.stickpcstore.com/brands/intel-compute-stick-windows-8-1-quad-...

Looks like this won't be out until a little later... I spoke to a specialist store that has indicated late April to early May: Intel Compute Stick. I'm looking forward to the 128GB storage support. My Hannspree only supports 64GB.

Legit question: will it qualify for the Windows 10 upgrade?

It should. Microsoft States that Windows 7 SP1, 8, and 8.1 devices will be eligible for a free upgrade to windows 10 in the first year. That would seem to me like it is eligible for the update.
Windows Central Newsletter
Thank you for signing up to Windows Central. You will receive a verification email shortly.
There was a problem. Please refresh the page and try again.