Intel RealSense SR300 review: Still the best Windows Hello webcam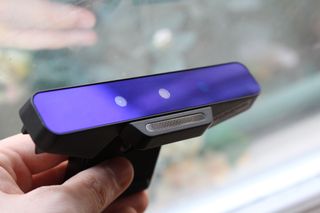 The Intel RealSense F200 was the first webcam to support Windows Hello that was readily available to the public. Although the F200 was technically a development kit designed for developers, it was still a webcam and therefore functioned as such. Now however, Intel has updated their RealSense development kits with an improved, smaller and sleeker model called the SR300. Let's take a look.
For those of you paying attention, you may have already noticed that the SR300 isn't entirely new. Intel originally began shipping this new version of their RealSense webcam earlier this year under the same design as the F200, but has since relaunched the SR300 under a new design, which is the model we're reviewing here. Functionally, both SR300's are the same, with the only difference being what each webcam actually looks like.
Since the F200 was the first webcam to support Windows Hello, it was surprisingly popular with Windows Insiders and enthusiasts, so much so the devkit actually sold out at Intel's own development website. Since the webcam was a development kit however, Intel hadn't really anticipated non-developers buying their device, and as a result the F200 wasn't all that great of a webcam.
SR300 Specifications:
OS Support: Microsoft Windows® 10
Connectivity: USB 3.0
Recommended CPU: Intel 6th generation processor or above
Video Streaming: 720p at 60 frames per second video capture optimized for streaming, 1080p at 30 frames per second video capture for video conferencing
Depth Range: Approximately 20cm to 150cm (Software optimized in this range)
Microphone: dual-array microphones
SDK Support: Dynamic background segmentation, 3D scanning, Facial recognition and hand gesture recognition
Design
The new SR300 has been given a complete face lift, with a smaller footprint and much more premium design. The F200 and original SR300 shared the same design, which was big and bulky and not very premium at all. The new SR300 is the complete opposite however, sporting an all-black paint-job and a bit of weight behind it that simply adds to the premium-ness of the camera.
Intel has also changed the "stand" on the new SR300, but the new design simply isn't as good as the older model. On the older models you could position the stand so you could prop it against the back of your monitor, allowing you to keep it sitting atop of your monitor easily. The newer model uses a different stand which makes balancing the webcam on top of a monitor slightly more difficult. Once it is in position however, it sits nicely.
So, with the SR300 Intel has improved the actual webcam portion of the device, alongside making a number of improvements to the overall device itself. Let's dive in.
Camera Quality
From using both the F200 and SR300, it's immediately clear that Intel has made a number of improvements to the camera quality on the SR300, and rightly so. No longer are pictures and video grainy and full of noise. Although not "amazing", the SR300 has reduced the amount of noise and grain that is produced when taking low-light shots. In daylight, the SR300 performs adequately over its older predecessor.
Normal-light sample comparison
F200 (left) vs SR300 (right)
Based on camera quality alone, I wouldn't and couldn't recommend this webcam. But, you've got to remember that this isn't a normal webcam, it's a development kit, and as a development kit, this device is sporting a pretty nice camera. But with the Intel RealSense series, the camera isn't the only thing that's worth talking about.
The SR300 no longer hangs or crashes as often, something the F200 did relatively often. When the F200 used to crash, you'd be required to reboot it to get full functionality again. Sometimes, when opening an app like the Camera app, the webcam wouldn't even come on even though the LED light indicated that it had. This does not happen with the SR300, which is something I'm glad to see has improved.
With the SR300, we've also got a new auto-exposure feature that allows photos that were taken in low-light or high-contrast to maintain better color quality, something that makes a world's difference, especially if you use a webcam in a room that isn't necessarily filled with a lot of light.
Low-light sample comparison
F200 (left) vs SR300 (right)
Audio quality has also improved, but again it's nothing amazing. I can easily get by using the built-in microphone when in a Skype call or online meeting, thanks to the dual-array microphones on the front of the webcam itself. However, if I were planning to do any sort of voiceover for videos or podcasting, the microphones on the webcam would not be up to scratch.
Windows Hello
As with the previous RealSense webcam, the SR300 is also sporting Windows Hello, and it does so wonderfully. From my usage, I've noticed the SR300 to be a lot faster compared to the F200. Most of the time the SR300 takes less than a second to see who I am and log me into Windows, versus the several seconds the previous model would frequently take. This is exactly the kind of behavior I'd expect to see from a Windows Hello enabled webcam, and closely matched the performance found on the Surface Book and other portable devices with Hello support.
Windows Hello support is enabled after downloading a few drivers from Windows Update (which happens automatically, so nothing needs to be done on your behalf). Once the drivers are installed and you've rebooted your PC, you'll be able to set up Windows Hello via the Settings app by scanning your face with the built-in Windows Hello options.
I've also noticed that the SR300 no longer crashes when idle on the lock screen too. I found that the F200, if left idle on the lock screen for long enough, would simply stop locking for me. This would prove to be annoying as I am frequently locking my PC and walking away from it for 20-30 minutes, and then returning. More often than not, upon my return the F200 would have crashed and therefore stopped looking for my face, rendering the Windows Hello functionality inoperable until a reboot.
With the SR300, the camera stays active and looking for me constantly. I've had it sitting on the lock screen for about two hours now and the webcam is still actively awaiting my return, ready to scan my face and get me logged right back into Windows.
According to Intel, the facial recognition functionality has increased from 80cm to 150cm, which is over a meter and a half away from the screen. That is an impressive feat, and one that I can confirm is true with absolute certainty. I can login to my Windows 10 PC from across the room, and it works pretty much every time. This is a huge improvement over the F200, and one that is noticeable if you're using the SR300 in an open room.
The Intel RealSense SDK is not required to get this webcam or Windows Hello working, but it is required to use some of the more advanced features. Since the SR300 is a RealSense camera, it can do some pretty cool, experimental things such as track and control your PC with your hand, track skeletal joints for interactive video games, and a whole lot more. But those are all experimental things that won't have much bearing on your everyday use.
Conclusion
The SR300 is the best Windows Hello webcam you can buy today. Considering there aren't really any other webcams with Windows Hello support on sale, the SR300 is your only option right now anyway. Razer recently began taking pre-orders for its "Stargazer" webcam, which supposedly also supports Windows Hello.
Since the SR300 is a development kit before a webcam, there are drawbacks. The webcam itself, although a massive improvement over the F200, still isn't amazing. That alone is likely a big showstopper for those in the market for a Windows Hello-enabled webcam. If, however, you're looking for a device that you'll use primarily for Windows Hello, you absolutely can't go wrong with the SR300 — in my opinion it is still the best Windows Hello camera on the market.
You can purchase the SR300 directly from Intel's developer website, however since this product is a development kit, it is sold with no warranty or support. Keep this in mind.
Windows Central Newsletter
Get the best of Windows Central in your inbox, every day!
Zac Bowden is a Senior Editor at Windows Central. Bringing you exclusive coverage into the world of Windows on PCs, tablets, phones, and more. Also an avid collector of rare Microsoft prototype devices! Keep in touch on Twitter: @zacbowden.
Seems ridiculous to me you can have a nice, small, Hello capable camera in the Surface Book/Pro 4 and Lumia 950, yet you need this bulky thing for desktops.

I know. What gives. If you can have an internal one on SP4/SB, why not just literally take that same model, put it in a tiny exterior housing and sell it for desktops. The technology is already there! Just liberate it!

microsoft being microsoft...

Microsoft is one company that has made a compact version. Where is Logitech and Creative and all the others?

What has this got to do with Microsoft? RealSense is Intel technology and this is an Intel product. Moreover, it's a development kit. Why would they go to all the effort and expense of miniaturising this for that purpose?

Different technologies, this one scans your face in 3d with laser and IR, while the one in a 950 just scans the image of your iris. not sure wat the one in a surface pro 4 does, but is not exactly like the realsense camera. I would say this hardware is the most comprehensive and accurate solution.

This is a developer camera. If you read the end of the article, you'd learn that this unit like it's predecessor, does more than just offer Windows Hello support. Many of those things are not performed by SB, SP4 or our 950/XL. That doesn't detract from what I think is your real point: that no one offers a retail product that simply functions as Windows Hello facial recognition device - nothing more or less.

The Razer Stargazer is the same price and has a warranty and support. Is there any reason to go with the Intel dev kit over it?

The article says that the Stargazer is not yet available

Neither is this SR300. They're both pre-orders.

Yep, would be interested in a comparison. I have the F200 and I use it mainly for Hello and microphone. Faster login sounds good but not enough to upgrade.

Aside from availability, is StarGazer a DEV kit or retail product? I would guess retail since it does have warranty and support. That alone is probably reason enough.

Hi, i have been running SR300 for a few months and it was working great. The 14393.105 has destroyed it. Not working very well, cannot even complete the setup anymore.

I really recommend getting either of this, I have the older one. It's a better webcam than the article says, and it's also great for Hello Cortana. Also at least for me it doesn't take a couple of seconds to log in with the F200. It's pretty much instant.

Waiting for the Razer Stargazer. It looks really cool.

Where is WhatsApp guide :P

but the kinect does hello too, doesnt work as webcam though, cause.. microsoft. shame, a c920 with hello would be perfect

Better check again. Kinect v2 has official drivers from Microsoft now (with the Anniversary Update) that allows it to be used as a webcam, and the integrated mic works well too.

A used Kinect V2 (Xbox version) costs peanuts these days, its the £30 PC adapter that's the expensive (well not expensive, but probably makes this intel cam worth paying a bit more for) bit. Wish it worked like V1 where we could just plug it into the PC (Did some development with it back in the day). The v1 came with a power and USB adapter for people who didn't have the Kinect port on their 360

So. This looks an awful lot like the Creative Senz3D. Question is...this one or the Stargazer?

yea I'm considering it now, if you add the adapter it balances out, I'm just checking whether picture quality is same or better than c920 before I buy it, superb webcam + hello is what we all need

What i don't understand is why they limit the development of this to a intel core processor, and not an intel atom processor. A stick PC in the living room seems like a very likely scenario. and it seems possible, too. there was a realsense camera on the dell venue android tablet, which is atom based(although probably much smaller size cameras).

This is a development kit and developers are generally not going to be working on an Atom-based system. There's nothing to stop RealSense cameras working with Atom processors but Intel have not taken the time to create drivers for this particular device when it's not intended as a consumer webcam.

Can anyone help me, if this can work with AMD processors as well?

Is there a way for other companies/websites to allow logins through Hello? It would be so nice to log in/out of FB, ESPN, banking apps, etc.

This (SR300) doesn't work on the Windows 10 AU. What happened?

I want to map face to 3d model and to be able to add another 3d object to the face so I need it to be a high quality mapping which one is better for the task?and can they work with opencv ?sdk support working with opencv?