Intel updates RealSense camera drivers with fixes for Windows Hello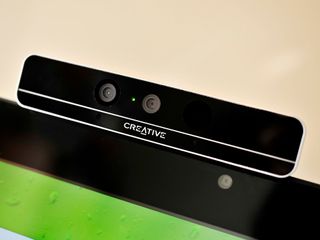 For you fans of Windows Hello on Windows 10, it looks like Intel has updated its RealSense camera drivers with some bug fixes for the facial-recognition login feature. The fixes cover a few different areas, but the most notable is a fix for a delay when resuming from Sleep or Hibernate. Here's the breakdown of what's fixed in the latest drivers:
Improvement of outdoor recognition for windows hello
Reliability issues resolved. Several crash scenarios related to windows hello reported by Microsoft.
Delay in streaming when resuming from Sleep or Hibernate in addition to scenarios where camera did not continue to stream.
Error written to event log with "failed to create Config file" message.
If you've had a chance to play around with Windows Hello and a RealSense camera, you've no doubt run into some of these issues. The delayed streaming when waking up from Sleep or Hibernate was particularly annoying, so it's good to see that one is resolved.
If you're curious about our impression of Windows Hello, be sure to check out our hands-on. And if you don't own one of the select PCs with a RealSense camera built in and you'd like to try it out for yourself, you can purchase a RealSense developer camera kit from Intel for $99, though you'll have to settle for reserving one because they're currently out of stock.
Thanks to Mark for the tip!
Dan Thorp-Lancaster is the former Editor-in-Chief of Windows Central. He began working with Windows Central, Android Central, and iMore as a news writer in 2014 and is obsessed with tech of all sorts. You can follow Dan on Twitter @DthorpL and Instagram @heyitsdtl.
Fingers crossed "Delay in streaming when resuming from Sleep or Hibernate" is really fixed ...been seeing that lately. Edit: Definitely a lot better. Camera turns on now pretty much instantly when the PC wakes.

What about from cold-start Dan ? - the issue I see with mine is that when I cold start my PC the realsense takes a good 20 seconds after my login screen for both lights on the camera to turn on. Did you ever experience this? I'm @ work at the moment, so I can't verify this is fixed with the new driver.

Would be really cool to have this (face recognition) on SP4, but I don't think they can do it with that device size.

Yeah, like 950. Or Fingerprint but iris scanner would be more elegant :)

I don't see how an iris scanner is more elegant, you have to hold the phone up to your face. A finger print scanner (as implemented on an iPhone) is much faster.

We're still talking about Surface here?

Would an iris scanner need to be really close to the camera or they work at a distance? *begins training his his eyes to open really wide*

If that's the case then only die-hard MS fan boys will use it.

Why not? Is not necessary to using complete device ... only lenses. Enough place in upper bezel.

They have a smaller version of the hardware now, laptops are coming with it. http://www.intel.com/content/www/us/en/architecture-and-technology/reals...

I want but I'll wait until they or other vendors jump in with a smaller form factor and a bit more polish.

Razer is doing theirs. I doubt there'll be a smaller form factor though, it has a lot of hardware inside.

Nice. I hope they can do something about the current form factor. I want to use this technology but not until developers figure this one out. This device itself is massive and would take up a lot of real estate on the desktop. You can bet other developers, like Intel, AMD and others are looking and sooner or later, everyone will see the Creative Labs design as a "rushed" to be first at Windows 10, as I do.

Go check out the post above.

Oh, this is an awesome reminder. Thanks WindowsCentral :)

Windows Hello seems to work better now. However, in the settings for Windows Hello my preview when scanning still shows a black and white image. Normal for you guys?

Yeah, I get that still too.

I think it is B&W as they use the Infra red camera, so I don't think that is an issue. However, same here too.

I think it is the same as on viewfinder of a professional video camera used in broadcasting..it uses B&W because the depth of an video/image is higher in B&W

I want to know, what Creative Camera is that and do they still sell them? I want to know so I can have Windows Hello on my Desktop

You can buy them on the Intel website. Not sure they're in stock or not though.

Hmmm, I'm checking their webpage, and in the RealSense page only has available laptops and All-in-Ones that have RealSense built in....

Backordered, but see http://click.intel.com/intel-realsense-developer-kit.html

Seems a lot faster! At least when forcing the lockscreen back from a current session. Will try next time I boot.

Still not perfect here. Works better when you lock the desktop, but issues not recogninzing durning reboot and haven't tried sleep yet, which is where the biggest issues were.

Same. Not able to detect me on boot. After locking works better.

When they will let me login all my online account with this? Since my computer is on 24/7 w/o loging in or out, I don't see any use for it yet.

What a colossal screw up not to have a commercial product ready for the launch of windows 10. Guess they are trying to sell full blown computers but that's when you get in trouble when you don't give consumers what they want.

You have no idea how much creativity, engineering, and work goes into making new technology. How about you give it a try.

That's your argument? These are multi-billion dollar companies. If they can get this in laptops and pcs, they can put it in standalone hardware that consumers can buy no problem. When you have such unique tech, its imperative for Intel and MS to get into the hands of the most users as possible.

I like the fact that every writer at windowscentral is now deleting my comments from all posts. This shows the respect and power of truth. Truth wins.

WOW, much better so far. I more or less gave up on it but, now it's working great.

This has fixed most of my issues. I still can't see a picture when I create and/or improve recognition, but it is saving the images and I can log in using FR. It's working much better now.

Any1 knows which laptop has this capability already?

See the list on Intel's site: http://www.intel.com/content/www/us/en/architecture-and-technology/realsense-devices.html

Even doth I did not experience 20 seconds delay after a cold start more like 4 secs delay, with the new driver the RealSense webcam is ready as the desktop appears from a cold-start, very please with this proformance after the updated driver.
Windows Central Newsletter
Thank you for signing up to Windows Central. You will receive a verification email shortly.
There was a problem. Please refresh the page and try again.