Internal email from Satya Nadella offers more info on Microsoft leadership changes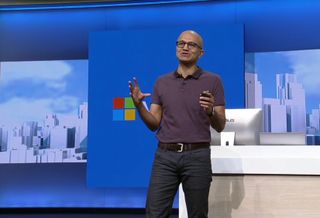 A leaked internal email from Microsoft CEO Satya Nadella to company employees offers more information on its new organizational changes, including confirmation that Executive Vice President Qi Lu is leaving.
The email, obtained by GeekWire, states what was reported earlier this morning about Lu leaving Microsoft due to health complications after a bicycle injury several months ago. Lu was the executive vice president of Microsoft's Applications and Services Group, which included the Office, Skype, Bing and other teams. Nadella stated that Lu will remain as an advisor to himself and Microsoft co-founder Bill Gates after he recovers.
The email also repeated what Microsoft revealed earlier this morning in that Harry Shum will lead the company's newly formed Artificial Intelligence (AI) and Research Group. It adds that the Bing and Cortana teams that were a part of the Applications and Services Group will be moving to the new AI and Research Group. Nadella stated that the remaining divisions under the Applications and Services Group will now be lead by Rajesh Jha, and it will also get a new name: the Office Product Group.
That means Microsoft now has four divisions. They include the new AI and Research Group lead by Shum and the revamped and renamed Office Product Group that's headed up by Jha. The other two divisions are the Windows and Devices Group (including the Surface and Xbox businesses) that's lead by Terry Myerson, and finally the Microsoft Cloud and Enterprise Group that is headed up by Scott Guthrie.
One more small change mentioned in Nadella's email is that Gurdeep Singh Pall, the head of the Skype team, will now be moving onto another, as yet unnamed role, at Microsoft. The Skype division will now be under the Office Product Group headed by Jha. The full email is posted below:
Get the Windows Central Newsletter
All the latest news, reviews, and guides for Windows and Xbox diehards.