Xbox Music for Windows Phone and the challenge of starting over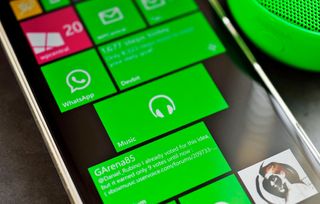 Let us not beat around the bush: Xbox Music on Windows Phone 8.1 has been a rough ride. Ever since the separation of the app from the OS, criticism for being behind not only the competition but behind Windows Phone 8.0 hangs around the proverbial neck of the Xbox Music team.
Earlier this week, we spoke with Jerry Johnson, Group Program Manager and Gurpratap Virdi, Director of Engineering, both of OSG Entertainment Apps about Xbox Music, including where it is heading and why it had such a rough start.
The answers may surprise you.
Remind me again, why you did this?
The question on many people's minds is why Microsoft even extracted the app from the OS in the first place. Clearly, this is a complicated task as opposed to just making a good, native player and sticking with it.
In speaking with Johnson and Virdi, the answer is a bit more nuanced as it comes down to future services that Xbox Music is likely to support. The problem is, Microsoft as a company is pivoting, and there are many things coming down the road, features that are not ready for integration into Xbox Music. The Xbox Music team says they need an app to be an "extension" of their services, and not just an endpoint. They want the flexibility of being able to update dynamically when the other half of Microsoft comes around, and not to have to shoehorn everything into a more complicated OS update.
Case in point is the rumored usage of OneDrive as a "cloud locker" for music files. Although Johnson and Virdi would not commit to that feature coming, they did note that such an extension of Xbox Music is "critical," which should tell you something. OneDrive though is undergoing numerous changes itself and those two teams need to meet at some point down the road. Xbox Music as an app can rise to meet that challenge; Xbox Music built into the OS would need to wait.
This future integration is but one example, and apparently, Microsoft – and the Xbox Music team – have plans for the service. Keeping the built-in app would severely hinder the ability to get those features to users. You do not have to look far for the rage when a Microsoft app on iOS or Android gets features that Windows Phone lacks. Compounding this issue was Xbox Music being un-updatable, hence the shift in strategy.
Xbox Music on 8.1 should have been a beta
The problem with the aforementioned reasoning is the current user experience. Since the Windows Phone 8.1 Preview just over two months ago, Xbox Music on Windows Phone 8.1 has had seven updates, with a significant release coming tomorrow and another in two weeks.
The update tomorrow should bring with it two critical improvements:
Recents playlist (revealed on the Windows Phone blog earlier this week)
Up to 50% performance improvement for launching the app and scrolling within
Once Microsoft's recently announced Update 1 Preview goes live, another substantial update is coming. That update brings with it a new Live Tile and Kid's Corner, both of which depend on underlying changes to the OS found in Update 1.
Regardless of the cadence of updates, it is evident that many users still find it all underwhelming. Johnson and Virdi are under no impression otherwise, and in fact were quite honest about where they were, where they are now, and where they want to be going forward. Indeed, they now admit that the Xbox Music app when it came out with the Preview for Developers should have had a 'beta' label as a signal to users that this is far from the final product. Although a minor name change, it probably could have done a lot to fend off some of the more vociferous criticisms tossed out against the app and the team behind it (even if Windows Phone users are suffering lately from 'beta fatigue').
In my 30-minute conversation though with Virdi and Johnson, they never once tried to mask the inadequacies found with Xbox Music though they are confident that it is getting better, and it will continue to do so with more updates. The improvements are tangible, especially after the last update, but issues like doubling in the playlist still hound them as they go forward.
Part of the problem is untying – and rebuilding – the app from scratch. The other is a shift in the underlying coding language from the 8.0 app to the one 8.1. As a result, the degraded performance is significant when compared to previous releases. Even after tomorrow's update, the app will not be as fast as when it was built in, but the Xbox Music team says they are certain that they can change this in future versions, and tomorrow's update goes a long way in getting there.
Your criticism is valuable. Do more yelling (okay maybe not yelling)
One curious aspect about Microsoft that I have known about for some time, but many in our audience may not, is Microsoft's renewed attention to consumer outreach. We mention UserVoice numerous times in our past Xbox Music reporting, and it is a tool that Microsoft values. Bringing attention to the voting-board and suggestion site is evidently having a significant impact. Jerry Johnson tells us that their Xbox Music UserVoice (xboxmusic.uservoice.com) jumped from a "few hundred" visits up to 45K after our coverage – and they love it. Subsequently, they have registered more than 800 suggestions and 14K votes by the community, with five of the top 13 suggestions already completed by his team.
And yes, they read your comments here too – all of them.
Considering some of the vitriol hurled at the Xbox Music team, wading in our comments section seems like a trial by fire, but Gurpratap Virdi and Jerry Johnson say it is necessary; moreover, they enjoy the passion by the community. After all, many of you express your sentiments – even if profane – only because you want Xbox Music to be praiseworthy. They get that.
The effort by Microsoft to engage with the Windows Phone community (even in our forums, where they have reached out to some of you privately) is a relatively new approach and a rare one by a company of Microsoft's size. One could argue though that enterprises like Apple do not need to 'crowd source' their apps and services – they dictate; Microsoft's actions imply the failure to understand what customers want. There is certainly some truth in that, after all many companies do not resort to such means to make successful products. Instead, they have gurus, visionaries, and team leaders that forge a path with nary a glance to what customers are demanding.
Microsoft's methodology – if unorthodox – is at least democratic, and democracy can be messy. I still find it humbling to see Microsoft asking people what they want, letting them vote on ideas, and then prioritizing those for development. Customers having a real voice in 2014 is refreshing. Nevertheless, like all participatory systems, it is only as good as those ideas suggested and if people are voting.
Will they please add "X" feature?
Finally, many of you are possibly wondering what is the real scoop, what is in store for Xbox Music next? Virdi and Johnson would not of course share with me their feature roadmap, which is in large part decided by your top-voted suggestions, but they did give drop a few hints. Things like gapless playback, improved performance, social sharing (already part of the web version), cloud storage and more are all on their radar as registering as being relevant to users. To be sure, gapless playback, recently played, and a Live Tile are all top-voted suggestions; at least two of those get addressed in the next updates. Without committing to those remaining features, both Johnson and Virdi strongly implied those things were likely to come at some point. The question is, with Windows Phone 8.1 and Update 1 devices nearing release, is it too little too late?
That is up to you and your votes.
Windows Central Newsletter
Get the best of Windows Central in your inbox, every day!
Daniel Rubino is the Editor-in-chief of Windows Central, head reviewer, podcast co-host, and analyst. He has been covering Microsoft since 2007 when this site was called WMExperts (and later Windows Phone Central). His interests include Windows, laptops, next-gen computing, and for some reason, watches. Before all this tech stuff, he worked on a Ph.D. in linguistics, watched people sleep (for medical purposes!), and ran the projectors at movie theaters because it was fun.
I appreciate the hard work.

They are actually making the app better on Windows and WP than on other platforms, FINALLY! They are now putting in a lot of work.

On other platforms you need a paid membership to even use it...

Well many people have the music pass, like me, so...

There are two sides to modern music players.
1. Ability to play your owned music catalogue efficiently and effectively
2. Ability to enjoyably discover new music and playlists, which is what you are really paying for.
XBM fails badly on both counts, but particularly on the second why does MS think I'll pay a premium monthly subscription price for such a shoddy, useless product? Nokia's MixRadio is a much better price and function for music discovery.
It's not just Windows Phone, XBM is useless for discovery on all platforms - lack of curated playlists, limited and poor radio channels, lack of decent algorithms, no social features, inability to stream based on chart compilation albums etc.
I tried a few times buying the music pass to use XBM for parties (from Windows and Xbox One, not WP) but always it was a complete flop and ruined the mood due to buggy behaviour and inability to discover anything other than the top few chart albums.
Xbox music has been so bad for so long, and not resolved in the false dawns of two years of updates, that getting even loyal MS fans like me to try again will be an uphill struggle.
So speak to commercial guys and refund or deeply discount the bloody music pass until you can put out a service which isn't a beta experience on ALL platforms. Then maybe I'll try again. You are abusing your early adopters by expecting us to pay so much. Satya may not be able to magic a headline DJ to the party any quicker, but he could at least put some cash behind the bar so we can drink through this dirge.
And at least manually/tactically pinch some decent Radio playlists from Mix Radio before you sell it!

I agree with what you are saying, in all the ways XBM is lacking makes it a very bad choise when you have services like Spotify. If the mobile experience was more inline with the web experience i would propably switch almost instantly. I want to support Microsoft but i am not supporting a bad product.

I would also add that given XBM app on WP is *!*! and it is likely to be years before a decent release finally comes out then MSFT should at least give us the opportunity to uninstall the current version. The previous Hub version is still available via the Music Hub Tile app and at least it manages (with the usual fiddles) to show local Album Art and Artists - looks so much better as well.

No matter what you give them, people will find something to complain about.

In response to AnotherCookie, on other platforms you can get a useable app, free upload/cloud playback of your personal collection, gapless audio, in-app equaliser, working (and easily editable) meta data, etc. You pay to have unlimited streaming or to buy individual items. Stop spouting FUD. Xbox has a ways to go, but it is heartening to see them here to communicate with the community. It gives a warm feeling that progress will continue, and there has been progress, even if problems are still widespread.

Oh Daniel, deadmaus? Really?

That's a shot MS put out when they announced update1.

I hope they update the Xbox Music app on Windows 8 to make it a real substitute for the old Zune Software. It allowed us to do everything: rip CDs, edit metadata, sync music with the phone, create and manage autoplaylists, etc), all in a single piece of software. The ONLY reason I am still on Windows 7 is because of the Zune Software... Something like in this user voice idea:
http://xboxmusic.uservoice.com/forums/209733-xbox-music-suggestion-box/suggestions/4309104-how-about-one-application-to-do-everything

Why can't you use Zune on Windows 8.1? It works fine on my first gen surface pro. Nearly all Windows 7 programs run on Windows 8.1 desktop.

It's not that Zune doesn't work, it's that it was a far superior solution to syncing than the windows phone sync app or using the horrendously slow Windows Media Player.

Actually I did not try to install the Zune Software because the Windows 8.1 Upgrade Assistant listed Zune Software as an incompatible software... So I decided not to waste time doing all the upgrade process just to discover my favourite music player would not work anymore. Zune Software was miles ahead of the "Windows Phone app for desktop" for syncing music... It doesn't work anymore with WP8/8.1 but it is still my favourite desktop music player. But I'm talking about the Zune Software, not the device (Zune Player). The Zune Software really works on Windows 8, even with Windows 8.1 Upgrade Assistant telling me the opposite?

Yup same here and still using my Zune HD 64 GB player too smiling.

I just ftp everything into my phone.

Yes it works I still use it everyday to listen to music while I am at home. I just wish they would update it to work with WP 8.1

Zune still works on Windows 8.1, you just can't sync files to WP..

The same for me. After upgrading to 8.1, I can't get the software to load no matter what. I asked an MS tech support person about it and he said 8.1 doesn't support Zune software. I don't know how others are getting it to work. I still use my Zune a lot and I can't get new music onto it because I only have an 8.1 device.

ZUNE desktop PC software works on my SurfacePro 2 running 8.1 OS. The software is very nice.


Hell yeah. Bring back Zune

I installed it when I had 8.0, and did the upgrade to 8.1. Still works. I can't comment on installing it with 8.1 first though. I use it over the XBox Music app, as XBox Music was more processor intensive and the fans would kick in. I might have to check to see if it is still doing that as it has been updated quite a few times since then. But I have the grandfathered ZunePass w/ 10 song monthly download, so using XBox Music is kinda pointless as it hasn't let me purchase using those credits.

...zune works perfectly fine on windows 8...

Zune was laggy on w7, w8, is still laggy on w8.1. It's pretty functional despite all that. Excellent for creating playlists and categorising my downloaded videos and TV shows

How was it laggy? Only on lesser hardware would it lag when displaying album art would it every lag for me, but you had the options to turn down the effects to make it run smoother. It has gotten slower finding albums from the market and downloading purchased songs now, as I think Microsoft is pulling server resources away from Zune, but in the past those were very fast for finding and downloading music. But searching local, is very quick for me.

That's not windows fault, that's your computer, there's is no conflict with windows 8.x with Zune

Yeah, I second having a Zune-like software, the sync app for Windows phone isn't good enough. I own a ton of music and prefer transferring and organizing via playlists and the like. Uploading and streaming my own music is a no-go because I have a relatively small amount of bandwidth on my plan. I hope they take into consideration that the 520 is used by a lot of people on prepaid with minimum bandwidth and would find that sort of software handy.

They do have Zune for Windows 8 too...

Yeah! Zune software was great. Also I'd really like to have a playcount-sync again. I cant believe nobody wants this?

I didn't realize this was gone. I didn't personally use it for anything, but kinda assumed that hitting random created a playlist with an algorithm that chose songs that were frequently played and songs that haven't been played or something like that.

I don't know. Maybe it still does. But I'd like to synchronise how often I played a song in my PC and on my phone. So I can easily see what my most beloved songs are and (like you said) create automatic playlists.

The lack of Zune style syncing is a major issue, please vote if you also agree:
http://xboxmusic.uservoice.com/forums/209733-xbox-music-suggestion-box/s...

I hope they fix the playlist bug , It always disappear when I added a new playlist from library

Yeah, if it weren't for the frequent updates I'd be truly upset. Which I was truthfully enraged when 8.1 first dropped, but since I can plainly see that they are working on it, and care about it, I am actually quite happy again. Not Zune HD happy, but much less worried about the future of Microsoft's music services.

I agree. I'm impressed with MS. I am glad they use the information from uservoice, like keeping the Cortana codename as the service name also. ///
WPCentral wields alot of power. Those numbers are impressive!

They will get is there.I have no doubt.

I really miss being able to see new song releases by genre.

Yeah, me too. Today Xbox Music is better than old Music App. Much better! In two months MS works very well top improve performance and features on Xbox Music app.

They really thought the album art problem has been fixed?

Agreed - I still have albums where each MP3 file already has an album art, but the Xbox Music app on WP8.1 replaces it with a wrongly matched one (completely irrelevant as well). It is definitely not fixed. What also really annoys me is that you can't "unmatch" an incorrectly matched album/artist. I have this album that has all the correct metadata in the files themselves, yet Xbox Music tells me it's some other album from a random artist I've never heard of. Deleting the files from my phone and readding them won't help either.

Yeah, I love how it splits my Forrest Gump album out into a dozen albums, and some of them aren't even the correct artist. Pbht. :P

Did they plan this in advance to separate everything or was this some last minute "hey let's try this" sort of thing? I need answers.

No one asked them to split it into 5 apps. I certainly didn't. I can't stand it. I wanted a Zune experience, not a five-app experience with less than a third the features of Zune.

They seriously need to fix blank album arts. Every other dam music app can do it; why not Microsoft's?? Probably the most frustrating bug beside lags.

I too hope they don't think work is complete there. It either changes the album art to something completely different or leaves it as a blank, grey square. Surely if I had no album artwork, MS could design something more interesting to look at. I'll continue to use MixRadio in the mean time. It at least displays all of my collection on my phone correctly.

All I ever see is "blank grey square"..it is literally as dull as dishwater. They need something else instead if they can't find the album art

I'd use the lock screen image as a replacement. Or a color the user has chosen, if I were the Xboxmusic team.

if i were in xboxmusic team, i would use bing search and put the album/artist on that album art. and an artist background.

Do HARD RESET. It fixed the album art problem for me. =)

Doing a hard reset seems to always be the answer to fix bugs on WP. If MixRadio can correctly display my albums, so should XBM.

A lot of stuff all the updates were supposed to fix has actually not been fixed: disappearing playlists, duplicate items, slow scrolling and launching, playback limited to >100 tracks.....

Starting over? You can only start over so many times. Unless those at the head of this mess are fired, "starting over" really isn't starting over, but just rebooting this train-wreck.

I could only hope whoever decied to remove the old xbox music app was fired. I understand that they need the new app to not be baked into the OS, But they could have at least kept the old one around until the new one was USEABLE. To this day, i still hardly even touch my phone for music anymore. It's so depressing to see all the loading. Xbox music use to be my favorite app.

Old one was just unusable for me, those multiple instances of one file were killing me and even that was slow until Lumia black.
This new app may be going slow but I can use it at least.

I agree, the old app had to die.. even if only for that music duplication glitch, microsoft tried 3 times to fix that bug in 3 seperate updates and still failed in the end, that tells me that something weas horribly horribly wrong with that music player

True the old Hub app had issues but at least they could mostly be solved, mulitple instances for example were fixed, for me, by editing the metadata and Album Art also enabled properly after using MP3tag etc. It is of course still available if you use the Music Hub Tile app. Just wish I could uninstall the current XBM app.

your running into two issues here 1) the old music player would then be stuck their until an os update removes it 2) from a PR standpoint everyone would bitch about how "8.1 didnt update the music player at all and instead they built a new shitty app" either way, there was gonne be whining, cutting cold turkey was the best move

Nokia MixRadio is a much better way of listening to not only customized mixes but your own music collection too. Switch over to that, at least until MS can get their shit together.

I think mix radio is only available to Lumia phones

Even if it is, it's still applicable to 95% of us

95% Source: http://www.wpcentral.com/adduplex-july-2014

~95% of WPs are Nokia, but that doesn't mean everyone with a Lumia uses MixRadio. Heck, I don't listen to music at all on my phone (which isn't a Lumia), and it's not because of the XBM app. The number of people who it's applicable to is probably between your two numbers. Besides, even if it was just 5%, that's still a lot of people who may want an alternative.

This is the crux of the problem. We get that starting over takes time. But it's PR suicide to make your customers walk that journey over and over in such a short time. Yea, the app should have been labelled Beta, but also they should let you access the original version UNTIL IT'S READY! Not before, who likes using a service that repeatedly gets worse and has bugs? It erodes trust in the service.
Also, this design by committee idea is ok to an extent, but sometimes you need an in house visionary to push the design otherwise things don't end up so well thought out.
Case in point: would we have ended up with metro and live tiles through roadmap via uservoice!? I don't see how that would happen.

They do have the old one around. I mean there is a way to access it.
I use the same for all my music needs.
http://www.windowsphone.com/s?appid=3faa2f9e-6b8d-440a-bb60-5dd76a5baec1

You realized that the only way you could have gotten the new app was by opting into the developer preview program, right? Now that 8.1 is rolling out officially, they've fixed a lot of the issues with the music app.

I wish there was a like button for comments here

I'm getting really tired of this marketing spiel "look, we acknowledge our mistakes; we're starting over". they started over with wp7, then with 7.5 then with 8 then with 8.1 and there's always a lot of talk of how things are going to be smoother and more feature rich in the future, yet all i see is them slowly breaking down the functionality they had 3-4 years ago already! there's only so many times i'm willing to give them the benefit of the doubt. every time i let them build my hopes up that it will be better in 'the future' they proceed to disappoint. come to think of it that should be the slogan of windows phone 'it will be better in the future' /rant

100% agree with manwe. I would be very curious to know if, with each restart, did a new team get assigned with new managers. Because it feels that way from what I'm experiencing. If you want to win over iPhone and Android customers, you better have a music app that they can try and feel is BETTER. My advice, User Voice is nice, but get out the documentation for Zune and Nokia Mix Radio, and start porting capabilities from those music players as well. They are both examples that people cite over and over again as better than Xbox music. Fine. Then use THEM as a vision of where to move forward. Everyone on this thread want XBM to be better. We all want that development team to succeed. Good luck and keep pushing forward.

It's good news that they're taking all of our opinions into account when updating Xbox Music and adding new features to it. I don't think it's too late for improvements; I think it's just getting started.

Why is it that many Microsoft services are either in beta or act like a beta?

The app and service are two different things. Xbox Music, for all of its faults, to me doesn't feel like a beta. It does the core things right, but they did have to move from Zune (just PC) to Xbox Music (Xbox, PC, iOS, Android, Windows Phone, Web), which last I check is not a trivial undertaking.

I wish they had just not gotten rid of zune. I mean sure changed the name of the software, but kept the actual software itself as it was fantastic. I still use it to this day on my desktop, laptop and old windows phone, which is solely used as an mp3 player for the gym. i guess the windows 8.1 version of xbox music is (finally) on par with it but the phone version is still lacking.

Maybe... But it REALLY wouldn't make sense having two native music apps. It *has* to be one.

That's simply not true. They maintain two separate apps for Skype (desktop vs metro), Windows Phone sync app (desktop vs metro) and will do the same for office (Gemini vs vanilla).

So far all the desktop apps have more features and/or work better than the metro versions.

Skype yes, WP sync app I actually like the metro one better. But generally speaking comparing desktop to metro you'd be giving up functionality and information density for touch screen usability. I think things might change when they window up the metro apps in Windows 9 though.

The WP sync app is a joke. I hate that when i click on one of the features (except syncing) it just forwards me to the webpage... I mean, how hard can it be do include the store into that app? Or the locator? It would just make a better overall impression. Same with the Win8 store: If there is a universal App, please let me install it on all my devices directly without looking it up in my phone!? IMO the ModernUI is so beatuiful und has so many options, but there are only a few MS Apps that use it properly, especially on Win8.

It does the core things right? (Album arts, rasping sound when tracks change?) No, it doesn't. And they really shouldn't read ALL our comments here. Not even we do.

This. Daniel, I respectfully disagree with your comment. For me and for many, Xbox Music is a total piece of shit and is pretty terrible at preforming its "core" features.

I'm with you on that. One of the few times I disagree with Daniel.

You know what really sucks is how long it takes to change music on the lock screen. I click next and then by the time the next title pops up the bar is diapering so if I want to next again, I have to hit my physical volume button again.

@Kallisticker and @Tense, you misread my comment. I was talking about the SERVICE at its core works, NOT the app, as I clearly talk about the app and its shortcomings in the article. @unstoppablekem Was commenting on "Microsoft services" which is different from the Xbox Music app. Context counts.

I believe he was thinking on what i was assuming when you said that xbox music didn't feel like a beta, u were speaking on the services that is true. I think were the confusioin about your stance in the article is where the blurred lines are not exactly clear when you talk about microsofts future plans for the app and the reason two very nice applications, Zune(Windows) and Xbox Music(wp8), were trashed. Your stance seems very understanding, a little too understanding Daniel which i assume is because you have plenty of insight... I may have missed it, but why exaclty were the features from the original xbox music app not intergrated into the new one, instead of going thru the trouble of user voice for things that were already available to windows phone users. Lost in translation...

The services in Xbox Music need work too. Not as much as the app, but still needs some.

Obviously, you're right. Will read more carefully next time. But you see? MixRadio provides a good app experience, and therefore I subscribed to its decent service. A very poor app experience (aka "Music" on windowsphone) falls back on the service itself - even if it works properly (for the people who have access and want to use it). This may be fair or not.

Core feature is to play music isn't it? It works fine for me doing just that. Was is slow at first? Hell yeah it was. Now, it works and loads much better but I wouldn't call I a piece of $#1t like before. You really are exaggerating this.

What's frustrating is that it wouldn't take much polish to make XBM a truly killer music service. I hope that what Nadella meant by streamlining XBM/XBV is that the same team is developing apps across all platforms from a common codebase. A part of me feels this will get resolved around Threshold timeframe. I think most of the teams are actively putting their efforts into Threshold, which may make it seem like things are not being worked on.

Daniel - appreciate the positivity, but this is a fallacious argument. They could've just've easily taken Zune and moved it to other platforms as well as creating a net new set of apps, either way, the work had to be done. The problem is some incredibly inept program manager decided it was a great idea to toss all of the features and functionality that were present in Zune to the wayside. This isn't a development problem, it's a program management problem, hence those that keep propogating the trash that is Xbox Music and Video need to be kindly shown the door - at least out of that team. They've done nothing but a gross disservice to it. Further, if performance was a problem, MSFT had options to fix that, you know, by using the option that performs best (i.e. C++). Maybe we can even point them to their own MSDN article to get them started: http://msdn.microsoft.com/en-us/library/windows/apps/hh974580.aspx This has been a battle since the Zune software was completely phased out and it has continually gotten worse and worse. Music and video management sucks and is unreliable. The sync story is outright sillly. Needs to be a little less democracy and a little more program managers who know how to do their job well. My 10b cents.

Well said. It is a management problem. Who is held to account when software and service capabilities regress? Anyway, what's done is done, and now the question is how to beat move forward? 1. Keep the same teams working on XBM & XBV application and service for a few years. 2. Keep updates flowing, but always careful not to break something ele. 3. Dust off Zune documentation and look for features and capabilities that Zune has and XMB/XBV is missing. 4. Look at User Voice, 5. Make it all "just work" - take out steps and get better app<->service integration 6. Do some focus groups with people using Pandora, Spotify, iTunes and other services, and see what people like best about those music services -- and make sure XBM adds those capabilities too. 7. Keep engaging with customers - go to Microsoft Stores and talk with the people working there and to customers. See if they know what is possible and what they can do. See where they get confused. Anyway, good luck. We want your success. We think you can do it. We want to believe.

Let's also tack on
#9 PMs actually use and test the software before pushing it out. Personal accountability for shipping garbage. It takes 3min for xbm to find music on my phone. It takes another couple to actually be able to play it without crashing. Nothing special about my phone or collection. I'm on the hook if my team has a poor release, lets see more public accountability on this team.

Actually, it doesn't even do the core things right: if I put all of my music (carefully curated, properly tagged) onto my Windows Phone, it won't play all of my albums correctly. It doesn't honour the "disc number" tag, causing multi-disc albums to be scrambled. And of course it can't do gapless plaback. (Both of these are endemic Microsoft problems, ancient mis-behaviours from Windows Media Player that have been faithfully carried forward into Microsoft's current music players for Windows Phone and Windows 8.) The single most fundamental function of any music player is to be able to, you know, PLAY MUSIC correctly. Right now, Microsoft can't even do that. (Did you know that Microsoft's own WMA Lossless decoder has a bug that causes it to sometimes drop samples from the end of a file? Been there for years. They don't care.)

I think Microsoft should change their name to Microsoft BETA.

I just LOLed! You made my day! :D

Google already trademarked it ;)

It sucks. It does and there really is nothing I can say right now. I can't wait for tge Update 1 for Devs but I'm not getting my hopes up once again. Music+Videos was working fine, why did they change it?

Three words, read the article.

He did. Do you not see the irony in detaching the app from the OS to make it updatable, but then the OS ends up getting updated first anyway, and the app isnt even at parity to what it was 3 OS updates ago (WP7.1, 8 and 8.1)? Seems like they shouldve not bothered with this debacle, and just added what they needed to add to Music+Videos, and it wouldve made it to 8.1, and be a far superior product to the shambles that it is now.

what do you mean the os got updated first anyway? update 1 isnt even out yet, and we are getting our 8th update to xbm tomorrow

I don't get why we need to feed them suggestions. Can't they pick up a knowingly better music app and realize what features need to be included? And when are we getting a music screensaver?

I did read it. It's not a question but a complain. I like how they give extra effort but as someone who relies on music on a daily basic, this is VERY disappointing. Although right now it's alright but still lacking.

didn't you read the whole article?

Good question, out had a great and exclusive features+ it is away faster

Read for God's sake, read!

Me too. No matter what they do, Xbox music will never be as good as Zune. Plus so much of my paid music from Zune isn't available to me through Xbox music. They want me to pay for it again!!!! I've already switched to iTunes for music purchasing, album flow app for playback, and the audiotica app for free music. It would take a miracle to bring me back to Xbox music.

"Will never be as good as Zune". I disagree. They have a long way to go but for all we know Xbox music might be great one day. Maybe...

Keep the faith! I hope I'm wrong on that statement, to be honest.

Zune is what convinced me that a service could be trusted to manage a collection of music. I used to go through all the trouble of using this that and the other thing to organize and listen to music. Zune was definitely better at managing a collection than Xbox music, but I'm still hanging on for three reasons, 1 I will never give Apple a dime 2 I couldn't go back to the headache of managing a collection, and 3 they ARE working to make it better. It never rubbed me the right way though that my files downloaded with Zune can't be transferred to Xbox music and albums that were available in Zune and still play in the Zune software (bon iver and others I can't think of right now) aren't available in Xbox music.

Good point! I purchased hundreds of dollars worth of music through Zune, and it should ALL work on XBM. It doesn't. Why is that? Who is reprimanded at MSFT for that? Did anyone get shouted at and lose a bonus when that happened?

+928 I still use Zune daily

Can you sync from Zune to your 928?

Sadly, no. I use the Windows Phone desktop application when I need to connect and synch things to my phone.

I just needed Zune on WP to have equalizers. That would have been all.

Am I the only one here who doesn't know Zune!!!!*reloading my pistol furiously..

Ok, I legitimately feel much better about Xbox music after reading this. More power to you team. Make us proud (and give me my damned live tile LIKE WP7, where my most recently played artist STAYS on the Start screen for a beautiful Auron to my layout. Plz plz plz)

yes! And apart from the old but beautiful live tile like WP7 (that stays alive even without music playing... is it necessary to repeat this last sentence? kkk)... I miss the SmartDJ... Why is it now restricted for those that have a Xbox pass? I want to be able to create smart playlists with the music I already have in my phone. I used this feature a lot in WP7/8. When I installed WP8.1DP I stopped using this app mainly because of the lack of this feature. I switched to MixRadio. Nevertheless, good to know that the team has big plans and that they are hearing consumers. I just hope this is the last time they need to start all over again...

Omg yes yes yes! Please bring back the elegant live tile like the one in WP7. I really appreciate the tile showing the last artist played even when the music isn't playing. My Android and iOS friends don't have anything like that at all. And guess what? They're jealous.

My Android friends used to be jealous of my WP7 Zune player with its live Tiles. Now WP8 Xbox Music is just an embarrassment.

+Zune HD
+HD7
+620
+future awesome WP

Oh yeah, one other option for the live tile I'd be totally cool with would be tiny pictures of album art in your collection, like how the people tile works, when you aren't actively listening to something. I think the games tile should do this too. It entices people into using the stuff within.

AGREEEEEEEEEEEEEEEEEEÉEEEEÈ!!!!!!!!!! IT WAS VERY GORGEOUS AND THE REASON I BOUGHT WP! but now.. Plz MS....

Whenever I hear news about Xbox Music, I miss my old Lumia 800 and its Zune even more.

what time can make office like music and video,can update many times a mounth

That will likely happen too.

Oh no please delete this comment before MS sees it ,office is good this way!DELETE IMMEDIATELY!

*animation, nit Auron, though I do love final fantasy X....

Fix the album art problem, And fix the artist background thing. That was one of the most attractive things about the music player on WP. The MPAtool or w/e made it even more awesome, because you could choose your own artist background. Since the separation, it's useless.

A tightly integrated desktop and phone version with robust library management would be a dream. Would love to have changes I've made on desktop show up OTA on the phone.

Agree, would love to have customizable artist backgrounds as well. Fix what you broke, MS. It's pointless breaking the app to make it updatable w/o an OS update, if the OS update comes out before the app is even brought back to what it was in WP7!

This +Million.
Artist Background was awesome !

Oh and move the controls back to the bottom of the screen, like in WP7. They're so dumb being at the top, I can't stand it.

The controls are at the bottom for me?

omg I was still thinking about the music player before the 8.1 update. You're right, they did move them back down..but took away the Now Playing page that wasn't the clusterfuck it is now.

Hearts and auto playlists, some of the best Zune features

I agree. Being able to heart ❤ a song is key, as long as it actually does something on the back end. I hope they add this feature someday.

Yeah, I want my hearts back. Such an awesome and straightforward way to rate music. Also miss having the ability to sync music and automatically not sync stuff with a broken heart. RIP Zune syncing. :-(

No way. The heart system needs to die for two reasons... 1) It's not consistent with the rest of the MS platform (Windows Media Player, Windows Media Center, Windows File Explorer, and lot's of third party Windows programs) which use a 5 star rating system. 2) The like/dislike rating system is basically not a rating system at all. I like all my songs or I wouldn't buy them and download them. I delete songs that I don't like. Therefore, all of my songs would have a heart which is meaningless. At the very least there should be an option to use the heart or star rating system, but if it's only going to be one or the other it should be the 5 star system.

YES!
This!
I'm going to suggest this on the UserVoice thingy! 5 star rating that works everywhere! EDIT: Looks like there already is one, please people vote for it, stars are awesome! :) Here's the link

No, hearts was dumb dumb dumb. There's a rating field in mp3tag standard, use it, it's much better for cross platform/device usage.

To each their own. The star rating is annoying as I only either like a song or I don't. Trying to decide on a scale of none to five is useless for me. Again, I liked being able to set the broken heart and have it automatically un-sync. It sure beats having to remove an entire playlist and add it to the phone again just to make a few alterations.

On the Brightside they are taking full responsibility :) now get us back to the standard we know and came to love :)

Thanks for the interview, Xbox Music team! It's great to know exactly what's being worked on currently and to get a glimpse of what's to come. Keep up the hard work! One thing to note, some artist names displayed oddly in the old live tile. They'd appear partially displayed on the tile, and after a couple seconds delay they'd animate across the tile, and then repeat. I hope this is something that's being considered when creating the live tile for the new Xbox Music app.

Need a simple FLAC Player. Foobar2000 Mobile for WP8 might come to fruition based on them getting enough in donations.

No way. Not simple. Not even by far, it won't. I promise. Either it will DLNA stream 24-bit 192 kHz FLAC gaplessly over Wi-Fi into USB OTG into the Chord Hugo, or I will lay my Lumia behind the wheel of my mom's car and then I will drive backwards, and I will do this only once, so it will be a OneDrive.

It makes me proud to be a Microsoft user when I hear that such a big company is not beyond something like privately contacting a member on the forums and using the UserVoice site to help truly connect with people and get the most important features implemented, bugs fixed, etc. They aren't looking down on us. They see us as equals and know our opinions (despite maybe sometimes being very forward) have value.

Excellent writing as usual, Dan !!

Thanks, I'm getting there. Just a few more years, lol.

True, I always love your articles. Sam and others do the job, but you always do it like a pro, gettin' into details 'n all that. Keep it up!

Everytime this app plays in the background, it won't load all of my music, just few of them, not all.
Album art? Background Artist? Live Tile? Streaming music? I hope this app becomes better :)

I appreciate their hard work.
Just bring these and I wont complaint anymore:
- Social Features like old Zune and Spotify (it was promised when Xbox Music as a service launched);
- A Store more "discoverable", like is in the Windows 8.1 app. Is soooo hard to find new releases;
- Top Albuns and Top Musics, just like the Windows 8.1 app;
- Live Lockscreen like in the Zune HD;
- Smart Playlists.

live lockscreen.. please, i miss that so much!

I like where things are headed. One simple thing I'm missing is the ability to make radio stations from more than just artists. I

A shameless plug, maybe some of you might also like changing tracks by shaking your phones... Vote here to make this happen: http://xboxmusic.uservoice.com/forums/209733-xbox-music-suggestion-box/s...

Pffft. My Ravetouch BT headphones will do this with a swipe down the left can. Got NFC on the right can. That's a headphone feature, not an Xbox feature...

I fucking love El Ten Eleven

Saw them live years ago basically in a club basement. It was pretty amazing.

I came really close to booking them for a show here when I did that for manies during high school. Ah.. good times.. can't believe its been 6 years. Sorry if i make anyone here feel old. I know 6 years isnt long haha

Zune is still the best. That's why most of us use a windows phone in the first place

Those big words though! Thanks for expanding my vocabulary :) oh and yh, Xbox music needs to bring something new to the table... Something like transition effects between songs: Fading, scratching, fading and scratching.. Just a thought ;)

Glad to hear from the Xbox team and them owning up to their product. Since I'm no programmer, I can't begin to criticize their skills...At least I can see some strides in the amount of work they put into that app. It's not the best app, but by reading this article, I believe it will get there. Make it happen yo...

Lock screen cover art doesn't work in 8.1

There simply needs to be much better support for mp3 files. Every other device I have eats up my rather unorganized mp3 collection. This device (L521) and the Xbox music app is extremely picky. Oddly enough, it will play some files tomorrow, that weren't able to be played today. I've tried various SD cards, changed mp3 tag information, checked file names for any issues that might prevent playback, but the experience continues to be depressing. Support for flac or other "lossless" formats would be appreciated as well. I enjoy the overall platform. Having used everything else under the sun, and coming from a blackberry directly to WP, I am overall pleased. Just wish the audio experience would improve...

I don't think its to late, it just need to catch up with the competition its the cheapest in the uk at £9 a month, for me its just messy when u compare it to itunes store and then say Spotify. When u think of it as a buy service and a renting service

Good, they're working hard to fix the app. UserVoice FTW! I hope they'll give us the live lock screen, the album art, the progression bar and the swiping gesture to change tracks in the volume control center that leaked in February. If anyone's interested, look up "First glimpse of the new Dynamic Lockscreen on Windows Phone Blue | Winphone 8.1" on YouTube.

My opinion was always"They'll fix it if they can." I own an ativ and I'm a consumer but using a preview for developers. When Samsung ships firmware we'll laugh about Xbox music problems. And we'll be annoyed by the Xbox games app ;)

My opinion is, "They'll fix it if they can, and if they want to enough." I'm completely confident that they can fix it - they're smart people. I'm WAY less confident about how much they want to. I mean, I'm sure they "want to," in the sense that they WISH it would happen - I don't think they hate music and are making the app terrible on purpose. This is the same sense in which I "want to" run a marathon, or get a pilot's license, etc. I mean "want to" in the sense of, "Let's take some really good designers and developers off the projects they're working on now, and put them on Music." That clearly hasn't happened yet. (Just like I don't "want to" run a marathon NEARLY enough to actually start, you know, running...)

They are taking ownership, I give them that. The one thing that rubbed me the wrong way (more than the app itself) was the relative quietness on their part during the brunt of the uproar.

Please bring RATINGS!!!!!!!

We all know that there are many ways to improve Xbox Music but it seems that MS are intent on introducing new features to the app instead of fixing the current issues. Currently we don't really know what is getting fixed as the release notes for each update generally state "bug fixes or improvements" and we can only perceive that something has changed for the better. Currently i am finding my playlist to be rearranging itself, i can spend 10 minutes arranging what i want played first only to leave the app, re-enter it and all my songs are jumbled again, it can be a continual pain. One feature i would love to see if the ability to stop music completely, currently it can only be paused but it still lingers and attached to the audio controls, right now i have to use a third party app to control this but having it native would be a big help. And how about the ability to edit meta-data of a music file within the app, say that i have incorrectly named an artist, song, etc ect, right clicking on the track should allow me to make these changes without having to connect my phone to my pc and making the changes there. There are so many ideas and really, some of these should have been baked into the app in the first place.

"bug fixes or improvements"

Not addressing the rest of your comments (no time, sorry), but this one I disagree with. They have had some significantly detailed changelogs posted on UserVoice (and reposted here). It's true they don't put them all in the Store, but they do reveal them. Watch for tomorrows update and read it here to find out of they do it again.

I disagree with your comment Daniel, I don't visit UserVoice frequently and neither do i visit WPCentral on a daily bases either so i shouldn't be expected to do this to find the latest information about app fixes and releases ( i have a life) and to be honest neither should a general user as some may not know about these websites. But if they did put them in the store then it will solve any issues featured in my comment.

Where's the update??... I've been gone..

Hasn't been released yet, then again MS didn't actually say it would be released on Friday.

Yeah, the bi-weekly updates might be over with... And, that's ok.. They did a great job.

I don't care about album art. I don't care about FLAC or any lossless playback (anymore). It's plenty fast for me since a couple updates ago, and while my collection isn't on the level of some, I have close to 1000 songs that rotate from a collection more than 10x what's on my phone...it's still fast enough for me. I almost don't even care about gapless playback anymore. But for the love of all that is holy in the music world, PLEASE FIX THE BLIP BUG! Ever since WP8.1 was released, each and every song played has a small blip of itself played in the gap between songs (Y'know, the gap that GAPLESS PLAYBACK would eliminate). It's shocking to me that in all these updates, not once has this bug been addressed. It's one of the few that affects the actual noise coming out of the actual speakers (or headphones) and isn't just a feature that other players have, such as album art that works, or any of the other legitimate complaints about the music app. Plain and simple...it's the only bug that affects the music in the music player. Fix it. Please.

It's been fixed in the Cyan update. It was one of the first things I tested. Couldn't hear any extraneous noises, so well done MS. Keep up the good work!!!

Thank you! Fingers crossed for Verizon to update soon...

Yep!.. Fixed on my 1520 with Cyan..

Will there be an update that lets us uninstall it if we want to? There are other music apps I'd rather use.

You can uninstall it now, that's the point of it being an app.

What? :D We can uninstall Xbox music? Enlight me how to do that! Or it was just a joke? LOL

That's not true. You can't uninstall the Music app.

Nope, can't do it... Not that I want to, I Would like to have the option to uninstall the video and podcast app's though! 925's storage is quite limited at times ;)

I'm glad they're being open about the state of things, but as far as actually improving the app... I hate to say it, but I'll believe it when I see it. When I go to the list of artists, and start scrolling down, it can take a good 5-10 seconds for the names to appear. That is crazy, and I'm not convinced they can pull off the 10x performance improvement that's necessary. I did find it interesting that part of the problem is due to the switch in programming language....i wonder what that entails.

That is supposed to be greatly improved tomorrow. Check back.

Is it possible for an app to ever be as fast as something built into the OS? I feel like it would be limited.

I don't know, maybe not. Is the default music player on Android a separate app or baked in?

I hope its possible but I guess we'll find out

I don't have an Android - but friends who do agree unanimously that there are MANY separate music player apps that are leaps and bounds better than the default built-in one. And many third-party music player apps on Windows Phone are as fast as the old Music Hub was. So maybe something built in to the OS can always have the POTENTIAL to be faster than any third-party app (assuming it's written as efficiently and performance-enhancedly as possible), but the difference is likely marginal, and likely not the cause of the current Xbox Music app's pokiness.

I guess I'm one of the few who never had a real problem with Xbox music. I used it to play music, and that's what it did. Oh well, thumbs up for progress! Looking for great updates in the future!

And for many, it didn't even do that.

Ability to stream to Sonos ftw! Also high quality audio files etc..

Yeah same here it did what it said. You can't be picky

And what about people who want to listen to locally stored music without any resuming or through 3rd party apps..grrr!!
Hope music in update 1 fixes all the issues. :)

Wait, I thought the "boss was away"...

I like the idea of cloud-based music storage, but as long as my phone's battery lasts max
14 hours (with very minimal usage mind you) and as long as carriers get their hard-ons from charging some serious $€£¥ from mobile data, I'd recommend they make the local playback as a priority.

Good to hear this from XBox music team. I also appreciate their hard work.

This is really good to hear/read. I definitely feel much better. Now I only hope they can stick with this till the very end, no giving up midway or changing directions again etc. They really have what it takes, at least they did it before with the awesome Zune (I still rock my Zune HD btw!). They can do it again, even better!

Idk maybe its just me but I don't feel any better now then before reading the article. :(

Cheer up. :) lol, better?

Nah, it's not just you. Nothing to see here. It's the same "we're working on it" line. I really don't know what to do. I tried the iPod Touch to replace my Zune HD cause I wanted those cloud playlists I've been building on My Xbox and it worked fine for that. But then I also wanted all the music on my PC and it just became a hassle as 1) it requires me to use a different program 2) iPod Touch cannot read WMA files, protected or not and 3) I would have to use two different apps(music and xbox music) to play my collection. So, that was returned within a week. I would like to use my WP, but I keep getting duplicates no matter the phone I use. Argh!

Lol, I feel so much better now. It's good to hear about the hard work behind the scenes in the Xbox music app.

Its nice to hear a relatively candid response directly from the XBM team, but my problem is that lately this conversation seems to begin and end with the recent WP8.1 app, with little to no acknowledgement of all the messes that came before it. I'm sorry but the WP8.0 version, while better, was still pretty terrible, as was the W8 app (I'd argue it is still clunky and underpowered). And they had/have been out for almost two years. I created and maintained the Master List of Issues with XBM thread over on the Microsoft Answers site. This thread saw over 22,000 views, hundreds of votes, and 43 pages' worth of responses before Microsoft shut it down, claiming it was no longer useful. So to hear now that they love feedback and want to hear from us just seems false. The few changes they've made from the User Voice Forums are fairly small conveniences - they have yet to do anything about the major problems plaguing this service, i.e. poor integration of local user-owned collections, duplicates, overwritten metadata, playlist synching, etc. I can't help but feel skeptical after having been burned for almost two years on this service. It feels like a stall tactic.

I hear you. WTF led to this terrible series of setbacks and unfixed bugs? The toilet needs flushing at XBM and/or those above it running things. Way too many crap decisions to just forget it and hope someone finally learns from it all. Huge.Sigh.

I follwed that thread you started and it's just freaking amazing that back then, and even now, things have only marginally improved. Sorry, but for me, it's too little too late. XMB is a piece of sh*t, and that was the sole reason I left WP. Seriously, it was. Music is too important for me and their direction and their execution (or lack of) was just insulting.

Right, and I certainly don't blame you. I "left" twice - once to Android and once to iOS. Both times I came back because of the other draws of WP overall. But the irony is that I got into this platform back on WP7 in the first place because of the music service. I'm really not one of the folks demanding that Zune be brought back - I always look forward to new platforms and technology, but it is just mind-boggling that the mobile platform that once had (in my opinon) the absolute best music platform ever designed, now has the absolute worst. There's really no excuse for the shape XBM is in, and I think the whole "starting over" thing is only enabling the XBM team to act like nothing was wrong up to that point. Who knows, maybe I will be eating my words with tomorrow's update. But I doubt it. I've been saying "maybe THIS will be the update that fixes things" for almost two years. At the time, one of the "Lead Developers" at XBM (I now know he was actually a support delivery manager) had gotten in touch with me promising all the same things the guys in this article are now promising. "We hear you". "Keep the comments coming." "We love that you are into the platform." "Look out for new features coming soon." But no larger road map or more concrete details. Tell us when you're going to fix the metadata overwriting. Tell us when you're going to give us a more than bare bones sync tool. Tell when we can finally say goodbye to duplicate songs. And then make it happen without a thousand bugs and performance issues. Then I'll maybe believe a single word these guys say.

Dmmontal, I back your comments 100%.
WP8 was where it all started going wrong, and there have been repeated promises of 'it'll all get fixed in future updates'. Well future updates made it worse, and now because its got so bad that everytime an article mentions XBM, it's (rightly) greeted with anger and frustration.
I've been working as a CTO for a small company for years and we'd never release an update that makes the client experience worse (it's rule #1). Even if the backend changes completely we work to minimise the impact as much as possible. Why doesn't MS do this? They should easily be able to.

If they have indeed listened to our feedback, why don't they actually list the things they are working on and the timeframe!? Most companies have a roadmap and release schedule. Telerik are an excellent example of how to do this. I know Telerik's clients clients are devs, but then again MS's clients are mainly beta testers at this point.
Is it because they can't be trusted not to do this again? Are they going to suddenly decide it all needs to be written in JavaScript, Fortran or rebuild the core for quantum processors next, and reset the roadmap AGAIN?

Btw, for those of you not familiar with Dmmontal's master list, here it is (including 43 pages of comments):
http://answers.microsoft.com/en-us/winphone/forum/wp8-wpmusic/master-lis...
This was promised to be sorted out, but it hasn't. XBox Team, if you are reading this. When will we see things fixed?

Very awesome! I knew it was beta software....but yes the title "beta" would have fended off the "AAAAHHHHH!!!" I suppose we shall see what Microsoft has in store for the app. I

Uhm just give me a sec. Wasn't it released as a beta back in Nov 2013? Actually, this Article is pretty pointless if you ask me. I mean don't get me wrong but I think all this blaming they get from the community is pretty much their own fault. They had time updating and tweaking the app for months. All they did was promise that they'll update the App which never really happened. Now fast forward to April and 8.1 release, they released this App "unchanged" and wonder why people complain about its bad performance and non existent features. Well done.

Shit, I want that "Music Locker" service. WIFI/4G all day. And let us pick artist pictures/album art. That photo of Michael Jackson is tough.

I have friggin Beyoncé as my untitled album... I'd rather have nothing than her head on them! Lol

I hope one note and office get removed from the OS and replaced as apps as well because they seriously need some updating.

I'm never one to complain too much because I realize every business has a vision in this case Microsoft is working towards their vision. I do agree that they probably should have made the Music App a Beta app. There's really only two things I'm missing from this version. Recently played and the Album year! The Album year is most critical to me. Because I use the Related feature a lot and not knowing if the artist is current is a shame (for me). If they fix those 2 things I'm good!

Seriously, no further feedback is needed. UserVoice is very comprehensive at this point. The issue is internal resources and Microsoft is simply not putting enough towards XBox music. Do not accept any excuses, or promises that big changes are coming. They have been saying that for years. They simply do not see XBox Music as a priority. It sucks and I think its the number one thing driving people away from the platform, but so be it. We can either accept it or move on. I've been waiting too long and will be moving on to another platform.

That's a pretty poor response to an article that is about what you have been waiting for, how to get it, when it is coming And why there has been a wait...

No, see if the same idiots (sorry) are making the decisions then we are still screwed. Not learning from past mistakes is yet another terrible mistake. A price must be paid and a big change at the highest points is the only way XBM might become worth using and not a huge mark against WinPhone.
It's beyond embarrassing.

I see the same issues, just in a different light... The pace of updates had been stepped up, they would only do that if they were listening to users (finally) and have admitted that it is lacking... That in itself is a huge positive, I only see the size of these updates as the downside! What we want is coming, just not fast enough. These 7 updates we have had should have solved the top 7 issues on user voice in my eyes. With necessary bug fixes done in between but not included as one of the highly anticipated fortnightly updates. Although this article doesn't bring much for us users right now, I can now see a change in attitude from the app team! I am going to accept their excuse for needing update 1 to progress but I also expect more progress from then than we have had up until now!

You must be new here. There is nothing new in this article and the message from Microsoft has been the same - Keep Waiting!

Long term poster here... I'm just not as negative as some... An Xbox music subscription still offers more than most competitors... I'm not justifying the step backwards with the app, but stating there is finally some positive movement with the music team implementing what we asked for! Try getting that response from another OS! These things we ask for today can't physically be implemented on your handset tomorrow! So naturally on a growing OS like WP there will be a small wait... If I had a problem with waiting I would go use an outdated OS like Windows Mobile, iOS or droid, but I also know that when MS gets their shit together on this I would want to come back! So in perspective I think its better taking a small setback for us to get what we want! (user voice) remain positive my friend... Negativity will get the OS nowhere, don't we get enough anti MS bs from other websites?

Dude. iOS and Android are not outdated, lets be real. They are better than what we have I really don't understand why people here act like we have the superior OS when we clearly don't.

I never said superior... I said growing... Did you use a Windows Mobile smartphone? If you did you would see what I mean by iOS and Android being outdated....

This. Wtf is MS thinking. "Oh hey we have absolutely no mobile presence. I know! Lets make an inferior OS and not pay attention to it." I might be coming to the end of my rope lol. Either make a an OS that can compete or drop WP. I'm getting very tired and irritated.

Go pick up a Windows phone 7 device... Then go back to 8.1 and see how much progress the OS has made compared to how much progress it has made compared to others.... Btw, you should drop the 'n' out of your username....

If you go from 7 to 8.1 you'll notice things got slower.

8.1 dev preview? Yes... 8.1 with Cyan on a new device? no...

Beleive me when I say, grab a Lumia 900 vs a 920 and you'll see what I mean. WP7 was highly optimized and smooth, WP8.1 is fast, but not as fluid as WP7.

All the sluggishness that I found in the dev preview has gone on 930... My 925 on dev prev isn't anywhere near as fluid as the 930.. I'm still rocking a HTC Radiant (titan2) for work and it sucks balls... It never got the 7.8 update lol... It's fluid but useless :D

8.1 Cyan on a new device (I'm guessing 930), is kind of a pointless comparison as the hw is about 10 faster than it was in WP7 days.

Yep, that was the point I was making... More tasks = More processing power needed... WP7 is a whole heap less capable than WP8.1.. so naturally if you are using 8.1 on a quad core compared to dual core it will handle it better... But in me saying that I am also yet to try final release 8.1 with Cyan's optimizations on my 925 to compare with my 930... So there may be no difference....

Right. Thats so funny because my single core Trophy is pretty damn fast. WP 8 isnt 'blowing' it out of the water or anything. Also, So because WP was horribly behind Apple and Google when it launched and the progress they have made still hasn't caught up to either platform your happy? You sound like a really smart guy, but thanks ill keep the 'n' in my name.

You still say horribly behind.... Windows Mobile was actually ahead of those two.. Why would MS stop building up WM? When it was already matured? Because it was outdated... Windows phone is a new approach to mobile... Which I am yet to see from the others still using almost the same building blocks WM had before them... Most people here want to be part of that new approach, by offering their opinions some just want to bag the shit out of them while they build back up again. 8.1 does blow my radiant out of the water as far as feature set goes but you can see the strain those features place on my 925 in dev preview without Cyan.. But with my 930 it is very very close to the speed and "fluidness" of old. Can't wait to chuck update 1 on it ;)

Forgot to answer the "happy?" part of your statement. I'm always happy to see progress... ;)

Haha, really bad analogy there! If you do that, you'll notice that the WP7 music player is about 1000x better than what we have now in EVERY way!

Lol, man if we went back to WM6.0 we would have a better music player than we have now!! :D But progression in the direction of user feedback is promising ;)

Keifwoki, progression in the direction of user feedback.... That's a great idea. No one argues with it. The problem for most people is that they are just words. The combination of a phone and an mp3 player was what fueled smartphone innovation. If user feedback is needed in 2014 to understand the importance of a solid music player, there is a HUGE problem on the WP team.

They aren't just words, they are actually implementing the most voted on requests from the user feedback page... Slowly... And that is a problem I posted further down in the thread... To save skimming through to find it, I said something like the 7 fortnightly updates the music app has had, should have been the seven top requested features implemented... I think bug fixes etc shouldn't have been classed as one of those updates but been done over the two weeks in between... But that's just my 2 cents I don't work there and don't see the challenges they face each day... With them saying there were things that needed to wait for update 1, I expect more from them after update 1 for 8.1... There's no excuse then...

Who cares you leave? Everyone is free to do whathever he wants. You waited too long oh my god we're all sad. I think noone don't give a s*** of your threat to leave the platform. My advice for you, use your credit card and buy a new android or ios device. that's it. For me i'll stick with my WP because i see MS progressing at each new update they make to the platform or apps and i'll wait the update for xbox music tomorrow and the next in the next twoo weeks and the wp8.1 update 1 next week etc... But i'm not crying...

Where did I cry? I stated facts and made a clear argument based on that. I said the choice is ours to make and I made mine. Good troll though

Man this article must have been posted elsewhere, all the trolls seem to be crawling out from under their bridges! I've had cock heads who know bugger all about WP arguing with me in this thread all day on and off...

Wanting a premium music app is the least us users should accept from a WP. Getting laughed at and humiliated by Android and iPhone users is getting to be a regular occurrence especially when many devs overlook windows phones when building an app. This is why its imperative we have a supreme app born out of Xbox, something that we can stick our middle finger up to the others. Zune did that but for me it still feels like we haven't moved forward at all since Zune was overlooked. Simple issues like track interference between track's as if the wrong song has been selected has for me been evident everytime I play an album, downloaded via subscription I hasten to add. How can anyone convince users of other platforms to switch to windowsphone when we have the debacle that is music....argh.!!! Hate that...i mean Xbox music.......still will always be....

Can you download any track from a music store and playback at anytime from any of your device's -offline with any other music app subscription, for less than $10 a month?

No amazingly I can't, I chose to pay for a full year last October as a saving was made rather than pay monthly and their are so many albums that are either unavailable through Xbox music or can only be downloaded (and owned) by a separate purchase. When paying for the year I didn't expect to have to pay extra on top of my subscription. The small print did mention some albums/tracks weren't going to be available but didn't mention that we were having to pay for some. Anyway, its not about the cost, I'd gladly pay £100 a year if the service via the app was almost flawless but it isn't, its far from that as a user experience and that's where the frustrations lie I'm afraid. You'd think that an app from a 3rd party dev may have some flaws but surely not from a global leader like Microsoft ? What I also fail to understand is why Beats music is only available in the U.S. and not global, c'mon that's crazy considering the digital age we live in. When the consumer isn't happy with the service he's getting you know he's gonna look elsewhere, especially when he's forked out money.

Allow all Windows Phone users to have FREE access to Xbox music streaming service without requiring Music Pass or any subscription.....

I enjoyed this article and I am glad that they are working hard on this. But I'm getting tired of waiting. I've been part of this since the initial launch of the Zune, when it was really lipstick on Windows Media Player. To see that they are now getting us gapless playback... This was missing in early versions of the Zune software too and then was fixed or implemented with a lot of work by the teams and the beta testers. Social sharing? Was already part of the Zune. I can't use my xbox music song credits in the xbox music app, but still can do it using the Zune software. We have had features removed from the Zune software over the years in order to accommodate the lesser Xbox platforms, now they are finally trying to add these features back in? Come on, the algorithms exist already, even if the code has to be rewritten. Bottom line for me is that they keep reinventing wheels that were already invented, tested and road ready years ago. I still use the Zune software on my windows 8.1 pc because this Xbox music app just doesn't work. I've been looking forward to the allegedly fixed app for wp8.1 for a while now, but it sounds like it still isn't right. This is very disappointing, no matter how hard the team is working on it.

You hit the nail on the head with that one. That's why this whole debacle is so frustrating.

If this were a football match it would be like scoring 5 own goals, then finally putting the ball in the opponents net and then running round the pitch swinging your shirt over your head. Almost like the Brazil-Germany world cup semi-final.
They don't need uservoice, all they need to do is go back and use Zune for a week and re-implement all the features that they notice they took out. Nearly every single suggestion in uservoice was something that Zune already did, and did well.

Just give consideration to those of us who have no interest in your streaming service and just want to play files loaded on the phone without having our album art butchered.

They did tell me that local playback is something they really want to improve/focus on, especially after I brought up praises about Zune in the past.

That's great to hear, but that should have been the #1 focus on the 1st (WP 8) and 2nd (WP 8.1) rewrites. A stable, and usable local music player should have been the foundation of the new app, with the XBM specific features added in as icing on the cake.

Haha, did you ask if these guys ever used Zune? It sounds like from your comment that they haven't (if so, that wouldn't surprise me).

To address this properly, they would also have to change their stance on the syncing capabilities:
My uservoice suggestion considers this exact issue of the preference for local music and syncing capabilities:
http://xboxmusic.uservoice.com/forums/209733-xbox-music-suggestion-box/s...

I've been happy that the last month worth of updates has made the app much more stable. It was and is still slow to get where I'd like it, but with the live tile and recently played coming back, I'm excited! Oh and about the last update...I now occasionally when clicking to play an album have the error where I starts the last album played. Not cool, please fix. 1020 on att.

Glad they are listening and improving. But like the article mentions, it should have been in beta and Microsoft should have still had the old music hub accessible without the need of a link from a third party app. Let people use what works while the new music app is brought up to par. In my opinion, if the new music app was released say tomorrow when we get the latest updates, the backlash wouldn't have been as bad. It was the same problem when they switched from Zune. They don't have smooth transitions between new ideas and the new user experience usually takes too long to become stable.

I've been a long time subscriber to Xbox music. I appreciate the efforts to improve the service. I do wish they would throw us long time supporters some sort of a bone because it has been a very painful time with Xbox music on WP 8.1. I'd say that it has not been worth the money for those like me that do not use anything other than Windows Phone app for it. I have great confidence that it will get there. For me, I'm not interested in social features. I want a product that is fast, accurate, can play songs based on my mood, and makes it easy and fun to explore new music. Thanks to the Xbox and wpc teams.

Get this - I've been a subscriber for a long time as well and just got scammed out of the old pass that allowed me to download tracks. I was specifically told that buying the membership card from the store would be sufficient to renew that subscription - I repeatedly pointed out the price difference and that I had the old plan with downloads. Long story short, I used the code, it renewed my account but changed it to the new plan (no downloads) and support says there is no way they can fix it, regardless of me being willing to pay the full price. This was the final blow for me. What a way to treat a loyal customer.

Doesn't sound right, take it further man!

Lets go Microsoft! Oh and artist/album artwork on lock screen is a feature I dearly miss

About that. I used MPAtool app to download all artworks and guess what? Artists are showing on lock screen... It was a pleasant surprise

They do show up if the artist is matched to one on Xbox Music, and that it has an artist background.

One of the things that really worries me is that when Xbox Music was introduced for Windows 8 (as opposed to on the phone), music matching was DESTRUCTIVE. I had ripped all our CDs to the family server with Zune, and had gotten the metadata the way I wanted it (because the online databases don't define things the way my family does). Music matching changed, and in many cases, deleted the files! All my work down the drain. I re-ripped all the CDs and again got everything the way I wanted it in a separate account, and now only connect when using Xbox Music with an account that does not have write permissions. If Microsoft brings a music locker feature to Xbox Music using OneDrive, I sure hope that music matching changes NOTHING in our music files! I also hope that I can share my locker with other household member. We shouldn't have to waste 4 times the upload times for the CDs we own.

Ouch. That's inexcusable.

This is a common complaint dating back to dmmontal's 'Master List of Issues' that they promised to do something about (and so far have come up short).

I'm tired of it being okay to slap a beta tag on things and expecting the public to buy a product while forgiving its flaws. I don't care what the situation is. Microsoft had a release date and the Xbox Music team couldn't hit the deadline. Just give me a default media player and let me buy your music and videos from the Windows store. The subscription services should be the icing on the cake. Too much icing gives you a belly ache.

Dear Microsoft, there are a lot of problems with both Windows Phone 8.1 and Windows 8.1. I know you guys don't understand the customers, but admit it, Windows Phone is not a full grown OS, and it needs a lot of work to attract customers, those who are attracted don't care what their phone can do, and don't expect much from it, unless you are a Microsoft/Nokia fan. I don't think that's the goal of customers that you want don't you? I wish I could share a lot of idea's with you guys, and I wish I could show how things could have done better. After all, I'm a customer, maybe not a simple customer like most of the people are, but I am pretty sure that I would help you guys a lot! There are so many little things that I hate about Windows Phone, and Windows on the desktop, that I would like to fix, sadly we are not colleague's. And to be honest, I'm tired of all those stupid mistakes you guys make, I really hope I can be a part of Microsoft, so we as colleagues can show the world what Windows Phone and Windows really means/is! Davide

User voice.... Don't complain if you wont express your issues!

Syncing would work better as there are songs that for some odd reason(probably record labels) are not allowed to be streamed. I had a lot of these on my iPod Touch. The good thing is you could save playlists on it for oflline use. But the cloud locker is a step in the right direction I s'pose. Anyways, just fix that damn duplicate bug please.

I've been suffering from extremely low performance on my 920 running the Dev Preview of Windows 8.1, however, yesterday I decided to go to a Microsoft Store and get the Lumia 635 + FitBit Flex for about $150 as announced here in WPC. As you probably know, the 635 already comes with WP8.1 + the Cyan firmware. I noticed that the Xbox Music app is a lot faster and in general performs much better on the 635 than on the 920 with the Dev Preview. Wondering if that has anything to do with firmware improvements on Cyan or anything else. The only problem is that it stutters a bit when I lock my phone and let it playing streaming over Bluetooth. Not sure if this is because of the app or the lower RAM. It also happens when streaming music using Pandora on the 635. Will probably ask on the forum to see if other 630/635 users are experiencing anything similar.

The quad core of the 635 probably helps the performance but the 512 memory probably creates the stuttering cause by memory swapping.

They need 3 things and I will be happy: Track numbers, ability to reset music index instead of hard resetting the phone, and an option to only use tagged album art.

Should add lock screen support

Xbox music will never work as good as when it was part of OS! We just have to deal with it! It's true and everybody here knows that! Do you really believe it will be better? After 10 more updates it will still be bad as it is now!

Not true, as the apps integrate better with the core (like update 1 sounds to bring) the difference could potentially be unnoticeable ;)

I would like that to be true. But more likely it will happen with update 3...

At today's pace, true... But this acknowledgement and communication is promising of commitment... Which is more than we had before! I'm excited to see what the update after update 1 brings... There's no excuses then ;)

The whole Xbox music experience on Windows phone 8.1 and Windows 8.1 is highly disappointing for me. The Windows phone 8.1 version always screws up my music collection by automatically updating the music tag info. We had the option in the past to turn that off and we still should now. As for Xbox music as a whole, I still prefer to buy music outright and not have a subscription service. I'm sure there are other user like me. I get frustrated by the poor control Microsoft have over the disjointed and sometimes ludicrous pricing of songs and albums where it's cheaper to buy each song on the album individually instead of the one purchase as an album. This brings me to my other point of how poor the purchasing experience is. To can only process one item at a time instead of adding multiple songs or albums to a cart and making just one overall purchase. The old Zune desktop application is still better than Xbox music and that disappoints me as I want to support Microsoft and not have to go to Apple iTunes for my music needs. As it is I'm now using an upload touch for my music playback as the Xbox music app on Windows phone has been ruined for me. I am waiting for the day that these issues get resolved and we get gapless music playback that my iPod touch is capable of.

Having said that I am the eternal optimist and I hope they succeed but my patience is wearing thin and when my subscription is due for renewal I will be seriously looking at alternatives if Xbox music isn't running smoothly. I love the windowsphone experience and try to promote this to all I know but unless Microsoft deliver equal hardware and software to rival the other platforms, its impossible to promote anything. Hopefully the ultimate sacrifice won't be giving up and having to revert to another operating system with another handset manufacturer to achieve the ultimate user experience.

Hold in there man, they do listen to the uservoice pages.. So if you have stated what is lacking, it will more than likely be on its way already ;)

I would like an app more looking like on Windows 8... It's WAY better designed. WP8's is just a mess with boring design and color

If they had left the old version there while they developed the new version that would then just twice the old in one future update. Why make everyone struggle it's all so avoidable.

FIND MY MUSIC TOO is awesome, give it a try!

Hey MS if you ate trading this, please add support for steaming to SONOS, then I can drop Spotify.

After having to revert back to 8 before upgrading to Cyan, and resetting my 1520 to factory defaults, the Xbox Music app worked much better. Even my album art showed up. The app is actually improving. My concern is that users who never reset their phones may never see the fixes.

The improvements are awesome, the fortnightly updates are even better! I do wholeheartedly respect the effort by the team, but.....
My criticism is although regular the updates are minimal... Small steps are ok once established but if starting from scratch (as stated) should be much more substantial... Seven updates should see us looking at an almost alien Xbox music UI, not one that looks similar and has less features to the hub...
Also Its ok to change the appearance, as long as the features and usability don't disappear, don't be scared to go all out guys! We need a few leaps, not baby steps ;)
Looking forward to what the team brings over the next couple of weeks, but more so looking forward to the update that comes after update 1, when they have the base they seem to be waiting for!

Please, please, please fix the album art issue. Those of us who have meticulously updated our music collections don't want to see a low resolution, awful piece of artwork on display--especially one that is not of our choosing. Plus, why ruin an aesthetically beautiful interface with a fuzzy, outdated album cover? Until then--and I know there are more pressing issues with the app--I won't use it.

The app works fine on my L920 when playing locally stored .mp3s. My issue is with Xbox, the service. No one in the house is a true audiophile, but we all have very different tastes in music. The Xbox catalog is definitely not worth $10/mo per user around here, particularly since we'd only be "renting' the songs (very bad experience with Rhapsody makes that extremely undesirable). If I want to buy music? Xbox titles are overpriced. Years ago, Windows Media Center introduced me to emusic.com. They offer a lot more indie, classic rock, and foreign music titles than Xbox and the average price for a song is $.79 compared to Xbox's $1.29 for the same title... So give me OneDrive music storage and I'll be a very happy camper.

The old Music+Videos just missed the ability to create playlists. For me, they could just let the old hub and then let those new apps for Xbox Music and Video subscribers. I just want to listen my music and watch my videos on my phone, That's all.

Oh, and goodnight, its 1:30 in the UK, I've been working away and have not been back for long and am knackered.

There was a beta of the stand alone app before 8.1 rolled out in preview. Many of us installed it and as a first effort, it did show promise. I found myself going back to the old hub, still available at that time. What really hurt was there was no apparent improvement in the app when the dev preview rolled out. As noted it should have carried a beta tag, but didn't. Now every step seems a small improvement but often seems like back pedaling. We'll see. To be honest, considering how poorly some things work, a 50% improvement may not even be perceptible.

What about the podcasts app? It hasn't gotten any love lately. Are they going to update it and fix all its bugs? Are they going to come out with a Windows 8.1 version?

And Microsoft's employees with all their studies and intelligence couldn't imagine something like and OS only music player and a secondary app with all the shit that I don't need?

Unsatisfactory questions and answers.
"Why put out the terrible version when you did? Why not wait 6 months? None of the reasons for backing Xbox music out of the OS was ever going to happen in those 6 months."
The justification for that is important to get at because it was so terribly wrong. MS needs to learn to avoid releasing (~forcing upon us) a completely unusable app.
Pretty much all decision making that led to the *timing* of the move must be extinguished. This was not a minor mistake. It literally shook my faith in MS and the Xbox music team. I can barely recommend Windows Phone to people because of it! It makes me look stupid or mean.
The worst part is knowing that it will be so much better soon and that there was no good reason to switch yet.

The problem is that if they didn't release anything, we would get the incessant bitching about "MS are too slow, they don't know what they're doing" etc... I would rather see an app with minimal features doing it's basic job, which is to just play music. Which it does OK. Then add the features over time and improving things. Can you imagine the backlash if WP 8.1 was released with no music player whatsover??? Other people have said, "Why didn't they use the old music hub?" This is clearly explained in the article. 'Unbundling' the hub takes a load of work. At least in app form, updates can be done a hell of a lot quicker, as you are working on a self contained entity, instead of trying to code around the core OS. Any mistakes or bugs would have a catastrophic effect on the OS as a whole... It makes sense from a development point of view

Unbundling the HUB should have been done AFTER the replacement app is ready, or at the very least made a beta and launched in tandem. Technical backend issues should not be made a problem for the consumer, and I say that from a position of experience in the IT industry. Golden rule #1 is don't make the experience upgrade worse with an upgrade.
This is the second time as it also applies back to the original WP8 upgrade where features first started going AWOL. In short, MS miscalculated and thought they could get away by cheaping out on the music development. They've now been found out, and due to their previous carelessness and lack of allocated resource they are now desperately playing catch up with these bi-weekly updates.

My 2c about the app. Slow, annoying, doubles or triples my tracks randomly, takes forever to load up, not all music is displayed, playlists dont play the way they are supposed to, you press a song another one at the start of the list plays ect ect. I am a big fan of WP and am not at all interested in the competition but come on! This is a music player here not rocket science! If you have to build one from scratch, make it as good or better than others. In today's fast paced world, there is no place for shoddy workmanship and that is exactly (imo) what the current xbox music is...a big FAIL.

I see there is new music in the the new app now but its not categorized by genre like it used to be in WP8.0. WE NEED NEW MUSIC CATEGORIZED BY GENRE. Without this feature its hard to find new music that I might like so there is no point for me to buy the Xbox music pass if I don't download any new music that I like. I hope they read this.

How about making windows phone app for desktop able to deal with playlists

So the question of the day is... Do we stick with the infrastructure going forward so that we reap the benefits of a true match for iTunes... Or do we jump off a sinking ship as soon as possible to avoid wasting time cruising down a dead end street with our music blaring!?! I'm not sure I know the answer, but I sure am thinking about what I want to do.

I have faith in Microsoft ;)

I'm ready for tomorrow's update.

This is a simple riddle to solve. We all know the app is horrible. All Microsoft needs to do is put out a $25,000 cash bounty and an open job interview to an independent developer to make this app incredible. Of course, the source code would only be released to screened devs that provide examples of their work, with an iron-clad NDA. In a few weeks, they would have a slick app, a newly hired talent and good press. Simple, really.

A few weeks? You are obviously NOT a developer, or you would understand it takes more than a few weeks just to get some sort of plan together... It's not a case of bolting some code together and it's done... If only!!! Let MS sort it out. They are on the right track. They are not the number one software company in the world for nothing!!!

No need to get angry. I said a few weeks because it has been bad for a long time. Microsoft's internal devs clearly aren't putting out solid work ala iOS or Google devs (no war attempt here, but just saying). Hell, even some of their other apps are great - maybe pull those resources? All I know is there are so many very talented, but not corporate-like devs in this world. A chance at making $25k overnight and being offered a standing interview to work for MSFT would cause much caffeine to be consumed and 20x7 work on a polished app. I mean, Microsoft should have done this months ago, but here we are. I suppose we blindly sit back and let them sort it out, as you said. Cool. Edit: I've been to Bellvue (home of WP) many times. That place is an absolute ghost town at 5:01pm. Just saying. Microsoft workers appear like Union workers. Simple observation (and I know folks who work there who giggle and agree).

Not angry at all..... The recent restructuring was done to facilitate quicker development. Just have a bit more patience. It's not about 'blindly sitting back' at all. Software development is a complete pain in the arse. Things go wrong and technology has a mind of it's own, even if the code is perfect. Sometimes things don't work as they should. Sometimes I wish I just worked in an office instead of slaving over a keyboard and hot code... Sometimes, it gets old really quickly. Other times everything works perfectly and there is no place you would rather be... They will make it happen I'm sure...

Implement the cloud locker thing (I assume that means music on my OneDrive can be played in Xbox music) and all will be forgiven.

Heck no. I dont' even want that as a feature, it doesn't interest me at all.

I would need a much larger data cap on my phone but I could do away with my JB hifi subscription if I could use the 50gb of music I have on my PC. That's the beauty of optional features as well, people who don't want it, don't have to use it.

I think here is part of the problem, we each have a priority of what needs to be fixed/implemented to make us happy. Microsoft can't do it all at once, so they prioritize items, usually based on the most votes. But like all voting, there are winners and losers. It's not that those won't get done, they just come later. Look at the Live Tile thing. I mean, sure, it's nice, but for me it is totally superficial to the actual music experience of finding artists, scrolling, and using the app as a music player. Yet it's one of the top voted feature suggestions. < shrug >

Well, if its any consolation I don't care if it doesn't get implemented as I have other options which I can utilise, I don't use xbox music at the moment, if it had that I would though. But yeah, so far nothing in xbox music appeals to me that I don't get from mix radio or my jb app.

It's because it largely stands for the state of the app in general. If they cant even implement a core OS feature then what hope is there of sorting the app out. It's also right there for all to see on the screen day in day out.
None of us ever put in a uservoice suggestion to remove Zune's features, or to make it a standalone app.
If they had to do those, then FORCE us to use it only when its ready. XBM should have been given the label beta from day 1.

For me the pitfall here is that, in my opinion, none of the points on the User Voice page should have been addressed until the major issues with the app/platform were fixed. A suggestion box is something you do once you have a stable (if possibly bare-bones) product and you're looking for suggestions on what new features the customer wants to see - not something that you start getting into when not even the basic functionality is there. I think it's a bit nuts that superficial features like the slide bar or live tile are being worked on and rolled out before stabilzing the app, eliminating song duplicates, fixing the metadata overwriting, etc. - all basic issues that any music-playing service should not have. And again let's not pretend that this has all just happened with the WP8.1 app - these issues have been there, unimproved, since day one in October 2012. Microsoft was well aware of these issues long before the User Voice page was ever opened for XBM. One could certainly argue that these are just the things that would make me happy and therefore they're no more important than somebody voting to have the scrubbing bar. But the points I'm talking about are not features - they affect the basic functionality of the platform. It's like a car company telling us how excited we should be that they installed a new cup holder, and thanking us for all the people who voted to install cup holders, even though the wheels keep falling off the car.

Gapless playback 4.T.W. Please. Me need very muchly. If the artist wanted a pause between tracks they would have put it there themselves.

This. I've been waiting for gapless playback since WP7.0 came out almost four years ago!

Looking forward to the end result & the upcoming big updates ... they are halfway there ... the app still need more work ... but significantly improved since it launched a couple of months ago.

My big question is what is the future of Xbox Music and Video? Satya told the world that Microsoft is going to "streamline it's investments" in Xbox Music. Are they quitting it? Should we get out now? I like it, but I don't want to stick around if Microsoft isn't.

Yeah, they didn't want to be asked about that/no comment.

Well, in fairness, it's not their position to talk about such matters. Those things are much higher up the food chain. It's like asking an Xbox One engineer about the future of consoles--not his/her place to comment on the future direction of Microsoft. That's fair.

What really irritates my about Xbox Music is how terrible it is as simple things. Why is it that going from built-in to standalone, I lost probably 30% of the album art in my library, and nothing I do to change the files on my PC and re-synce them fixes it? Why has the majority of my library stopped displaying release date information, or changed years-old albums to 2014 releases? i can almsot accept how pitifully slow the app is, in the hopes it improves long-term. However, I can't stand how it's a legitimate chore jut to browse my music on my phone to start something up for listening.

Per Geddeeee (above), give them time and relax. They got this.

Thanks, man. The point I was making is that MS have to take the old WP8 core hub, which was tied deeply into the core OS and make a completely new app. I read the comments on here sometimes and despair. Software development is very, very difficult. When I hear comments about how simple it is to 'add a few line of code', I get quite annoyed.... If only it were that easy, my life would be a hell of a lot simpler, believe me!!!!

They've done nothing with Xbox music that makes me think they got/get it or really even care. Maybe some people at xbixmusic care but on the whole they are happy to force crap on us while telling us how great it will be.
10 straight steps backwards doesn't make me feel confident that the next steps will be forward. Quite the opposite.
And my partner is a Softie... They aren't perfect. They haven't even been adequate yet.
They don't"got this" AT ALL. I'm ashamed for them.

Sadly, it's just as bad, if not worse, on Windows 8.1 Update 1 on the PC. I really hate using it. Easily 1/3 of the metadata is wrong...because it completely ignores the files. I don't care what's in Microsoft's library. I only care about what's in MY library. I can only guess that the reason why this continues is because of the cloud matching feature. This means that you are stuck with the app searching MS to see if they can identify & match what you have, but then to stream that on other devices you are a slave to THEIR metatags. I'm hoping that the OneDrive Locker will mean the end of the cloud match and the screwing up of our metadata.

I tried launching the app today. It was literally sitting on the splash screen for 4 mins before I gave up and just ran the 8.0 version (which launched in under 1s btw). Even calling the app a beta would have been a stretch. There isn't a single other app I've ever downloaded (~200) that performed that badly. Keep working, because 50% improvement on a 4 min launch time is still unacceptable

I like MS try to develop their software and apps, OS under long-terms plan but if it takes too long, I wonder who will wait until they make it completely. I hope that they would make it as quickly as possible not too late as they did before.

Bring us OneDrive Music Locker and scrolling titles/text, along with an app that opens up to something other than a black screen (I know, you're just trying to help save my battery life which is way worse with the latest 8.1 DP updates) and I'll be happy. And be snappy about it. All we hear is it's coming, it's coming - be patient. The competition isn't patient, they're taking huge strides while WP is limping along... time to come out and really compete, not just say you're showing up.

Just wanted to say that whoever took these pictures has great taste in music. Rise Against ftw.

One Drive being a locker would make me pay for storage (if 365 didn't give me all I need and more). Accessing music from there would reduce the need for my SD card on my 1520.

I heard when it launches, anyone who uploads onto their OneDrive music locker will receive additional 20GB.

What happened to the Xbox music API being opened for devs? There are some great 3rd party apps to fill in the gap for now.... If only they had access to the music store with my subscription!

Great write up, Daniel, but in all honesty, replace XBM in the title with almost any major app, and the criticism (features, performance, etc) will be almost identical. WP8.1 as a whole feels like a Beta. I know rebooting an OS and core services is no easy task, and takes longer than us users are usually willing to wait for (especially those who have been around since WP7), but as paying customers with alternatives, we have that privilege. :)
I honestly believe that this is one of the biggest reasons, WP isn't gaining as much momentum as those who are fans would like, and not so much the lack of a "Hero" phone, or inadequate marketing.

There's some truth to that, no doubt. The problem is the same thing that could save Windows Phone is what is causing those performance issues: its NT kernel. You are basically running part of a desktop OS on your phone, which will let MS expand and merge products. The downside is that code, runtimes and services are much newer than CE (which was really ancient and super limited in capability). The NT stuff will get better, but yeah, rebooting everything and merging stuff...its a bit rough.

Do you think they have that luxury Daniel? In all seriousness. Here we are 4 years after the initial Metro redesign and things are worse, functionally speaking, than in my HTC Trophy. Market share is decreasing. I'm not seeing it.

Probably not, hence my skepticism at the end. But they are a big company, let's see what happens. I'm not going anywhere, lol.

Fair enough. As you can understand this behavior has been ridiculously frustrating.

Windows NT wasn't being called Windows Not There for no reason. That I can remember.

This is really just a lousy damage control

Yep. Its embarrassing and WP market share is falling fast. This kind of screw up should not be allowed. How can you be allowed to release this to the public. Honestly.

Honestly i really liked Zune, improving in the pc to wp files part

I did, too. I was fast, accurate, nice looking and easy to use. I miss those days.

I like the idea of extracting XBox music as an external app. But that said, can MS leave the Nokia Mix alone?? I prefer using Nokia Mix than XBox music as XBox music does not have good support in my country.

My biggest gripe since the switch to a stand-alone app would have to be the fact that music does not automatically run and start when I get into my car. Off to UserVoice I go I suppose :-)

I'm proud of Microsoft for taking the hard road, or at least the one less traveled. That is why I am still a customer, and I'm sure I speak for many of us.

The question is, with Windows Phone 8.1 and Update 1 devices nearing release, is it too little too late?

Yes. I bought an iPod. Two colleagues considering Windows Phones bought iPhones when they saw the XBM experience on my 1020. Apple sold an extra 3 hardware devices and untold future iTunes purchases based on how bad XBM is. It's nice XBM is betting some attention. And that the folks in charge realise how bad it is. It's embarrassing.

Yup. These Xbox music creations/decisions are selling iPhones like crazy.
It is almost as bad as if Apple and Google were running Xbox music and windows phone.
It's hard to stomach. If I didn't truly hate almost everything about the way Apple and Google do business I'd never stick with windows phone thru this much crap.

I saw a documentary on TV yesterday. According to it, Apple's smartphone business represents only 9 percent of all smartphone purchases made by people worldwide, yet Apple are pocketing an enormous 75 percent of all the money that's coming from these purchases worldwide, so think about that for a second... it's simply because we're dealing with fashion more than we're dealing with useful technological improvements. I don't want yet another nifty looking souped up cloud sourced social media encrusted mp3 player. I want real High Resolution Audio through real audiophile quality portable devices. Do you know what they say about Hi-Fi systems? Garbage in, garbage out. My music library consists of several TB worth of 24/96 and 24/192 FLAC files. Not gigabytes, but actual TERAbytes! Can you imagine me converting that to Apple Lossless, let alone uploading it to my OneDrive? So yes, of course it's embarrassing. It's truly pathetic, that's what it is.

At first I hated the 8.1 version but it really has improved incredibly. Would be nice if it could play most if not all music formats. Also kill the splash screen and make it jump directly into the app or make the slash screen more visually in harmony with the app. Would be good to if you could choose a certain saved image and mark it as the default album art or artist art.

Does anyone else have a popping or loud static when songs start, skipping tracks, or scrubbing through a song? I have had this almost every time I have used the app since the 8.1 release and it still hasn't been fixed.

I had that. Totally unacceptable.

Are you running Cyan? Because I had clipping/popping on 8.1 Preview but Cyan and the correct drivers (I presume) made it go away FWIW.

Cyan? LOL. Nope. Not for a CV Lumia 1020... And the clipping's there in 8.0.

Thank you for publishing this Daniel. It helps. I know you can't share specifics about what changes caused the XBM team to change the app, but I have a good guess: They are optimizing the app for streaming and purchasing licensed music through the online store. All other user scenarios are secondary, which is obvious by the performance problems and missing features. For instance, why does it take so long to load a local playlist or list of local albums? Because it is checking online to read what you have and what is legally streamable. Why? Because the architecture of the app - the fundamental design - requires a licensing check prior to any operation. Even if you just loaded the album list 5 minutes ago and haven't made any changes, it has to check online again, while you wait. Even with network disabled doing a local call to the local XBM content db, you must first timeout an online call.... Meanwhile your album list only shows blank spaces for your albums. This the XBM team will be forever correcting non-core usage scenarios with little patch fixes. I hope you are right that the XBM team is serious about prioritizing local media scenarios.

Your comment makes me sort of sick. Of course i think you're on to something. Fuck users. Let's force them to suffer thru every step of backwards change we have in store because what's the fun in pain free music listening?

We are all basically beta testers lol

No one is forcing you to do this, it's your choice... Let's light the blue touch paper... Android or iOS? You are welcome to leave anytime.... Exit is stage left.

Only by holding their feet to the fire will we get a top notch product we all deserve.

Truthfully, I don't need ANY of the features they are working on except just have the metadata read only what's in the files UNLESS we choose the option to get it from the web. I don't care about recently played or playlists. And I don't know why on earth anyone wants to know what someone ELSE is listening to - in fact, it annoys the heck out of me when people include an automatic feature to tweet out the songs they're listening to. But just fix the metatag issue.

I think it is a total hose job that I am a Win Phone user - since day 1, a Surface Pro user, an office 365 subscriber and daily user, an Exchanger/Sharepoint user with my life on OneDrive and I am asked to pay $10 a month to stream MY music from the MS cloud to my phone. I don't believe that was the situation with either 7.0 or Mango. So, I don't have an X-Box.

I don't have an Xbox either. Never had one, and probably never will. I simply don't game anymore. Not because I am growing older (I am growing older), but because the gaming industry has turned to flying poo after the online multiplayer Quake III Team Arena and right after the online multiplayer Halo Combat Evolved for Windows.

Good read. Glad to hear they're pretty realistic on the application and how terrible it is right now. Hopefully, between tomorrow's update and Update 1 we'll have something usable. A music locker would be amazing since XBM is the only service that's compatible with iOS, Andriod and WP.

Daniel. You should have asked them about extending Xbox music to other countries. Ahem! India.

This app better get fixed soon. The bugs are just atrocious sometimes, and it's seriously making me consider taking a break from Windows Phone (and I've been here since day one back in 2010). For example, a couple days ago I was driving and I heard a song that I liked on the radio. I launched Cortana and had her ID the song. After, Cortana hands you off to the Xbox Music app to either listen or download it. Got the dreaded black screen. I closed XBM and tried to launch it again from Cortana. This time it went through. So I downloaded the song and listened to it a few times. Then I decided that I wanted to listen to some similar songs. So I try to start a radio from it, and it kept giving me an error along the lines that only registered and signed in music pass owners can start a radio station. Of course I'm registered and signed in. How did I just download the song before this? Tried closing it and relaunching it to no avail. Tried it again a few times and I wouldn't work. Toggled every Xbox Music related setting and still no dice Eventually I got fed up and I pulled over. I turned on Internet Sharing and pulled out my iPad. I launched Xbox Music on it and searched for the song. Then I tried to start a radio playlist from it and worked the very first time. No rebooting, no error messages, nothing. It frustrates me when I can use Microsoft's own services perfectly on their competitor's device, but on their own OS it needs almost half a year worth of updates to get to something somewhat usable. (Rememeber, this very same Xbox Music app actually launched on Windows Phone 8.0 way before the 8.1 dev preview). I understand that 8.0 to 8.1 introduced changes, but in general, why was the Xbox Music team able to code out great working apps for iOS and Android in completely different languages, but they're struggling with just some API changes to Microsoft's own existing language? I've never had to deal with black screens, long loading times, issues returning from the background, etc on the iOS app. And from what I've heard from my Android friends, the Android app is pretty good as well. Furthermore, what really boggles my mind is how the music experience on Windows Phone has been in retrograde since WP7.5. The Zune app on that phone was almost perfect. Then the Music Hub in 8.0 took away the painless syncing experience. Now Xbox Music in 8.1 took away the painless music playback experience (aka the whole point of the app). Shouldn't it only be getting better with time? /Rant Okay, I think I've gotten all of my frustrations out. I hope that I'll be eating humble pie next week when I download Update 1! (Or if not then shortly after).

Great rant. Too bad everyone at Xbox music will respond, "...but its hard... Just suffer along as we backstep to the future which will surely be So Much Better."

My only takeaway from your rant is that you should have pulled over long before you did. I don't wanna be on the same stretch of road as you!

Ha, Indeed...But Great Rant nonetheless.

Haha, nice rant. Btw, which area do you drive in? I think I'd like to avoid it!

I don't like the UI... Please make it like the old music player on WP8.0!! :(

The new UI is more logical, give yourself a chance to get used to it.

No.. It's hard to find out what song/artist you are currently playing and it doesn't show the name of the album... I just use music hub tile and I'm happy with my WP8 music player

Social integration like Spotify would be the greatest thing to ever happen to the entire platform.

Nah, getting it to start-up in a reasonable time frame, play a track with correctly displayed album art and move onto the next track without a deafening "click" and correctly display the second track's art would be the greatest thing to ever happen to the entire platform. We can dream...

They don't understand they cannot stop updating and ask improvements are for the Xbox service?? Lol but the service is not available in India and many many many (as as many "many" as you can since it has service in less countries) no use of waiting for an update from this app.... Look please have a user voice in which we can vote... Let them have both the old huh and the new app both in the system it will not affect the app development in any way please please add the hub and the app

Beta fatigue... I literally couldn't describe it any better. Literally a beta since 2010.

I really enjoy Xbox Music but it definitely felt more special when it was baked into the operating system and had the Metro scrolling...It just feels like an app now which is kind of depressing...Also, I love Bing Rewards and have supported it since the beginning...PLEASE MICROSOFT bring back a Bing Rewards deal for half off on Xbox Music!...I know a lot of people that use Bing Rewards and they would totally jump on this...Keep up the hard work and keep up the frequent updates...Hard work does not go unnoticed!!!...THANK YOU!!!

And yet there will still be whiny complaints

So glad I decided to switch to android instead of Wp. Love rocket music player. Windows phone as a platform still has catching up to do with its rivals. Well is still love Nokia but my 1+1 is a great phone. Posted via Windows Phone Central App

Actually though, thanks to Daniel for doing this interview. Very helpful and definitly useful information. Keep it coming WPCentral!

lol dan you asking us if it is too little too late whatever, like we got an alternative, really, most people here are tied to microsoft's "ecosystem" and anything else is simply garbage in our minds, so for those ms guys; just get it done, if there is a user that goes to another platform because of this, then they arent worth it

I wonder Xbox music was so good in window phone 8 but why so buggy and laggy in 8.1??? Can somebody pls explain?

It was never good on any WP platform. There I fixed that for you.

No man! I've used it on wp8 it was fast and fluid!

THIS IS WHY WHENEVER I COMMENT ON XBOX MUSIC I USE ALL CAPITALS, BECAUSE IT'S OBVIOUS HOW TO FIX IT, BRING BACK THE TEAM WHO BUILT ZUNE, HAVE THEM MAKE AN XBOX MUSIC APP. OH AND FIRE WHOEVER FIRED THEM. AT THIS POINT I ONLY WANT THE FOLLOWING:
ABILITY TO SORT BY WHAT I OWN AND WHAT I'M SUBSCRIBING TO, LACK OF THIS OPTION, IT'S NOT A FEATURE, HAS TOTALLY FUCKED UP MY MUSIC COLLECTION. AND DON'T ANYONE SAY IT'S THE STREAMING OPTION CUS IT'S NOT. ABILITY TO BUY MULTIPLE TRACKS AT ONCE BRING BACK THE HEART YOU KNOW WHAT JUST FORGET IT, IVE BEEN SAYING THE SAME SHIT FOR THREE YEARS AND THEY HAVEN'T LISTENED YET, SO JUST FORGET IT. MS YOU FUCKED UP A AWESOME MUSIC EXPERIENCE AND YOUR IDEA IS TO IMPLEMENT KIDS CORNER? HAHAHA AGAIN, ITS FRUSTRATING TO SEE SOMEONE SHOOT THEMSELVES IN THE FOOT OVER AND OVER AGAIN. BUT IN THE END, IM THE STUPID ONE BECAUSE I KEEP PAYING MY $9.99 A MONTH HOPING THEY WILL WAKE UP.....

Short answer: Zune is dead. The project is dead. The brand itself is equated with a bad music player that was a flop for Microsoft. We now are where we are, and Zune, Xbox Music, whatever will be called, is now separate the Windows Phone OS so it can be updated. It will be fixed; that's why it's called beta software. (To be fair, I feel your frustrations myself being a prior Zune user...but after reading this article, I agree with the direction the team decided to take. Patience, young grasshopper ;))

I think we are getting bombarded with Troll bs on this article.... It's way beyond the usual music player bashing!

I think that's kind of unlikely. In a *general* Windows Phone article, sure, I can see some number of Android and iPhone users with a lot of free time dropping in to troll, but the bashing of the music player here is generally detailed & specific (if rather, um, passionate too). Thing is, a lot of people get very emotionally connected to their music, in a way that they don't to, say, their email. (Which is too bad, because the WP email experience is stellar...)

Lol, well put... I too am a very passionate WP user and Music lover.. I use the player daily without fail! It I my music player when I'm at home, in my car and when I'm walking somewhere.. This is why Xbox music subscription is great for me, the player could be much better... Yes, but no need for people to bash the shit out of MS and the OS... It is growing and they are listening... I've had some arguments... Um... Discussions lol... here re; WP vs Droid and iOS stating how bad the OS of WP is, compared to the well established (outdated) competition... Its totally unnecessary and irrelevant... If people want this OS to get better, constructive criticism is necessary but destructive criticism will cause the opposite!

The only brand that is equated with a bad music player is X-Box Music. After using it on Windows 8 I stopped using Windows 8 and Surface. After using it on Windows Phone 8.1, I downgraded back to Windows Phone 8, and then proceeded to use my Zune HD even more. Zune HD was a programmatic success - it had features that were and still are innovative. X-Box Music is a nightmare and complete and utter failure. It makes me not want to use anything Microsoft creates because I can't trust that it will even work. I despise X-Box Music and X-Box Video. That said, if they were to release a new Zune app, I would give it a huge benefit of the doubt and would try it out eagerly. Just the name is easier to say, and the app doesn't have the foul taste of failure like X-Box Music does.

When Zune was first released, it was diabolical. A lot of the same errors and bugs that people berate XBM for were there, only worse. It's easy to remember the final version of Zune as being polished and functional. A lot of people don't remember the long development cycle for that app and services. I'm confident that MS will get it right in the end even if there are a few that have the patience of a 2 year old child!!!!

@mrdeezus Let me blow your mind: Gurpratap Virdi, interviewed here, worked on the Zune PC Software from 2008-2011 (5 releases). Those guys are still around.

+Icon. Seriously, its a good move they changed it in the long-run. This is why Cortana, Video, and the calendar app are separate the OS now, so each can be updated independently and avoid carriers from interfering with updates to the services ;) it's rough spots now, but that's what's to be expected with beta software. :)

Having seen what the xbox music app USED to be like a few months ago, I can say I very much appreciate the significant improvements, especially this most recent update. Eventually I think the fluidity difference may become negligible. Once the old built in app and the new app are equal in terms of functionality and quality, they can begin to add very important new features such as cloud stored music (like what google offers). With some tracks being yours on their servers, and others being straight from their cloud xbox music pass, I think it would make this a very compelling platform for music lovers. Glad to see they are reading into our complaints and desires.

With such hard work XBM will be working great soon :)

You spoke for half an hour and that's it?? We all understood that they wanted to make it an updatable app. How about the logic of doing it NOW, way before said app is ready. Of course you can't have your shipping media experience labeled a alpha beta. Right now all we're seeing is a gigantic downside, with no upside in sight, probably for years at this rate.

Nothing happens NOW... The planet we live on did not suddenly appear fully formed. If this app takes 2 years to be perfect, then so be it. The alternative platforms are not an option for me... And no, I'm not a 'fan boy'. WP is the finest mobile phone experience, it's that simple. A few users have lost their temper, moved to Android and iOS, and then found their way back to WP because the whole user experience on those devices is a myth. A phone is a tool, not a lifestyle!!!

Sorry to disappoint you. A lot of the discussion was technical talk not suitable (or revealing) for the article.

Daniel you always ask such weak questions and I know Windows Phone is what you do but these guys should be grilled harder on why after all the updates the app is still shit. They want developers to start using the APIs and stuff but they can't even get their app to work properly after all this time. What a joke this app team is they should all be fired.

Ref feeked,
YES. Why burn down the house we are living in and force us to move into the two rooms you have built of the new house? Because the new house is going to be great someday? Doesn't make sense to treat us this way.

The one thing I'd like is the subscription price rolled into the Xbox Live Gold subscription for those who want that. For those who don't have Gold, keeping two subscriptions is fine - for now.

I'd like a discount for paying a subscription fee for a sub-par service or at least let you keep the Christmas discount for one more year.

How about .08¢ song rental, good for one month. Songs you really like you can buy and keep or let expire if you don't. Could be a good bridge between nonsubscribers and those willing to pay 9.99/month

Can people please stop complaining, its rather annoying, they are doing there best and in the future it will be better! Give it time! Give the team some encouragement! Let them know we appreciate what they are doing for US!
Edit: I'm sure they could of waited, but if your boss tells you to do something, you do it

If the team that's writing the Music app is doing their best, then the problem is that there's not a better team writing the Music app. (If your boss tells you to do something, and you're not good at doing it, you do it anyway, but the results probably won't handle album art or multi-disk collections well.)

Just bring the Zune team over. I don't know jack about coding, but I bet it would have been a lot easier to skin Zune then demolish it.

It crushes me when people lambast the Xbox Music team. I know they work very hard, and the app is improving at a steady tick. Thank you, folks--I don't see my Pass subscription lapsing anytime soon.

Good Article but I think this explanation is about a year late. I guess better late than never. Thanks Daniel for details but tell them that there Patience is virtue mantra is bull. Because when they f up. A refund is required because I mostly listen to music on my phone w subscription and when this don't work properly. I'm just wasting $15. That's f$ck up Microsoft. Beta my ass

I appreciate the work that the teams at MS put in. But when something simple as playing music doesn't work, how is one supposed to convince those who live for music to jump into windows phone?
Have managed to convince a few, however they rarely play any music on their phones. Just games or just the basic stuff, seriously they complain a about the app gap yet they hardly use any apps at all.. Oh The irony lol.

Daniel, I consider as a beta... Remember that the Xbox Video and Music were released last year... My problems are:
- Covers
- Slow to open and slow the app.
- It disappears with the songs in the playlist. Questions:
- Why thet didn't Xbox Music a Universal App? Apps of Windows 8 are a lot better than WP.
- Why does the app is still done in Silverlight 8.0 instead of WinRT "if WinRT is the future"? PS: Xbox Music of Windows 8.1 is done in HTML5, as well as almost all native apps.

Since the latest Updates I'm more or less pleased with XBM. There are only three major things I'm missing: - Live Tile
- Album art getting displayed correctly
- Backend to sync songs, playlists and PLAYCOUNTS

Dear Microsoft: Step 1, grab a Zune HD (or even a WP7 device) out of your device museum/archive/whatever; Step 2, use it for a bit; Step 3, copy what you see, paste it wholesale into your app; Step 4, PROFIT!!!

It is just incredible that they didn't mention ZUNE and acknowledge it. It should be their play book for features. They will always be "behind" until they catch up with all the features we had years ago from Microsoft ZUNE devices, services, and the full featured PC Desktop Media Player software. Truly amazing! It's also sad that those unfamiliar with ZUNE are so easily pleased by so little. I guess it's good for the fledgling Xbox Music team to think they "truly satisfied" some customers. Ignorance is bliss.

Ok...time to open my soul. The app is crap. Not total crap, but crap compared to what I know it can be. Microsoft usually takes something, and rebuilds it so it's so awesome you can't handle it. But this app isn't the case. First off - it's ugly. I get that the pivot system (those "tabs") is what WP is/was based on. But if something is ugly, you have to step down a little and give up some of your initial plans.
It may be just me that thinks this way, but I seriously doubt it. The rest of the app isn't that bad. I am used to waiting for things to get better and when I enrolled for DP, I still sticked with the bad XboxMusic app even though I could still use the old system app. And yeah, if it required me to rebuild my app from scratch to make it good - I'd go for it.
Just keep imprpving it, guys. Take care!

I'm baffled that an article about Microsoft starting from scratch with a music player wouldn't mention that they're not even close to feature parity with where the Zune software was SEVEN YEARS AGO.

im NOT going to use XBOX MUSIC until i see international support and features/design already available on US version my rating for xbox music on windows phone 8.1 is ( 0/10 )

My two big issues with current xbmusic app: 1) for some reason it doesn't realize that I don't need a streamed version of a song in my collection when I've also downloaded the same song. Too often a track will come on that I own, and if I skip it'll go to the same song only with the little streaming icon next to it. WTF? 2) I'll be listening to music thru the headphone jack to my AUX input in my car when suddenly the volume drops severely to 13/30. I like to keep the phone volume at 30/30 and adjust the volume with the car's controls instead, but no, MS feels the need to regulate that ish for me because I might be wearing headphones. But I'm not, clearly. And so what if I was? It's not the job of the app to be my babysitter.

But I'm not, clearly

To be fair, the device knows there's something plugged into the headphone socket. It thinks its headphones. It's not "clear" to it what you've plugged in.

And so what if I was? It's not the job of the app to be my babysitter.

That's the issue right there. But without that feature they'd be a class-action suit from American Mommies upset that little Brandon Junior damaged his hearing listening to Bieber, Cyrus & Co. on full volume.

Really? So all the other companies, that don't have this feature (that's ALL of them!) are getting sued all the time? Of course not. It's a bloody annoying feature that I should at least be able to turn off myself!

The ZUNE PC desktop software is still available and a free download. It works with windows 7, 8, and 8.1 OS. It works with the Xbox music video services and MY music stored in the cloud. I recently purchased a movie on my Xbox 360 and it showed up on ZUNE and I watched it. Even though MS has removed some features, it is still light years ahead of other software! The curated playlists and I think celebrity playlists and podcast management are still there. The animated graphic visuals of the bands are still beautiful It's amazing. I just wish it synced with my windows phone 8! It seems that the programmers were so good, that when you take out a few features (like social and syncing with WP8) what is left is still great!

Definitely this crap devs are there in 18k list..

glad to hear the social sharing will be coming to the other versions besides web, would also be nice if they tied into facebook like spotify and rdio do where it shares what you're listening to automatically on the feed if you enable it.

It plays the music that I have on my phone, so it's good.


I hope they introduce the ability to remember position in tracks, it really impossible listening to audiobooks from my local. I doing have limitless data so can't use audible.

Why not just remove wmp from the computer and bake in Xbox music and video together on the desktop and just up the phone version to be on par with the desktop version. No need for wmp anymore especially once metro comes to desktop with integration support

It's not too little too late. It's obvious by now that they are committed to improving the app and that many of the problems have to do with the API and the changes of it in 8.1. I'd also think that things like gapless playback depend on the OS because since 8.1 there is some crackling sound everytime a song or another kind of media changes to the next one, no matter which app I use. Anyway, I hope they keep up the hard work and that we soon have the music app we want and the one Windows Phone needs.

The recent playlist and the speed were the two biggest reasons I stopped using Xbox Music. Solve the new update brings the an increase in speed and brings back the playlist I guess I'll be going back to it tomorrow.

This is my primary music app even with its deficiencies. Hell I have another subscription pass ready for when this one expire. I'll just keep voting on user voice for things like a scrubber under the skip/ff/play buttons that drop-down when playing a track. I'd fight for that feature alone! MS, sell MixRadio. Buy Slacker. You just fixed most of the issues I have with radio thru Xbox Music.

Make the xbox music app a universal app to share the desktop cappabilities

Thanks for the article. Lately for me at least the performance has been worse than ever, It's been pretty discouraging as a wp user.

I use XBox music across phone, Win8 and Xbox 360/One. I rarely have a problem and thoroughly enjoy the service. The only hiccups are the little glitch I hear about 30 seconds before the end of the song and the lack of depth in the radio playlist with some artists. Since 8.1 it has only gotten better. Important things now sync across all platforms. Playlists, songs and radios. Now part of the reason may be that I have embraced the cloud. I have a subscription and use it exclusively - I have never had a large music collection. If I want to sync I now use playlists. The only time my phone ever physically connects to a PC is when I don't have a wall charger or I need downgrade my OS to upgrade my firmware. The cloud is the future, all hail the glow cloud. Now, if I had a large collection of music and windows 7, I would probably feel the same way. To be honest, I was never a huge fan of the Zune software on the desktop. Many of the controls were too small and it always ran like a dog on my computers. I do miss the ability to explore artists the way you could in Zune. I hated syncing and ripping cd's. I like having having what I want when I want where I want it. I do miss the ability to explore artists

I have a decent sized collection of music but the vast majority of it synchronized to albums in Xbox Music. My wife and I are both Music Pass subscribers. It would be nice to cross sync the catalog between our accounts but it isn't that big of a deal. Beyond that, the service seems great to me and it is a tremendous value at $99 per year. I just add new music to my catalog at will and access it through any of our devices. Seems pretty awesome to me.

Does anyone have a list of features in Xbox Music 8.1 vs Zune so that the delta is easier to comprehend? I don't have first hand experience with Zune. Honestly, it seems to work just fine to me. I really like the Cortana integration.

Nice "Black Market" cover! ;)

"up to 50% performance improvement": Yes! This is what the doctor ordered!

I don't have the cyan yet, so I haven't used the XBM but is it that bad!?

U don't need cyan to use XBM

The app is slow, buggy and has less features than the wp8 version. It's not too bad but sometimes it's annoying.

If they're going to use OneDrive then I agree with Daniel, they need to coordinate with that team closely. Especially since OneDrive still needs a lot of optimization itself. Syncing is often very slow and noticeably slower than Google Drive.

How about song lyrics staticly displayed one swipe to the right of the now playing sceen. That would probably shut the mouths of all the complainers..., or maybe not. But it would be incredible.

This is an excellent feature of music match (Nokia). I really wish Xbox music had it too.

Animated live tile please. It was a unique feature. Also artist backgrounds

Lyrics would be really nice too.

I actualy liked the Winodws Phone 8.1 version over the Windows Phone 8 version. The updates made it even better. Anyway, I'm looking forward to the updates, as always. :)

A big inconvenience was switching from Zune to Xbox music for Windows 7 users. I upgraded over a year ago to WP 8 from WP 7--what a nightmare! I do not have the need for Windows 7 OS (at this time). The workaround was to use the online version of xbox music (I am an xbox owner too, btw). The online platform requires me jump through fire to get the music on my phone. After adding a song to a playlist that is already in my collection, I have to remember to add each new song to my collection, as simply re-adding the list to my collection does not work. You would think you would just tell the platform to permanently sync the playlist (Zune had this feature). The tool that is used for WP8 to sync your data does not have any way of communicating with xbox music online (go figure). If I add a song to my phone's xbox music, it is not added to my online collection--and there is not an option to add a song to my online playlist. An 8th grader could tell you what you are doing wrong; however, I will go ahead and spell it out for you. For one, xbox music should be a downloadable program to anyone that pays the monthly membership rate (no an Fing selling point for Windows 8 OS). Second, the cloud version should be full featured and connect to my devices when they are available. The app on my phone should have options to sync my music from the online xbox music (including an option to download the full song without me telling it to--when I am connected to WiFi). The smart DJ is called something else online (how about some consistency?). I hope Cortana will let me drive and pick music without putting lives at risk (voice commands). Apparently that is above the skill or creative level of the app developers for xbox music. Lastly, if I leave my xbox music up on my PC I cannot use it to stream music on my phone. Why not just ask me if I want to disconnect my other device? I never had a problem with Rhapsody playing on 2 devices; however, not allowing me to stream on my phone because I left my browser running pisses me off. Could you imagine what would happen to facebook's popularity if you left yours up at work and could not access it from home until you went back to work and logged out? Sure, I could probably go to my account and remove the device or something, but who really wants to do that on their phone? Use your own product with an Xbox, Windows 7 PC, and a WP8. It is not a streamlined system.

The Xbox music team has given a bad reputation to the windows phone team. The phone should have been given a native music player without the Xbox music integration. Even the store now is decoupled from the service and I believe this is how they should do it. Better late than never.

A beta label would have been a simpler but effective method of reminding those in the dev preview (myself included) that the new music app is a work in progress and that's the price you pay when you enter into beta testing. However for owners of handsets that have launched in consumer land with 8.1 pre-installed, there must have been a way to allow them to still use the old and stable music service, it's still there in the OS after all. Had I moved from IOS or Android to the 630 or 930 and met such a buggy and half finished app I would have ran back to Google/Apple as quick as my turncoat legs would carry me.

Haha I love my Zune software on my lumia 900 and if I ever need it my HTC Trophy is ready to go with 32gb of memory. What's funny is that I have a Lumia 928 and it sits on a shelf. My lumia 900 is the perfect smart phone, does apple or google allow you to use your phone as a hammer? Lol

Refreshing. "The other is a shift in the underlying coding language from the 8.0 app to the one 8.1" What is the difference?

I want to be able to download all. My songs to my phone easier.

why not add controls to the live tile so that we can control the xbox music app without opening it??

Great article i think the problem with Microsoft it's that they don't explain where are they going enough... People is patient when they have clear why they can't have some things right now...

I refuse to buy this app out of principle. No media player or LAN streaming option came with the Xbox One and none is coming apparently. They are basically forcing you to pay a subscription even if you just want to listen to your own music.

Huh? It's a free app. And you don't need any subscription to attempt to play your own music on it. It doesn't work, but you can at least try to play your own music.

Ugh, had a long reply ready and lost it because I miss hit the damn back button. So annoying. Here's the cliff notes version.
I'm in agreement with the choice to decouple and rebuild. Makes sense. However, they did 2 things wrong.
1. Chose the wrong architecture and technology. I say this because new apps tend to be fast and lean in the beginning and slow down due to feature bloat. All this time spent on "performance improvements" is time not spent on new features and it's always going to be an uphill battle.
2. The new app changed focus and there's no feature parity with the old one. That's not a rebuild or a re-architecture. It's a new app for a new market. That's a recipe for disaster when you sunset the old app that had basic utility that people depended on.
Sadly I think these strategic blunders are not something that can be solved through more customer feedback.

They should really give xbox music support in other regions. They are way behind the competition to itunes and gplay music..!!!!

If they read comments on here then they should know by now that we want a worthy and functional instagram app!!!

All these updates are gonna weigh to big for me download. I dont need music apps i pay for and are huge since there are quite good free music apps on the store that are really small and fit perfectly

Who are we kidding?! Xbox Music has been on a rough ride since it stopped being Zune...

Just needs playback video audio under lock.

Hey Microsoft a) Thanks for listening b) If you need people who will accept pre-release software for alpha testing before you release it to the phone, let me know!

I don't like the subscription idea I just want to manage my music collection like organise playlists sync to phone get album artwork etc. and if I see an album or track I like then have the option to purchase. To make things worse my music that I have ripped from cd to pc has imported to xbm which I could listen to fine on HTC 8x but since I've upgraded to l930 xbox now tell me I don't have the right to listen to those tracks anymore as I am not subscribed. That makes me so damn angry xbm is a joke fix it and quick

Util now .. There is no reason why Music fails to load album art while other player can easily display them. Even Windows Media Player is able to easily display the album art. Music team is totally ignoring this bug

Am I the only one that's just glad that all the info for my sd-card-stored music no longer just up and disappears every now and then and/or every time I restart the phone? THANK GOD THAT'S OVER THAT WAS SO FREAKING ANNOYING.

Xbox Music on my Lumia 520 with DP is not showing artist' photo on the background. What is wrong?

However, if they had to launch as beta or not. The app itself is just ridiculous. It's disappointing.

I understand you don't know the difference between fact and rumor or reporting and playing shill. Do you also not know what interview means? You could try actually showing questions and actual answers but I guess that would be too much like journalism. If I wanted to read your prefaces and ponderings and then your interpretations and paraphrasings I could look at any number of blatherings on this site. Look up the definition of interview when you have an opportunity. While you are at it look up op-ed as well. The actual definitions may surprise you....

I have an L1520 and a Blackberry and its way easier to manage and transfer my iTunes music. I only use Mix Radio on the Lumia for streaming music.

C00D7176. This need to be fixed. Half of my collection cannot be played on my phone, it only works in streaming. And it all happened after the previous update. I get it they use an agile development, and they are doing it right (on the "focus on customers needs"). But quality should not suffer. There has been a lot of regressions between updates and in an app that it is already a service regression (compared to Zune, what I originally subscribed to), it is a lot to handle as a customer.
MS need to give them more resources so that they can focus on quality better.

I don't give a shit about the Xbox or any other "console" because the experience is far sub par to a PC. But WHY must I be subjected to the XBOX Music LOGO Every Where??

Heh, fool me once, shame on you. Fool me twice, shame on me. Lead me to believe Xbox Music going to finally be competent year after year? Well that makes me a fool and you a bastard. I've enough of Xbox Music DRM errors and the dozens of other bugs that are well documented. DRM specifically though, every time they claim to fix an issue, another DRM error pops up. I don't know what they're doing on that side of things since it was never mentioned in this article, but they're going in circles and not solving the core problem. Instead of making this a generic "I hate WP, I'm switching" post, I just want to leave some contructive criticism. Don't point me to the uservoice please, I have been there many times as well. Microsoft, you have a TON and I mean TON of potential with Xbox Music and with Video. If the services and apps worked the way they were supposed to, you could have blown Apple and Google out of the water years ago. It's kind of late to pass them up now, but you can still at least compete. Instead, the apps for both W8 and WP8 are laughably buggy, DRM errors are all over the place, and the performance... well that was what this whole artice was about anyway. These are exactly my thoughts when I think about XBM and XBV and why they are unreliable: -Getting ready for my flight: "Oh I hope my two movies I just bought don't cause me errors on the flight. I checked them before I left, but you never know." Had an error on the flight... -In the middle of a 3 mile run: "Really hope my playlist I worked on this morning doesn't bug out." Half the songs get skipped over due to DRM errors... -Getting pumped before a big track meet or sports tournament: "I know exactly what song I need to get me in the zone- oh wait 'C00D7176 This track could not be played'"... Music and Video are just plain unreliable and I sincerely hope one day you guys get it together. I really do. But I won't be around to see it. It's a shame, because Zune was the reason I got into Windows Phone in the first place. Good luck to you guys working on the apps, and good luck to everyone out there still holding out hope for them.

Finally! I really love and admire their honesty. Just like Nokia, I really love Microsoft as well!

Great write up! We all have the same hope and goal of an improved service. I love Xbox music and greatly appreciate the teams openness to suggestions. Thank you

"Cloud first, mobile first" but if you have more than a handful of songs in the cloud you currently get crazy when trying to access them from your phone

How about transparent music controls on the lock screen? I hate that when I'm playing music and I want to check the signal strength or Wi-Fi connectivity or whatever, there's this big block in the way.

Why can't we have both Zune and Xbox music, as a choice ?
I do not have reliable cloud access or Xbox music pass etc. I just want a Zune Media hub, and Zune on my PC to rip CDs.
Just give us all the choice, so we can choose to switch to XBox Music if it meets our needs

What i want in xbox music is That i land on my music list after only one clic.

It's no excuse. They had weeks to build this app, any proper developer would've been able to make what they made in 3 weeks time, and it would even be better. I mean, how did they even manage to get e simple listbox to lag? It's a standard control and it's just a matter of databinding, I don't see why it lags so much. They probably made their own control, but why reinvent the wheel? The built-in listbox works great as it is and more than enough customizable for their needs. Seriously, imho, fire the devs and get some proper ones. This isn't the last app the Xbox Music team will need to make.

What do I want from Xbox Music? A service that knows me across devices. I've been paying for the music pass since Microsoft introduced the service. My Surface Pro acts like no such thing ever existed. I sign in to both devices with the same user name and password. I'd like access to the same features. Please. I gave my sister my iPod when I bought the first of two Zunes (the last being the Zune HD). She still uses my iPod and both Zune devices stopped working prematurely. I've continued to support Microsoft services but people closest to me use my experiences doing so to justify staying with Apple and Google services. I'm still pretty much the tech guy in my circles but people have pretty much stopped listening to me when it comes to choice in OS's. It's hard to convince somebody to join the team while they are watching ne struggle. This leads me to my next request: Seem faster. I know, I know, that meme doe. Still, its hard to get excited about what is coming to WP 8.1 when my T-Mobile 925 doesn't have 8.1 and no concrete information exists suggesting a new flagship phone is coming to T-Mobile. The Xbox Music team is moving at a pace that seems to indicate you won't be done until it's a moot point for me anyway. Satya Nadella made a speech saying that Microsoft teams were going to have to start learning faster. Can you give us ab indication that you're on that page? Please? The Zune is the horse that many of your most hardcore Windows Phone users rode in on, so the current state of Xbox Music has us being the ones who suffer the most. Panos Panay has a brother in the movie biz, so maybe you guys can give him a call and ask him about a script writing term called "the promise of the premise". Basically, it's the time in the movie (second act) where the hero starts to have fun. This term describes alot of what you went to see the movie for. My third request is to understand that no Windows or Windows Phone user can really experience the promise of the premise of Microsoft's services until you get Xbox music right. Thanks for listening.

Very nicely said. I especially like the part about ZUNE being the horse that hardcore Windows Phone users rode in on and "the promise of the premise".

the main problem i have with xbox music is this . i have it on my surface tab and laptop and my phone when i use it on my surface tab and laptop it stores all my music on the cloud but i cant use the cloud on my phone without paying for a music pass . i did speak to the xbox team about this and thay told me that on all devices apart from windows phones every body has 10 hours a week of free full accsess to xbox music befor thay need the music pass but on the phone you have to have a music pass to use your own songs stored on the cloud . personaly i think if its free for ten hours on the other devices then it should also be free on windows phone .

There should be a better and more precise way to scrub through music. The current scrub bar is much better than the previous click and hold, but it's also much less precise, and is jittery when you drag it and is especailly inaccurate when listening to long tracks such as podcasts or ambient music. This applies to Xbox Video as well, since they have removed the scrub forward/backward buttons as well. It should be like myTube's video player, where holding and dragging would activate a more precise scrubbing that went second by second.

Anyone else experiencing album artwork problems? My album artworks look fine in PC version, but once imported into my phone, most of the artworks disappeared or changed into something else (with the same title). Please fix this bug asap!!

Is it that hard developing an app for WP ? There doing amazing job on Android and ios and lag behind on WP , I don't know what to say

Can you actually create playlists in the 8.1 version now?
I find it truly mindboggling you can't create playlists in the 8.0 version (well you can, but you can't add more than one song, and then it's really not a list, is it?).
So far I haven't found any other music player for WP 8.0 that allows me to create playlists either. Can anyone recommend a player that has this ability?

Wait a second. They have to update the OS to enable basic features (Live Tile) for the app they created to be independent from OS updates? This is ja joke, right? And please stop talking about this as the app was only available for the Developer Preview. That's not true. They did sell the Lumia 630 with this software already!

My opinion is that they shouldn't ever have gotten rid of Zune. You could rebrand it, but don't drop all of that perfect Code. Zune was elegant, simple, extremely well coded. If y'all are really reading this, Xbox Music team, listen up: Go into whatever basement you have to, find the old Zune SmartDJ code, do some minor updates and replace your current "radio" code. For Pete's sake. SmartDJ on the Zune HD was the best thing ever. It was my favorite feature of that device. Why couldn't you have just transferred that code to a new system? If you want me to actually ever respect XBox Music, dig out that code and bring it back with some minor updates.

Thanks to Spotify Premium, I don't have to deal with these issues...

The problem I have with 8.1 in general is that the OS basically now does mot have a music player and calendar (and some more apps as well). These features are essential for a mobile phone OS and not only this, they also have to work! "core apps" that act like 3rd party apps simply look unprofessional to me. But nevertheless the Xbox Music app is at least usable. Sure they need to make it faster (e.g. At least make it feel like a OS app), finally fix the German translation and optimize the app for the Lumia 1520 where black bars are visible. But can't we have an integrated OS app that can be updated trough the store? Or I remember the times (WP7 times) when little software features just rolled out over the air and just appeared. Can't something similar be done with this OS? With 8.1 MS did not only make steps forward but also some huge backwards!

As for us here we do not stream as the our network is not at all that good and the service providers charge us $1(US) per 10MB, we only have wi-fi at our work places only, so MS keep in mind that not all countries have effieciant networks. some of us just want an efficient native music player that doesn't lag & that quickly opens my local music (music saved on the phone) without any delay. if MS can give the user an option to either start the application in Offline mode or not, i think this would solve some of the problems. Here 3G/4G is not everywhere, its mostly in towns and surounding arears and other parts of the country. And again on Skpe i ended up uninstalling the application on the phone because the chats can't no be cleared! the blunders are too much for MS, it shows that someone was thinking inside a BOX, there was no enough research done on this or only US market was being considered, otherwise most of us would be using Skpe instead of whatsapp as skype can be used on PC or phone. i hope MS is taking into consideration on where these comments comes from as requirements differ from every region

I don't know when Windows Phone can impress me. They need to move quick. Spend more resources. The only good thing about Windows Phones are: The Camera and The Navigation App. Other than that, I see nothing special compared to the phones that belongs to the other top competiters.

I wonder when will Vedio of Win8.1 will update?? It looks really shoddy.

What about make and listen to a playlist from OneDrive through xbox music app?? That's kind of a needy feature!!

While this is an article about the WP-version (and the last time I used it a long time ago, it constantly crashed my phone), my Windows RT -version still can't shuffle (repeats about 20 songs out of a list of ~400). Basic features (especially local) might not be high on their list of priorities, but they are on mine.

I haven't personally come across a song I have to buy on my subscription in Aus, sometimes if I have poor reception Xbox music won't connect and then I get reception and go into store it shows I need to purchase... But if I reset phone or try again in a while it shows "download" ... Might be different by region though??

Its good Microsoft is thinking about it...

Everyone here is talking about Zune and I thought Zune was a complete failure for Microsoft

Zune didn't fail because the people who bought it didn't like it - generally, as you can see from the fanatics here (me included), they LOVED it. Zune failed because the people who bought it and loved it were very small in number.

How do you share on social media with the web app?

How do you share to social media via the web app?

I hope there going to fix the 100 song queue limit soon. I have alot of large playlists & am sick of only being able to play or shuffle only the first 100 songs in a play list due to the queue limit.

I get it, and that's fine. But please please please find a way to bring back game and music hubs. My start screen and app list were so much less cluttered and they made a lot of sense. As it is now i have like 6 music/podcast apps pinned

All i know is I'm paying for a service that performs like absolute crap and it used to be better. That makes me angry

For me xbm needs to fix speed issues the interface is good the general quality is good. I'd like my music in the cloud I'd also like have free account setting like windows 8.1 and web based for me those 3 things would be fantastic.
I'm a big fan of Mix Radio maybe the guys from that team could give assistance.
I really hope mix radio stays with Microsoft.

What I want to know is why the hell did they put the games in the apps list?

I agree. Its awful. I mean having to pay a sub fee to even buy music?! Thats the most backwards policy ive ever heard. My pass is about to run out and when it does, if i hear a song i like, im going to have to shell out either $10 or $100 to buy a $1.00 song?? Gtfoh

I hope this doesn't turn out like engineers for Saturn in 2009 coming up with fixes to make the cars better.

Great to hear the team is working hard. MS likes to play soft and not talk about competition but I want to hear that Xbox Music isn't just trying to be a music service but the beat out Spotify to be the BEST music service. It's hard to get details in an interview but it is easy to sense their will to compete.

One thing I've not seen much comment on is how great it is that we can create and edit playlists in the new Xbox music app. I love this so praise where it's due me thinks!

Appreciate the hard work but I am a person who loves to listen to music on my phone and none of the online services concern me.Having said that still if there was something like playing music from OneDrive or downloading it on the phone would be great. But I would like to see the Symbian Music player return.

Actually Daniel, I didn't see you address one thing about the timing here. 8.1 and its core changes has been a known quantity for quite a while. Why the scramble? This is a big oops as far as timing is concerned. Having been on the other side, over in Redmond I can say weekly updates is a huge deal. It means they are running lean and pretty loose with testing. But that's great, when I was there I'd wished we could do that with some of my services. But it only underscores the timing issue. What happened at that planning meeting?

I never had any problem with Xbox Music. Seriously. I got lot more bugs in Internet Explorer instead. Yesterday, for instance, my Lumia became unresponsive while I was navigating in Youtube. :/ this has already happened couple of times.

All is bull crap. Zune which was an excellent player (both on desktop and wp7) was brutally removed to be replaced by Xbox Music. A half baked application. Elzune was a complete music package. Managing music is a pain in Xbox music app of Windows 8.1. I still use Zune to play my Music because one important aspect of maintaining a library is also to manage it properly. Which you CANNOT do on X box music. And windows media player is so outdated that you don't want to open it ever.

new technology news and breaking news at.. http://geekthem.com/

Gurpratap Virid.. He is an indian??

Daniel Rubino
Why not equalizer and visualization?
Why closed API for equalizer?
Xbox music for ios better of windows phone !!!!!!!!!!
https://itunes.apple.com/en/app/xbox-music/id669515221?mt=8&at=10l3Vy

Is anyone as frustrated with the games app as much as the music app? I am. Everytime I launch the Games app, it takes ages to load. Another stupid thing is that a recently played game no longer shows up in the list of all games. That's just dumb! I have resorted to just pinning my frequently played games directly to the start screen

the xbox music didnt show separate album arts for each songs... instead all the songs of that album shows the album art of that album's 1st song and they all show the same album art... for ex. i have 6 songs from "Green Day's" "American 1diot" album and all of them have separate album arts... but xbox music shows the album art of "Boulevard of Broken Dreams" to all the songs of that album

The app still has soooo many bugs. The select feature doesn't work. Most of times, as soon as I check a song, the entire thing will crash and the boxes will just disappear. I can't delete multiple songs using the select feature. Can't make a playlist using that. Just seems so obvious to have that capability.

What they need to fix on the Xbox Music Windows 8 app is the style of showing albums. The weird have-a-massive-horizontal-title-bar for the artist, then one album under it makes it so I see like 5 albums on my 1080p 23-inch screen at any point, while on Zune and iTunes they just have them as tiles all next to each other and I can see 32 albums at any point. That's much better than having to endlessly scroll because of massive title bars and gaps. So much wasted space.

They need to include this for free with an Xbox Live subscription.

I wonder when the update will post.

I appreciate the hard work too. I find XBM unusable, personally, particularly for managing and syncing my own music. But for the subscription service, its getting better and better. Keep at it and I know things will get worked out. Accepting customer feedback isn't just humbling but also praiseworthy and we've seen MS do what its customers want. It is refreshing. Thanks also to WPC for writing an article to highlight the difficulties in playing underdog AND responding to a consumer society that demands everything yesterday.

Can someone explain to me why the Xbox music app on my iPad works muck better than on my WP ????? Please I don't get it !!!!WTF

The application is getting better, but I had it glitch out 2 days ago and the only fix was a soft reset. So there are still some serious bugs that need to be worked out. I'm still very heasitant on Xbox Music, the latest update for Xbox made adding music to the collection from the radio even more steps than before (UX nightmare).

Joe Belfiore just tweeted about this article. I hope he read the comments the people left because the F up a good experience. we all were Beta Testers during this process. you pulled a Facebook on us.

I hate the new music store. When I search for an artist, its buried way at the bottom. The music store should be accessible from the windows phone store as well. (videos too). I am honestly starting to think Joe belfiore doesn't use a windows phone either.

If they are bringing in an app instead of having it embedded in the OS, why would they not start with the Zune player? Maybe not the exact code but the concept that a music player can be attractive. Who knows what MS is really up to. It might be okay for them to "listen" but are they really? The phone and desktop clients are just atrocious. Given the regression path from Zune to the WP Phone App, I'm guessing that in the next desktop, and probably on the phone, you will have to make music queries and selections using a Hex Editor. Maybe that is how MS is looking to wrench marketshare from the Android folks! Here is probably their thought process, "Hey, the hardcore Android guys love to show how obtuse they can be. Linux guys love VI and EMACS! Let's have our music player use a Hex Editor interface! Those guys will come over in droves!!!" Of course once they see the lack of "flagship" offerings coming to the WP platform they will bail. Because if the Android crowd likes anything better than VI or EMACS editing of Hex code it is a device that has the greatest specs. Things I have loved about MS but they have bailed on: -Zune music service -Zune music player -Windows Media Center - With my Ceton cable card tuner I can have a DVR that is accessible from any TV in my house and also from the cloud for a reocurring cost of less than $5/month. Put on death watch in Windows 8 because it is now an add on. -XBOX360 Extender Functionality - Killed off in the XBONE. Doesn't exist. Apple and Google will develop solutions and then MS will play catch up. Of course it also needs the Windows Media Center functionality but that is being killed off. Hey MS! If you put this functionality in the XBONE, you might be able to sell the WMC functionality, another copy of Windows 8 for the PC that is being used as the DVR AND MULTIPLE XBONES TO ONE HOUSEHOLD!!! Yes I have an XBOX360 hooked to each TV I own. My son games but I use the XBOX360s as extenders to watch cable TV. -Windows Home Server - Killed off by MS because they are probably a major investor in the ITT Technical Institute and want everyone at home to have multiple server certifications to have a comprehensive storage solution in their home and having something that "just works" would reduce the student population of folks in their ITT pipeline. -Windows Phone - Yep! Jumped both feet into this one and got my kids to jump too. Of course MS seems to be doing EVERYTHING they can to fail here. From the article I can understand and respect what they are trying to do but guess what?!?! MS will change OneDrive so that it breaks Xbox Music within 6 months. They'll make a decision that locks out their Hex Editor GUI Music Player from being able to use their service. Of course iOS and Android users will gain additional functionality once they do this. While I will be upset, I would not bet against MS terminating WP within 18 months. That's just how MS does things. MS is actually heading down the right path for me. Stop putting out great products that I jump into because they are the best solution! Then I won't be such a dope and buy into them and I won't be disappointed when MS terminates them. I swear if iTunes wasn't such a cluster I'd jump on it. Doh! I did it again! I keep making my decision on what is the best solution instead of which product has the best chance of not getting dumped.

Audiobooks ? Fix it. Please

What the truck? The 8.1 app is *worse* than the 8.0 xbox music app? That thing is a ripe piece of ess. Did they at least fix the offline playback issue? Really sucks when you get on a plane only to discover that 95% of the music you download legitimately won't play

Hopefully it will be a fully functional app soon, now WP8.1 is not on preview anymore but the Music app is still lacking: no live tile, slow even with somewhat small music quantity (6GB), like 80% of my covers aren't shown (even when the WP app shows like 99% of them and the classic music hub too). I also liked the quick access to other music apps that the hub provided.

A few points. First, I don't think people are upset because Music changed from a "hub" to an "app." (How many WP7-7.5 users knew that Music+Video was a "hub" in the first place? How many who *aren't* avid readers of this site?) People are upset, and rightfully so, because music used to work better on Windows Phone 7.5, and even better on Windows Phone 7.0, than it does now. So sure, the app had to be re-written. From scratch? Maybe, maybe not. Clever software developers (which is the only kind Microsoft is said to hire) will separate the front-end code that talks to the user from the back-end code that talks to the machine, so that you can change one without changing the other. Maybe that wasn't done here, who knows? But even if it DID have to be re-written from scratch it surely didn't have to be re-DESIGNED from scratch. Eitgh years ago or so, Microsoft came up with a pretty nice user experience for music playback - the much-maligned (but much-loved by those few who bought it) "Zune." When the hardware platform changed for the Zune HD, I bet a lot of code had to be re-written from scratch - but the design stayed lovely. That's how that's supposed to work. If you discontinue a thing people like (or even just tolerate), and replace it with something worse, your customers won't be grateful, they'll be angry. And they should be. As for Uservoice - yes, on the one hand, it's great that Microsoft is empowering its customers to find bugs and ask for them to please get fixed, in a purely voluntary and feedback-free manner. But the idea that Uservoice votes are driving feature priorities is absurd. There are currently 72 Uservoice Xbox Music issues that have been marked "Completed." Two of those "Completed" issues were top vote-getters: "scrubber for fast-forwarding," and "swipe for next song," both getting 4,000+ votes. But the others? Mostly under 100 votes - some fewer than 10, many with just one. I think LOUD customer yells get results (except for gapless playback, obviously, which will never ever happen because it's impossible and noone REALLY wants it anyway, they just think they do), but otherwise, not so much. I think the accelerated deployment schedule is potentially a good thing - but I think, given the rate of actual *improvement* in the app, as opposed to the number of releases, it's going to be a long time before music on 8.1 is as good as it was on 8; and longer before it's as good as it was on 7; and even longer before it's as good as what they did 8 years ago. Which is unfortunate if Microsoft wants to be a presence in the portable music world, because their competitors are way ahead of them AND running faster. (A tortoise in a race with two hares will always lose.) If it's this hard to write a useable music app for Windows Phone, then it's a platform problem - and if Microsoft cares about the music experience on their phones, they should fix it. And if it's NOT a platform problem, then Microsoft needs to put better people on the problem, because many of their other built-in apps are excellent, so the talent's there. All my opinions, sorry for ranting. (I rant from love.)

I think you are absolutely right in all points, thanks for sharing your thoughts. Sometimes I wonder whether these folks are using their own products. Try to skip a song that is stored locally (!) via the menu that appears on your start screen when pressing one of the volume keys. Skipping takes so long that you need to press the button again for every further song you want to skip, because the menu will already have disappeared then. This is something a software company like MS can't fix within two months? Just dreadful.

I just want a few things... I want to have those playlists added back to the store, "summer mix of xx" and that sort. I also want the music to AutoPlay when it connects to my car. I also want a list of the most played songs.

Also: "To be sure, gapless playback, recently played, and a Live Tile are all top-voted suggestions; at least two of those get addressed in the next updates." Why so coy? Two of those are features that used to exist, and are pretty easy to implement. The third is something that has never ever once been done on a Windows Phone, in spite of users yelling about it from day one. I'm going to go out on a (rather sturdy-looking) limb here and predict that #2 and #3 on that list will get addressed soon, and that #1 will not. As usual with my Xbox Music predictions, I would dearly love to be wrong.

21:10 central time and no Friday update. Typical... XBM is the worst

XBM is the biggest piece of shit app that they have ever produced and it's a wonder that anyone still subscribes to their music service. If the people making the app don't know what people want and after all this time still can't get the performance up to speed should all be fired. They should have looked at what made the Zune features popular and what was in 8.0 and just made that and I think fans would be happy. This team is retarded and should all be fired.

Where s the music update? It was supposed to come out today.

Where's the update? It's Saturday, hello

XBOX Music Team!!!!!!
.......... What happened to the dates for albums in the store?... Please bring back the albums dates in the store.. It's important for some of us with time sensitive complexes to know what year album came out..... Thanks❗❗❗❗❗❗

XBOX Music Team!!!!!!
.......... What happened to the dates for albums in the store?... Please bring back the albums dates in the store.. It's important for some of us with time sensitive complexes to know what year album came out..... Thanks❗❗❗❗❗❗

If Microsoft knows Xbox music sucks, then why don't they allow users set their default music app to something else? This is one of the things I don't like about iOS, but it seems just as bad on WP. Android seems to be the only OS that makes sense becaue they allow default apps.

Any word from the Xbox Music team about why the update suggested for Friday 1st/Saturday 2nd August hasn't arrived? I think alot of people have been looking forward to it, and disappointed it's not available yet. Sunday morning in the UK - some communication from the Xbox Music team would be welcome.

Hmm. Sunday 3rd of August here in the UK and no sign of the purported update. Official notification of a delay would be welcome for the many customers that believed a new version would have been available by now. Nothing from Joe Belfiore on Twitter, despite numerous users asking for a status update.

I'm still waiting for the update that was mentioned to come Friday.

Same. Was there a nuclear attack or something I missed at Microsoft?

I still think that add my own music files to my cloud collection should be greatly appreciated. The merge function available is simply insufficient and most of the time ineffective. Anyway, the app got much better since its first release; it has gone from unusable to regular, which is a major step. Hope Xbox Music gets even better.

Whatever happened to professional responsibility? When you report on something that is as much of a hot topic as you acknowledged in the article on Thurs about the struggles of the XBOX Music app...and what you reported turns out to be incorrect (NO UPDATE) then a responsible reporter would follow up with the people that they referenced in the article and find out what happened...and if they don't reply to you then that is what you report...not just a BIG NOTHING to your readers!!!!!!!!!!!

I'm glad that they were open and candid about the current state of the app and didn't just try to give a bunch of excuses. I can respect that. I just wonder if when reading criticisms, if they draw straws to see who has to do it because of all the "passion" expressed by the users.

On the article: Where is the update? On WPCentral: Where are the reports about the missing update? I seriously consider purchasing a Zune-able device because I need a decent music player. What puts me off a Lumia 800 is that the calendar has no week view and the storage capacity is limited to 16gb - too little for a music player. (I will just end up on Android.) Oh, and for Zune fans: Zune will never come back. 1. MS is developing XBM so it can make money out of streaming and eventually selling content. Any possibility to sync your music easily (i.e. from your ripped CDs) run counter to this. Users who do not purchase any music online are of no interest to MS. 2. MS also has no interest in syncs with any home collection as this will give them no access to this collection whereas syncing through OneDrive will give MS a nice overview over the users' collections.

I agree completely with the statements about driving us towards cloud storage and streaming music or buying songs from the Store. We shouldn't forget that the new CEO came from running the Cloud division. While I understand the basic concept of Capitalism...I also have been in business long enough to know the value of good customer service. The DP program has been a great tool for MS and I am really glad they found a way to bypass carrier interference and get improvements to us quicker...I think they would also benefit greatly by being alot more forthcoming with Xbox Music developements ...or setbacks and do more than just read all the comments in the music forums...ACT on them!

I'll be happy once it does this: -restores video, audiobooks, podcasts, fm radio, smart DJ back into 1 application -restores the live tile as implemented in WP7 -shares entire playlists to FB, as well as albums, artists, and songs, either to my wall or to a friend, as well as all such shares being visible from within the app as a 'What's New' social pivot -restore the favorite / heart system for use by Smart DJ -rename "radio" to Smart DJ" and keep radio as FM Radio -support audiobooks via genre tag and add audiobooks in the marketplace -restore the separate Now Playing Screen with left/right swipe to change tracks -restore the play icon next to the Music menu item. It made more sense. See a Zune HD. -adds in the little touches from Zune HD - such as micro-album-art under the genre lists or under the Artist -restore recent and new pivots. We got recent, but it only shows after you play. Let it show persistently. Ditto new. -criteria-based auto playlists - just like in WMP (a 60 minute playlist, of songs less than 4 minutes in the genre classical) as well as in Zune (most played, least played, 80s, 70s, different moods, etc) -wifi synch - just like Zune had with Zune HDs -app purchase from the Metro App - I don't like browsing the web for this. It feels less secure -sync from within a unified app - Zune did everything, including Synch. The Synch app is poorly maintained and feature-poor. Just scrap it and restore to the main apps. No one asked for five apps when one will do. -playlist - it's difficult to create playlists in XBM, and you can't create playlists in XBV of videos -channels - Zune had playlists you could subscribe to that updated for you of curated music. Where'd this go? -picks - Zune had this, and I haven't seen it in XBM. -metadata editing - FULL ID3 tag editing (genre, subgenre, mood, language, disc number, etc) should be available, and ability to edit metadata for video files in XBV. -social - just like in Zune, see your friends' plays, top artists, badges from the phone and from the desktop app. Better would be to see my collection's stats (8000 songs, of which 1200 from the 80s, 2000 from the 90s, etc.; 120 artists, of which Carbon Leaf has the most albums, etc, with pie charts, bar charts, etc). -performance - the phone app should work as fast as a native, part-of-the-OS, App. The delays are irritating and feel like a lack of engineering ability on the part of the XB team. I'm not really asking for much new - just restoration of every lost feature.

Guys I'm kind of new to the Zune vs Xbox Music debate. Can anyone explain to me why Zune is better than Xbox Music on Windows PC and on Windows Phone (The music player and the store features especially)? It's ok even if the comments have links instead of the reasons...
PS I used Zune music player on WP7 device (it was a Samsung one) once years ago.

X-Box Music...you have so far to go, especially in comparison to Zune. See: http://wp.me/p1fLW2-at t All this time, two years, you've pretty much wasted on the desktop. And on the phone, you've wasted. What's the hold up? Look at where X-Box Music stands. Look where Zune stands. Then think: TWO YEARS. What've you done in all that time?

X-Box Music...you have so far to go, especially in comparison to Zune. See: http://wp.me/p1fLW2-at Having used Windows Phone since 2010, I say with all honesty, I'm tired of you constantly removing features and breaking things. Stop removing core experiences - Zune Hub, Photo Hub, social integration, a decent I-bar cursor, Bing Vision with barcode scanning, Local Scout - and either leaving us hanging or putting in something that you also abandon and never update. It makes us long-time users want to switch to iPhone or Android.

"...they never once tried to mask the inadequacies found with Xbox Music though they are confident that it is getting better, and it will continue to do so with more updates." Say that to those people who thought about switching from Android to Windows Phone. WIll they like the idea of downgrading with only Microsoft's word that things will improve? Why does Microsoft underestimate the importance of BASIC apps like Music (and Video as well)? Pour all your time and money into at least getting the basics right. A lot of other music players on the Windows Store are a LOT faster. They can do everything XBM does (for some odd reason, some can't shuffle). They are making pathetic excuses. Android's Google Music eclipses XBM in every way. To me personally, music functionality is ESSENTIAL. The only things (in my opinion) keeping Windows Phone from being a great OS is the Music, the Video and the browser. I really hope that they'll take Xbox Music seriously "in the next updates".

Ralph Casimir, sorry. I didn't intend my post to be a reply to yours.

Just wanna sugest, to make the album cover and artist background pictures costumizable. I mean, I was really happy with the WP8 Music + Video Hub, Along with the MPA Tool, I could costumize all my library artist. I know it automatically downloads pictures, but it doesnt work that way when you have Indie artist in your music, an I have a lot of that. So PLEASE, make that feature accesible so we are free to costumize with the picture we want, and the way we want it. I couldn't be happier if MS Worked that out on de XBM Hub. PLEASE, I BEG! :c

justy got my lumia 930 and although win 8 has a few finishing problems,Eg you cant set default alarm for all your alarms or swiping and opening notifications from the closed menue it is relitavely a good experience, fresh even. But when the smart phone is most peoples device of choice to store and play music i dont get xbox music. Why on a 5ich tablet in album mode does it only show 3 albums at once on my huge phone, when truthly you gould get 15 live til albums per page or more if your going smaller, yet they havent incorporated any other view. Now this sems small but its not , im coming from a iphone and to be fair so far the iphone beats this phone on most finishing touches of most thingas, but after 6 years its just refeshing to have a new reliable os, whis all these small issues fixed this in my opinion would be the beter phone, but its not. microsoft give us a choice of view so we can adapt xbox music to our tailered needs , a alrm default change on the clock, Gives us the tiles like the start screen for program s and settings, a bit beter battery life and a physical buton to turn our phones silent in the cinemo planes, doctores ect, honestly for me that would make this a top phone.

Oh and plse include your own set of headphones next time. I have to use my apple white headphones so when im walking around with music on most peope think i have a iphone, so free advertiseing lost there a little. Imagine if people actually saw microsoft headphones.