Introducing Jukebox: a cross-platform music streaming service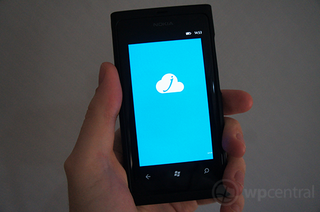 Have you ever felt like adding your music to the cloud and being able to stream it anywhere, on multiple platforms? To listen to your own music library wirelessly? There are a number of options available, iTunes Match probably being the most likely recommendation, but they're restricted in some way or another. Cue the introduction of Jukebox (www.get-jukebox.com).
Jukebox is a new service (it's still in preview stage), by a new start-up (on the Microsoft BizSpark programme) consisting of just four members, which will enable users to upload music and stream it to other devices from the cloud. It takes a lot of space to store a 10,000 song+ music collection, and the majority of time is spent listening to particular songs or playlists. This is where Jukebox magic plays its part.
Once an account is created with Jukebox, a user is granted with a 1,000 song allowance, for absolutely nothing at all. That means you can use Jukebox for free, forever. Advertisements? No way. It's all funded by those who wish to opt-in for more storage, or by purchasing music they find by browsing through the upcoming store and through recommendations.
In a way it's very much like Zune, or now Xbox Music, where on Windows Phone or Windows, one will use a client to stream a collection of music to that particular device with the option of saving it locally. The only difference is that it's music you actually own, as opposed to it being restricted by licensing with other services where it will be unavailable should a subscription be halted.
The Jukebox Windows application
Streaming
So we've spoke about streaming. How does it work? After an account is created, the user can login via the Windows (or soon-to-be Mac) client and start adding music and / or playlists to Jukebox. The client can import music from smart folders – any changes or alterations made to these particular folders will be reflected in the music collection that's listed in Jukebox. Simply add a folder or two and let the app to the rest of the work.
Once music has begun uploading to the cloud, which is powered by Microsoft Azure (so you know it's a good service), popping into the app on a Windows Phone or Android handset (iPhone app on the way) will enable one to start streaming music that has been successfully uploaded. Think of it as your own home server connected to the Internet.
Don't be put off by the 1,000 song limit, there are plans for this to be increased, and there's always the referral programme. For each referral made, both the referrer and newly registered user will receive a limit increase of 100 songs. This is stackable so be sure to get inviting.
So what platforms are supported? As mentioned previously: Windows, Windows Phone, Android, the web, and soon both iPhone and Mac. The team aims to become a universal service that's available on multiple platforms to make it as convenient as possible for the user base.
Music Store
While not currently available, a store is in the works. Instead of relying on a subscription-based business model (excluding extra storage of course) Jukebox will offer users the ability to purchase songs through a third-party music platform.
But what's different about using Jukebox to purchase media? Making use of the store platform, Jukebox will be able to provide users with not just a 30 seconds preview of an individual track, but it will allow the user to play the song three full times before locking that it to just 30 – 90 seconds. This makes it easier for someone to make the decision whether they like the song or not.
Jukebox is not only about enjoying music and streaming it on multiple platforms, but it's also about discovering new music and getting social with friends and others who share similar tastes.
Windows Phone App
A Jukebox Windows Phone app is already available on the Store, though many may be turned off by first impressions when booting it up – the UI isn't fully Metro influenced. We've been told by the team that this is set to change and improvements are in the pipeline that will enable the app to take full advantage of the Metro (yes we're still using the word) UI.
Background playback is supported, and it'll pull down content stored on the cloud as well as what's stored locally on the phone. While the UI being something left to be desired, there are some issues when browsing the app and going through the collection of music. We found that frequent crashes occurred when attempting to scroll through a collection of 400+ tracks. We're told any bugs will be looked into and fixes released in subsequent updates.
The Future
We've been informed that a Windows 8 app is on the way, and is expected to be available by the end of the year. We expect the current Windows client to remain updated for Windows 7 and previous versions of Microsoft's desktop OS. Speaking of which, an update is said to be on the way that will enable multi-file uploading to make the process of storing music in the cloud faster. The Android app will also see a new release to implement mobile uploading of music.
As wel las frequent updates, to increase the song limit the team will be looking to implement a subscription service to pay for the extra storage that will be required by users. This has yet to be internally decided, but we were given a rough estimation – 10,000 songs for €2 /month or €24 /year. That's not a bad price for a service that will be available on multiple platforms.
Wrapping up on future features, Jukebox will sport social integration and functionality. In the Windows client, the right sidebar currently sports dummy updates, which will be replaced with live notifications and alerts. The team plans to create a community using Facebook, Twitter, Last.fm and more to focus on relevant information which can be provided to consumers. Instead of having to visit an individual service, Jukebox will offer functionality from each social platform.
Jukebox is a neat idea, and has the potential to become a serious contender with planned features, but there's a long way to go. Be sure to try out the app on both Windows and Windows Phone, play around with it and leave feedback to the team so improvements can be applied. Remember that it's still in the early stage of deployment so bugs may be present. We're told an update for Windows Phone is on the way and should be released soon.
You can download Jukebox from the Windows Phone Store for free.
Windows Central Newsletter
Get the best of Windows Central in in your inbox, every day!
Rich Edmonds was formerly a Senior Editor of PC hardware at Windows Central, covering everything related to PC components and NAS. He's been involved in technology for more than a decade and knows a thing or two about the magic inside a PC chassis. You can follow him on Twitter at @RichEdmonds.
Yay! 1st post! More apps are always a good thing. I'm willing to give it a spin!

This sounds amazing. I haven't done much research on cloud music streaming services but this one sounds just as good if not better than others I've heard about

Is this a paid advertisement? This is a lot of time and detail dedicated to what appears to be a product that is currently in the planning stage. It offeres a different spin but no mind blowing features. The WP7 app doesn't work well and the W8 and WP8 ones aren't even out. This feels like just one more choice in an already crowded field.

What others are in this field if I may ask?

Its taking FOREVER to upload my music, and I have a fast cable ISP.

Why does it look like an iphone app???

Looks good, am giving it a go. But I have told it to upload all of my songs by mistake. I didn't want this and it's taking forever. Anyone got any idea how to stop an upload?

UI looks like crap. Metro it and I'll give it a chance. Uniformity,Uniformity.

Hi,
We listened to your feedback and gave it another try. Check it out!
http://www.wpcentral.com/jukebox-updated-major-design-refresh

Looks like an iPhone app :(

This sounds too good to be true, if i could have 10,000 song in the cloud that i can stream unlimited for $32 a year that would be awesome

This app seems like it fits the puzzle from all music streaming services! I'm looking forward for an improvement. So signing up when I get home.

I will try it when they fix that UI lol


Hi,
We fixed it. Check it out!
http://www.wpcentral.com/jukebox-updated-major-design-refresh
Windows Central Newsletter
Thank you for signing up to Windows Central. You will receive a verification email shortly.
There was a problem. Please refresh the page and try again.