Head to head: iPhone 6 Plus vs Lumia 930 video performance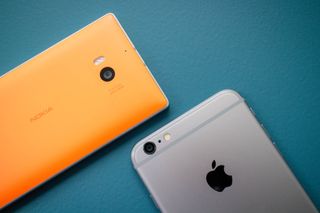 If you ask an Apple store employee for the difference between an iPhone 6 Plus and an iPhone 6, you can expect to hear that the 6 Plus has a bigger screen, but there's one more thing they'll most likely mention. The iPhone 6 Plus a better camera. That's because Apple has finally included Optical Image Stabilization (OIS) in an iPhone. Lumia cameras had this feature for a while now.
I was curious how Apple's video performance compares with the latest cameras found on the Lumia 930, Lumia Icon, and Lumia 1520. So, I went to the park and shot some videos. Watch the split screen comparison.
In this test, I held both the iPhone 6 Plus and the Lumia Icon in my hands. There were no tripods or monopods involved. The camera on the Icon is very similar to the ones found on the Lumia 930 and Lumia 1520, so the performance should be very similar.
What's also new in Apple's latest flagship devices is phase detect autofocus, which promises fast autofocus performance. Both the iPhone 6 and the iPhone 6 Plus have this feature.
The iPhone 6 Plus and the Lumia Icon were shooting at 1080P 30 frames per second. I cropped both footages in half and placed them next to each other. I looked at both videos closely and found these observations:
The iPhone 6 Plus seems to focus on objects faster than the Lumia Icon.
When the Lumia Icon changes focus, the image seems to zoom in or out a little bit for a fraction of a second. I don't notice that on the iPhone 6 Plus.
The Lumia Icon has wider lens. Objects appear closer on the iPhone 6 Plus camera.
The iPhone 6 Plus video appears brighter, while the Lumia Icon is darker with more contrast.
Both performed well with Image Stabilization. It's hard for me to see if there's a clear winner here.
This test could have been done better with some kind of dual camera mount, but I didn't have one lying around. This test, however, should give you a better idea of how the cameras perform in the real world.
What are your own observations with this split screen comparison? Which footage looks better to you? The iPhone 6 Plus or the Lumia 930 (Icon)? Sound off in the comments!
Windows Central Newsletter
Get the best of Windows Central in in your inbox, every day!
Lol, we all know the looser.

Sad day when WP's advantages are "it doesn't bend." Go wade around in the Cyan poll thread and look at what this platform has become- a fragmented mess, no longer "people centric" and zero integration advantage with Windows.

How is it fragmented when majority of those people are, indeed, running Windows Phone 8.1 or 8.1.1? Even when putting the firmwares involved, it's just Black or Cyan, but not Amber (unless, sadly, you have an 810, but even then, it's not fully Microsoft / Nokia's fault). Just 1 update, that either hasn't been released yet, or hasn't fully made it's rounds yet. I don't see much of a problem, the ways of the upgrades is there, just, will you wait, or take advantage of it now?

Well, how about that the Lumia Icon is still on 8.0 after 3 months?

Hey, my phone is 8.1. In Brazil it is sold as Lumia 930 and WP 8.1 comes from factory!

Blame your carrier not MS or Nokia or get the Developer Preview it is on the exact same version as the Official Firmware so it is final till the next update.

Blame the Carrier or manufacturer ??? Isn't that EXACTLY why Android is fragmented

Sir, TheOne2125 said "blame your carrrier NOT MS or Nokia".
So, the problem lies with CARRIER, whereas in Android case, it is CARRIER AND MANUFACTURER. There is a HUGE difference, sir.

What John B 123 meant was the feature that set our platform apart, the Peoples hub, is missing after the update to 8.1. And that's a real sad omission.
Microsoft has started removing unique features for Android and IOS folks to easily integrate to Windows.
So this update has turned us into 'one of them' updates.

This comment is so much BS.

LOL in my book that's a huge advantage. But then of course you guys probably think the iBend is a new and innovative feature of the iPhone 6+.

I don't think you know what half the words you just said actually mean. Also, it is quite ironic that you point out that it is a "Sad day when WP's advantages are 'it doesn't bend.'". Why don't you think about that for a just a few minutes and then revisit WHO it is a sad day for.

I think your name would read and sound better as Damn War Eagle ..., just sayin since were way the hell off topic anyway

I guess his bridge is closed for repairs.

Its a testament to the fact that apple has had it together for years while WP users have had to sit and watch MS flounder around trying to figure out what to do next.

you know, Call me weird, but part of what drew me to WP is the fact that its not only young but obviously incomplete, I love the feeling of anticipating an update and finally getting it, am I alone on this?

Nope, I too like being a part of a growing ecosystem... And mostly being listened to on user voice!

You do realize of course that there would be no Apple without Microsoft, right? Seeing as the Mac couldn't get off the ground back in '84 without Microsoft writing the software for it that people actually needed to use? And how the only thing between Apple and bankruptcy in 1997 was Microsoft's $150 million? And then how licensing Mcirosoft Office and IE to Apple was the more modern implementation of the "making Macs more than doorstops in corporate offices" drive? Why are Apple fans speaking without being spoken to first? Apple hasn't had itself together it's had YOU together and buying whatever it tells you to when it tells you to whether it's actually worth it or not, and at a 20 markup depending on what products we're talking about and when.

Lol, only fragmentation is caused by shitty carrier update support.... All Windows phone 8 devices are receiving 8.1, all wp8 devices will receive Windows 9... Where is the fragmentation you speak of...
Pfft... I'm going back to playing Age of Empires on my phone now and I may continue playing the same game on my PC or tablet later on today... (icymi your comment is moot!)

Nice to see your iDrone 6 came with a free bowl of Northern Lights. Nothing to see here folks...

Can a single person be anymore disillusioned?

To have the latest and greatest just download and install developer preview. If you are that lazy I am afraid no software will ever save you. How is it no longer people centric? Is it snake centric, lion centric or what? I have many apps that are the same and sincronized between PC and WP. Same for OneNote, Office etc. So, how is it "zero integration"? Quite strange you'd say that. There are, however, other real points to work on for WP team.

Sad day when a phone is known for how easy it bends

That requires the author to wear a tight skinny jeans which we don't do around here.

New iOs 8 allows microwave charging lol

Question, were the number of Iphones bent larger or smaller than Windows phone sales in the USA?

New Apple update halted due to seriously screwing up phones, add the bending phones scenario and Microsoft are looking good.

Yep! The iPhone6+ did bend. Looks cheap to me.

It's not cheap, but the build quality is!

Yes, the iBend 6 does in fact, bend

The 930 with Lumia Cyan is supposed to be better at video recording than the Icon with Lumia Black.

The lumia with the new denim will even be faster as well, and offer 4k video recording. So what s even today will be back to normal when denim is out, and even the HDR thing will be mute

Moot. Not "mute". Bringing up an irrelevant issue means your point is moot. http://www.quickanddirtytips.com/education/grammar/moot-versus-mute?page=all

Moo. Like a cow's opinion. It just doesn't matter.

A genuine thanks for that... this is my lesson learnt for the day. cheers!

Why are we talking about denim when not all handsets are even running cyan?

Dear Mark, like you said. The camera is the same but the software is not! Also next time use a pod. Holding the devices in your hands, it's possible that your right hand or your left hand is more steady than the other.

Bend your iPhone or buy Lumia phone, in that case any other phone

Even some Lumia variants bend. It happens with many phones. Look it up.

Obviously 930... What a great phone... Waiting for it to be launched in India...

Got to hand it to Apple for finally putting some old tech behing their 8MP's.

I'd say it's 50/50. The Lumia definitely does a better job of details like the grass and cobblestones, whereas the iPhone doesn't have the focus readjust issue, and doesn't blow out the sky so much. Either one is good, but only one of them runs Windows Phone. :)

Lumia OIS is better and more detailed. However, the iPhone has the advantage when it comes to autofocus and exposure; you can see how the Icon overexposes the sky. Also, the colours on the Icon look nicer overall (although there were some shifting, whereas the iPhone looked blend, but that's just personal opinion).

Icon still will be able to record 4k soon and already has better audio recording AND is able to ZOOM the video which is a huge advantage over iPhone. All that for a cheaper device. I think people are usually trying to forget all the advantages of the Windows Phone and just focus on copare on what the iPhone does good. Thats a huge mistake when comparing phones. Also, everyone please remember... videos and photos last forever. Today we have only 4k TVs, soon we will have 20k TVs and HUGE screens. When this time come, all our old photos and videos will show how better they are compared to iPhones. Megapixels does count, its a mistake to overlook that.

Yeap the iPhone 6 is flexible and Nokia 930 isn't... No, really... the focus of iPhone liked me... I agree with you.

It even has a flexible display!

And with the chance of breaking the phone in half... I would never buy an phone

Lol it blows the G Flex out of the water!

& 240fps full hd recording

not FHD. 240 fps 720p recording ;)

I can see the silly bionic videos now:)

Apple fan boys be like "the next iOS update will make the 'new' iPhone waterproof."

What? Why didn't they add that when iOS8 brought Wave charging?

iPhone 6 did better job with video stabilisation. It looked as it been taken with professional steadycam, but according to the author - both cameras were used handheld. Just my 2¢ here...

I agree. And the brochure was more legible. But the 930 kept more clarity and nice colors. 6 was kinda gray and got blurry often. MS needs to release a flagship NOW. Then we'll test. New tech against new tech. Not old against new. Don't tell me icon is new. Nothing about that phone is new.

The difference in lens focal lengths puts the brochure closer to the camera with the iPhone, but if you watch the video full screen and pause on the brochure, you'll see that even though the text is smaller on the Lumia video, there's less compression artifacting between the text and the dark blue background. Also, the blue brochure is the right colour blue in the Lumia video. :)

What's new on the iPhone? They have the same megapixel count for ages; the sensor and the pixel size are the same taken from the 5S. They've just upped the software a bit. That's not to say the camera I bad, far from it in fact. It's one of the best cameras out there, but don't tell me it's new.

The brochure was more legible cecause the iPhone's lens is not as wide. Seems the iPhone focused a bit faster, but the Icon had better clarity and sharpness.

We're comparing 2 different focal lengths here but I don't see clear winner in OIS. Look at the stones on the sides while walking. You see clearly jitter at iPhone. Typically side-effect of cropping.

In the first I thought iPhone has better ois but the more I look at it it seems that iPhone is applying some digital cropping stabilisation thingie on top of ois which appears to street picture more but actually it feels weird on the edges.

I'm actually really impressed with the 6 Plus' OIS in that it's really really smooth (look at the 930's perspective distortion). However keep in mind the PureView sensor in that phone is pretty much a year old - come on MS give us a new killer camera sensor!!!!

Yes, I prefered angles and colors of Lumia, but focus and stabilization of iphone

Yeah, that's pretty much it. Colour of Lumia better, but the focus on the iPhone is impressive. I've found filming with my 930 a bit hit and miss when it comes to focussing. Sometimes it takes way too long to make up its mind.

Yep I'm in agreement.. The almost steady cam effect walking down path was nice on IOS. First part of video where it went from flower to background was way better on 930.. The iBend almost blacked out the shot..

If by better video stabilisation you mean more jumpy, then I agree.

I'd agree with your comnments... Like to know though if the Icon had 8.1 and Cyan installed as that has improved the camera quite a bit. And, Icon is a year old(?) and so is the tech, and the 6 came out a couple days ago.
I'm just bringing these points up because I have a 1520 and with the 8.1 and Cyan firmware there was significant improvement in my video quality. Hasn't Icon, 930 and 1520 got 5.1 sound too?

Thanks for the comparison on the two, good to know that the Apple phones make good use of the OIS and are performing much better at video.

mmm.. i have to say that when you go down the stairs the iphone 6 plus video was a little bit more steady :/ but it's weird cause my 920 have better OIS than the 930 on this video :

It's an Icon, not a 930. As I understand it, Cyan has camera improvements and the Icon doesn't have Cyan yet. Denim will have even more improvements specific to some of the advantages that the iPhone 6 Plus appears to have here. Basically, it's a fair comparison for right this minute for these two devices on Verizon but all of that can and will change in short order.

You are simple tragic people. http://www.thephoblographer.com/2014/09/24/8mp-iphone-6-resolves-16mp-sa...

Nobody is denying that the iPhone has a great camera, because that would be sheer ignorance.

Can u xaplain what is diff. Between OIS in iphone 6 and Lumia devices

Yeah sure iPhone 6 camera's are better than the 1020... Well we know how DxOMark works right...

Trolls are the most simple, tragic people of all.

That report puts the Lumia 920 below the iPhone 4S? Really? And it puts the Galaxy S3 above the Lumia 920 as well? Wow -- I don't know what they used criteria they used to measure the resulting photos, but I know my wife, who owned the S3 and several of my friends, with the iPhone 4S, 5 and 5C have all envied the photos taken with the Lumia 920. With marks like this, you couldn't convince me these were real field tests without a bias. My biggest compaint with the Lumia 920 camera -- it's only 8.7 MP.

It's horrible when your favorite brand (Nokia) isn't easily the best at everything, even though you are convinced it was, will done to apple, but the only thing I can say, and this is from sheer buttpain is this: Your phones are bendier than my Nokia!!!

Good review. I agree its hard to pick a clear winner overall. If the Icon would focus just that little bit faster it would win overall for me.

Overall i think the Icon/930 has the best picture.
I would also love to see a comparison in very loud conditions, a rock concert or similar. My testing shows that the Lumia sound recordings is very hard to beat. Not just extremely good at filtering out overload, but producing a very rich sound as well. One of my tests: https://www.youtube.com/watch?v=b6JqI0UjJJs

You're right about the sound. The sound recording on my 920 and 1020 are amazing. Muse concert - 2013 - taken with my 920 https://onedrive.live.com/redir?resid=433F1869F762452F!1208&authkey=!AKz... Velour Live Music Gallery - John Allred - 2014 - taken with my 1020 https://onedrive.live.com/redir?resid=433F1869F762452F!16438&authkey=!AO...

Yes exactly, audio is a VERY important part of ANY video recording, yet there is no mention of that whatsoever! And the haac mics in lumias a pretty dang hard to beat. Why would a WP site neglect to mention one of its greatest video features in a video shootout?

I'm not sure either. I really hope WPCentral can do the video and compare/ talk about the audio capability also, another reason I usually record video is to get the "sound" of it.

Interesting. It seems as though the Lumia has better color saturation, but the image seems to be a little majenta. I wouldn't say the contrast is better on the Lumia. I did notice the focus changing a few times on the Lumia. I thought the Lumia was a bit sharper on some shots, but it was having a tough time deciding on what object to focus, especially in the close up of the flower.

The iPhone 6 Plus also has a flexible display: something not even a top of the line Windows Phone has.

Flexible Enough? https://pbs.twimg.com/media/ByPEyd_CQAA4XF7.jpg:large

Everytime WPC does one of these camera tests, it always turns out to be a "draw"... which I consider a lose for Nokia/Windows Phone. When you're the underdog and your key feature is only "as good" as the leader, then you lose that match. And, quite honestly, I don't think a 41MP or 20MP camera is all that important to most consumers because, for all intents and purposes, most of us can't tell a difference between photos taken with those and those with a 5, 8 or 10 MP camera.

There is more to Windows Phone than the camera. Also, the iPhone is the only camera phone that can compete with the Lumia series. Also may I add that when Denim comes with faster photo snapping, all these cons will hopefully go away

Not the MP count discussion again...

All the MP allows you to do is create larger print---- 3MP 7X5, 4MP 8X6, 6MP 10X8, 10MP 13X9, 36MP 24X17 for high resolution prints. Of course this is all about pixel count for the image it self. The rest is still about focus sharpness, sensor size, noise, artifacts, etc for image quality.

Actually, it is more than that. The higher MP count, especially on the Lumia 1020, is about "crop to zoom" in editing your photos. This solves the "should phones have a zoom lens?" problem through more MP on a larger sensor. This is the selling point of the 1020 during the press announcement, and it has since. The idea is you can create a great photo with detail, but zoomed in afterwards, making sure you get the shot. It is very useful, especially for sports games, concerts, in a city, macro, etc.

I think it would be useful to do a similar video but under low light conditions. Must cameras do pretty good when there is plenty of light. Take the light away and see how they compare. And on that note, should do a microphone comparison between the Icon and iPhone. The backward facing microphones make a huge difference.

Not true there are plenty test where the lumias kill the competition but in all cases the result was who need a good camera, only for the one month when apple is on par does it them matter, when denim which showed with the lumia 830 is available then the good camera won't matter anymore. Neither will bendables.

Well said! I agree completly.

The megapixel in video only matters when you zoom in, something that for some reason didn't happen in this video. My 1020 can zoom a lot without loosing any quality. But even my 1520 can zoom in much more than an iPhone. Picture wise it makes a huge different because of oversampling which give even 5 pegapixel pictures much more detail than the iPhones 8 megapixels.

HaHa, I've yet to see an iSheep admit that Lumias have a better camera. Even on the older models.

I think that the iPhone beats lumia on image stability but even though the focus is slower on lumia, when its focused the image its better

Which software was running on this Lumia Icon in the test? Lumia Cyan or Lumia Black?

Image stabilization on the stairs was amazing on the iPhone, I'm sorry to say ;) Auto-focus seemed a little zippier too...


To my eyes overall I think the Iphone 6+ video looked better. That being said, neither were bad. And would be happy to have either camera.

Camera over Icon (with Black) and 930 (with Cyan), there's some diferences here.

That's exactly what is not clear for me from this video. It is said that it was Lumia Icon (it is still on Lumia Black software) but we SEE orange Lumia 930 (which runs Lumia Cyan with improved video recording).

the 6 plus had better stabilization, however the 6 plus lacked the detail for distant objects. The auto focus with the 6 plus was much more seamless as well imo.

It seems to me that the iPhone has a better dynamic range however the Icon/930 has a more "correct" exposure. This leads to the highlights in the Lumia looking really blown out I mean just look at the sky in the first clip. Saying this though, it could be due to the wider lens and capturing more of the scene to get a better exposure. The lumia lens seems to be just that bit sharper than the iPhone's, which I see from the part of the video where Mark looks at the ground about 52 seconds in. In the shots walking down the stairs I think I much preferred the iPhone's actually, as a 930 owner I sometimes really dislike the amount of distortion the OIS does to video footage. As a photographer though, I would still choose the 930 any day of the week, the wider lens, higher megapixel count and manual controls really do it for me.

Denim is around the corner ;)

You can tell there's some software stabilization done on the iPhone. On TechnoBuffalo's review of the 6's camera, even without OIS it was really smooth. Not sure how much the OIS contributes to the stability but there's definitely software stabilization included. Probably why the image is cropped more.

You can tell from the jitter at the stones at the sides. Typically side-effect of cropping and rescaling. Not that smooth but seems many didn't notice.

I don't know what to think about these comparisons... It seems that the icon should have blown it away, but actually it didn't... It was a close call.

So let me get this straight. One phone was held in the right hand and the other in the left. Which is the dominant hand of the user?
At my work I make the coffee for everybody (I just do it better) I fill cups to the rim. When I carry the cups, the cup in my left hand never spills and yet the one in the right hand usually has a little spill here and there. I'm left handed and it's more stable & precise.
Could be just nit picking, but as it seems this "test" is sort of doing the same, it might be good to swap the phones to compare afterwards to this test. Image focus response time could be related to a number of factors such as shaky hand, area the lens is pointing at, etc. I personally don't like how the iPhone is so up close and you lose surrounding area compared to the icon. Having more area for the lens to record would also explain the slightly slower focus response. The iPhone being restricted in view angle could be a design trick where you get faster focus at the expense of FOV.
Also, while the cameras were looking at the ground by the flowers, the icon looked more detailed and once the icon focused on the flowers, it looked better than the iPhone. I guess the iphone is good for those who want close up videos while the icon would be good for those who want a wider FOV and detailin further away shots.

So which one if the Lumia and which one is the iPhone? You could have at least labeled it .

It's written in the video

Hate to be that guy, but I have to admit iphone has always been a great phone... As Cook said: we don't want to be the first, we want to be the best... This applies for their payment method for instance... That said, iOS is as good as boring, I've never owned and iphone and probably never will, but I wonder how they always manage to bring superior stuff

I would give the edge to the iPhone here mostly because of the faster focus and the slightly better image stabilization. It can be annoying when the focus takes longer to catch on when changing the object.

I think that iPhone 6 Plus is better at focusing, hdr and OIS, even the frames per sec are noticeable. I like the smaller frame as it looks better to me when you're doing videos like this with an object - flowers, person etc.. you focus on the whole time. It's more in the centre of attention. However, as someone who likes photography, I still prefer more pixels and manual controls on the Lumia Icon (in this case) over an iPhone. Also the bigger frame is much better for movie-like shots and of course with a little knowledge you can make it look like on the iPhone (putting an object in the centre of attention) with all kind of filming positions. I do wish the Lumia also had 60 frames per second videos and better hdr. On the other hand, I'd still take the Lumia as I prefer photography over videos. At least for now.

Left side looks like a videogame with a slight grey filter. But that's the video. It has better stabilization than the Lumia. But in the end, I hate iPhone simply whole apple. :D so my choice is obvious.

My brother has the iPhone 6+ and I have to concede that it is a really nice phone. The video that it shoots is amazing and I honestly believe that there isn't a Lumia that takes better video. That said, I'm still not going back to iPhone any time soon.

I don´t think so. Try the lumia 1020.

We're not comparing the regualr camera mode. Eveyone knows the 1020 takes the best pictures but its video mode is weak. I have a 1020 and the 6+ shoots better video. Do I like it the fact that it shoots better video? As a WP fan for the last two years, no, I don't...but it does shoot better video.

I don't know. I just used my Lumia 925 at my brother in laws wedding and not only did many people comment on how great the photos came out, but were impressed with the videos, especially the first dance which I was the only person who remembered to video it. It was a low light scene and yet nothing in the video went solid black, no details were lost and the thing that shocked me was that even though I was only a couple of feet away from the speakers blasting the music, the sound plays back perfectly with not a single clip or distortion of the audio, which I never had happen before with any previous recording devices I used in the past. Even though they had a professional photographer (I'm one as well among other things) nobody recorded video and they want me to burn my stuff to disc for them.
That's saying something for casual shots with a mobile phone compared to an SLR.

I get the exact same thing when I'm taking pictures with my 925. It's wel know that I have to take the pictures where ever we are, lol.

i liked colours and wide angle on Icon.6plus looks fade,but wins in focus speed

hm 20Mp pureview vs 8MP still cant decide who is clear winner :( i though Lumia gonna nail it :(

Icon was the clear winner, look at the detail in the trees when he looks over the edge. Contrast and saturation are definitely better. The iPhone did auto focus faster, but when the icon did focus the image looked more detailed.

I would buy the lumia 930 if it had glance. im already used to it.

I thought I'd miss it... But actually don't at all. It's a great feature, but your notifications and the clock are only ever a double tap away. :)

But I can't double tap from accross the room while my phone is sitting on my desk, charging. Glance is a great feature, and if I have to pick a phone without it, I might as well pick an Xperia.

"That's because Apple has finally included Optical Image Stabilization (OIS) in an iPhone." Or, as reported on Apple fanboy sites: "Apple just invented an amazing new feature called Optical Image Stabilization!"

The6 plus done. A better job in stabilization , but colors goes for the icon

If you pause the video then you can see that the Lumia has better quality. I don't mean the iPhone is bad. And the iPhone has problem to keeping focus on the text.

You may also want to do a low-light test. Typically stronger for Nokia.

Just saw test at notebookcheck. Still same issues as previous model. At least 925 should be bit better. Not sure about 930.

How about Audio quality of video recording? The Icon/930 has 4 microphones (HD quality with industry leading high dB distorition free recording). It's the first mobile device to recieve Dolby 5.1 channel audio certification. And since those microphones are the same high end ones used since the 920, you can record a live concert in the front row, right next to the blaring speakers, and the audio will come out amazing and clear. I think a dual-mount rig would be very helpful here. I've seen other comparison reviews employ one for video comparisons, and it's night and day as far as fair comparisons go. Subtle changes in lighting conditions, angle, and how much you test the OIS are hard to keep constant without a dual-mount rig.

Beckam? Nah! Bent it like iPhone :D

930 is the best. I think that the autofocus is faster with the iPhone 6 but the 930 give more details, a better stabilization and the colors seems more realistic . Sorry for my English.

I'm an icon fan and owner. I do feel the iPhone video was a little better. However if you are doing side by side test, make sure all things are equal. Mount the cameras and make them level. Also, what about audio?

Why is the headline 930 and in The test it is the icon

The one on the right had much better colors and was overall better video, but the one on the left did a much better job at focusing. One major complaint that I have with the Lumia phones I've had is that they all have focusing issues. They either take too long to focus or don't focus correctly at all.

When will we have a bendable flagship too? MS is playing catch up once again...

Honestly, some places the iPhone looked better, others the Lumia. However, walking down the stairs, the icon clearly had better stabilization. Congrats to apple for catching up to the 9 month old tech from Lumia! LOL

I think the iPhone pretty easily won this competition. I have an Icon and I hate that "pulsating" look as its changing focus and it happens almost every time. I think the image on the iPhone was more pleasing to the eye as well - not necessarily sharper or more accurate or any of that, but just plain better looking. I'm sure when it comes to the audio recording, the Icon would have it beat, but that's for another discussion.

Odd they you use an Icon but the headline says 930. Similar yes, but if the Icon doesn't have Cyan (the 930s do, right?), then the test is flawed and the title misleading as to the 930s capabilities compared to the 6. While both do great, I like the Icon more. I found the close-up image on the 6 nauseating, the wider image of the Icon gives a big picture view, which is better for catching all the action during those fights in the stands at sporting events.

The icon was often faced with coping with more bright sky in the frame, so not sure how objective one can be about some of the adjustments it had to make. I found after reading some opinions here, I actually picked the wrong image as having been the iPhone, so it appears to me close to a wash with the icon slightly ahead.

I believe the OIS in the iPhone is software based, similar to how YouTube retires to stabilize your video. It zooms in and uses the buffered edges to try to stabilize in some weird pan and scan your fashion. The Lumia uses a full mechanical OIS system which is why you get full frame results.

Not true, iPhone 6 Plus has a mechanical based OIS system in it, it was specifically shown during the press event. There is also likely some software assisting there too. The iPhone 6, OTOH, does not have a mechanical OIS system, just software.

I stand corrected. A rare event. You win sir!

End story is I will not be giving up my 930 with Cyan any time soon.

as an iPhone 6 owner (R.I.P. Lumia 920) i prefer the Lumia 930 in the video.

Don't the 930 or 1520 with Cyan have improved auto-focus (that came with Cyan)? Seems like that would have made a difference here. Not to mention that the 1520 is more comparable to the 6 Plus based on size. Seems like this test would have been better performed with a 1520 or at least a 930. The results are interesting nonetheless.

Aside of the camera, I am seriously disappointed with my new 930's performance. The worst thing is the battery backup and heating problem. I have no idea why Microsoft is not commenting on any of these issues. Another problem I am facing is the resume time delay I face sometimes while doublt-tap to wake up, from lock screen to start screen, and touch response. Sometmes screen become unresponsive on start screen. Another thing to be noted is random heating issue even when nothing is running at background. So my overall rating for 930 is 6/10 sadly

The 6+ wins by perfect image stabilization, obviously the video must been cropped to get this. If you try apply the same stabilization on 930 video using stabilization option when you upload it to youtube, 930 could be the winner because it has better colors and sharpening.

Lumia as usual is the more natural of the two. The iPhone does seem to have better stabilization though which is a shame for Lumia. Not liking the warmer hue of the iPhone video/photos though.

Finally a WPCentral article which implies that an iPhone is better than a Lumia! :(

Yes, the truth is sometimes painful.

The Camera on icon should be similar to Lumia 930/1520 as it packs the same module. But the software is not right(black, cyan)? Why Lumia icon till this day not receive cyan update? Thus carrier intend to bundle it with denim? I heard somewhere..

This is a really interesting, and pretty close comparison. The colours look a lot more natural from the iPhone but the wide angle of the Lumia is more appealing to me and the contrast, especially in the shot following the lady down the stairs has terrible whitebalance in the sky/lake in the distance on the iPhone... In my experience with Lumias (800, 920, 930) the autofocus has ALWAYS been often painfully slow. OIS seems more effective on the Lumia here though, although it does sometimes do that weird jumpy zoom effect in the process, presumably because of additional software stabilisation of some kind... I'd stick with the Lumia. I'm a bit jealous of the Slow-mo capabilities of iPhone now though. With Lumia Denim will that become a possibility?

Wow. The Lumia might have better overall image quality and color. But the iPhone 6 Plus is fast when it comes to focus. Insanely so.

I have been under the impression that this recent iPhone articles are more like commercials for it than for Windows phone. Just saying.

Watching the video shows that the iPhone 6 is superior for video stabilization and the autofocus. Keep in mind that I have the Lumia 920 and the autofocusing mechanism has been driving me crazy espeically when you move around. If you haven't noticed it, consider yourself lucky. I do see a slight issue with the iPhone 6, but the Lumia 930 was more pronounced as it make shte video look like it was bouncing back and forth. This is something that Microsoft needs to fix for the next iteration of the Lumia flagship models. As for the video stabilization, Apple has implemented it differently from Nokia. The reason why it is "zoomed" closer is because the video is being cropped in favor of stabilizing it further via software. Apple sacrficied the wider view for additional stabilization and this is something that Nokia can do. The difference is clear and I think that Nokia should include this, but only as an option. I don't like the fact that Apple has this set up by default as it really limits the creativity with video shooting, but I understand why they did it. I still love my Lumia 920, but I would really love to see Microsoft step up their game in this department.

It sure seems like iPhone has caught up to Lumia on imaging. Where one is better than the other wasn't really a question previously. Now those are similar enough that it is tough to say one is clearly better than the other. Microsoft really should have been hanging their hat on the imaging aspect as it was where they had a true advantage. Next round of products needs to add some distance and really separate from the pack. Come on MS! We need a successor to the brilliant 1020.

The iPhone video looks better at the get go, but the icon had a wider more detailed picture most of the time. Over all the iPhone wins but not much.

The iPhone is washed out and the Icon had more vivid depth to the picture quality. The focusing could be a little better on the Icon, but I have noticed with the Windows Phones, the aspect from viewing is much diffrent than any other phones with cameras. They will continue to give you the most view possible before switching to the next object. The video to me is the same. I like the wider view better. Being a previous Windows Phone owner, I have missed some features that the Windows Phone brought to the table.

The iPhone has better image stabilization and faster focusing but lacks accurate colors and sharpness....This is where the Icon excels. :)

Definately Lumia Icon had better picture depth and clarity. To further add Lumia Camera provided much more video stability than IPhone... There you have it.......Lumia is the Winner

Windows phone is awesome!

On the first sample, the iPhone looks better. Focus and white balance changes are quicker. On the other samples I liked the Icon footage best - significantly more detail and the OIS seemed smoother to me. The wider angle on Lumias is a pretty big plus to me, especially since the higher resolution probably allows for a zoom up to the iPhone's "focal length". They are very close quality wise. Apple has almost caught up :)

The iPhone appears to outclass the nokia... Not too surprised, but still a little dissapointed.

The iPhone looks to be a step above the 930.. How disappointed i am, Microsoft/Nokia.

I realize this was sort of an informal "day at the park" type comparison. But, if you are going to put the WPCentral name on it perhaps more effort should be made to standardize the test. One in your left hand and one in your right hand isn't really an even playing field. Personally, my right hand is not as steady as my left. For an informal comparison sure it works, but I have come to expect more from WPCentral. Perhaps it might be wise to include more details on the units being tested. If this is an Icon instead of the 930, then the title should reflect that. Plus, what rev of the O/S? Are you running Developer Preview? Cyan or Black? Put it in the review.

Lumia has Pureview and Carl Zeiss. Iso, shutter speed

Hurry and buy your ibend 6 today!!!! Lol

I thought the Icon was far better with image stabilization and there was absolutely no contest with Lumias much faster reaction to changing light conditions (at the end of the video).

Lumia camera are slow as hell...

Sorry to say in this comparison iphone wins, faster focus, sky is less washed out on the iphone, calmer video, less lensflare on iphone. And I am a 930 owner!

I'll still hold my breath until Steve Litchfield does a proper test...

6+ clearly wins here. "Stretching" video is a Lumia's weekness, may be old algorhytms from the L920 times.

I think the stabilization test is fairly subjective. How do we know how each was being held? Also, would love to the test in low light and know which firmware you are running. Also, I agree with the desire to see sound comparison included. I noticed that the new iPhone photos still contain a fair amount of noise.

Lumia looks sharper but the iPhone looks more stable. Very impressed with image stabilization on the iPhone. Damn
.

Colors do pop more on the iPhone, which is honestly an issue i have had on my 1520, i have both a 1520 and a 1020 that i use daily (Also i still have my old 920) and the 1520 tends to crush blacks and make the image a bit cool in color temp compared to the 1020 and 920 cameras. I'm sure it's just software but it's somthing that needs to be fixed on the 20mp cameras in the icon, 930, and 1520 hopefully denim will do that With all that being said, i noticed a lot of unpleasing compression artifacts in the iPhone 6+ video which ruined the HD look of the video, and stabilization seems to be better on the 1520 but that could be due to a wider angle lens. However i have to say the video from both the 1020 and 920 are much better than the 6+, colors pop with that pleasing warm tone and contrast doesnt seem to overlly crush dark areas of the video, and no compression artifacts thanks to the high bitrate MP4 compression (although this does mean larger files) so for me video wise 1) 1020 2) 920 3) 6+ 4) 1520 As for pictures 1) 1020 2) 1520 3) 920 4) 6+ Audio on the videos 1) 1520 2) 1020 3) 920 4) 6+ Overall personal ranking for cameras 1) 1020 2) 1520 3) 920 4) 6+ And yes i have a 6+ at my disposal to test this although it is not personally mine

Bend, bend, bend in 3, 2, 1

As an ICON user, personally, I love the camera. I use it to record myself playing the piano so I can find what I'm doing wrong. The wider lens in that regard is perfect for me. The focus assist light is great as well. Sound is fine. The playback quality is also great. I don't record videos of anything else as I have no desire to so I personally I have no complaints. It depends on what you use it for, personal preference, like everything else. :)

What is this iphonecentral?? Why is wpcentral for the entire past week, week and half covering iPhone shit, reviewing iPhone shit or even comparing it to windows. I think its safe to say the windows phone community dont give a rats ass about anything iPhone.

I think iphone captures video with cropping the images from 8MP resolution thats why its not wide angle view unlike on still image camera mode. No zoom test?

I think windows phone because its not made for normal minded people ,, only professional can use WP awesome

The moment I saw the shift in the white balance I know which is Lumia. Can somebody convince me that this is not a minus for Lumia?

Not much difference, really? How well did the iPhone 6 do at 1080 lossless zoom. Oh wait, it doesn't do that.
How welll did the Nokia 930 do at 1080 60fps. Oh wait, it doesn't do that. There are differences in these devices. You are also comparing the higher end iPhone 6 Plus, not all users realize that the non-plus (smaller) iPhone 6 doesn't have true OIS. Also there should be a note aboaut the 4K video support update coming for the 930/Icon/1520, as that would should be a considerable difference for a lot of users consider a new device for video.

From what I can see in the video, the Lumia Icon has a more "natural" color pallet. The green color of the grass on the iPhone was too vivid making the green look fake. Also in the beginning video with the flower, notice how the green leaves of the flower are brighter and more visible on the Icon vs the iPhone. I also prefer the wider lens of the Lumia Icon. I would prefer to be able to get more into the shot and zoom in if necessary, than to miss out on getting something in the frame that I would later regret not getting. A good example is the opening shot of the flower. Notice on the Lumia Icon, you can see the building in the background, whereas it is cut off on the iPhone. Also, notice that when the woman is walking, the iPhone completely blocked out the rays of sun coming down. This is a cool shot on the Lumia Icon. Reflection of the sun adds to the atmosphere of the shot, whereas the iPhone completely removed it and made that scene boring, IMO!.

very similar, no clear winner

Guys, be fair, not blind. And to be fair, iPhone 6+ did better job here. Personally I don't like how Lumia 1020/1520/930 oversaturates colors. Better colors, better focus, better stabilization (you can't see that shaky picture while walking?)...

I would disagree about the oversaturated colors. The Lumia seems to capture the colors more vividly with better contrast -- however, the autofocus is definately much more noticeable on the Lumia. It's hard to give a true opinion on the OIS since there was no use of a tripod. I know that my 920 shows better OIS than this Lumia did, even in a bouncy car ride.

Can the iPhone 6+ caputre images in RAW format like the Lumia 1020?

I liked the video of Lumia icon more...I am not into photography and know nothing about it but the icon video was more real with colours,detailed and overall better to watch..its pure view..

It's looks like OIS is better on iPhone, not sure it seems like that because it has a narrower lens than icon. :/

Finally iPhone is playing feature catchup to WP. May this long continue and happen to other aspects as well.

I had similar observations as the article when I watched the video although I feel 930 is the winner - while pretty similar on image stabilisation and the ip6 being quicker to focus, I preffered the colours on the 930 and I found the ip6 to lower the exposition too much and a split second later correct it when changing subjects with different light exposition. The objects did seem a bit further on the 930, but as another comment on here said, pausing on the brochure seems to have the 930 with higher quality in my opinion. Obviously I'm not an expert, but the winner for me is 930.

Lumia icon video is a complete failure just like Lumia 1520. Obviously the iPhone is the winner here :(

People don't use the phones this way all the time.. All u have to do is DOWNLOAD CAMERA 360 AND U GOOD TO GO...

When it comes to quick and undetectable focus, the iPhone 6 definately stands out. However, the scene walking down the stairs seems to give the upper hand to the Lumia. I also like the wider lens of the Lumia -- you capture more of the scene.

Posted this on Youtube: The focus is faster and smoother on the Iphone. The Icon also has a blue-ish tone when looking at the flowers in the first area, oddly this blue tone goes away when looking at the rest of the garden. However when looking at the rest of the garden, the sky looks to be blown out and we lose detail on the Icon. Depth of field looks better on the Icon though. The Icon also looks to capture more detail (when not over exposed), which is to be expected. Video stabilization looks comparable on both but a touch smoother on the Iphone. Since the Iphone's video looks cropped, I wonder if they are using both hardware AND software image stabilization on the Iphone vs just hardware stabilization with the Icon. The last area looks better on the Icon almost all around. There is more noise on the Iphone footage and the colors look more accurate on the Icon. Some moments in the last area look washed out or too bright on the Iphone footage. Since this is an Icon, I'm guessing it's not loaded with the Cyan firmware? That should further improve focusing, color balance, and image quality. Wish we could have a comparison with the 930 sporting Cyan against the Iphone. Overall though, both phones look to record some great video.

I was expecting the Apple to look better, but overall I think I actually prefer the Nokia.

One I really like about the 930 is having a wider angel lense. Everything with the 6 plus was to close. Other than that it seemed to go back and forth between the two. Fortunately for me the camera isn't the seller for me on this. I love my 1020 & 1520 but between the 6plus and 930 I choose WP every time.

Sad to Say iPhone is better than lumia icon................. :(

I Vote for the Lumia. it has better contrast. better image

lumia cameras always fit more in the frame, iphones in particular always seem to be zoomed in, the only good thing is how it autofocuses without the zoom in-out present on the lumia, and that could be bad anyway if you dont notice when the subjet is on focus

This review is useless.... so subjective.

The iPhone's OIS was way better, not going to lie.

Hey guys, what's the diff between Black and Cyan and Denim?

I was surprised at just how soft the video is on the iPhone overall. Not just resolution, I don't think; seems like it should be sharper.

With your observations you almost said the clear winner is the iPhone 6+.

I struggled to choose a winner as they appeared to have plus and minus issues. The left camera seemed zoomed in but was marginally more stable and probably focused better. The right hand camera had better overall picture and colour. I would be interested in this test if rerun using a common holding platform so I could be sure they are both looking at the same thing at the same time and with the same forces exerted on them. Here's looking forward to the retest.

Also while I am about it. How about we run this test on a common platform using the regular iPhone a 925 and the 930 that would be interesting as well.

Let's give credit where it's due, the focusing on the iPhone is much better than on Lumias. My 925 sometimes refocuses (with the slight zoom in - zoom out) even when I'm still and recording a still scene. The OIS seemed great on both devices, in some shots it was better on one, in some shots on the other. However, I like colors on the 930 more. For the small amount of videos I take, my 925 is more than enough, and in still photography, Nokia is still winning, so this video didn't convince me to get the iPhone. Nice scenes by the way, and nice choice of music to go with it :)

Both the video samples looked great, but the exposure adjustments seemed to get crazy there for a moment in the beginning. Also it seemed like more was able to be seen overall in the ICON's video. It seemed like the 6Plus was partly zoomed in a little ? Again both look nice but to my eye, I found the ICON looking better and capturing more. and thats not because I have a Verizon Lumia ICON either.

I didn't see where it mentioned which side is which phone, but whichever phone is on the left was the clear winner.

Assuming the iPhone was on the left and the ICON/930 was on the right... The ICON even though the focus took a second longer after a move, the colors look more real than the iPhone, it seems like some of the views on the iphone didn't look as good but, the focus was very quick, a lot better than the ICON... So, better pictures and better quality videos the ICON/930, as long as you dont move the phone too much :) Over all they both looked good, just the Nokia edged out a little... but, that is my thoughts and yours may varry... And to note for people who do not know... the OIS only comes on the 6+, the base 4.7" iphone 6 does not.

The Icon goes is and out as you stated because that is how contrast detect auto focus works.

The iPhone looks better to me and there is some definite lens flare going on with the icon. I think the test should be reevaluated once the denim software updates are out and like others have said to do it in a mount and tripod for pan and zoom. Posted via Windows Phone Central App

Lumia wins in everything except stabilization. In the Iphone noticed no shaking.

The iPhone video looks pretty good. Apple hired the ex-Nokia camera guy, and added OIS. We are losing our camera advantage on WP.

Personally my eyes liked iPhone 6 plus video. But in the last few frames especially the wall surface area looked perfect in Nokia and got to know that iPhone have little yellowish lens that makes video more lighter but losing original colors on the other hand. Nokia video is more naturalized.

Overall seemed to me the Lumia was significantly sharper, with better colour saturation and clarity - the detail was incredible, while the iPhone image is too soft, almost gives the video a fog. Only one winner on focus though, iPhone rapid to auto adjust while the Lumia is too ponderous. Two very good videos that could still be improved significantly I'd say

es muy dificil entender la estrategia tomada por microsoft al comprar nokia...donde nokia siempre se destaco hoy veo celulares con sensores mas chicos que el nokia n8.flash led y no xenon como el n8.sin salida hdmi.sin transmisor fm.sin usb on the go.Esto es inovacion??al dia de hoy puedo hacer cosas con el "viejo symbian" que con windows phone 8.1 cyan no se pueden..recuerdo al ceo de nokia en su momento decir que dejaban symbian ya que no le podia hacer competencia a android y ios.Por lo que yo veo symbian estaba mucho mas apto para competir con android y apple que windows phone...

They're both good, but I have to say I preferred the iPhone. The sky was blown out badly in the garden scene with the Lumia, and colours were too blue. There are moments when the Lumia appeared to catch distant details better, but sometimes it was worse. Overall, the iPhone one was the most pleasant to watch. I'll be interested to see if Denim's camera software improvements push the 930 ahead though. I won't get an iPhone though. I'd love to have a great camera on a phone, but I'd probably get a secondhand 1020 before either of these two right now.

Colors look better on the Lumia. I like the lens angle of the iPhone Indeed a tough call.

How many megapixels, aperture size, etc, etc won't matter if you don't have any photography skills or understand of what all these things mean.

We can't access to files in iphone but in windows phone. Windows phone has awesome user interface than iphone

What John B 123 meant was the feature that set our platform apart, the Peoples hub, is missing after the update to 8.1. And that's a real sad omission.
Microsoft has started removing unique features for Android and IOS folks to easily integrate to Windows.
So this update has turned us into 'one of them' updates.

Blast....Darn iphone looks better and has better auto focus. Still, lumia had a better view range and better (darker colors) grays to me.

Apple really did a good job with autofocus but 930 is better at colour reproduction. The OIS was consistent on the Lumia but that on the iPhone felt like it was taken with a tripod sometimes. Overall 930 wins for me.

iPhone 6 has better image stabilization and also faster focus.

Camera test and see which is better LUMIA 930 or iPhone 6 http://is.gd/pkxvEb

OIS on iphone is so freaking awesome :| what a suprise?

@xirsteon My skinny jeans and 1020 work great together. At the dimly lit bar: "is that a phone in your pocket or are you just happy to see me?" "both. Now let me snap a picture with this badass camera to remember you by" *silence as she walks away*... *click*... But at least I have a great lowlight picture or her backside.

I think the video quality on the right that is the Lumia was much better over all. The iPhone+ video quality was better in some instances but it was few and far between. It would have been nice to get an audio and video view at the same time.

Though both are shockingly good, and it pains me to say so, I'd have to give this one to the iPhone 6 Plus. The autofocus was much faster; both the flower and the grass looked a bit more detailed and natural; the image-stabilization while walking down the stairs was a bit smoother. Given how important the camera is for me, this is almost making me reconsider the iPhone despite it's ridiculous cost.

Lumia focus is the only bad thing, I'd wish a camera update that fix this zoom in and out when focus, also the color is a little blue in lumia in the first video All the other things like colors in general, contrast, detail, and OIS are SO MUCH better in lumia, OIS in iphone sucks

As much as I love the Lumia's camera, the mixed camera experiences drive me INSANE. Microsoft Camera is a lot better on 8.1 than 8.0, but is still missing built-in Photosynths (a must to compete with other manufacturers) and stereo recording (a must in 2014, period). Nokia Camera is just too damn slow. Living Images, reframing, and the additional features being added with Lumia Denim are amazing additions, but it's just SO SLOWWW. I really hope Denim fixes this issue. Sorry, a bit off topic but yeah

are we really comparing 8 mp vs 20 mp ??

Lumia can get 240fps by software update? os is a hardware restriction?
Windows Central Newsletter
Thank you for signing up to Windows Central. You will receive a verification email shortly.
There was a problem. Please refresh the page and try again.