Head to head: iPhone 6 Plus vs Lumia 930 video performance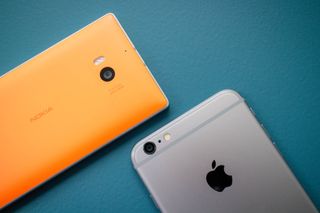 If you ask an Apple store employee for the difference between an iPhone 6 Plus and an iPhone 6, you can expect to hear that the 6 Plus has a bigger screen, but there's one more thing they'll most likely mention. The iPhone 6 Plus a better camera. That's because Apple has finally included Optical Image Stabilization (OIS) in an iPhone. Lumia cameras had this feature for a while now.
I was curious how Apple's video performance compares with the latest cameras found on the Lumia 930, Lumia Icon, and Lumia 1520. So, I went to the park and shot some videos. Watch the split screen comparison.
In this test, I held both the iPhone 6 Plus and the Lumia Icon in my hands. There were no tripods or monopods involved. The camera on the Icon is very similar to the ones found on the Lumia 930 and Lumia 1520, so the performance should be very similar.
What's also new in Apple's latest flagship devices is phase detect autofocus, which promises fast autofocus performance. Both the iPhone 6 and the iPhone 6 Plus have this feature.
The iPhone 6 Plus and the Lumia Icon were shooting at 1080P 30 frames per second. I cropped both footages in half and placed them next to each other. I looked at both videos closely and found these observations:
The iPhone 6 Plus seems to focus on objects faster than the Lumia Icon.
When the Lumia Icon changes focus, the image seems to zoom in or out a little bit for a fraction of a second. I don't notice that on the iPhone 6 Plus.
The Lumia Icon has wider lens. Objects appear closer on the iPhone 6 Plus camera.
The iPhone 6 Plus video appears brighter, while the Lumia Icon is darker with more contrast.
Both performed well with Image Stabilization. It's hard for me to see if there's a clear winner here.
This test could have been done better with some kind of dual camera mount, but I didn't have one lying around. This test, however, should give you a better idea of how the cameras perform in the real world.
What are your own observations with this split screen comparison? Which footage looks better to you? The iPhone 6 Plus or the Lumia 930 (Icon)? Sound off in the comments!
Get the Windows Central Newsletter
All the latest news, reviews, and guides for Windows and Xbox diehards.