This iPhone Case Runs Android Creating the Ultimate Dual OS Mashup
For those who want a bit of Oreo with their Apple.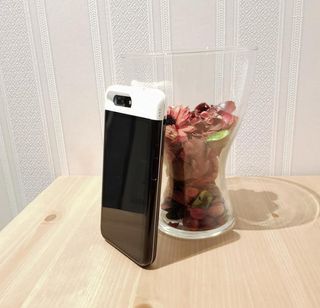 Smartphone accessory makers love to promote the idea that their product will enhance the functionality of your device. In spite of all the hype not all accessories will live up to those lofty expectations, but we sure do love it when designers push the limits of what consider possible from our phones.
The Eye Smartcase is an iPhone case that doubles as an Android phone complete with 4G connectivity and gives you access to both mobile operating systems at once.
It's a really bold product which you may have seen featured on Unbox Therapy or elsewhere on the internet. The Eye Smartcase purports to combine the two most popular mobile platforms into one singular device so you can swap between iOS and Android as you need throughout your day. This case has been in the works for years and is on the home stretch towards its official release.
This case is about the size of a Mophie battery case (opens in new tab) except instead of extra battery the Eye Smartcase offers a full-featured Android smartphone experience. The Eye Smartcase will be available for the latest iPhone models going back as far as the iPhone 6 and 6 Plus and up to the iPhone X.
So what are the specs for this Android device? The phone includes a MediaTek MT6739 chipset which includes 3GB of RAM and supports 2G, 3G and 4G networks (with two SIM slots), Wi-Fi, Bluetooth, GPS. There's 32GB of onboard storage with a microSD slot that supports up to 256GB and a 2800mAh battery that is supported by Qi wireless charging. The 5.7-inch HD 720p display is located on the back of the case and the whole thing will run Android 8.1. Oh, and it also brings back the headphone jack for those who were peeved at Apple's decision to nix the legacy hardware with the iPhone 7.
There's a number of reasons that make this case a compelling option. Maybe your work phone is an iPhone but you really prefer to use Android and don't love the idea of carrying two phones around with you. You can also use apps and do things on Android that simply aren't available for iOS and literally double up your phone's functionality. We all know that the rear camera is the best camera for taking photos, and the Eye Smartcase will let you mirror your iPhone's rear camera as a selfie camera on the Android OS, letting you take the best selfies ever (if you're into that sort of thing).
Beyond that, there's simply the cool factor of owning a phone case that features another freaking phone.
According to their campaign page, the Eye Smartcase is passed the designing phase and well into the prototyping phase before ramping up production by the end of summer. The team expects to start shipping cases for the Plus-sized iPhone models by September 2018, and then start shipping cases for the 6, 6s, 7, and 8 in October.
The Eye Smartcase has raised nearly $1 million and has raised six times its funding goal but there's still time to back this project and save some money on this unique product. For $135, you can get an Eye Smartcase with no cellular connectivity (only Wi-Fi) or pledge $159 for the Smartcase with 4G cellular — saving you 30% off the expected retail price. If you're thinking about buying one for yourself and give the second one as a gift for a friend or family member, the discounts only get better if you pledge to get two or more devices.
OOORRRR, you could buy TWO PHONES and a roll of ducktape.

but that's pretty ugly though.

That might violate the Andromeda patents.

I just don't get how concept will work...

not for me, I going to get the Andromeda Device.
Windows Central Newsletter
Thank you for signing up to Windows Central. You will receive a verification email shortly.
There was a problem. Please refresh the page and try again.