Italian bank UniCredit launches its Windows Phone app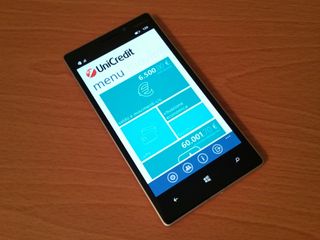 While some banks have dumped their support for the Windows Phone platforms, others have added the use of the OS to their customers. The latest is the Italian bank UniCredit, which is now offering a Windows Phone app with a number of options.
Here's a translated list of list of some of the Windows Phone features
Check the balance and movement of current accounts, Genius Card, UniCreditCard and other prepaid cards issued by the Bank
Consult the details of funding
Make "Quick Tasks", SCT and refills are easy and safe to most frequent beneficiaries
Arrange transfers
Recharge the prepaid cards UniCredit
Recharge the mobile phone credit
Pay by postal bulletins identifications (also with Datamatrix code capture), in white, MAV, RAV and REP
Lock and UniCreditCard Genius Card, asking if the remission
Find the branch and/or ATM closer and define the path for achieving them
We are unable to check out the features of the UniCredit app since it is not available in the US (for obvious reasons). If you are a UniCredit customer in Italy, let us know your impressions of the app in the comments.
Via: Plaffo; Thanks to Dario for the tip!
Download Mobile Banking UniCredit from the Windows Phone Store (Free)
Windows Central Newsletter
Get the best of Windows Central in in your inbox, every day!
Those some banks will be back soon... Windows 10 will be for to the rescue Posted via the Windows Central App for Android

Why do you care for us? Androider

Great news!!!
In UK all major banks have WP apps. Can't understand why USA is so Apple obsessed. Real shame...

Because of great advertising and reputation. Don't come to NYC if you dislike Apple they are everywhere......

I m just back after one month in Cali, and I noted quite a 100% iPhones presence in some cities like SF. That really impressed me....How can people be so "sheep" there ??? The phone is a "personal" thing, like my car and my dress. I want to choose my phone, not copy others. I m unique, not an idiot following the masses...
You live in the best ever country in the world (I love USA), but I really cannot understand this...In Italy WP is the second OS at 15%, in EU is over 10%, in US at 4%...Lol too much product placement on tv :) ?

Most people are followers that buy what's popular or cool so they don't feel left out. As for myself I buy what I like that goes my wants and needs

"cool" an iPhone ?? Where ?? It s for old people, apple services are lame, it means 0% personality, for me it s the opposite :)

I agree but in the USA they have the reputation of being cool.

All the major wants .. well .. execpt HSBC

Magine TV has launched WP8.1 app.. It's the top German TV app .. Tipped it few minutes before..
Source : www.broadbandtvnews.com , www.magine.com & Windows Phone Store
.
.
Update : Only available in Germany

Learn chase and bank of America and capital one, discover, American express citi bank learn.....Brazil has official bank app wtf

Even Indian banks have official apps for WP .. All those top banks in US can't even afford a silly app .. Weird reason :D

US banks maybe are paid to do so with windows phone.

Can John Callaham speak Italian?

Don't know about italian.. But he can speak though... I've seen some of his videos :P

Their customer service is really nice.. They won't hesitate to bring an official app.. Let's see

True :) I mailed them asking about the launch & they replied that its in works, will be available soon.

I feel bad for americans, who have to put up with Apple and Android rubbish =/ I found out that the iPhone 6 cannot even do 4k video recording... and yet its touted for creatives!

My brother in Law has an iPhone6+ and he is already complaining about everything.. He says , there is nothing new in new iPhones rather than the bigger screen.. A fact though

Apple iPhone 6 is really bad even with the built quality and looks compared to 5s. Many journalists make the hype of iPhone when its released which creates hype among ppl. That's y apple situation is that they don't need to innovative. Even their shit sells well.

UniCredit Romania also released an app for Windows Phone users.

Bank apps: Come to USA!! :P

Unicredit Czech Republic has the app already for two years or so...

omg finally, unicredit has been suggesting italian users forever to install the czech app, the rumenian app, the... plutonian app and none was working decently italian companies (but maybe it's a more general thing) literally hate their customers who use windows phone, even poste italiane doesn't have an official app yet... it kinda sucks windows phone outsold apple ios here and yet we're missing apps from italian companies!

I think you get your info from the baker.. Windows Phone didn't outsell ios or android here in Italy. I guess you were dreaming of it and mistook it for reality..

All major UK banks DO NOT support Windows Phone.HSBC,Nationwide and Santander.....hang your heads in shame.

Living vicariously through our overseas wp friends who get app support... On the other hand, back here in the States we have to continue to suffer through the monopoly known as iOS and Android...

It's the same everywhere, I think: most major services here in Italy don't get WP apps..

Very lame isn't America a rich country. And banks can even support bank app. One curious thing Las Saturday I went to chase retail to get a new debit card. And the I was talking with some cute girl that works in the bank and she was complaining that the internet from them was so slow. I was really. I was like wtf this is a bank and can afford to paid faster internet. So who knows but chase and other America banks need to release apps fro their perspective business.

Wow, a very nice looking one!

Finally, at last!! I have been asking for this multiple times in their online surveys... :-)
Windows Central Newsletter
Thank you for signing up to Windows Central. You will receive a verification email shortly.
There was a problem. Please refresh the page and try again.