iTunes now available from the Microsoft Store for Windows 10
Though it's a little later than intended, iTunes is now up for grabs on the Microsoft Store for Windows 10.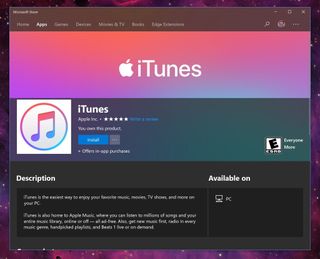 The day has finally arrived: iTunes is now available in the Microsoft Store (opens in new tab). We've known iTunes was coming to the Microsoft Store for some time, but Windows 10 users can now get their hands on the app, albeit a little later than originally anticipated.
For a portion of Windows 10 users, iTunes' appearance on the Microsoft Store may not matter much because they can use the standard desktop app. Where it will have an impact, however, is for anyone using Windows 10 S, which is locked down and only allows installation of apps from the Microsoft Store. For those users, the full desktop iTunes experience should be available here, complete with access to Apple Music streaming and iPhone syncing.
Apple's effort to bring iTunes to the Microsoft Store follows a similar move from Spotify, which brought its PC app to the Store last year using the Desktop Bridge. As Microsoft pushes Windows 10 S (eventually S Mode) as a low-hassle Windows option for students, schools and businesses, both apps represent potentially important additions to the Microsoft Store.
If you're an iTunes user, you can grab the app now from the Microsoft Store. If you already have the iTunes desktop app installed, be aware that the Microsoft Store version will remove the older install and migrate your settings the first time you run it.
See at Microsoft Store (opens in new tab)
Dan Thorp-Lancaster is the Editor in Chief for Windows Central. He began working with Windows Central as a news writer in 2014 and is obsessed with tech of all sorts. You can follow Dan on Twitter @DthorpL and Instagram @heyitsdtl. Got a hot tip? Send it to daniel.thorp-lancaster@futurenet.com.
I'm always surprised that Store apps have the power to uninstall things and migrate settings. Same thing happened with Spotify. This sounds like store apps could potentially be unsafe. Or am I missing something?

For the app to pass thru to the Store in the first place it has to pass some tests. Spotify and iTunes, so far, are a tight leash with Microsoft who worked with them to bring it over. Seems like whatever behavior they have has been approved, but there's probably some advanced stuff they can do that others cannot.

Yeah, Microsoft and Apple stated that the Store app is literally the same as the desktop app. There's no difference between the two. The both have all the same functionality. Right down to being able to connect your phone to it.

Daniel is probably talking about special UWP API permissions or capabilities, not changes to iTunes itself

Yeah I know I was stating for others that may not know.

What I find interesting is that not every Win32 Store App does this, Spotify did it but WhatsApp did not. When I installed WhatsApp from the Store I had to manually uninstall the older install and do the setup process again in the Store App.

Could be, but if 'special apps' like these have special permissions, it sounds like the policing of other apps would need to be very careful. I thought the set of permissions to centennial apps (did I get that right?) would sandbox things and limit access to the file system. I'm curious about the security implications. Are Spotify and iTunes really treated differently, or is there something related to certificates and always (but only) being able to uninstall apps signed by the same developer? Just curious, thanks for the response. Edit: this sounds kind of vague, I blame the cocktails I just consumed. Cheers.

The big difference between both is not access to the file system but to the mainly registry that MS wants to avoid.

I seldom opt for Store apps over desktop programs. But iTunes updates are so God damn annoying that I'm actually installing the app version instead, just so that the Store can update it automatically without me ever ever having to be bothered by it anymore.

This! And no Apple updater quick time safari icloud bloat too

Also a good thing that now you don't need to run several update checker in the background with different frequencies if you have a couple of win32s in your system.

Thanks to Disney's Movies Anywhere alliance, I can now watch most of my disparate collection from any platform (Vudu, Amazon, and iTunes). I guess now that it is an app vs desktop (desktop app was a PITA), I can use it to watch movies on my PCs/ mobile PCs if I don't want to have alliance apps installed. I'm pretty disappointed we haven't heard any sign that Microsoft will be joining that alliance. I have a collection of movies on XBOX Movies and TV that I would like to be able to watch again (I gave my XBO to my nephews) on my TV. I might even start purchasing from them again if they did (they occasionally have better prices!). Oh, I digressed. All in all, the app is (in) surprisingly similar to the desktop app; possibly a tad slower. Nice first impression.

"I'm pretty disappointed we haven't heard any sign that Microsoft will be joining that alliance."

All I can say is I still buy movies from Microsoft for a reason. Microsoft wanted to be a part of the initial wave, but Disney is rolling it out. Microsoft did publicly comment on it recently saying they are in talks and we've internally heard it's going to happen...in fact, something-something about M&T going to

other

platforms....

I don't, mainly because twice I've purchased from Microsoft's Film and TV Store and I have actually received the wrong videos, contacting them got me absolutely nowhere so I am out $25 bucks and they are out future revenue.

How you get the wrong movie?

curios how you bought the wrong movie? I've bought dozens of movies (and music and games also) from Microsoft Store and have never experienced this.

Never happen to me either. I've refunded once. I missed the pre-order deadline so I couldn't receive my 3 free games. I contacted CS and asked if I can get a refund so I can re-buy in from Amazon with bonus game codes.
"Sure"
Done. Not a refund story but it's a CS story.
My xbox one had a HDD bad sector. I contacted CS and described why I think it's a bad sector.
"Sure, bring it in"
No question asked.
I brought my xbox one to a logistics near my home around 23:00.
And I received a new one next morning @ 8:00.
I was worried about my game saves but thanks to free-unlimited-cross-platform-cloud-save... The UBS port on my Surface Pro's power brick had some issue.
I recorded a video showing my phone's not charging.
"Sure, we will send you a new one"
Except the USB port not functioning... the old one can still charge my Surface. And now I got a new one... Maybe I'm lucky or they somehow sensed I'm a friendly good guy, my experience with MS's CS so far is 10/10.

I have a feeling Movies and TV app will disappear in the near future

Good - I can finally get rid of annoying updates and bonjour crap. Bad - I expected complete rewrite of the app that would offer all functionalities that iTunes on Mac does.

Its about time. Now I can take off Apple old iTunes and get rid of apple updates that randomly pops up on top. Like the other poster said. Im glad I can now have Micrososft store update iTunes automatically for me with out getting a pop up. :) P.S. The app from the micrososft store actually runs great on Windows 10. Vs the old one that apple keeps updating. So far no freezing. :D Now if only Apple would bring more of theree apps they made to the Microsoft Store. That would be amazing.

If they put Photos 3.0 in the store I wouldnt need a Mac anymore.

That margin above the app logo...

MS at it best or Nutella at his best, dismantling?

Right, because Microsoft are the developers of iTunes and not Apple. Looks like people have to blame Microsoft for something even when it has nothing to do with them!!!!!!

Just like Daniels BS post about Instagram on a iPad being Apples fault.

What do you expect from Microcrap? Quality? Decent UI? :))) maybe that would happen if the bald idiot resigns.

Really, so Microsoft are now the developers of iTunes, are they?

No they design the store and my comment was about the store UI.

What does that have to do with iTunes being on the Store?

I have the traditional .exe version of iTunes presently, though I -ONLY- use it for Apple Music. For my local music collection I still use Groove. And since I'm a Pixel 2 XL user, I don't need to worry about phone sync. So, I'm gonna ask two separate, but very related questions: Question 1: are there any features missing from the UWP version? I mean any features at all, whether they would matter to my use case or not? Question 2: are there any features missing that would/might matter to me in my particular context? What about things like visualizer or the miniature view? I don't use those a lot, but I like having the option. And then a different question: how is performance? Does it behave like the .exe? Are there any meaningful cosmetic/functional differences? Ideologically, I'd rather use UWP than .exe. But if there are meaningful changes for the worse, I may hold off. However, if it's [no pun intended] "apples and apples", then I'll download the app right away! Lemme know, all! :-) Cheers!..... ....okay, maybe it was a little bit intended! :-D

I think it is the exe version, just in the store.

Try for yourself. The store app is god damn easy to install and remove.

That's refreshing. I wonder how everything is packaged? Old way was manually uninstalling Bonjour, 32 support, 63 support, et al. Just awful bloating. Is there any performance bump with a store entry?

Wish I could remove the Groove app

And you don't need another (or several) update checker sitting in the background.

Q1: It's not an UWP app. It's just a port of the classic win32 app.

just music and movis or evrething

lol who the hell uses itunes in 2018? big deal

Haven't used it since my account got hacked, never using it again

:)) Why would I bother with this one when the classic desktop one is fine?? And has all the additional components, including drivers...no thanks Microcrap, I'm not gonna use the Store app.

Why, maybe because it DOESN'T have all that additional crap with it not only that but the drivers ARE included. You really are clever, Microcrap how pathetic, maybe you should use products from a different company instead.

oh this give me a bit of nostalgic remember Itunes being pre loaded on my XP PC

I heard that Apple will be dropping iTunes in 2019. Killed be music streaming.

Was gonna ask the same thing. So basically Microsoft managed to get an obsolete product in the Store. As a Lumia owner I'd like to start saying out loud in every iTunes-related article from now on that "iTunes is dead".

They're not going to drop the iTunes app, they're doing to drop the service where you can buy music.

SO, If you download from the store, do you get all the extra crap or just iTunes?

I just installed it and check settings app scroll through just iTunes was found

Yep, just iTunes which goes to show that you don't need all the other crap they bundle with it.

Rejoice! We can now get iTunes from the app store! I guess getting the same program from the iTunes website was too tough.

No, it wasn't but the store version is leaner as it doesn't come bundled with things you don't need like Bonjour. Not only that but updates are quicker and not as intrusive and it's far easier to uninstall plus all the drivers for Apple devices are bundled in it as well.

Do you need bonjour for iCloud applications on windows?

im waiting for primevideo to be available in Microsoft store

Works faster and smoother on my Notebook than the Desktop app.

iTunes gets my vote the worst piece of software ever written for the Windows Platform.
I am convinced Apple wrote it that way just to throw shade at Windows and convince people using iPods and iPhones to buy Apple hardware instead.
It's the only logical explanation for a piece of software so consistently awful on the Windows platform.

It's exactly the same on macOS

My two cents, love iTunes. Groove is a non starter.

I still use Groove for mp3 across multiple devices. Honestly never used the Groove streaming service because it didn't have a family plan. No intentions personally of going back to iTunes just because it's on the store. That said, I know many people still love iTunes, like my wife. So tired of hearing about apps leaving the store and I applaud any and all good things happening on the MS Store!

Actually... that said, my wife was rather disappointed iTunes won't run on her Lumia 650. Not UWP, argh! Nevertheless it gets rid of those annoying iTunes updates, and she can just move her songs to OneDrive to playback on Groove on her phone. I suppose something is better than nothing though!

Hero Art (big banner in the store), as per store recommendations, should not contain the product name. OK if Apple violates, not OK if other do! :P
Windows Central Newsletter
Get the best of Windows Central in in your inbox, every day!
Thank you for signing up to Windows Central. You will receive a verification email shortly.
There was a problem. Please refresh the page and try again.