Join in the creative fun and share your doodles with Didlr for Windows 8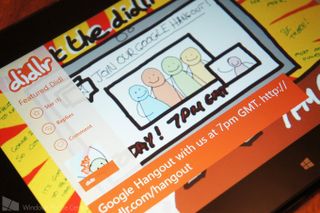 Enjoy doodling and spending countless minutes sharing said doodles in apps like Draw Something? You'll love Didlr for Windows Phone and now Windows 8.1. The app, should you not be familiar with the name, is a cross-platform social network enabling people to draw whatever they wish on a canvas and sharing that work with others.
Already available for Windows Phone (and we strongly urge you to download it), the Windows 8 version of Didlr acts pretty much identical to its Windows Phone counterpart. You fire up the app, login with your account information (unless you wish to continue browsing anonymously) and get creative with the array of tools available.
And I was told as a child I wasn't artistic enough...
Since it's all cross-platform, everything is loaded from the cloud, no matter which device you're using. The above screenshot shows a Windows Phone Didl displayed on the Windows 8 app. Here's what the app looks like on the phone:
You can see some real gems by other users (see examples in this very article), but there's a handy "Best Didls" where you can browse through some simply breath-taking designs. It's a great social network with some awesome ideas implemented. A perfect example would be how you can effectively see just how each Didl was created with the automatic playback - really handy for picking up some tips and tricks too!
If you've used the Windows Phone version of Didlr, you'll feel right at home with the Windows 8 app. You have the usual pen colours and sized tips, as well as see--thru and extra smoothing options. Then there are multiple layers, zooming and the trusty undo feature. Another really neat part of Didlr is how you can save drafts and return to them later - don't feel pressured into getting the drawing published before your flight lands.
You can download Didlr (opens in new tab) from the Windows Store. Be sure to also pick up the Windows Phone version while you're at it (QR code below).
Rich Edmonds is Senior Editor of PC hardware at Windows Central, covering everything related to PC components and NAS. He's been involved in technology for more than a decade and knows a thing or two about the magic inside a PC chassis. You can follow him over on Twitter at @RichEdmonds.
Haha. The name :P BTW I am first!

One of the best looking apps on windows 8

Who chose the name? 1. didler An adult(s) that molest's children. People that look like they have no purpose in life other than to take advantage of young children.

I did. Note how you added an 'e' that isn't there. Well done for that. Dck. Add a letter to that.

...not the most constructive of responses...'e' or no 'e', phonetics count too...

Funny though. Hey, he'll never forget the name.

Nahhh. In the urban dictionary it says that. Its an old cali term for mole on your face.

Love this app. It challenges me in my doodling in a great way.

Have you tried Fresh Paint on W8 or WP8? The link is my first shot at the W8 version on my Surface. The sketch already exists as a template, and you add paint to it.
http://sdrv.ms/HQLlmi

Fresh Paint is a wonderful app. Kudos to MS on such a great program. Didlr is fun because it's not as refined and therefore more challenging. On a phone or small tablet, it's like trying to paint with fat crayons. I also like to see how people use that to their advantage and make some really cool stuff. The "movie" playback has also taught me a thing or two on how to create certain effects.

Uhh is there a pencil like to use for draw ? XD

Very nice but my damn tablet seems to be having trouble "AGAIN". It will just stop working, line will appear after your done drawing it. Something wrong with the touch screen. Will not run fresh paint particularly well either. I'm starting to hate my tablet. It got very good reviews so I am a bit surprised at it's performance. Doesn't run 8.1 as well as 8 also. good excuse to get a surface, just one problem. I ain't got no money + my tablet isn't that old. Me400. . . Disappointing. You spend alot of money on something ir would be nice if it performed well. Not in todays world I guess.

I don't want to go all hipster here but I was one of the first users. Definitely recommended if only to gawk at how awesome some of the people are on there. It's very cool to see the playback of how a real artist works.

Chek out my Didl's https://didlr.com/users/baltogok

Loving your work! - Have the featured slot for the night on me :)

Very much appreciated. :)

I love this app forgot to download it on my dell venue 8 pro and try some 'diddling' with the pen!

This reminds me of Danny Devito

Why does it require access to contacts and calendar/appointments?

it doesn't... dunno what's going on there! Might be the ad sdk.

Oh! Strange. Thanks for clarifying though.

All I have to do is get a stylus for my 920 as my fat fingers are terrible for doing anything intricate.

I'm currently working on an update to the Windows phone version that includes a zoom control. Even the fattest fingers can didl detail with that! The W8.1 version has zoom now.

Great! Zoom is the only thing keeping me from "didling" can't wait to start drawing better than a 3rd grader again.
Windows Central Newsletter
Thank you for signing up to Windows Central. You will receive a verification email shortly.
There was a problem. Please refresh the page and try again.