Join the Windows Phone Central FitBit Group - You could win a prize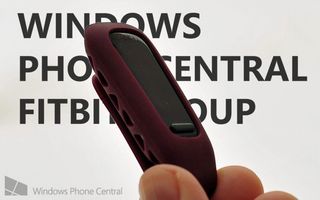 Earlier today Daniel argued why he though the FitBit was a better buy for Windows Phone users versus the Nike Fuelband. I'm not here to help convince you, but if you do already have a FitBit I am going to invite you to join the Windows Phone Central community group!
Here's the deal, during fitness here at Windows Phone Central (and the other Mobile Nation sites) we are going to help motivate each other towards our individual fitness goals. Together, we can all help push each other, taunt each other, and lift each other up. Competition is fun and we're going to have a great time with this.
Obviously you'll need to already be a member of FitBit and have one of their devices (opens in new tab) to get the most out of it. If you have one (or are planning to get one soon) follow this link to join (opens in new tab) the Windows Phone Central Community group. Oh, and at the end of the month, top three get a $50 giftcard to the Windows Phone Central Store (opens in new tab).
P.S. Don't strap a FitBit to your dog to get to the top of our list. First, you're cheating yourself and others and second, you'd be a jerk.
Can I enter three times and drive around instead?

The amount of gas you'd waste wouldn't really make up for it. Plus you'd qualify as a jerk and be cheating yourself ;)

Now I wish I had a FitBit! Blimey!

Get one! They're a great tool to help 'quantify' your daily actiivty.

Since Fitbit is getting so much exposure on WPC, they should come up with a Windows Phone app soon.. just saying.


Just joined up. I'll have to start wearing it again. Guy, do you wear it on your belt or put it in your pocket? I though it never fit well in my belts and if I put it on my jeans, I felt it rubbed on me. FitBit stated at one point that it was less accurate in a pocket.

Depends on which pair of shorts or pants I'm wearing. Sometimes it's more comfortable on the waist or in the pocket, but I do prefer the waist for that supposed accuracy.

Depends on my pants. If cargo, I clip on the inside of one of the side pockets. If jeans, I try to put it in the change pocket, facing in....always facing in, so it never pops out. For my gym shorts, I clip it to the pocket, facing inside that it gets my leg movements if on the elliptical. I think "floating" in a pocket would be less accurate due to it shifting.

Thanks to your article earlier today I ended up ordering a Fitbit one and the fitbit wireless scales (albeit each prodcut is $20 more expensive in the aus store compared to the US store).
Can't wait for it.

You won't regret it. I have the Fitbut Ultra and the Withings WiFI scale and now that I track my food in MyFitnessPal its amazing how accurately I can track my daily intake and expenditures of calories. I wouldn't go so far as to say it changed my life but I am definitely more cognizant of what I do through each day.
Let us know how you like them after a week or two of use.

I think if you knew my dog, you'd be happy to let me strap it to him. He is one lazy Pug. Most of the activity he'd record for me is when he gets up to eat and he is not fat. He's too lazy to eat too much to get fat.

I'm in the same boat. If I attached a Fitbit to either of my fat, lazy Chiweenies, I'd lose the contest for sure!

Great idea! I've been a fitbit user since their launch and have never had "friends" with devices to compete against. So first, Welcome to the friend zone. Second, IT'S ON! BTW, using fitbit companion on my 920.

Awww. Unfortunately, I'm waiting for the Fitbit Flex and that won't be out till Spring. Have fun!

Join the group then anyways!

Just bought a fitbit two days ago, great timing! ;) Still waiting for it to arrive thou.. Should be next week, I can still join in right?

Okay, dang it. I just bought one. Took me a bit to set it up--but that's cause it only syncs to my old laptop. Not my Surface RT or my phone. Maybe I need to upgrade to a Surface Pro?? Ugh. :)

I'm telling ya, Fitbit (or any similar device), is great for changing your lifestyle. It's all about motivation and feedback and this is a step in the right direction. :)

I'm excited. I lost a bunch of weight a few years back, but gained half of it back. Now I'm just trying to get back where I was. And this may be just the help I need!

Well this is a common problem by eating more calories than burning them... so.. shut up and squat

Oh man, I can't tell you how nice it is to have a dietician here! You are absolutely right, it is all about burning more Calories than one consumes. But, as an expert, I'm sure you know that Calorie estimates are notoriously inaccurate. And squats are indeed a great workout. But, again, you are the personal trainer! So I'm sure you know that any exercise--no matter how ideal--if repeated, will lead to diminishing returns as the body adapts and becomes more efficient at the movement. Thank you so much for bestowing upon me your great knowledge and showing me the error of my ways!!

Speaking of squats, is this thing only for tracking daily activity? I don't see how it could track strength training and cadrio work.

I upgraded my ultra to the one when it came out. The cheap plastic clip on the ultra broke after about 6 months of heavy use. I will see how this one works out.

Im in! Ordering it in a couple of days!

Need an app for my garmin forerunner.

I've always thought about getting something like this. What's the difference between models though?

Fitbit One is their top right now. Fitbit Flex is a wristband coming out in a few weeks/months. It actuallly has less features (no altimater, no display) but is easier to use since it's a wristband.

Thanks for that, since I hardly go up stairs an altimater won't be much of a loss and I think i'd be too obsessed being able to see the stats all the time, will wait for the flex I think.

Much prefer Fitbit to my now old Nike Fuelband, started to get annoyed with size of fuelband and not being able to hide it. lol

Too bad I just laundered mine (for the second time). I managed to revive it after the first time. But it doesn't seem to like the second time. And I don't know if I want to put out another $100 just yet.
But I really did enjoy it while I had it and it really did help. I had just injured my knee and needed that little extra motivation the Fitbit provided to keep me moving and rehabilitating (you might say). My knee will never be back to what it was, but I think it is feeling as good as it ever will anymore and the Fitbit did help with that.
And it really is nice the way that both Windows Phone and Android have apps for it. I have used both.

Try contacting FitBit. I lost mine and they replaced it free of charge.

Bah! I pre-ordered the Flex despite not being able to sync it with Windows Phone. I wish it was Spring already so it would ship.

Pretty sure requiring a purchase to enter a giveaway is against the law.

Pretty sure you should make sure statements like that are true before making a comment.

If you already have a FitBit join our group - if you don't have one, don't join the group. And if just so happens that this group is running a contest among members. That's all there is to it.

Nice idea ! I love my FitBit One & Aria !

well i am in. I will be a few days behind just due to shipping but i look foreward to having people to track with. Hate things like this on facebook as no one is around.

Really wish it would sunc with RT but hopefully it will sync good with desktop

Just ordered my FitBit on Amazon. I have been kicking around this purchase for too long.

Ok. My Fitbit One just arrived. Absolutely painless to set up and it is synced to my work PC and my Titan through the unofficial app. Nice! Now, 89 steps in the office is not going to do this, but I will be grabbing my Xbox 360 tonight to get back on track with my regimen after falling heavily off the wagon for just over a year. Cost me several pounds and weaker knees. Does anyone have any experience with the Aria? I want one sooooo bad, but want to be sure it is as painless to set up on the network as they claim.

And, and secret to joining or entering the contest? Make is wimple cause I am a wimpleton ;)
Windows Central Newsletter
Thank you for signing up to Windows Central. You will receive a verification email shortly.
There was a problem. Please refresh the page and try again.