Kaboom Monsters, battling monsters one card at a time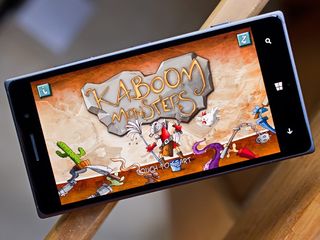 Kaboom Monsters is a strategy, card battling, adventure game where you travel the lands in search of a dark wizard who has cursed your village. In between you and the dark wizard is countless hordes of monsters that are intent on ruining your day. You'll have to work your way through twenty-five levels of play, strategically taking over the game board with each level.
Available for Windows Phone (including the low-memory models) and Windows 8 devices, Kaboom has three card clans to choose from with plenty of opportunities to upgrade and enhance your cards. Kaboom Monsters has a slightly casual game pace that has its fair share of challenges. Graphics are nicely drawn up and Kaboom Monsters comes across as an entertaining addition to the Windows Phone and Windows 8 gaming library.
When you first launch Kaboom Monsters, you will be guided through a series of tutorial screens, which includes choosing your card pack. You can choose between Blutus, Yabba or Gringran decks. I really cannot say that there is a clear-cut advantage to any of these choices I would simply base the choice on which deck looks the best.
Once you choose a deck, Kaboom will walk you through a few more tutorials that lead up to your first battle, after which you will have a map with 25 levels to pursue.
The battle screen has a 3x3 game board resting in the center of the screen and your available cards displayed to the right of the battle area. Game play is turn based between you and the computer opponent by placing a card on the board. The goal is to occupy the majority of the board when no more moves are available or you run out of cards.
The playing cards with Kaboom Monsters has a series of numbers on each side, which represents its attack/defense strength. You also have another number in the upper left corner, which represents the number of turns a card can remain in play.
When you place a card next to an opponent's card, the numbered sides determine the victor. If your card has the higher value, you will turn your opponent's card to your side. If the value is equal or less than your opponent's card then all stays unchanged.
Away from the Battlefield
Kaboom's game play is mapped out in various levels as you journey through the lands in search for the dark wizard. As you wage battles, you will earn bonus items, materials and gems that can be used to upgrade your playing cards. A pull out menu is available on the map screen that will have links to the Smith, Wizard and Market (as well as the Map itself). There is also a picture menu (the Home Button) that has these stops illustrated.
The Smith will arm or upgrade your cards, the Wizard can combine three of the same cards into a more powerful card and the Market is where you can pick up booster packs, weapons, gems, raw materials to use with your deck. The Market also has the option to view your full deck of cards and buying new cards to add to your deck.
Overall Impression
While Kaboom Monsters lacks a lot of animated action, the card battle game has a nice level of appeal. Game pace is a bit on the casual side but does require a little strategy on your part. You have a limited number of cards and some may not stay in play very long. Therefore, not only will you have to account for the card's point's value but also when they may disappear from the playing board.
Another nice aspect of Kaboom is that it doesn't take terribly long to tackle a level of play. If you only have a few minutes to pass, Kaboom will help you pass those few minutes but is also strong enough to occupy your time for longer.
My only nit with Kaboom is that there isn't a help section available to reference back to once you are through with the tutorial screens. It's not a difficult game to pick up but there are enough fine details that a reference section could be helpful.
Actually, I have another nit. While you have a Windows 8 version to play from the big screen your decks aren't connected. In essence, you are playing to games of Kaboom if you have the game on a Windows Phone and Windows 8 device. There needs to be a way to synchronize your gaming progress between the two versions.
All in all, Kaboom is a fun, challenging, eye-appealing strategy game for Windows 8 and Windows Phone. Sure, there's room for improvement but what is in place will make for a welcome addition to your gaming library.
Currently Kaboom Monsters is taking home a 4 Star rating in the Windows Phone Store and a 5 Star rating in the Windows Store. Splitting the difference is about where this game should be.
George is the Reviews Editor at Windows Central, concentrating on Windows 10 PC and Mobile apps. He's been a supporter of the platform since the days of Windows CE and uses his current Windows 10 Mobile phone daily to keep up with life and enjoy a game during down time.
here a correct link goo.gl/oYqc1V

Thanks, don't know wtf is wrong with the store, typing in the exact name of the app returns some other apps.

The items not available in store :'(

here a correct link goo.gl/oYqc1V

Thank you so much George for the Review and for pointing out some weakness. We are working on a big update and we will definitely include a help section or a improved help section to the next release:D

I think dev isn't serious about his work that is why he's using that smiley again and again
Jkn :D

hahahaha, is just finally a big relief after 2 years of development having people playing the game all over the world

Game is available in the US at http://www.windowsphone.com/s?appid=31c0c051-d373-4613-9202-e95fd39897ad

Definitely a 5 stars game
Kaboom babe!

Link in mobile app throws error "not available in store" (US). However, search its name in store and it's there to download. Just FYI.

I love card games so will give this a run.

thank you. let us know waht do you think :)

Sweet . remind me of Final Fantasy VIII card game . I have a feeling that this will be more awesome . Just throw in some badass looking monsters with WiFi duel and it will be the best !!!

Thank you. We are thinking about the multiplayer mode for next year :)

I tipped you y.day about it -_-

Imagine if developers started making games that needed 2GB ram to even run. We would be having Xbox 360 caliber games. Just a thought. My HTC One M8 needs games that truly take advantage of it's power. Even the most powerful mobile games out there can run on a Lumia 820. We have yet to see the true power of the Snapdragon 800 series SOC.

Is it like the yu-gi-oh! manga ?

It's a different type of card game. It's more simple and "craft-oriented"

Definitely some hints of the PSP Eye of Judgment game in here, but looks interesting enough to try

The board is 3x3 like Eye of Judgment but it have a different mechanics. Thank you and remember to tell us what you think about the game ;)

Downloaded and played it. It's pretty good for a casual strategy game. Nice artwork. Nice game mechanics. I'd give it a 4/5 only because it is so simplistic.

Thank you so much! We are working on a big update, and never know maybe thing getting a little bit challenging with a multiplayer.... just saying ;)

Sorry, didn't mean simple as a negative. You have a great game that is simple to learn, simple to play. It is still a very good game.
Windows Central Newsletter