Kaspersky Total Security vs Internet Security vs Antivirus: Which should I buy?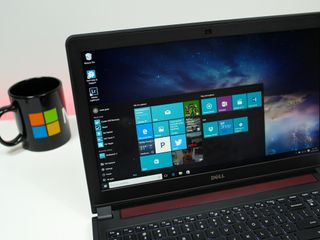 (Image credit: Windows Central)
Kaspersky Total Security vs Internet Security vs Antivirus: Which should I buy?
Kaspersky has three great computer protection programs, each with the same high level of protection, but with a different number of security tools. Kaspersky Total Security is best for securing PCs because it has the critical protection tools I look for in a good antivirus program, including a firewall, password manager, and vulnerability scanner.Premium protection: Kaspersky Total Security

(opens in new tab)

($50 at Kaspersky)Advanced security: Kaspersky Internet Security

(opens in new tab)

($40 at Kaspersky)Basic antivirus: Kaspersky Anti-Virus

(opens in new tab)

($30 at Kaspersky)
Let's discuss the big question first: Is Kaspersky safe?
Kaspersky got a lot of heat in 2017 when anonymous sources revealed Kaspersky was using its computer protection programs to gather classified information from government agencies and workers' computers. This information was allegedly then sent on to the Russian government. However, Kaspersky adamantly denies the allegations and the U.S. government, despite removing Kaspersky programs from all its computers, never confirmed the rumors, nor placed any sanctions on Kaspersky.
Over the last couple of years, Kaspersky has worked to rebuild its trust and image with the U.S., including moving all its critical operations, such as its development and legal teams, and its servers, out of Russia and into other countries, including several North American locations. This move places Kaspersky under required third-party regulations and inspections.
Despite the dark cloud of 2017, Kaspersky Labs, the research arm of the company, has continued to work to expose dangerous viruses and other malware programs. Recently Kaspersky Labs discovered a version of FinSpy designed to expose and collect all chat messages, including private ones, from mobile devices.
During my many years of testing and evaluating the best antivirus software, I have seen how well Kaspersky works to stop malicious files from infecting computers and mobile devices. And while I support the U.S. government's stance on requiring only U.S.-designed security solutions to be used to protect government systems, there hasn't been any evidence to suggest Kaspersky can't be used for personal, consumer use.
The stats of Kaspersky's programs
Swipe to scroll horizontally
| Header Cell - Column 0 | Anti-Virus | Internet Security | Total Security |
| --- | --- | --- | --- |
| Price | $30 | $40 | $50 |
| Protection score | 98% | 98% | 98% |
| User licenses | 3 | 3 | 5 |
| Virtual keyboard | Y | Y | Y |
| Firewall | N | Y | Y |
| Banking tools | N | Y | Y |
| Vulnerability scanner | N | N | Y |
| Password manager | N | N | Y |
| Parental controls | N | N | Y |
| Compatible with Mac and mobile | N | Y | Y |
What do all Kaspersky security programs have in common?
In my testing of Kaspersky security programs, I've seen how each stops malicious files before they have a chance to download fully. Trojans, rootkits, ransomware, and viruses are usually scrubbed clean without the threat ever making it to Kaspersky's quarantine folder because Kaspersky has a large database of known threats and taps into other databases to ensure it knows what to stop.
In all, 98% of threats used in my testing were stopped by Kaspersky, including several phishing scheme sites designed to look like PayPal and Facebook login pages. This boosted my confidence in Kaspersky since several security, and IT professionals I've chatted with have said phishing schemes are the top threat for most people. There were a few websites that Kaspersky allowed me to access without tagging or warning about the malicious content on the pages, though the malicious downloads linked on these pages were stopped by Kaspersky. I saw the same results for all three Kaspersky programs: Anti-Virus, Internet Security, and Total Security.
The safe browsing tools, included with all three Kaspersky programs, mark search results and links in articles shared on social media pages with a green icon that indicated the link was safe to follow. Some links were tagged red for dangerous and some with a gray marker to show Kaspersky wasn't sure either way if the link was safe or not. Another excellent browser tool is the virtual keyboard. When open, you can type in web addresses or log into online accounts while Kaspersky shields your information from keyloggers, internet trackers, and other online snoops. This is also a great tool to use while banking and shopping to more safely guard your identity.
After your browser is secured from letting malware sneak in, the next vital tool to have is a personal firewall. This monitors your internet connection for any hackers, ransomware or other snoops trying to sneak in, or remove sensitive data this way. It also stops piggybacking, a practice where users like to tap into your Wi-Fi rather than pay for their own internet connection. Booting them off your network helps keep your connect running fast and without interruption. While Kaspersky Anti-Virus doesn't have a firewall, both Internet Security and Total Security do.
Overall, each Kaspersky program is a decent value, too. Both Anti-Virus and Internet Security come with a minimum of three user licenses for under $50 for first-time buyers. Total Security comes with five. This means you can secure multiple computers or mobile devices with a single subscription. And you can control and manage settings for each device from a single user dashboard through your online portal.
Why Total Security is Kaspersky's undefeated champion and our top pick
Kaspersky Anti-Virus is limited to stopping malicious downloads and tagging dangerous links in search results. It's a good solution for basic protection and will stop several kinds of files, including ransomware, viruses, Trojans, and rootkits. But for protection against other snoops, trackers, and hackers, you will need to purchase a higher-tiered program with a few additional tools.
Internet Security has a few more protection features than Anti-Virus. It has safe banking and privacy tools to help protect your identity while banking and shopping online. It also has a few parental controls that let you manage when and how long your kids can have access online. Kaspersky Internet Security is compatible with Mac and mobile devices, with most tools available across all platforms.
Kaspersky Total Security is a comprehensive internet security solution that has all the security tools I like to see in a computer protection program. It has a firewall to monitor your internet connection like Internet Security. Still, unlike the other two programs, it has a password manager that helps you create and remember complicated passwords to online accounts and safeguard them from keyloggers and trackers. Total Security also has a system scanner that looks for weak spots in your system, typically outdated drivers and software programs, and gives you suggestions on how to close them. Firewalls and vulnerability scanners are both great tools for stopping hackers and ransomware that can sneak in through other ways than file downloads.
One of the best features of Kaspersky Total Security is its parental controls. On top of time controls, Total Security has several filter categories, like violence, drugs, and pornography. When enabled, Kaspersky will automatically block websites with this content on them. It also has a list of keywords and phrases that you can keep your child from both seeing and typing out. These include "don't tell,""'what's your address," and "home alone." You can add your own words and phrases to the list. This is an excellent way to cut down on cyberbullies and stalkers interacting with your child.
Premium protection
Top of the line computer protection

This software stops malware, including phishing schemes, and comes with a firewall, password manager, system scanner and excellent parental controls.
Advanced security
Kaspersky Internet Security
Not too big, not too small

Building on the great protection offered by Anti-Virus, this program secures your online banking and shopping transactions with safe banking tools.
Basic antivirus
Best on a budget

This basic programs comes with three user licenses and stops 98% of online threats. It includes a virtual keyboard to hide what you type from keyloggers.
Nicole writes for multiple Future Publishing brands covering topics from antivirus to kitchen appliances to SAS. She has over 15 years of research and writing experience, including eight years of testing and reviewing consumer products. Nicole earned bachelor's degrees in both English and Political Science with a focus on empirical research. In her spare time, Nicole serves as a member of several school councils and volunteers for a local arts board.