Keeping your household charged with the GRDE 5-port USB charging station
Having a charging station that provides 5 ports for quick and efficient charging seems like a no-brainer, but many folks aren't kicking old habits.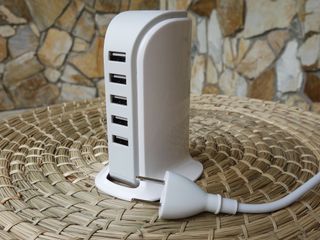 It's time to free-up those outlets and power strips and start giving yourself a break when it comes to charging multiple devices. After putting the GRDE 5-port USB charging station to the test with a handful of our favorite phones and tablets, we're wondering how anyone could go back to standalone charging blocks.
The durable ABS shell of this charging station is sturdy from top to bottom, and doesn't seem cheaply made aesthetically. On the top is an exhaust vent for pushing out any heat that generates after a busy session of juicing up all your devices. Its white exterior is glossy, while the middle slab is more of a soft matte finish coated in a light gray. The hub is quite stable, even with all 5 ports filled up, but doesn't do much to prevent sliding on flat surfaces. A simple rubber lining on the bottom would have been ideal.
Measuring approximately 4.5" in height and 1.5" in width, the hub itself is compact enough to carry with you while traveling — fitting nicely in a carry-on or backpack. On the front you've got 5 USB ports, each capable of putting out 2.4A when only a couple devices are charging. With its total output at 6A, additional devices added will split up charging rates more evenly. Its comprehensive security system prevents overcharging, over-current, over-voltage, overheating, and has short circuit protection built-in, so you'll never need to worry whether your devices are in jeopardy using an aftermarket charger. The intelligent detection system recognizes most 5V devices and provides the safest current at the quickest speeds (up to 2.4A).
Included with the 5-port charging station is a 5' 2-pronged power cable that plugs into the back of hub. The cable quality is excellent — thick with a soft exterior that would be difficult to get tangled. While the charging station looks great just about anywhere, you'll want to place it where it's easily accessible to everyone in your household. No extra USB cables are bundled, so you'll need to use the charging cables that came with your devices or spares you have lying around.
Image 1 of 5
Final thoughts
If you've got a variety of mobile devices that constantly need charging and are tired of bending over, fighting for a fit with numerous wall adapters, this GRDE 5-port USB charging station is must-have. It's well built, has ample charging protection across the board, and looks great compared to many others on the market. For only $14.99, it's almost too good to pass up.
Get the Windows Central Newsletter
All the latest news, reviews, and guides for Windows and Xbox diehards.