Killer Instinct launched for Windows 10 PC in the Windows Store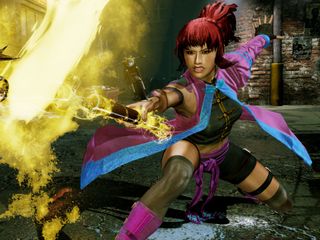 Windows 10 PC gamers can now experience Microsoft's in-house fighting game Killer Instinct. The free-to-play title from developer Iron Galaxy, which was first released as an Xbox One launch game, has now arrived in the Windows Store.
While the game is free to play, most of its content is only available as in-game paid add-ons. You can purchase individual fighters for $4.99 each. There are also a number of in-game bundles that unlock many more fighters, as well as additional content. The Windows 10 version allows access to all of the Season One and Two content from the Xbox One version, along with any current and future updates.
The new Windows 10 version is available along with a big update to the Xbox One port, which includes the first four characters from Season 3 (Rash, Arbiter, Kim Wi and Tusk). each of which has a number of optional accesories and color variations. Here's the rest of what's new:
The Whole Cast Has Been Fully Rebalanced for Season 3; Each Character Gets a New Ability! .
Added Support for Cross-Play and Cross-Buy with Killer Instinct on Windows 10
Added 3 New Stages: Arena of Judgment (Arbiter's Stage), Chinatown Brawl (Kim Wu's Stage), Icehaven (Tusk's Stage)
Added Shadow Lab Support for Rash & Arbiter
All-New Next Gen Lighting System: Lighting for All Stages has been Completely Revamped, Includes Enhanced Reflections
Added All-New Season 3 Front End "Corruption" Theme
New Character Select
New Stage Select with Music Track Selector
Enhanced Shadow Move Effects
Added Exclusive In-Game Character Colorations players that purchase that character's Ultimate Source Figurine
Added Support for Key Game Action Events for the 9" Jago Electronic Sound-Link Statue from Ultimate Source
Dynamic Camera Effects for Level 4 Enders
Added Combo Assist Support for New Season 3 Characters
Added Shadow Point and Elite Boosters to the Store
Enhanced Leagues – Final!: New Leagues Promo Match Logic (Must defeat your rank or higher), Leagues Auto Rank Down for Inactivity, Leagues Player-Initiated Reset Rank, Leagues Gold tier now gets best 2-out-of-3 functionality, Leagues Anti-Cheat "Probation" System Enacted.
Fixed a crash that would occur when, at a specific point of the streaming install process, a player would try to select Hisako
Fixed a crash that would occasionally occur when a player quit out of a Player vs. CPU or CPU vs. CPU match and tried to navigate to Shadow Lab using LB or RB
Fixed an FPS drop that would occur when Retro Cinder used a Triple Afterburner in his Warrior Armor accessory set
Fixed an issue where a Cinder CPU would stop attacking the player if it started a certain combo
Extensive updates and corrections to the Command List
Fixed an issue where Cinder's Burnout VFX were visible on Shadow Jago when he performs his Air Dark Demise
Fixed an issue where certain stage VFX would remain visible over the darkened background during Shadow Jago's Annihilation
Fixed an issue where some of Shadow Jago's Challenges would not be properly published to the leaderboards when completed
Download Killer Instinct from the Windows Store (opens in new tab)
Oh yes! Right on time for my lunch break!. Xbox One owners, you have to download and sign in to Season 3 on your Xbox One BEFORE you sign in on Windows 10 for your saved data to carry over to Windows 10. If you do not save your Season 3 data on the Xbox One first, you will have to start over as a new player on Windows 10.

That doesn't mean that your purchased DLC will not register, right? I haven't really leveled up any characters yet, so save data doesn't really matter to me that much.

According to Microsoft, nothing, including purchased content will carry over unless you launch Season 3 on the Xbox One first. I just launched S3 on the Xbox One and it will resave your progress and say something like "Now your save is ready to be used on Windows 10!"

Oh, thank you! That is good to know. Haha. Good thing I didn't save any progress or anything.

You're welcome. ☺ That is good. For some people, like my friend who is ranked 2k something in the world and has highest obtainable online Title, having to start over on Windows 10 will be a disaster of epic proportions. Not so much for me, I'm a lowly lvl 19 but I do want to keep my 2 years of progress and purchases. Enjoy the game!

22gigs of space needed... I'm going to have a hard time swallowing digital games

Retail games need to be installed to the HDD either way so what's the difference?

Are you not a Steam user? LOL We own a well over 2 Terabyte of games. PC Gamers at this point has 5 teras

Sure only if your a desktop user

You don't have to swallow, only if you really want to.

Getting error code 0x8000CD0002 and I have no idea what this means, I have the latest insider build with over 2TB of space available on the HDD. Anyone else seeing this issue?

Same, not sure the cause.

I am having the same issue on my work PC but my home PC installed without any problem.

By chance are you guys on preview build?

That's what Latest Insider Build means.

Before you downvote me I was asking rebornempowered as well. Insider preview seems to be the culprit according to reviews in the store. Geez, what is with you people in this community so quick to jump at negativity?

My Surface Pro 3 is on the previous, second newest Insider Build (Fast) but my desktop is on the 14295 (The latest) - It won't download on my desktop. I tried on my SP3 to see if it was specific to the machine rather than my account and it does seem to be related to this latest Insider build. Guess we may have to wait until either a store update is pushed out, or the next Insider build hopefully fixes the issue. Sent from Microsoft Band

I, in fact, am on the Insider Preview on my office PC. Current build on my home PC.

Seems its a hiccup with insider then.

Finally seems to be installing for me so maybe a backend issue?

Downloading now myself. Must have missed a check box.

I get an error "Something happened on our end" only on the PC that's on the latest Insider build. Guess I'll just wait for a fix and play on Xbox One only until it's fixed. Sent from Microsoft Band

Insider preview users have an issue downloading this game. Remove yourself from the beta program, download KI, and rejoin the progrm. This should work

So being that it's free.. what's the actual cost to get all the content with all the characters etc? Like $60-70?

$59, the same as most other full priced game but with the benefit that you get EVERYTHING, no DLC after you pay full price as full price includes all DLC.

$49 for all 3 seasons on PC

Thank you for the correction on the price. $49 is correct.

Just need to download update on X1 now o/

"The Windows 10 version allows access to all of the Season One and Two content from the Xbox One version" This is good! I dislike jumping into the middle of a story (assuming KI has a story. It has, right?)

Not 100% sure but I don't think it does....yet. There was another article after this one talking about "Shadow Lords" which will be a story mode coming this year. Sent from Microsoft Band

what the **** Dan Harris. How can you COMMENT ON HERE FROM MICROSOFT BAND???
Windows Central Newsletter
Get the best of Windows Central in in your inbox, every day!
Thank you for signing up to Windows Central. You will receive a verification email shortly.
There was a problem. Please refresh the page and try again.