Killer Instinct launched for Windows 10 PC in the Windows Store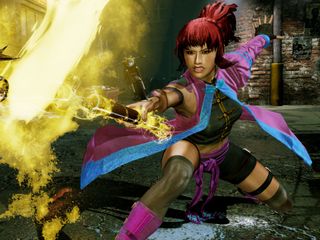 Windows 10 PC gamers can now experience Microsoft's in-house fighting game Killer Instinct. The free-to-play title from developer Iron Galaxy, which was first released as an Xbox One launch game, has now arrived in the Windows Store.
While the game is free to play, most of its content is only available as in-game paid add-ons. You can purchase individual fighters for $4.99 each. There are also a number of in-game bundles that unlock many more fighters, as well as additional content. The Windows 10 version allows access to all of the Season One and Two content from the Xbox One version, along with any current and future updates.
The new Windows 10 version is available along with a big update to the Xbox One port, which includes the first four characters from Season 3 (Rash, Arbiter, Kim Wi and Tusk). each of which has a number of optional accesories and color variations. Here's the rest of what's new:
The Whole Cast Has Been Fully Rebalanced for Season 3; Each Character Gets a New Ability! .
Added Support for Cross-Play and Cross-Buy with Killer Instinct on Windows 10
Added 3 New Stages: Arena of Judgment (Arbiter's Stage), Chinatown Brawl (Kim Wu's Stage), Icehaven (Tusk's Stage)
Added Shadow Lab Support for Rash & Arbiter
All-New Next Gen Lighting System: Lighting for All Stages has been Completely Revamped, Includes Enhanced Reflections
Added All-New Season 3 Front End "Corruption" Theme
New Character Select
New Stage Select with Music Track Selector
Enhanced Shadow Move Effects
Added Exclusive In-Game Character Colorations players that purchase that character's Ultimate Source Figurine
Added Support for Key Game Action Events for the 9" Jago Electronic Sound-Link Statue from Ultimate Source
Dynamic Camera Effects for Level 4 Enders
Added Combo Assist Support for New Season 3 Characters
Added Shadow Point and Elite Boosters to the Store
Enhanced Leagues – Final!: New Leagues Promo Match Logic (Must defeat your rank or higher), Leagues Auto Rank Down for Inactivity, Leagues Player-Initiated Reset Rank, Leagues Gold tier now gets best 2-out-of-3 functionality, Leagues Anti-Cheat "Probation" System Enacted.
Fixed a crash that would occur when, at a specific point of the streaming install process, a player would try to select Hisako
Fixed a crash that would occasionally occur when a player quit out of a Player vs. CPU or CPU vs. CPU match and tried to navigate to Shadow Lab using LB or RB
Fixed an FPS drop that would occur when Retro Cinder used a Triple Afterburner in his Warrior Armor accessory set
Fixed an issue where a Cinder CPU would stop attacking the player if it started a certain combo
Extensive updates and corrections to the Command List
Fixed an issue where Cinder's Burnout VFX were visible on Shadow Jago when he performs his Air Dark Demise
Fixed an issue where certain stage VFX would remain visible over the darkened background during Shadow Jago's Annihilation
Fixed an issue where some of Shadow Jago's Challenges would not be properly published to the leaderboards when completed
Download Killer Instinct from the Windows Store
Get the Windows Central Newsletter
All the latest news, reviews, and guides for Windows and Xbox diehards.