Killer Instinct on Steam to support cross-play with Xbox One and Windows 10
Killer Instinct has fully embraced cross-play, and it looks like that will extend to Steam as well.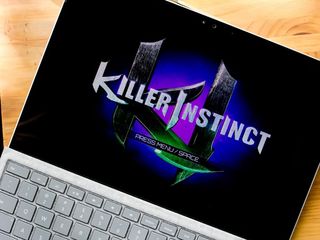 (Image credit: Windows Central)
Killer Instinct (opens in new tab) already offers cross-play between Xbox One and Windows 10, and now it looks like that will be extended to Steam as well. The game has yet to arrive on Valve's storefront, but a Killer Instinct community manager, Rukari "rukizzel" Austin, has now confirmed in a forum post (via PCGamer) that it will indeed support cross-play with its other releases when it launches on Steam "in the coming weeks."
The announcement comes alongside the latest content update for Killer Instinct, which packs a new settings option to enable cross-play. Says Austin:
The option is in testing, so Austin warns that it may occasionally be turned off and missing as the team works on things in the background. This won't impact your ability to play Killer Instinct either in-network or between Xbox One and Windows 10 players.
There's still no word on when, exactly, Killer Instinct will make its debut on Steam. That said, Austin's choice of words indicates it may not be too far off, so we should hear much more soon.
See at Microsoft (opens in new tab)
Windows Central Newsletter
Get the best of Windows Central in in your inbox, every day!
Dan Thorp-Lancaster is the former Editor-in-Chief of Windows Central. He began working with Windows Central, Android Central, and iMore as a news writer in 2014 and is obsessed with tech of all sorts. You can follow Dan on Twitter @DthorpL and Instagram @heyitsdtl.
this is huge. If MS can standardize on cross play with Steam, Win10 and XBox One, it opens a huge player base for their games. Imagine games like Sea of Thieves, or even Halo 6 in co-op or Warzone mode, with a huge player base across the three platforms.

I do wonder if UWP support is coming to Steam, Microsoft does have leverage here as MS can have terms that in order to have cross play on Steam with everything else, they will need to use UWP via XBL.

@12Danny123: I don't think so. PC gamers don't want UWP and they don't wanna use XBL; they prefer Steamworks because that's where their friends, achievements, trading cards etc are. By allowing cross-play between XBL and Steamworks, Microsoft seems to accept this.

I can see happening. Remember that Steam will support Windows Mixed Reality, this platform is UWP-based. KI will be Win32 for now, but I can see that Microsoft is talking with Valve since some time, I expect a new announcement from Steam in the near future.

UWP is trash you cant modded and no access to Steamworks Workshop which has a lot of mods and custom maps for games

False. UWP can be nodded, take a search on YouTube for "Exuberant mod for Halo 5 Forge". Obviously if you want to mod a UWP game, you need to know how it works and use the correct tools.

False. UWP can be modded, take a search on YouTube for "Exuberant mod for Halo 5 Forge". Obviously if you want to mod a UWP game, you need to know how it works and use the correct tools.

Just curious, does Steam games write data into registry? Do they clean'em during uninstallation?

If Win10 was not the last Windows (win for service), if there was no uwp.pc, uwp.xbox, uwp.iot, uwp.ar/mr, azure, xbox-live-free-unlimited-cross-platform-cloud-sync, GamePass, etc, what keeps user from leaving?
If there was no Windows ecosystem to bind user, and one day ARM becomes powerful enuf to run traditional Windows' business/productive applications (and 1 dev port their application... sooner or later, 2nd, 3rd dev follows), people will leave and Windows will become a niche OS. * Steam MAU is currently around 11m.
PC gaming is not small, but not as big as console gaming. They are different markets.
btw, a lotta more pc user don't game. PC gaming is not as smooth as it seemed, and games' not guaranteed to run forever with newer hardware. (no FC. at least harder to achieve than Xboxes.)
I remember there was an article about ATI's new card the other day, and people down the comment section are already bashing (over Nvidia nad ATI) which $500 card sucked, has more crashes, more driver issues and such.
A box where everyone has different (HW components / peripherals, different drivers, different user-installed-background-services, etc) combinations.
When you file a ticket or complain, how many people benefits? How easy is for dev to come out with a solution? Your problem and solution to a problem might help no one.
e.g. "Win10 upgrade nagging" was quite a fuss, but my Alienware was immune to it because Alienware team doesn't allowed it. I tried to request the upgrade manually but it was blocked.
(win10 is the last OS, why not upgrade it while it's free? I went driver hunting and force upgraded it eventually, pleasant so far.)
With a cheaper custom rig, you are on your own. There's no Instant-On on PC either.
You cannot go "Power On -> Press A -> Back to EXACTLY where you left your game session days ago" in mere seconds with PC.
Your pc@home won't start processing your DL queue automatically when you buy a game in the office or on the train. Games won't be ready when you get home. I use to game on all 3 platforms (xbox1, pc and ps4), but now xboxes + windows's a more complete ecosystem (with bc, fc, free cloud sync, store-region-hot-swap, etc)...
I find it illogical to buy games from PsStore and Steam (and movie from PlayStore), especially the cross-platform ones. So, if there was no Windows ecosystem (or it failed), Can Steam keep users from leaving Windows?

I would love for this to happen too

Good stuff! It seems hella easier to use the DS4 using the Steam platform. Also brings more players into the mix. Keep it up!

this is amazing. i think sony is doing this to one of their games right now.

I'm really happy Microsoft is doing this. They should bring all their games to Steam + cross-play with Windows Store and XBox. They can use features and services like Play Anywhere and Game Pass to persuade people to buy the Windows Store version. That's how competition should work, instead of forcing people into an ecosystem by making games exclusive.
Windows Central Newsletter
Thank you for signing up to Windows Central. You will receive a verification email shortly.
There was a problem. Please refresh the page and try again.