Kingston HyperX Alloy FPS Mechanical Keyboard Review
By Rich Edmonds published
The HyperX Alloy FPS is Kingston's first mechanical keyboard and is a superb option for any gamer seeking top-notch build quality.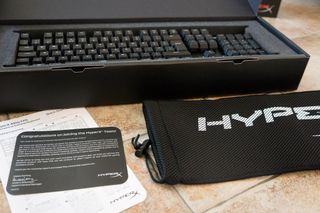 I'm a big fan of the Cherry MX Blue switch when it comes to mechanical keyboards, and so you can imagine my excitement when the new HyperX Alloy FPS (opens in new tab) arrived from Kingston. Sporting Cherry MX Blue, this premium keyboard is part of their increased effort in taking market share from rivals Razer, Logitech, among others. So, is it any good? And should you pick it up if you're looking for a new mechanical keyboard?
Bear in mind that this is actually Kingston's first mechanical keyboard. Kingston is rather late the party, and the HyperX Alloy FPS will need to be quite the peripheral to woo gamers if HyperX intends to extend their line of products from headsets to input devices. There are now a ton of options available, not only gamers but average PC users from a wide variety of brands. Luckily enough for Kingston, however, the Alloy FPS is an excellent first effort.
With the Alloy FPS, you need only look at the name of the keyboard to understand just who they are targeting with this product: first-person shooter (FPS) gamers.
The HyperX Alloy FPS utilizes red illuminations, throwing in textured keycaps and a detachable sleeved USB cable. The compact design removes the back cover, exposing the keys and the switch pads. I prefer this design as it allows for easier cleaning and removal of caps.
It's worth noting that this isn't a tenkeyless keyboard, so if you really want the ultra compatible companion for LAN parties, you'll need to look elsewhere. That said, it's both sturdy and small enough not to be an issue when packing your stuff away. At 443mm wide, 130mm deep, and 36mm high it's far from bulky and fits comfortably alongside an oversized mouse pad on a desk. However, I would have liked to have seen even more shaved off these numbers, particularly the width.
There's also no wrist rest included, so you'll need to bring your own or make do with utilizing the surface underneath. I don't tend to use rests for my arms and thus don't view this as a negative, but for anyone who absolutely must have one attached to their keyboard, this is a possible con and something to keep in mind should you be considering a purchase.
Another space saving measure is the absence of any media or extra function buttons. Kingston instead opted to add second functions to various keys with the addition of the FN-key. Pro gamers and LAN event attendees will appreciate the included soft carry case for safer transportation.
The build quality is really, really good. You'll find hard surfaces on the front and underneath the keyboard, both of which work in unison to protect the peripheral against flex and wobble. And unlike other companies, Kingston has decided to stick with Cherry MX switches. These switches are accompanied by LED backlighting, which is unfortunately not RGB. It's is a strange decision considering the price. I would have expected to at least see some color variations available.
That aside, the actual backlighting effects are easily accessible and can be turned up to a fairly bright level. You can alternate between five brightness options, as well as six lighting effects. No software is required for configuring these settings. Everything can be achieved using the FN-key combinations. I found the actual LEDs themselves to be a little dim on the lower-half of keys with secondary functions.
The shot below shows how it's difficult to see the light through the keys with engraved icons and text on two levels.
A headache for me is the included USB pass-through. The primary sleeved cable has two male connectors for your PC. Only one socket is required for the keyboard itself, meaning you can enjoy power through to a USB port on the rear of the keyboard. There's only one issue — it's designed for mobile and device charging only. Plugging your mouse into the Alloy FPS simply powers up the pointing device, but fails to register any movement in Windows. It's an odd and frustrating design choice.
Should you buy the Alloy FPS?
Pros:
Sturdy, quality build
Looks the part
Bundled keycaps and carry case
Detachable sleeved cable
Cons:
Dim backlighting under some keys
USB port only supports charging
The Kingston Alloy FPS is a mechanical keyboard work considering. If you already have a love for Kingston and HyperX brands, it's already a no-brainer, even for their first release and its premium pricing. There are a few things I'd like to see improved, however, such as USB mouse support, an alternative version with a tenkeyless design, and RGB lighting.
This is a keyboard that will set you back $100, so there's really no excuse for the lack of lighting options. Other than these few small issues, I thoroughly enjoyed both the typing experience and gaming using the Alloy FPS. The Cherry MX Blue switches performed as expected with excellent tactile and audible feedback upon activation. While I'm usually not a fan of textured keycaps, I made full use of the included replacements for WASD.
All-in-all I'm impressed by the HyperX Alloy FPS. It won't change the game, but it will certainly help improve your skill and make typing that little bit more enjoyable. The HyperX Alloy FPS went on sale in the U.S. on October 10 for $100.
Rich Edmonds is Senior Editor of PC hardware at Windows Central, covering everything related to PC components and NAS. He's been involved in technology for more than a decade and knows a thing or two about the magic inside a PC chassis. You can follow him over on Twitter at @RichEdmonds.
What the hell is this thing....

It's a keyboard - the clue is in the title ;-)

It's a mechanical keyboard by HyperX. It's also a review. Not sure what else you're struggling with?

No media keys, no sale. Its just too convenient for "mute", "volume up" and "volume down". I couldn't live without those now, and amazing that so many premium keyboards don't include them.

I agree. I was narked when I bought my Roccat MK FX and it didn't have them. I didn't even think to check, just assumed that it was standard on any keyboard over the £20 mark.

Please not, I hate extra keys. The commands are easily accessed via function key.

These keyboards (mechanical) make me realize why the computer industry had to pry my old IBM 80's keyboard from my hands by ending PS-2 ports. I think that thing would still be clunking away.

and those things weighed a ton

,,,and took up half the desk as well!

* cue Monty Python 4 Yorkshiremen sketch *

You can still buy those IBM Model M keyboards, from Unicomp. Just search online.

With USB? or with an adapte?

The Unicomp keyboards go directly to USB, no adapter needed. I just began using one at work this week. It's my first mechanical keyboard and I think I might be switching from my Microsoft Sculpt Ergo keyboard to a mechanical keyboard at home too. I'm truly surprised because I thought this was just a gamers' trend but there really is something special to them.

Nowadays motherboards are bringing back PS/2 ports to some extent. I know for sure that the Asus Z87-A has a PS/2 port on the back for keyboard input, but I don't have any PS/2 keyboards to test it with.

Great looking simplistic design. BUT for me its still missing that one extra feature I would want, media keys aka separate volume keys at least. Otherwise it is something I would pick up.

Yeah that's another con that could set a certain group on the path of not purchasing the keyboard, which is a shame since it's actually a solid unit. Here's hoping Kingston throws up a few variants with media keys, tenkeyless design, RGB, etc.

Make it tenkeyless and lit up like a christmas tree and I'll buy one. HyperX stuff is terrific.

Yea man I hear ya. Rgb with media keys would nice on this for me.

... and set another group to buy it. Because I 'd never buy one with dedicated extra keys. Access is granted via function key. Even better: if you could customize on-board settings via app.

Pretty solid, but I think I'll stick with my $99 Corsair Strafe. It's a bit bigger, but comfortable and they worked out most of the little things like USB pass through. Still, it's good to see more competition!

Nice article... Typo at end. It should be "keyboard is worth considering" instead of "work"

There are actually quite a lot of mistakes in the article.

Should be branded as Kingston HyperX Fugly FPS mechanical keyboard.

Nice kb. But I will stick with my Razer Black Widow Chroma.

The Unicomp keyboard​ and the Surface Dial, the old and new :)
Windows Central Newsletter
Get the best of Windows Central in in your inbox, every day!
Thank you for signing up to Windows Central. You will receive a verification email shortly.
There was a problem. Please refresh the page and try again.