Test your puzzle-solving skills in Knox's Room for Windows and Windows Phone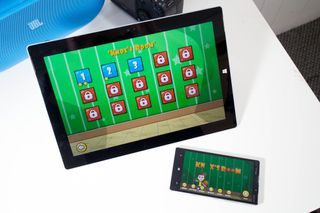 If you're not tired of puzzle games yet, here's another one to check out. Knox's Room is a challenging physics puzzle game, which the general goal involves causing a specific object to move, float or fall in a particular direction. It has been out for a while now, but it's worth mentioning because it is a free game that supports both Windows and Windows Phone. Want to see it in action? Watch our gameplay video on the Surface Pro 3 and the Lumia 930.
The first few levels are easy and help you understand what this game is about. Before you start a level, the goal is displayed on the screen. Some examples are:
Put basketball in the box.
Put billiard ball in the box.
Pop the balloon.
In order to accomplish those goals, you have a toolbox with things like bookshelves, books, and pipes at your displosal. You can place these items anywhere on the level to help you set up a chain reaction that eventually meets the goal.
The first thing you should do is tap the play button the top right corner without using anything from the toolbox. Analyze what happens without your help. Items might drop and balls might roll without your help. Use these initial actions to help you place the other items on the level.
In addition to meeting the goal, there are also three stars placed around each level. Try to collect all three.
Knox's Room is a free download from the Windows and Windows Phone Store with in-app purchases. The one you might want is to remove the ad. The good news here is that if you pay to remove the ads while playing on Windows Phone, it also carries on to your Windows tablet.
Is this your type of game? Try it out and let us know what you think!
Windows Central Newsletter
Get the best of Windows Central in in your inbox, every day!
25 megabytes. WHEN'S MY SD CARD COMING?

The next day of yesterday plus one more

Why does the art feels like Amazing Alex's which has Xbox achievements...?

Exactly,said. But the games to WP are always welcome.

So it's an Amazing Alex clone, which was a Crazy Machines clone, which was an Incredible Machine clone...did I miss any in between?

I'm loving all these universal apps! Great change of pace!

Why does it require access to so many things, especially the phone dialer and identity?

Exactly! Especially contacts and photo libraries :-/ I think, phone dialer is necessary for ads. But anyway... It's better not to run it for security reasons

So we can download the level within the game? coz , there's an screenshot in the game showing PLAY LEVEL DOWNLOADED FROM THE WEB

Its got that Angry Bird thing happening. Like these kinds of games.
Windows Central Newsletter
Thank you for signing up to Windows Central. You will receive a verification email shortly.
There was a problem. Please refresh the page and try again.