Test your puzzle-solving skills in Knox's Room for Windows and Windows Phone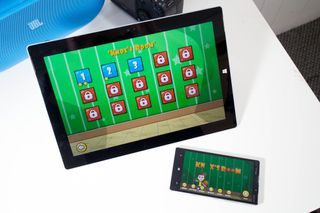 If you're not tired of puzzle games yet, here's another one to check out. Knox's Room is a challenging physics puzzle game, which the general goal involves causing a specific object to move, float or fall in a particular direction. It has been out for a while now, but it's worth mentioning because it is a free game that supports both Windows and Windows Phone. Want to see it in action? Watch our gameplay video on the Surface Pro 3 and the Lumia 930.
The first few levels are easy and help you understand what this game is about. Before you start a level, the goal is displayed on the screen. Some examples are:
Put basketball in the box.
Put billiard ball in the box.
Pop the balloon.
In order to accomplish those goals, you have a toolbox with things like bookshelves, books, and pipes at your displosal. You can place these items anywhere on the level to help you set up a chain reaction that eventually meets the goal.
The first thing you should do is tap the play button the top right corner without using anything from the toolbox. Analyze what happens without your help. Items might drop and balls might roll without your help. Use these initial actions to help you place the other items on the level.
In addition to meeting the goal, there are also three stars placed around each level. Try to collect all three.
Knox's Room is a free download from the Windows and Windows Phone Store with in-app purchases. The one you might want is to remove the ad. The good news here is that if you pay to remove the ads while playing on Windows Phone, it also carries on to your Windows tablet.
Is this your type of game? Try it out and let us know what you think!
Get the Windows Central Newsletter
All the latest news, reviews, and guides for Windows and Xbox diehards.