Kodi 18 'Leia:' Everything there is to know about the next version of Kodi
Here's everything you need to know about the upcoming version of Kodi.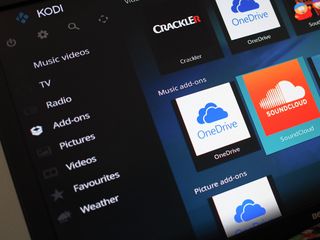 Kodi 17.6 "Krypton" is the current release that's available through the Windows Store and the Kodi website But work on next version of the popular media server software is progressing. In a break from the normal routine of choosing names with the community, Kodi 18 will be known as "Leia," in honor of everyone's favorite princess who sadly left us.
Advertisement
It's still pre-release right now, but there are some things to talk about regarding Kodi 18.
When will Kodi 18 Leia be available?
At this point, it doesn't have an official release date.
What's new?
It's still in development, so the final feature list isn't publicly revealed. The best place to keep tabs on new features is the Kodi 18 Leia changelog on the official Kodi Wiki.
One of the latest big developments is that there will finally be a 64-bit Windows version of Kodi with version 18, and that the Xbox One version of the app is now available in alpha.
Kodi 18 Leia changelog_FAQ)
Can I try it yet?
Absolutely! If you're OK with being on the bleeding edge and dealing with bugs, you can already get the latest nightly builds for version 18. Hit the link below to get started. You'll also now find an installer for the 64-bit version of the Kodi 18 nightly builds.
Download Kodi 18 Leia nightly builds
Do I need to uninstall Kodi 17 to try the new nightly builds?
No. If you're using the Kodi 17 app from the Windows Store, for example, the nightly installer will place the new version on your machine alongside it.
Is it good enough for my main build right now?
Probably not, you should stick with the release version of Kodi 17 if you absolutely depend on it. Leia is still pre-release, and some things don't work properly.
Does it look the same?
Yes! The stock skin was updated from Kodi 16 to Kodi 17, from the old "Confluence" skin to the new, more modern looking "Estuary." There's nothing to suggest that will change for version 18, but you can always install your own skins.
What about Xbox One?
Absolutely and it's available in alpha form right now! It appeared out of the blue and is the first look also at the UWP app for Kodi. It's also only available on the Xbox One right now, downloads from Windows 10 PCs will still get v17.6.
As an alpha it's still a fair way off from completion and while the core functionality seems to be solid, there are many things that as yet do not work. Thankfully, the dev team is pretty handy at letting us know what's happening.
Kodi team details Xbox One alpha launch and limitations
If you want to try it out though, hit the link below to get in on the action.
Download Kodi for Xbox One from the Microsoft Store (opens in new tab)
Which versions of Windows will be supported?
As of version 18 Kodi will no longer support Windows Vista. Users on Vista will still be able to use version 17 without issue, with the only potential problems coming with the compatibility of add-ons in the future. The main Kodi system, however, will keep on keeping on.
That means you'll need Windows 7, 8 or 10 to use Kodi 18. The first two will be delivered through the Kodi website, the latter through the site and through the Windows Store. For more on the decision to drop Vista, check out the official blog post.
Is there anything big to talk about yet?
Not in terms of features, but there are already some important updates. The biggest deal for Windows fans is the arrival of a 64-bit client for the first time as well as a Store bound UWP for Windows 10 and Xbox One.
New features are being discussed, and the developers are highlighting them to the community through "dev journals," with some recent highlights including voice search and recommendation integration for the Android TV build of Leia.
There's still much development to happen, and much new hotness to be revealed, and that will happen all in good time. If you have questions, drop them into the comments below. Hopefully, we can help with some answers.
Updated December 29, 2017: We've added new details on Kodi for Xbox One, available now in alpha.
Windows Central Newsletter
Get the best of Windows Central in your inbox, every day!
Managing Editor - Tech, Reviews
Richard Devine is a Managing Editor at Windows Central with over a decade of experience. A former Project Manager and long-term tech addict, he joined Mobile Nations in 2011 and has been found on Android Central and iMore as well as Windows Central. Currently, you'll find him steering the site's coverage of all manner of PC hardware and reviews. Find him on Mastodon at mstdn.social/@richdevine
Is there an app like Kodi for Xbox One ?

Not exactly the same. Emby and Plex work on Xbox One, but they don't have everything Kodi has to offer. Hopefully the UWP Kodi for Xbox will arrive with the next version. Or that's the dream!

I know loads of people who used Kodi for searching for and streaming movies - Is there a Plex plugin that does the same? I only use it with my own media files from my Plex server. Think I added a channel for ITV Player too as I don't think it was on Xbox One at one point. I use Plex to stream videos from the web by adding them to my Queue which is a nice feature

the whole KODI concept is just a preskinned VLC player.

Yeah don't forget to mention the 10 foot experience or the scraping metadata stuff.

You always have to state something that's so freaking awfully wrong.. Lol hilarious

Pappale.... What WP devices have you used?

I rarely see him respond when called out. Such a miserable existence to troll in every thread.

Uh, no... Kodi is Xbmc which might have been one of the best media centers of all time.

Still can't watch TV directly through a TV card or stick though, it has to dog-leg through network distribution software which can be awful stuff from many TV card manufacturers. I know it'll show networked TV from one of those 'home' devices or whatever, but traditional TV cards still flounder. Unless this next version finally addresses the issue? Until then, Media Centre has yet to be beaten.

Been waiting like crazy. Even my new tv isn't capable to do all the playback and subs I need with it a pleasant experience and no player or Plex can fix that.. Which makes me a sad panda. Hopefully we get it soon so I can remove as well the Surface I have as a player in the bedroom. Both that and the living room are begging for Kodi on Xbox so I don't have to have more hardware all over the place!

I think the most we can take away from this is the fact that this will work on the Andromeda Surface device.

Everything there is to know: It looks the same as the last version. Errr...

Actually, it's more like... Everything there is to know: We don't know anything yet.

Sure we do! It's got a name, and... and... look, Princess Leia!

That's what I read. Seems a bit premature for this article. Published before the first interesting reveal send like link bait.

Agreed. And this is an updated article!

The biggest thing coming to Kodi 18 is the RetroPlayer integration for game emulators and new games. You will get a new library section like you do for music , videos and pictures which is dedicated to games.

If you want that then you could always try LaunchBox, it will be better than any kodi version could ever offer. And the premium version is cheap and so nice it makes it even better, the experience and features. Sounds weird for being "biggest thing" when extensions already did it and it will not be as great as other dedicated software for that.

The skin i like is not even available yet for the current version so I'm stuck on Kodi 16 for now.
None of the other skins appeal to me.

I love Mimic 5, personally. But I think the new default skin, Estuary, is good too.

I remember some time ago when I wrote about Kodi that it's the best multimedia solution out there that some of you here "showed me the middle finger" and that I don't know what I'm talking about. Now those of you write here how good is this Kodi. It makes me sick.

Who exactly showed you the middle finger? Sure wasn't any of the writers. And if it was then they should have had that finger removed.

17 was the first ever version of Kodi I rolled back to the previous release. Some very strange (and inconvinient) UI choices and changes, and noticely slower than 16.
Here's hoping 18 is better.

If you want the old UI back you can just use the confluence skin I believe. What is new is now old again :)

Another no substance article to waste my time reading. Thanks for that.

No one forced you to read it

I just wish it had universal syncing like Plex. I'd be all over it then.

Back in the XBMC days I had several devices running XBMC from a single media server and used housed the database in MySQL. This meant I could be watching something downstairs in the lounge, pause it and then pick up where I'd left off on another device in the bedroom. It was a bit of a ball ache to setup initially but once it was up and running it was great. Should work exactly the same with Kodi and a quick Bing finds this guide: https://www.htpcbeginner.com/kodi-mysql-setup-to-share-library/

UWP version would be nice if it scaled for tablets and phones too.

If kodi has support for Plex server, I might try it.

There's an official Plex add-on for Kodi

Just install PlexKodiConnect. It connects your Kodi installation to your Plex Media Server. Works flawless! :)

I haven't tried Kodi, but then I've been using Plex for years, it certainly helps that it's available for pretty much all my/my families devices: Windows 8.1, 10, my various TV's of different ages, Xbox1, PS4, iPad etc!! Most importantly my phone, that's always a winner for me!!! But I do prefer to watch things on a bigger screen, so hopefully Microsoft brings out those folding screen displays from Westworld!!! One can only hope!!! I like the fact that you can download the content instead of streaming it, in case you don't have a strong enough internet connection which happens often in the West Indies!!!! What I would like is if they integrated the app onto the Sky Box (in the UK) so I don't have to change my input and everything I need is available on the Sky Box: Sky TV, Youtube & Plex!!! Come on Sky!!!

I hope the bring kodi to windows 10 phone..

I mean, it's going UWP so it's possible. Whether it's worth their time, different question.

Hopefully. I had Kodi on my Android until it bricked. If they went the extra step and made the UWP compatible with W10M, I could load it up on my 950XL. Being Continuum would be even awesomer...... My word of the day

Not ever likely to happen

Once Kodi is on Xbox, that will officially be my media center. right now I still jump from android tv for Kodi.

Just use mediaportal instead.

FYI... VLC is just a media player. Thought everyone knew this by now.

Will this version support external USB drives?

rather by design or not...3rd party movie/tv addons are crippled on xbox. just giving fair warning

Good. I hope that junk never works, and that it gets broken on all other platforms as well.

Kodi is great... I be watching all kinds of movies

This looks great! I hope they add some more new funtionalities, addons and device compatibility with the new version.