Lara Croft GO Developer interview: Square Enix talks Windows Phone and Windows 10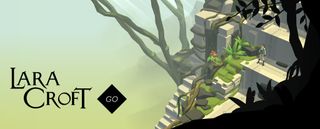 Adapting console games to mobile platforms can be hard because of the inherent differences between physical and touch controls. Square Enix found a great solution with Hitman GO, which turned the stealth- and assassination-based gameplay of the Hitman series into a clever turn-based puzzle game.
Last week, Square Enix followed up with a sequel called Lara Croft GO. The new game adds a Tomb Raider spin to its predecessor's formula, with new elements like climbing and more realistic visuals. Lara Croft GO launched on Windows Phone and Windows 8 and 10 alongside Android and iOS.
We recently interviewed Francis Pétrin, the Square Enix Montréal programmer in charge of porting and certifying the game on Windows platforms. Don't miss our detailed interview!
Hi Francis. Please tell us about some of your interests outside of gaming.
At the risk of sounding incredibly Canadian, I play ice hockey year round. I also practice Kendo!
Kendo sounds cool! Of course, you're also a gamer. What are some of your favorite games, old and new?
There's a special place in my heart for the older Square Enix RPGs (biased, I know!). I've finished Final Fantasy VII more times than I'd like to admit, and I'm incredibly stoked about the remake.
On a more regular basis, I play a ton of DotA2. We have a dedicated team at Square Enix Montréal and participate in a yearly games' industry tournament called The Rektreational.
Lara Croft GO concept art
How did you get into game development?
I always knew I wanted to make games. I studied Software Engineering at University, and co-founded a game development club there that was mostly focused on Game Jams. I then got my first job in the industry as an intern programmer on console titles for EA Montréal.
What led you to join Square Enix Montréal, and how long have you been there?
I've been working in the industry for about five years now and have been with Square Enix Montréal for more than two. I was initially hired as an AI programmer for a next-generation installment of the Hitman franchise, and became a generalist when we made the switch to focus on mobile games. Since then, I've had the pleasure of working on both Hitman GO and Lara Croft GO.
Do you have a favorite Tomb Raider or Lara Croft game, other than Lara Croft GO of course?
I have to go with the original Tomb Raider for the Playstation!
Hitman GO
The first game certainly was special. So what inspired the creation of Lara Croft GO?
We were really happy with how Hitman GO was received and there was still so much we wanted to do in that space, so it was very natural for us to ask ourselves, "What's next?" We started looking at the Square Enix catalogue and found that Lara Croft was an absolute no-brainer.
We started off the project thinking she would receive a similar treatment as Agent 47 [in Hitman GO]: board-game aesthetics, static pawns – and we quickly realized that just didn't fit with the franchise. We wanted this game to be all about her; to distill down what made Lara Croft the Tomb Raider. As fans of the franchise play the game, they'll quickly realize that our biggest inspiration was the classic Tomb Raider games.
The two GO games are clearly pretty similar, but are there any differences in gameplay?
While the framework surrounding both titles is similar (turn-based, grid-based gameplay), their mechanics are quite different. Whereas Agent 47 shines in stealth and take-downs, Lara excels at exploration and using the environment around her.
We introduced verticality to the game [in Lara Croft GO], put a strong emphasis on traps, contraptions, and gave her all the tools of the trade (levers, switches, and spears). We also put a strong focus on the adventure aspect of the game, offering a complete story experience to our players.
Lara Croft GO features more complex visuals than its predecessor. Did the success of Hitman GO lead to an increased budget for Lara Croft's outing?
The two games have very different art directions for sure. For Lara Croft GO, it didn't make sense to bring back the board-game/diorama style. Lara's incredibly athletic and it made sense to have her in a fully animated world. In terms of scope, the team this time around was slightly bigger than what we had on Hitman GO (around 15 people at the peak of production).
Does Lara Croft have an overall goal in this game?
She does! Without giving too much away, she's doing what she does best: raiding tombs! As you dive deeper into the caves and mazes, you'll realize that the environment may not be the only thing trying to stop you.
What are some of the dangers she faces in this adventure?
Lara will face many dangerous foes, and the environment is just as deadly: rolling boulders, cracked floors and various traps. Yet, the biggest danger of all is the Queen of Venom, an ancient beast tasked to protect the artefact you're after.
A number of collectible relics are hidden throughout each level. What do players get for collecting them all? And does the game provide any means of tracking missed collectibles?
When you break the vases that are scattered around the tombs, you'll find various gems and artefacts. Completing a specific collection will unlock new outfits for Lara. We had a bit of fun and included quite a few references to the series' roots with these. If you're looking to collect everything, you can easily see how many vases are left in each puzzle by visiting the level select screen. Good luck!
How many levels does the game feature? Do you plan to add more in the future?
We have about 75 puzzles spread out over five chapters. We're still processing all the amazing feedback from our players and it's a bit early to be talking about what the future holds for Lara Croft GO.
Lara Croft GO, like Hitman GO before it, is a premium game in a mobile marketplace dominated by free to play titles. Is the development experience much different on a premium mobile title like this than it would be with free to play? And do you think an established franchise is needed for premium titles like the GO series to succeed in today's mobile landscape?
So far, we've only seen one side of the coin. All our games have been premium, and it's something we've embraced.
We have the privilege of working with established franchises. A lot of the people on our team grew up playing Tomb Raider, and I'm not sure any of us believed we'd ever be working on a Lara Croft title. This recognition is definitely favorable in a mobile market where hundreds of apps are released every day, but that's not to say brands are absolutely necessary to succeed.
Although this is a premium game, it does still incorporate some in-app purchases. Can you tell us about what these IAPs offer?
We have two different IAPs in the game. First we have a pack of outfits from the Square Enix portfolio (Hitman, Deus Ex, and Just Cause). We also offer the complete solution pack for the puzzles in the game. These two are not necessary to progress through the game and are totally optional.
Lara Croft GO launched simultaneously on Windows Phone, Windows 8 and 10, Android, and iOS. How much time passed between completing the actual game design before optimizing it for all these platforms and passing it through certification?
Launching simultaneously on all our target platforms was a big priority for us! We didn't want to have anyone wait to get their hands on the game, which is why it was all about parallelizing our efforts right from the get-go. We started developing and optimizing on Android, iOS and Windows platforms early in production. For Lara Croft GO, we embraced the idea of "porting starts at the beginning of development, not after" and we're very happy to have met our objectives.
Speaking of certification, Lara Croft GO does not utilize Xbox features like its predecessor – presumably to facilitate a simultaneous release across platforms. Do you plan to add Xbox integration down the line?
It was super important for us that all our platforms had feature parity. As such, we do offer in-game achievements and cloud saving on Windows platforms. There are currently no plans to migrate these features to Xbox.
Windows players can create an online profile in order to store their save data on the cloud and transfer it between devices, which is great. Is there any particular reason you used a proprietary account system over the more common Facebook login? And why can't players choose their own user IDs?
We have a solid back-end architecture at Square Enix that allows us to do all kinds of cool things and we wanted to leverage that for the Windows versions. At the same time, we didn't want to force players to have to use a third-party service to share their progress across devices. We'll be listening closely to player feedback to offer an even better experience the next time around. (Hopefully players tell them not to use a proprietary system that's inferior to universal systems. –ed.)
I've noticed that Lara Croft GO is unusually quiet on Windows Phone. I have to turn my Lumia 1520's sound up far louder than I usually keep it just to hear the game. Any chance we could get a volume boost and/or a volume slider in a future update?
We'll take a look at that, thanks!
Sweet! One of the platforms that gamers can play Lara Croft GO on is Windows 10, which recently launched on PCs and tablets. What can Microsoft do to make Windows Store gaming more successful on Windows 10 than it was on Windows 8?
That's a very good question! The main focus for us when it comes to multiplatform support is to be able to reach as many players as possible, and working with Windows allows us to do just that! We're looking forward to seeing what Microsoft has in store for us in the future.
Finally, what's next for you now that Lara Croft GO has arrived on everyone's favorite mobile platforms?
We like to keep busy! We're working on some very exciting things. Keep your eyes out for future announcements from Square Enix Montréal. :)
Get the Windows Central Newsletter
All the latest news, reviews, and guides for Windows and Xbox diehards.
Paul Acevedo is the Games Editor at Windows Central. A lifelong gamer, he has written about videogames for over 15 years and reviewed over 350 games for our site. Follow him on Twitter @PaulRAcevedo. Don't hate. Appreciate!