Latest 6tag update lets you sign in with Facebook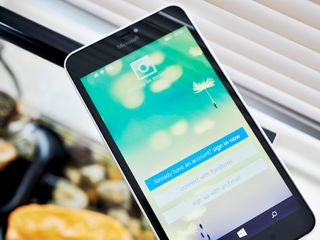 6tag, the popular Instagram replacement for Windows Phone, has been updated to version 5.9.1 with support for signing in with Facebook. No other changes were noted in the changelog, though we do already know that Rudy Huyn is working on a Windows 10 version of 6tag.
If you are a 6tag user with a Facebook account, be sure to check out the latest update from the Windows Store now.
Download 6tag for Windows Phone
Jared started off writing about mobile phones back when BlackBerry ruled the market, and Windows Mobile was kinda cool. Now, with a family, mortgage and other responsibilities he has no choice but to look for the best deals, and he's here to share them with you.
First!!!!! Nice Update!!!! Cant wait for the Win10M Version !!! Keep up the great work Rudy #6Studio

I think 6tag is already updated to windows 10...

The article said he was working on the w10 ver.

A universal (UWP) version is coming

Nops. The UI is based on win10 but the app remains 8.1 archteture...

How exciting for you! I hope all of life gives you such simple pleasure. PS. What do windows taste of?

I thought universal app update

When live tile will be fixed on WM10?!

I'm guessing when the universal (UWP) version of the app is released. Rudy is developing it.

Is this can substitute for the Facebook app now???

No.. this is an Instagram app...

For Instagram stuff, sure... =\

At this rate Rudy will have all of his apps updated to W10 (all while working a full time job) before Windows Central even mentions their Windows 10 app again.

Can't wait for Uapp for 6tag.

and this is a good thing... yes? please remind me why...

When you post an image you can auto post it to FB also at the same time.

Doesn't it already do that? This will simplify the process for new users, by circumventing having to tie the account together later by simply having one log in ... or basically what you said, fine. =p

Yes, it lets u login THROUGH your fb acc. U do not need to make a separate acc on instagram. Above said things were already present

I know that, and I've done it a couple of times with other apps and I regret it... I've since tried to create it's own loging "mechanism" for one there was a time when FB would go down and during those times I couln't connect to either site... anoying, that is why I don't do that anymore.

I just signed up for Instagram last weekend, and I use 6tag :) Pretty nice app.

Rudy is keeping Windows mobile alive singlehandedly!! That's the kind of dedication that will save our OS. Are you paying attention MS? An example to follow!

I think its other developers that need to pay attention...how one man makes ALL of them put together look bad. =p

That's why I don't understand when major companies, like banks, say they don't have a wp app because of the cost involved with it.

I agree 100% with your comment, it's ridiculous to think something like BofA don't have the resources to securely maintain an app :/

Why can't windows central just contract Rudy to develop thier app for them

Money or probably he's busy enough :)

Rudy is the Christian Ronaldo of windows app platform, keeping it alive with interesting updates.

This is the best app and I use it daily! Question for the 950 users: Is manual blur working for you? It seems to be broken for me since I got the 950. Worked great on the 920. TY

Instagram has so much to catch up with 6tag. I am not sure if they will ever, ever catch up.

You mean the Instagram app on WP cos the iOS and Android versions are feature packed?!

6Tag is honestly not that great as the Instagram app on iOS and Android Posted via the Windows Central App for Android on my Lumia 950 XL

Doubt it will, looking at how they update messanger and facebook.

We also need another Facebook app for windows phone. Please develop it too.

There are many in the store but all facebook apps suck at this point, even the official one.

How do you get rid of the ads? I bought the add removal.way back when but with every update, I get ads back. They just vanished from the last update but now. . .there they are again. The ad removal bar on the Store's 6tag page does nothing, there's nothing in settings. . Does anyone know how to get rid of the ads?

Yes you have to buy the add removal package, however due to store bug or issues ads still show up. Its been months i think.

Can anyone tell me how to remove the adds ?

You have to buy the add removal package, however due to store bug or issues ads still show up. Its been months i think.

Using win 10 Slow build.. And de funniest thing was.. I saw an Android friend who was searching in his app store for 6Tag, bcoz he wanted to save ****!. Hahaha apparently we Lumia users are de only ones who have de App!

I'm on 6tag and recently my Instagram account got hacked... Changed my profile pic and details...
Windows Central Newsletter
Thank you for signing up to Windows Central. You will receive a verification email shortly.
There was a problem. Please refresh the page and try again.