The latest NVIDIA GeForce experience brings some awesome tools for screenshots
Screen archery has never been this easy.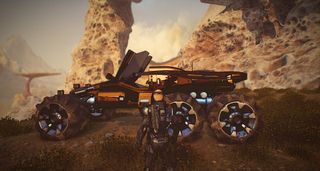 We've all seen those amazing and artistic screenshots people take of our favorite games. Normally, you would need fancy enb effects and hours of setting up the color and DoF and all the other elements that take things from just a screenshot of a piece of artwork, but if you have a supported NVIDIA card with the latest GeForce Experience all the hard work has been done through NVIDIA's Ansel capture.
NVIDIA first showed us their Ansel software over a year ago and it finally has made it's way to everyone through the GeForce Experience software. You'll need the latest version of GeForce Experience and the newest NVIDIA driver (I'm using 390.65) as well as a supported card and game. Once that's covered, taking Ansel shots is easy.
The new-but-not-really-new Ansel software comes along with the fancy HDR filter effects NVIDIA showed us at CES, and to use either (or both!) you'll need to enable "experimental features" in the GeForce Experience software settings. Then you're ready to make some artwork.
Make sure the GeForce Experience overlay is up and running
Hit Alt + F2
Adjust the settings and click the capture button
The list of supported games (opens in new tab) isn't huge (yet) but some popular titles like The Witcher 3: Wild Hunt and Middle-earth: Shadow of War are there. So are some cool tricks if you want to go further, like support for SuperResolution, 360-degree capture for VR viewing and even support for Industrial Light and Magic's .exr RAW format capture.
Best of all, it's easy. I grabbed the driver update and fired up Mass Effect Andromeda to give it a try. I'm having a blast playing with all the tools and effects and can't wait to see what people with a bit of talent and inspiration can do with it.
Windows Central Newsletter
Get the best of Windows Central in in your inbox, every day!
I'm an RHCE and Electrical Engineer who loves gadgets of all kinds. You'll find my writings across Mobile Nations and you can hit me on Twitter if you want to say hey.
fancy enb effects and hours of setting up the color and DoF and all the other elements

As a reader I enjoy more reading articles about things I'm not 100% familiar with if instead of using acronyms and insider names they try to explain a bit for everyone. I think it tends to look more professional too. It's basically about reaching beyond what would be an informal insider talk. My 2 cents. Also I stopped reading after that.

I've been using the NVidia screen shot and video recorder for some time now with Elite Dangerous. I had to drop back several versions of the driver, though, because the latest one was wrecking VR horribly (very jumpy). I guess I'll give this new one a try and see if I like the new capture features. Hopefully they have addressed the VR performance issues.
Windows Central Newsletter
Thank you for signing up to Windows Central. You will receive a verification email shortly.
There was a problem. Please refresh the page and try again.