New leaked screenshots show off yet more improvements in Windows 10 for Phones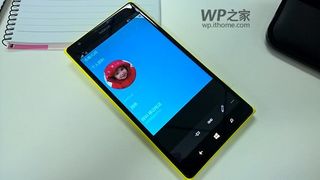 Leaked screenshots of Windows 10 for Phones in action have been shared online over the last handful of weeks, but new images from China show off what appear to be new Contact and Messaging features.
Looking at the new images (unfortunately they're in a localized language) we can see not only changes made to the contact list and menu – sporting new rounded imagery – but also the messaging app, which has received some attention.
According to ITHome, these screenshots show build 12531. The site notes some new additions that join the above, which include improved system settings, device-level encryption, IE11 / Project Spartan UA enhanced recognition, USB OTG.
See the source link below for more images.
Windows Central Newsletter
Get the best of Windows Central in in your inbox, every day!
Rich Edmonds was formerly a Senior Editor of PC hardware at Windows Central, covering everything related to PC components and NAS. He's been involved in technology for more than a decade and knows a thing or two about the magic inside a PC chassis. You can follow him on Twitter at @RichEdmonds.
Rounded profile pics.
There's nothing round about Windows except the buttons

If they'd act as buttons too ...

Windows Phone is known for its square tiles, and now they're starting to use circles in the UI. Why??

Because this isn't Windows Phone, it's Windows 10. People need to understand that. Windows Phone is being replaced by Windows 10 and that means the UI will be the Windows 10 UI.​ ​

Strange because my windows 8.1 is all about squares and tiles as well. So the basic question he has.. why the hell are they going on circles with the new iteration of their operation system

No. You need to understand that Windows is copying Android's UI to be main stream and its completely hideous.

Our conversation is about the original poster stating how Windows Phone is known for square tiles and now they are using circles in the UI.
My comment is valid, this is Windows 10 and not Windows Phone so the UI is going to be the same across devices and furthermore, square tiles are still there.
It only does not make sense if people keep looking at the OS as Windows Phones but it makes perfect sense as to why the icons are round if you look at it as Windows 10. The answer is because it is Windows 10.
I deal in facts. It is your opinion that Microsoft are copying Android's UI and that it is completely hideous.
You are entitled to your opinion but the OP didnt ask for either of our opinions, I answered his question as to why the phone UI has circles. It is because it is Windows 10 and Windows 10 has circles. It isn't Windows Phone, which had a different UI.

Because Microsoft is going to replace Live Tiles with Live Bubbles.

As long as they do the bubble dance, I'm good. LOL

Cause tiles need to be interactive in use and feel

The rounded images fit in with Skype being more integrated with messaging and People.

Complete UI inconsistency :( Very poor from Microsoft.

Which part of "technical preview" do you not understand?

Preview should be something in line with the final product.

I disagree. They're probably (I hope) using placeholders and putting emphasis on core functionalities and stuff like that. In most cases at least. That being said it looks worryingly lime in this case they're moving towards rounded look. I'm certainly going to use feedback to voice my opposing view on this matter

Nope. They will be using round icons.

Thats "Preview for developers". Not TECHNICAL preview. Yes TECHNICAL not DESIGN preview.

There is no such thing as Design Preview. So, any opinion has to be expressed now - in the preview, technical preview or whatever they choose to call it. Or it will just surface as a final product and will be something messy like Windows 8/8.1. And yes, the inconsistencies have creeped in. Lots of them.

Of course there isnt. My point was, people are going crazy about design cause they think it will look like that in the final product. Seriously its looking horrible design-wise right now they wouldnt do that, I think they are focusing on fuctionality now rather than design. Its really brave to call 8.1 messy if you dont count the settings menu. Apart from that what is messy on 8.1?

Very true, but I dont think they came up with rounded contact photos for no reason. I think its going to stick. I just hope the rest of the UI gets cleaned up for a more consistent look.

Come on, this is a tired excuse, it's not like Microsoft is going to just do a 180 in this design.

Which part of MS has been deprecating the metro UI for over a year now do you not understand?

My sentiments exactly. Sure hope it's just the preview... but then again: There has to be a reason they go round, otherwise they'd just leave it as it was, no? Sucks IMHO.

MS needs to straighten out their design language. Fast. Since WP 8.1 they are all over the place.

I have this hope that they are working on a complete UI overhaul with W10 on the PC and phone that will come out at the very end before or may not even until launch. I hope I'm right and I hope its good.

Oh no! Squares are being replaced by Circles! Lordy Lordy some one save our souls! Hasn't anybody told Microsoft that you can't put square pegs in round holes? Sarcasm aside, big friggin whoop. Some things will be round, some things will be square. Some menus will pivot, some will be fast food. Certain things will work for certain things. If everything was the same everywhere it would be boring. Fine tuning the whole system so I all meshes together is the real challenge but they're not there yet. Should every app in the store all look the same as well? Should people not attempt some sort of original design to be unique or should everything just be copy/pasted. There's only so much you can do with squares. There's all kinds of shapes out there. Be glad they're not also using hexagons and oblongs too. Hell while we're at it, lets get some emboss effects and lens flares..... Oops there I go with the sarcasm again.

Will said Praxius. Won't someone think of the children!?!

I'm not against the circles, but right now the overal UI is not pleasant. I'm sure (I hope) there will be lots of finishing touches that will pull this all together.

Every thing has its place, dear fellow. If Steve Jobs, Jonathan Ive and other designers were not the perfectionist that they were/are, Apple would not have been what it is. Just creating something half-heartedly is one thing and putting some thoughts together to make something a beauty is where the magic lies. Microsoft was on the right path with its Metro/Modern design but seems lost now.

Have you even looked at Windows 10 on desktops or tablets? So the profile pic is round, about the ONLY thing so far that is... CHILL. OUT. SHEESH. =/

Really nice look! Can't wait Posted via Windows Phone Central App

Yeh, the app as looks nice! I wonder if the default UI will change to that in all applications or developers will have to do it themselves.

Remember, it's easier to change the UI, than it is to add features. So features first, UI second.

And ? Rounded pictures for avatar are ugly but are part of the new design.

Oh, they are finalized? Where did you read this?

I like the round pictures

But it would be easier to build new features using the existing UI framework. The fact this looks different shows that they are moving away from the strict Metro guidelines.

Or evolving the guidelines?

Metro means clean interfaces with rectangular features and an emphasis on text. This is just same old boring stuff from Android or iPhone.

Windows/Windows Phone has never been out claim to have been Metro.

Looking at all the whining and crying of UI inconsistencey I thought no one noticed this :D. But yay you did.

Yeeeeaah ... It was daaaamn neeeded

Yeah! But give the preview sooon. Cant wait anymre

Excuse my stupidity lol but what is USB OTG

Very skypeish.. Not sure that is good.. Ah well.. We will seem as long as the usability is better than the alarms app of the old w10 build

Billions of users on Skype - good brand use.

Agreed that's why Skype Qik took off and became the next snapchat. Jk though Skype is actually a good brand. Skype is even going to be a setting in a movie! GGs

Yeah. The skypisch thing isn't bad at all.. As long as the usability of wp8 remains :)

Battery icon is so lame :/

it also needs to be bigger in my opinion. and with that, they have room for a more precisely representation of how much battery you have left.(representation which curently is awful. you miss very easy -+ 10% when you look at it)

+720. That's very bad. No metro also looks a downgrade in UI. Metro is love

It's old time for a new look

but there is no more a such thing called metro. metro died long time ago(wp7, or some say zune, used their biggest implementation of metro design, nothing after that era was more metro than that). and they did things even more wrong than now, in wp8.0/1.in wp8.0/1. they used the name modern but wrong because they used an ui between that metro thing and a modern look, and in a bad way: too much metro. so users who expected modern ui were facing microsoft's definition of modern and rejected the os.. ofc it was better in usability and less "tiring" because thats what was all metro thing about(for example, plain text for what others may use a glossy button is one of metro phylosophy). now they seem they are doing better. they call their ui modern?well, yes, so now they are going to respect this name. modern is not their invention, and modern influences every software's and website's ui these days because we users like, need, and want it. we like better something plain and cool than anything too glossy and full of effects. they are now doing literally a modern look for their os, and i like it better. plus, they still use some of metro phylosophy which gives them a bonus in usability over other os rivals. now is how it supposed to be, modern with metro influences not viceversa which looks like a half-breed animal. but, is it perfect? FAR from it. i dont like a lot of places in this w10m. especialy the places where the overal look looks like they again couldnt decide if they are going for modern with metro infuences or still with the metro with modern influences like in wp8/8.1. so yea, they are far far away from finishing the ui in my opinion(and yours and other's). but i really think they started with a much better step than wp7 8 and 8.1 ..combined.

Agreed. Got to love it: Windows was the first to have a super consistent UI - flat, font-centric, unique (pivot...). Now design nowhereland Android is mimicking lots of that with their admittedly sleek new design language and Microsoft seems to drift deeper and deeper into an inconsistent mess. :/

I dont want to update my device at this point, keeping my 1020 to the lasting bits of the zune esque UI in wp8.1 If there was a launcher that copied wp7.5/zune on android perfectly then I would have left WP long time ago.

Will USB OTG support current Windows Phone? Especially devices like L920,1020 etc.

Snapdragon S4 supports USB OTG

My Lumia 620 is snapdragon s4 chipset mean Lumia 620 support USB OTG ??

Snapdragon S4 supports USB OTG Lumia 620 has snapdragon s4 Lumia 620 supports USB OTG? ¬¬

Theoretically should, but it all comes down to if the software will take advantage of the hardware. And it wouldn't be the first time Microsoft doesn't enable features that the hardware allows for.

True. S4 supports Miracast as well. But Microsoft/Nokia did not enable it during the Cyan update for the S4 chipsets.

Am I the only one to find all icons and toggles in W10 phones ugly?

Nope, you're not alone. Except for some, I don't like much of them. But they have got one bright side. The tray icons are mostly hollow so they don't interfere much with tiles while start screen.

I actually like the toggles but they should be larger

Nope they're are at least 4 or 5 of you.

uuhh..no...I hope its fake ;-)

What about wifi direct technology making phone to connect it's own network

Better than the screenshots news, MX player was updated to add most of the functionalities.

That blue like theme is ugly. Microsoft, when did u start making bad UI?

Or worse, I don't think it is even the accent color, if it was, it could be at least changed.

After 8.1. It's all been downhill from there.

Yeah, because 8 & 8.1 were perfect.

No, 7 was perfect. 8 was great. 8.1 was the major shove off. You can tell that it was when Microsoft decided to stop trying to stand out and started to just fit in, in hopes that it would bring more market share.

In many ways, Mango was the high water mark for this OS. It's been taking two steps forward and two steps back with every update since then.

I agree wholeheartedly, x I'm tc.

I'm okay with this. Just keep things at the bottom.

It's alpha the road to the final version going to be long long away

How Chinese write on a paper! :p

Need to find the User Voice page requesting they return to square contact pictures - it's much more in keeping with the overall "modern" look!

When did Microsoft hire the UI designers that made Google+? Stop it with the circles please.

I don't know... Maybe since Skype has always used the circles.

I hope its fake, please!!!!!

Good.!
But, already slow down the 512mb ram devices after update 8.1(DENIM). What "WIN10P" do?

Wanting square picture frame :( lol well what else can we borrow from apple...

I don't really like the rounded profile pics. They're just... not really what Windows Phone - an OS with tiles, should be. :/

I think this may just be for the People, Phone and Messaging app since they are going to have Skype integration.

I hate rounded UIs. It's like when css3 introduced rounded corners and out of sudden most new websites had them, but over time it all went back to normal square + reasonable roundings here and there. I have a feeling that Windows 10 will be full of that ugly thing incl. toggle buttons which are the worst of all UI components on planet.

Exactly. I think they are trying to cater to people who didn't like WP UI but I bought my phone partly because I found the design interesting and unique.

That doesn't make sense, though. It isn't like people by WP for the app selection or the hardware variety. The simplistic UI was one of the biggest attractions that WP had.

Not one of the biggest...the ONLY.

The reality is, they don't care about our opinions. We are literally expendable to them. We are such a small number compared to what they want to reach, that our opinions don't matter for shit to them. We're actually, probably giving them the reaction they want. They want to pull in the plebs that like Android and that look. We are being pushed to the side. Whether we stick with WP or not literally doesn't concern them, obviously.

When this os will be mine :(

Looks like wp10 will come out complete with minor bugs. We have seen more leaked screenshots than actual updates unlike with w10 where leaks are followed by actual updates.

Can you delete contacts picture? Or should I say will we be able to delete it.. Kind of minor thing but MS never added it since WP7

Doesn't the photo taker have any idea that Chinese is not popular ? The Ads themselves are bigger than the screen itself so, what are we looking at exactly ?

China has the Worlds most common language, so i would tread easy on such remarks.

True, but China has a very low WP market share compared to the west, so writing with Latin letters might be smarter if you want a WP audience.

So you mean these leakers should translate the OS before they release leaks?

Yes, but only for natives (and it's not one language). It's far from having as many speakers as English (lingua franca plus natives).

Yeah, the UI is ugly. But it's still in alpha. And as long as it includes the amazing new features (USB profiles, wireless printing, the new notifications center, actionable notifications, tap to pay support, the new Office, Outlook, People and Alarms apps, and a lot more) it will be great.

I'll not say anything until I try it by myself

I liked the square shaped contacts. That was the trademark of Windows phone.

Not a fan of the rounded profile pics.

Bring back square contact pic, our camera do not take rounded pic after all. Really takes away from that WP look.

Please don't make "resuming" screen for Windows 10 for phone dude !!

When is the 2nd build coming? :( This week or next week?

World's most common language? U mean large population common man made products common manufacturer, I'd agree but language no sorry.

It is. About 1-1.5 billion people speak their native language.

I don't know about some of you but rounded pictures way better than square pictures we have a full start screen with square and rectangular tiles a bit of circle here and there give us a new fresh look

exactly. plus, we still pin square contacts on start. but on a thing like messaging app, just imagine it, square pictures would have been even uglier.

Like the new buttons on the bottom!

Why this bloody screenshots are always in China language

Looking at all these screenshots makes me wanna stick to WP 8.1!

I'm with you on that. Glad my 1520 is my media device so I don't need all the new features of WP10. I'll just keep the awesomeness of WP8.1!

Geez, guys, not everything needs to be a square, chill out already. I for one don't see anything wrong with circle pictures.

Yes.. But the blue background is ugly as hell

I just see complaints on here. It makes people seem like spoiled children

People should be able to vent their frustrations, stop being so judgmental. Makes you sound like a pompous jerk.

Aside from USB OTG, everything else is shit.

Especially Windows phones itself

Seems more exciting. The features I've impatiently waited for are contacts, messaging and email. Especially email. Let's hope the new outlook will ship in the next build

Why the circle pics, the square is just fine

"Unfortunately, they are in a localized language." Funny.

Circle is better than irritating square tiles... Some thing attractive.. Not bad... Expecting better UI from Microsoft...

UI must be clean and simple to use moreover it should be beautiful also, I don't think rounded UI is beautiful.

wasnt otg, actually its brother on steroids, already anounced for wp recently? so what we got now? just otg or that full usb upgrade ms promised? PS: tired of ppl saying:"w10 is ugly" "i might stick with 8.1" and so on. guess what? we are not ms and we dont care. if you have a pertinent and better idea fire that uservoice page. do something. (but dont do if you are just a retard with daydreaming bad ideas). as for "stick with 8.1" comments, coooooooooool, you could just do that, we again dont care, plus we are really free to keep you phone on 8.1. so have a nice day and stop whining. come with solutions, not just negativism or objections.

go get some medication. thats what you understood? that I was whining? read again.

Next: Round live tiles? :P

Adding features is (of course!) a very good thing. But I personally don't like those circlular tiles here. WP has 'tile' identity which is mostly square. Lollipop has circles. Plus square tiled pics better fit WP start screen UI (for contact pins) Imagine having circluar contacts on start screen... ! No. Hope they change it back to squares with future builds.

"Round" no!!! I don't like it at all!

(unfortunately they're in a localized language) ... and you dont know which language is that?

I hate the freaking round profile pics!!!!! also, why is it blue instead of black!! That was one the best parts about windows phone!

Microsoft, please change them back to squares... It just DOESN'T feel right.

I'm enjoying most of what I see from Windows 10, but I HATE that they're mixing round, circular avatars with rectangular tiles. Tiles are what make Windows stand out. Why blur that?!

Too much screen real estate not being used? Why not set the picture up in right corner?

USB OTG! I might be coming back home after all. Posted via the Windows Phone Central App for Android

Option to save contacts direct to SIM please

The round icons for contacts are really ugly. It clashes with the other design elements in the UI.

Rounded? I think think it is better to say they are circular. (Well, 100% rounded = circle. )
I think the circular pictures/buttons could be okay if "the design language" includes some circular elements in a 'consistent', unique, and thoughtful way. The buttons on the bottom of my Lumia running 8.1 are circles (circular). Right now the leak of Windows 10 for phones feels like a mess. Just copying random elements from other operating systems and throwing them together.

can't wait for the new preview build to come. exited!!!

Pretty fugly but that's not a surprise. Tacky circle contact pictures, hard to make out wireframe icons and what the heck is up with that battery icon? It's clearly a work in progress but the parts that are finished look like a bad Android theme. 8.1 is so much more stylish and elegant than this crap it's not funny. 7/7.5 = pure Metro, very clean and minimal, not a lot of features 8 = pure Metro, still clean and minimal, more features 8.1 = pure Metro, less clean and minimal, a lot more features 10 = garbage, no longer clean or minimal, every feature you can want

Well done. Upvote! I like what you have done there. They really started to mess up things with 8.1. For me, I hated the notification+action centre. It was a blatant copy from Android 4.x. And look at Android 5.x Lollipop now! It looks better there. Like, Google is doing a pretty good job designing Android while Microsoft seems to go south with their design. Next major failure was the separation of Music+Video app into two individual garbage. Still, I would not write off Windows 10 as garbage. Lets see what they have in reserve. But yes, as of not it does seem like, as you all it, a garbage.

It's been leaked "Live Circles" replacing Live tiles. Microsoft wishes to call it Circles of Live........

Chat heads. Is it me or Microsoft is slowly turning WP into Android. Posted via the Windows Central App for Android

Yes. Go to Microsofts Uservoice web site and check out the 1,000s of comments asking Microsoft to stick to the Metro Design Principals and stop copying android. Be sure to vote, while you are there. There a numerous strings on the topic, so be sure to vote for the one you think is best.

Seems like MS is ignoring those votes so far...

Yeah, really not digging the round pictures. Doesn't seem in line with anything, and as far as I can tell doesn't fit with the ready of the ui at all. Hopefully is a quick fix, because I can sense most of us here are turned off by this

I am hating every leaked change I am seeing to Windows Phone. I am hoping this stuff is just them kicking around ideas and not the final UI.

Totally agree - the text cursor/pointer thing to be added to the keyboard is the only positive I've seen with Windows 10 so far. Everything else has looked like they're taking a step backwards from visual appeal and usability.

Uggh. The round photo looks horrendous on WP. Just a cheap imitation of the "chat heads" feature from Android.

well, i think skype had round first. so if im right, who steals here? wp or android? but maybe im wrong.

First it was hamburger menus. Now its square contact photos vs rounded. This community get nuttier and nuttier as time goes on, lol Posted via the Windows Central App for Android

my two minute remake mockup
https://pbs.twimg.com/media/CBbfF3jU8AE-Psa.jpg

Whatever it takes, just keep improve and get these updates on the next release for all devices.

Are they trying to get away from Metro design? What's up with the roundness in Windows 10? Round profile pictures, round toggle buttons, hamburger menue, what the heck? It appears as if they are suffering from inferiority complex.

It's great that more features are being baked in to the new OS, but I have to say, the UI design is still an eye sore. Everything looks to be a mish mash of various design concepts, without one consistent theme, and on top of that,it's just....yuck. A final release is only months away, so I'm wondering how much of a design overhaul Microsoft can pull off at this point.


design is easy to make(functionalities are hard to get right, especialy the core ones). they would have time between the last build of preview and the one before to make things consistent. and after the last build's feedback to finish the tweaks and deliver the os. BUT this doesnt mean we have to stop our design feedback untill the sort things up about features.

I don't really like seeing faces in my messaging app :c i hope we have an option not to show them.

well, i like it. is more fancy. but i agree, there should be an option for showing/hiding them.

Yeah circle looks better than square pictures.

Watch the 1st pic.. It will come soon

Yuk, so far Windows 10 for phones' UI looks like a downgrade from WP8.1. There's certainly some things that have looked ok, but overall it doesn't have a good feel. Yes, round vs square isn't that big of deal, except for the fact that the square pics looked good and went well with the square tiles on the start screen. There was no real need to change.

Not feeling the circles. If the UI is that ugly, I don't see myself upgrading. I only bought WP because the Metro UI is gorgeous.

I hate how windows is turning into a forked version of android... Might as well cancel Windows Phones or Lumia line & continue developing that god awful Nokia X line up

The best part of this article is USB OTG

Everyone who say that WP10 is s**t, is basing this on a buggy pre-alpha build and a handful of 'leaked' screenshots.... Pathetic!!!! Get a grip on yourselves......

I don't like rounded images. Big mistake.

It's so ugly!!! Kill IT WITH FIRE!!!!

Excited for 10 mobile, most important its a top class os. Visual aspects can be developed later why all the complaining so early into development

Good god. Those round profile pictures look horrid. What the hell are they thinking?

Not to mention the toggles...wtf happened to "Metro"? I want to claw my eyes out.

With the number of leaks, I would suggest you guys to have an article that focuses on all the leaks. This will put all the leaks at a single place. And will be helpful to show the features of Windows 10 for phones once it is released to most of the Lumias this month :-)

Watashi wa erudemu desu. And i liku so muchu cause i amu japan and UI so japanisuuu. (got hell man i dont like it hope do its fake)

Quite identical to Skype app. Needs to refine contact app.

The usual Microsoft inconsistency. I'm not even sure they know what look they're going for.

I can't be the only one who finds these Asian screenshots very difficult to gauge? I think it's all of the watermarking with characters in a language I don't understand so I don't know what's part of the UI and what's a superimposed element.

Did I just read USB OTG???
Windows Central Newsletter
Thank you for signing up to Windows Central. You will receive a verification email shortly.
There was a problem. Please refresh the page and try again.