Latest Sea of Thieves development trailer gets lost in the clouds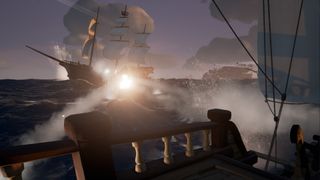 Developer Rare has released a new video that looks behind the scenes of its upcoming Xbox One and Windows 10 pirate-themed game Sea of Thieves. This latest clip takes a look at the unique challenges the company faced in creating the clouds for the game.
The YouTube clip shows has Valentine Kozin, the principal technical artist at Rare, describing how creating clouds in 3D games has always been a struggle, since clouds by their very nature are "fluffy" and are hard to recreate realistically with polygons.
The clouds in Sea of Thieves will indeed be full 3D structures, and Rare shows how the clouds change in the game world. They can even take on specific shapes, such as a pirate ship or a skull, for added narrative effect. Kozin says that he believes no game has created clouds like Rare has done for this title.
You will be able to see the pretty, pretty clouds in Sea of Thieves when it is published by Microsoft sometime in 2017.
See at Microsoft Store (opens in new tab)
Windows Central Newsletter
Get the best of Windows Central in your inbox, every day!
the folks that made Forza Horizon 3 could learn something from here! /s -kidding, I don't want to sound negative with this game, I just had high hopes for it, and they all went down when they trailers started rolling in, giving more time to the people playing them, than the actual game... a good game sells itself

So because a trailer showed people playing the game you lost interest? I really don't get the logic there.

I guess they haven't said anything about the end-game... story, finding treasure, doing quests, anything more than just sailing and drinking.. so far it just looks like a pirate simulator. what I mean about loosing interest with them showing people playing the game, is that there were more shots of people playing the game, than actual game footage. take any other game, recore, forza, assassins creed, Halo, they all have a game based trailer, some don't even show game footage, some times only cinematics, but at least they tell you what the game is all about.

This article covers treasure, quests, combat etc.. Worth a read: http://metro.co.uk/2016/09/05/sea-of-thieves-rare-interview-its-all-exac...