Latest Surface Pro 3 promo video shows DC Comics artist Francis Manapul at work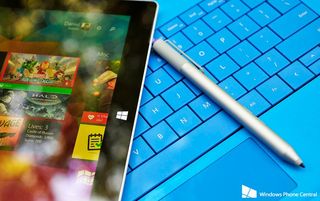 Microsoft has been running a series of long-form promotional videos for the Surface Pro 3 tablet in the past few months. The latest such clip shows how the 12-inch tablet is being used by DC Comics artist Francis Manapul.
Manapul, who was born in the Philippines, says in the video that his parents helped him learn English by giving him comic books to read. Now he has drawn, and in some cases written or co-written, major comics for DC, including Legion of Super Heroes, Flash and Detective Comics. The video shows how he creates art digitally on the Surface Pro 3, and Manapul says he's able to take the tablet with him to draw outside his studio if he feels the need to get some additional inspiration. He can also continue to work if he's on a plane or sitting on his couch at home.
Manapul says in the video that using the Surface Pro 3 as a drawing tool didn't change his art style, but the tablet did adapt to work within his established technique. By the way, one of his next big projects is an Aquaman: Year One graphic novel, which he is both writing and drawing and will be released in 2016.
Source: Surface (YouTube)
Windows Central Newsletter
Get the best of Windows Central in your inbox, every day!
i would love to see more of him using it or any artist

Yeah, awesome! I love that guy's work... =)

These are the kind of intimate pieces that resonate with me. I can't wait to upgrade soon. Posted via the Windows Central App for Android

I can't wait to see his work on Aquaman.

Talented people make things look easy. I struggle drawing stick figures. Anyways, that's a really cool use for Surface. I had heard MS say it was great for artists, but this is the first video I've seen of an artist using one.

I remember a video of one of the penny arcade guys using it. I think that might've been for the original surface pro but I can't recall.

Check out Phil Galloway, @philthyart on twitter, just using Fresh Paint. Genius stuff. http://www.philgallowaydraws.co.uk/media/4587806780

very cool. thanks for sharing!

This made me want a Surface Pro 3 much more than I already do.. God dang, I wish I had more money.

An article about a DC comics artist using the surface pro 3 has a picture of a surface pro 3 with a Marvel comics game "run jump smash" prominently pinned on start. I find that funny. =D
But also, good article! Cool stuff.

Great story. Anyone know what program he was using to illustrate?

That's what I want to know too.

Photoshop CC 2014. That's what I use on my Surface Pro 3. :) I completely agree with him about the pen in how it adapts. It feels like a pencil when I need it to. If I want a water color brush, it does an amazing job mimicking it. Though, with Windows 10 it has been a bit buggy. The firmware improvement that was released this year for Windows 10 has helped, but still needs some fine tuning.

This. This is exactly why I bought my Surface. Create wherever, whenever.

DC Comics, that's good! I still hope Ntrig can be really good, better than Wacom. I mean, Wacom is good and all for artists but sometimes I wish there was an alternative, a better one. it would help the industry.​ especially when Cintiq companion is expensive compared to SP3. But it's nice to see SP3 being used for this stuff. especially when DC Comics are the ones I like.

This is just advertisement, actually he must be using Mac or ipad

We need marvel unlimited for Windows. Can't download comics for offline use with the browser

He did these 'Surface Cafe' things in Toronto last year around the time the SP3 launched. Really cool. Wonder what his connection to MS is.

Btw, there was Surface pro 3 in Daredevil (Netflix).

It shows how photoshop works bad because adobe being one of the worst companies that exist.

Only possible with Windows 8.1 ;)

Loved his work for a long time so I get an extra geeky thrill knowing he uses an SP3 too! ^_^