Latest Surface Pro 4 ad pokes fun at the MacBook and its lack of pen support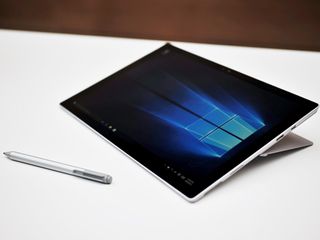 Microsoft continues to take humorous jabs at Apple's MacBooks in its latest TV commercial for the Surface Pro 4. The ad shows how the 2-in-1 tablet supports pens on its display while the MacBook does not.
The new 30-second ad, as posted on YouTube also points out the tablet can detach from its optional Type Cover, which again the MacBook is unable to do. It's not quite as funny as the earlier "cat wearing a hat" ad but it does get its point across that Microsoft sees the Surface Pro 4 as more of a laptop than a tablet with an optional keyboard.
What do you think of these new Surface Pro 4 ads and their humorous slams at the MacBook? Let us know your thoughts in the comments!
Get the Windows Central Newsletter
All the latest news, reviews, and guides for Windows and Xbox diehards.
Assuming Surface phone is coming and Microsoft will advertise it, I wonder how they'll advertise against the iPhone...

Against Iphone 7, "We have a jack, do you?"

or rather "We care about our customers...does Apple do the same?"

But the thing is about Iphone not apple. Nothing much difference when compared to Microsoft CARING nature towards windows phone

Ummm....given to what's been happening on some areas on MS especially on mobile, that would just backfire. Its like Apple saying "We care about PC gamers".

Microsoft cares about its customers? Hahahahahahaha!

They care about their customer???? Not the mobile ones that's for godddddammmm sure

Agreed, but God has nothing to do with Microsoft treatment of us; God truly loves us!

Lol, yeah because we have all seen how Microsoft cares about Windows Phone customers and how they screwed everyone over with the promise to "upgrade all devices running 8.1 to W10".

this! iPhone would say "well at least our mobile customers with phones from the past 3 years can use our updated software and not worry bout APPs discontinuing content on the platform".

It was only a matter of time before someone said this :P

This is pure gold... errr umm rose gold!

​WTF!!!...Wow the mythologic I-dildo !!! ...

AC/DC's "The Jack" playing in the background. Swoon.

But seriously what are people supposed to do with that highend headphone, and even worse they bought Beats headphones about 2 years ago?!

They actually make noise? I thought the beats headphones were only for looks??

They could always use the free dongle given with every iPhone 7.

Plug them into the effing adapter that comes with the phone!

the effing adapter that no doubt breaks as easily as their other effing accessories so one more effing thing to buy! congrats Apple.

Hopefully the Surface phone is a change in the smartphone paradigm where they won't actually make any sort of association to they iPhone. The iPhone 7 is proof that smartphones have plateaued.
Also, remember that Microsoft isn't going to be competing with iPhones and Android in the consumer space. They are focusing on enterprise. It if up to OEM to carry on against iPhone and Android. With a proper OS and inspiration like the Surface line. Good things should be coming.

You must be living on a pink Cloud.

And here comes the pessimists

@Karan_jha, this particular comment tree is talking about the mobile space. With iOS being at 17% and Windows mobile being at 1%, you can't blame people for having a negative view. In fact, I'd say it's a realistic view. Also, people here are comparing the iPhone to a ghost phone (nothing confirmed yet for Surface phone)

True. More honest and more realistic opinions is what we need now

Actually my comment wasn't against haters. I just described Gerard

IMO786 please you have your numbers wrong....Winmo has .3% market share at this point time. I love the comparisons to the surface phone. I can compare the iphone x pro to the surface phone just as well. Pencil support, 80mp camera by hasselblad, 20k screen and a 7 year battery life before charging is needed it will have 20 gb ram and 50 tb storage built in.

I very much doubt there'll be any competition on the enterprise market without being competitive on the consumer market. In 99.99% of use cases, the two will be closely interlinked, if not identical... The mere fact that the choice of business handset will reflect what the employees are already used to and understand says it all.

I'm wondering where the percentage for the use cases are coming from, but aside from that with many fortune 500 companies needing to upgrade to Windows 10 within the next 4 years, why wouldn't they start the process bite with Windows 10 mobile?

your logic doesnt male any sense at all.Just coz companies have t upgrade to Win10, why shd they consider W10m?

Because in the world of fortune 500 companies, you need to make things as simple as possible. If you know you are going to switch to a whole new OS on all your PC'S you'd want to start getting your users used to Windows 10. Why do you think companies like HP are already putting out Windows 10 mobile phones directed to enterprise?

Windows 10 mobile is simpler to use than both iOS and Android for corporate and consumers, it just had been given a fair chance by cell carriers, tech sites, etc. American consists of a bunch of followers, monkey see monkey do people. They buy iPhones because others have it and it's the hip thing, the same for galaxies. They are easily programmed, that's why cellular same people have no problem selling them whatever phone they push on them.

And much easier (and cheaper) managed by IT as they are managing only 1 OS. Trust me, I manage a Windows 7 school network and 32 iPads... Really wished they were Surface devices...

Continuum, vm apps etc. Do you get a personal phone solely based on those functions??

TV+XBox Controller+SNES Emulator and Continuum.

That's what we all said about the 940/950. Every next phone that comes out is the savior.....

Well I can tell you that my 950 is a great phone and I love it! Are you not happy with your 950? And a lot of this rests on cell carriers failure to make real attempts to push Windows Phones as well as Microsoft following their lead.

+imo786 I don't think anyone said the 950 was going to be the savior and bring new customers... Since we all knew from the very start it was a phone purely aimed at the current platform fans/enthusiasts and not aimed to get now customers

Apparently MS Garbage Team is already removing phones from Microsoft stores. Surface Phone should come in a few weeks or not at all.

Although my local MS store is filled with Windows Phones if they are cleaning house then I would think an introduction is coming soon.

They can and might advertise it but not against any iPhone or android. wont be after the same market. It still wont have the apps

Advertisements should be about your devices highlighting it's functionality and strong points. This is why Apple advertisements are successful; not putting your device against something else's. Samsung can put their devices against competition because they do it with class not childish like the Microsoft commercials.

I hope not like a kid like these commercial do. If they were going to revert back to Scroogled, then why did the supposedly fire the person behind those ads? This is no different.

iPhone... The "jack off" of the smartphone world.


Windows 10 mobile, the waste running down the leg.

It's great to see a new Microsoft willing to take learn from past mistakes and his now hitting back the same companies that once made fun of Windows. Awesome!!!

Yeah, like five year olds do. Really awesome.

My sentiments exactly; I think it's rather pathetic...

Yeah, this ad just makes me cringe.

Just like everything from Microsoft, 5 years too late! right LBP 775

From what I have seen its a very common advertising technique in the US comapred to other countries. People try that sort of thing in the UK but apparently we dont like that sort of advert. Diffrent countries have diffrent advertising styles and diffrent ideas of what makes a good advert. Thats what makes the world a wonderfull place. Just becasue you dont like it does not mean its not a good advert. People complain that they dont advertise enough and when they do they complain.. I get the impression people just like to complain.

It's all in the sales numbers. What more proof do you want to have? 'I am strong and your weak' doesn't work in Europe. But hey, who is Europe right?

Totally agree, though I'm from the UK and I loved this advert, it was just lighthearted fun and I'd appreciate more adverts from MS like that. It wouldn't matter if the Surface Pro 4 had 1000 hours battery life, 8TB SSD, desktop grade graphics, a 50 core processor and a 20k screen and only cost £100, an advert that focuses on specs against an Apple product is unlikely to attract any attention. The fact that they took a key feature and compared it to a Mac Book that doesn't have that feature while making a catchy and funny song out of it is a really great strategy.

You people whine in this forum, but won't post your thoughts directly to Satya, Bill Gates, Terry Myerson twitter pages. I post here and tweet their pages. Follow me @OMG55 on twitter and read the post I've sent then and join in!

These ads speak the truth about apple products

Even though I agree that the Mac Book feels outdated I do not think Microsoft has to do this lame attacking of competitor's products. This Commercial could work fantastic without the MacBook parts and maybe more highlights on the Surface's strengths. Let the product speak for itself, don't do those lame attacks.

Not quite, I had some say the Iphone has the worlds best camera. She believed what she was saying until I showed her the 1020 specs. The same might be true for computers, a lot of people think any apple product are untouchable. I get these ads. If Microsoft surfaces the surface alone, it doesn't and won't matter

What's funny is my year old Lumia 950XL has a screen with a higher resolution and higher pixel density. has a 20MP camera and has IRIS scanning - not to mention Continuum (which I suspect will be developed further with the Surface Phone). It also has a removable battery and you can add a 200GB SD card. It has USB-C (for fast charging - going from 0-50% in 30 mins), wireless charging and a headphone jack. The iPhone 7S has none of these but costs more than twice as much - SIM free.

I like your way of describing.

And a appgap. Like having a Rolls-Royce driving in the Jungle of Columbia.

The iPhone 7 has the best chip on the planet while the 810 is an overheating pile of... Yeah. At least mine has been heating up like crazy since .105.

My 950 isn't over heating and even if it was, who fault is it; MS or the chip maker? Who's fault is it that batteries are exploding in the Galaxy s7; Samsung or the battery manufacturer?

Well, since it wasn't overheating in .103 but is in .105 I'm going to say MS's fault. Battery drains like crazy during those times too.

What's the definition of previews software? Opt out of the preview program and use .103 until the official release without bugs is released for .105. It's that simple!

Of course it's going to have a newer chip. The thing was just announced. You're comparing to a year old phone.

It doesn't matter even the old a9 chip is still the fastest in the phone industry. Qualcomm 821 can't even compete with the year old chip.

Sounds like you should get yourself an iPhone.

Sounds like he should. He would be much happier!

You should do a mock up you tube commercial for MS with what you just described. Maybe the people at MS will learn something about true advertising.

I to carry a 950 and love it. All you said above is true except the phone or features were never advertised. Our society consists of young and older users alike but cell carriers don't push Windows Phones to any segment at all, they only push iPhone and Android. I don't thing the so thing applies except with the younger segment.

Iris scanning is not an advantage. Biometrics authentication is easy to trick. The push for it is ill-advised.

Yeah, this is just low even though the industry do similar things time to time. Even me personally who use many things from MS, I don't even find this remotely funny and felt bit cringey. It just reminds me of old ads about Scroogle, which is a lame attacks to Google that it seems only to entertain already biased fanboys rather than actually help people how the product helps them on day-to-day lives. They could've just show how Surface devices better and why is it better without needing a name calling. If MS believes its product are superior, then there is no need to call how inferior the competitor is, let the product speak itself. Being subtle should be enough and a limit. Another thing, the execution of this ad isn't funny and just feels cringey, at least for me. Maybe they're are people may like this kind of ad. The old Mac vs PC was at least being funny even though at that time I wasn't even a Mac user nor even thinking about getting Mac for my next purchase. It was a low jab for Apple of course and I'm glad that it did stop.

Agreed. They are not even attacking the right hardware. Surface is more in competition with ipad pro. I wish apple attacked the surface tablet mode in regards to touch friendly apps.

Until the ipad pro has OSX installed, the macbook will be a good comparison to the surface line.

I think Apple don't even care what Microsoft has to say. They sell phones, Microsoft can't. So arrogant, those losers at Microsoft. Just like little childeren calling names. Big.... Booooo.

Booooo - last time I heard something like that was from a little child. So you claim that Microsoft is like a child for calling names, and here you are calling Microsoft names - loser. You are acting exactly like that which you condemn. What does that say about you?

I am not a business trying to sell stuff. This is a commercial .... but ... never mind ....

The sales number speak for themself. But you don't want to know.

Haha, this article, and advert, has nothing to do with Win10m (which I'm assuming you're attempting to use as your argument). And the Surface line has had a LOT of sales. So..... Please expand on how "the sales speak for themselves" on the Surface products?

MS won. IPhone is dead. https://www.engadget.com/2010/09/10/microsoft-celebrates-windows-phone-7...

Do you know what? I'm really ******* tired of you trolling every Microsoft article on here. Why are you not being banned? Do you know what happens to trolls eventually? Watch the movie Jay and Silent Bob Strike Back. At the end. That is all.

You do realise this was not an advert for a phone?? You might have missed the subtle clues.

I've noticed you are always against what Microsoft does.To you nothing will make a difference even though Microsoft excel,to you it won't mean a thing.It's a healthy competition and besides Surface products are much more better.You seem like a mean person judging by your words.Sometimes it's not about picking sides it's about how innovative one can be,and this time Microsoft did it better

Do you not remember the, "hello I'm a PC" ad??

So much hate. Makes me wonder why you've bothered yourself this far down the comments section

Well let's see, Surfaces run Windows 10 where MS has had over 85% market over 3 decades! Now in mobile Android came after iOS and guess who has over 85% market share for the last 5 years or so! So those losers at Apple used the same marketing in the PCs vs Macs campaing, yet Apple did not make much of a difference in Marketshare! So arrogants back then, right?

Yeah gerard, totally. The people at apple just see these commercails and laugh. We did that 5 years ago, and it worked. Now MS is doing it and Crickets! just like everything microsoft.

Awkward. Very cringeworthy.

Really immature. A Surface speaks for itself, this is not needed.

I think this is needed for people who think only Apple products are better.

And those people are stupid right, and you are not? Perhaps they allready know Surface is better and still don't want a Surface?

Ahaha forcing words into his mouth now. No-one called apple fans stupid. But a lot of people do seem to see an apple logo and jump at it saying "its apple, its bound to be great" (believe me, I've seen multiple people say things on similar lines to that when asked why they bought the product. Alongside "because my friend got it".) Sure, every platform has them types of people, but you seem to have taken offence and read words that weren't there, only when the *glorious perfection* called: apple was slated. Hmm

I don't like replying to trolls like you. But still I want to show everyone how noob you are!

I'm a proud Surface Book owner. People should decide for themselves, after all Windows is the widely used OS in the world by more than 80% and Surface line proves to be the top ground for providing best of both software and hardware. Anybody should know this, Apple fan boys do get jealous of the msft products, sometimes. But this doesn't mean msft should act immature and make fun out of defenseless Apple.

Don't understand why people are upset about the childishness of all this. Along with the jabs at Sony. MS has been a victim of this kind of stuff for years. And it's worked every time. If you ask me, it's about time MS started getting their own back! They've been far too professional over the years, which is great for enterprise, but really alienates from the general public.

A cheap ad for a classy gadget. And it's not even funny. What a shame.

I wish MS would just focus on themselves.

Yeah. We know the Mac doesn't do that. They need to focus on their own merits. The Surface Pros are incredibly clever machines. If Apple made that, the world would constantly refer to it as a game changer. But...well you know the rest.

Well but have to say Macbook has better build quality can Surface, and they are more repairable.

One advantage for MacBook is also that it ships with keyboard. Surface out of the box is useless.

Just as easy to say the MacBook doesn't have a touch screen. So that renders it useless for me out of the box.

Well depends on the use case. For productivity computer with good keyboard and track pad usually is superior against computer having only touch screen. I have Surface Pro myself and for me as a pure tablet it's of not much use.

Of course and I have the pro 3 with keyboard and it actually replaced my tablet and desktop. Happy I have it and never looked back.

same here. when I had my surface 3s, they were pitiful as a tablet device and so so as a laptop replacement becuase the keyboard and trackpad are terrible flexy clicky things. Like a 1980s trs80 keyboard. The only place it came into its own was on the dock where you had a real keyboard, mouse and monitor. The reason I liked them "on windows 8" was for traveling. but now, with my macbook 12" which has a killer screen, touchpad and keyboard, and has a solid OS unlike windows 10, things are MUCH MUCH better. for times I want to use a tablet, I use a tablet...ipad pro. Much better as a tablet than the suface. the surface is like many products that try to be more than one thing and fail at all of them.

oh please get over yourself and move to iMore... The SP3 also has a killer screen as does the SP4. The SP4 keyboard is awesome and so is the trackpad on it. So is the fingerprintscanner on it (where's that on your Macbook???) The iPad Pro is trying to be what the Surface Pro actually is : a productivity machine. Apple trying to copycat Microsoft and failing miserably there. You need 2 devices... Well I can do everything on just 1.

I would rather 2 devices if one works like the surface. AFTER OWNING ONE, its exactly as I said, flexy, clicky keyboard, sticky trackpad, the "fuzz" on the bottom of the keyboard cover wears out and looks terrible. The os is nether good at being a notebook or good at being a tablet. its a flaky OS is in overpriced hardware. The screen is much better on my macbook than it was on my surface. AND get over YOURSELF, the surface is not some magical device. its a comprimise device.

"How many people want to kick some ass! I do! I do!"

Get the Surface Pro...the keyboard detaches from the screeeeeennnnn....Get the Surface Pro.....I like em' bluuee!!! Ha, nice. Some of us should realize that ads are meant to advertise your product and this ad is a success at that. Also, there are millions of Mac users and potential Mac users that do not know the advantages that Microsoft showed in this ad simply because they have been considering and looking into getting a Mac and not a Surface. Advertising is to get people to consider your products while displaying any advantages or differentiating factor that "should" make the viewer consider your product. Some people will find the jingle and the fact that the man just appears in random places funny and memorable which is also the goal. Get the Surface Pro...the keyboard detaches from the screeeeeennnnn....Get the Surface Pro.....I like em' bluuee!!! Blue is my favorite color and I want a powerful device that I can write on the screen and detach the keyboard....I can't do that with a Mac, I'm going to the the Surface Pro.

And the device will replace the Mac and iPad. One device to rule them all. Until Surface Phone.

but unfortunately one device does not rule them all......its fails at being a laptop, it fails at being a tablet, it runs w10.....another minus. it would be much better at everything if it were still using windows 8. One device thats mediocre at being all three of what its trying to be.

What did I just watch? Microsoft needs to fire their advertising team. They need a combination of cool and simple ads for their products; something like the original Surface release video supplemented with some videos showing people actually using them next to someone with a MacBook and then using one of the Surface's exclusive features to highlight why it's better.

I have a friend who thinks Apple is the greatest. He uses a Macbook Pro and iPhone (of course!) and he also thinks Burger King has the best burgers....so, yeah.

I partly agree with your friend.....but not on the burger king view.

I wish they made less ridiculous commercials. It this one is better than the one that's on Hulu all the time...

Good products sell themselfs. Thats why we in Europe don't buy american cars. And that's why Americans buy foreign cars. No need for ads. Just bought a Anker Soundcore in China. Because it is cheaper than in Europe or even in my own country. No need for an ad. This is internet, The US and China are my nextdoor neighbours.

Are you saying American cars are $***? What do European cars offer over their American counterparts? Name prestige? Are your soo "superior" built European cars impervious to breakdowns? How about the steel they are made from? Is it a new metal only you oh soo superior Europeans' have? How about the engines? What powers them some sort of fusion technology that us Americans' are too stupid to comprehend? Remember something..you are typing this on the internet that was invented by who?.....DRUM ROLL....AMERICANS! DING!

I'm an American and I'm saying they're crap. I've had plenty of American cars over the years - Chevy, Ford, GM, etc - and they were basically junk. They've gotten better but they had to because they couldn't get any worse. You might not have been around in the 70's and 80's but American cars were the at the bottom of the heap - absolute junk. An AMC Pacer? Ford Pinto? Chevy K car? That's when Honda, Toyota, Datsun (Nissan) and Subaru came in strong with well built, reliable, affordable cars and the U.S. manufacturers have lost that market share... forever. That's not to mention the appeal of Lexus, Infiniti, VW, Volvo, BMW, Audi, Mercedes and the rest. Sure, there are Americans who will buy only American cars but they're few and getting fewer in between. American cars have no cachet whatsoever. And those who are buying them are mostly buying SUV and pick-ups. The sedan market is basically kaput.

Ever tried working on a Mercedes-Benz or a BMW? I doubt it. I'll stick with my good old GM where I can get a factory service manual for it for about $200 and do everything myself with minimal need for special tools or computers to plug in. EDIT: Also can you explain how the Buick V6 engine which was designed in the early 60's was on Wards Best Engine list more than any other engine and was the first gasoline engine in the world to attain SULEV emmissions standards? Yeah that really shows that American cars are junk.

Joe, I have a mercedes GLK and audi A4 in my driveway now. BOTH are MILES better than any of their american competition. I owned a cadillac CTS V a few years back and it was a pile. All the switch gear was the same that was in a cavalier. American cars are JUNK.

I wonder how many people actually use the pen. I never do.. hate carrying around. I am sure many people lose it, too.

You mean Internet Connection Wizard, or whatever it's called, didn't fix the problem? /s

I find it humorous how some feel that this ad from Microsoft is tasteless yet do we remember Tim Cook calling the surface book "deluded"? How about the Mac vs PC ads of the mid to late 2000s from Apple? Just look up Mac versus PC on YouTube and the were several Apple made. So before we claim Microsoft has poor taste, don't forget how others have dragged them into the mud first.

The point is; try to make a commercial no one finds tasteless. We in Europe can see this ad also and we don't like it. Now, why would we buy a product if we don't like the compagnie that makes these kind of ads? This isn't helping sales in Europe.

True that! When WP8 came out, MS had good ads.

Yeah because the brains at Nokia were guiding Microsoft along into the success that Nokia Lumia was until Microsoft pissed it all away.

HE never said DELUDED, he said DILUTED. Two different words with two different meanings. The surface is a diluted pc/tablet/laptop. he is 100% correct.

Hmmm, advertising, what a novel idea. Maybe Microsoft could try some of that with windows phone?!

I'm sure I will be more productive with a Mac. Not because I'm a fanboy, but let's see the battery life between those two. Mac can holds up to 9-12 hours while Windows in avarage of 4-7 hours. And let's see from the game side. You can game on almost Windows 10 laptop these days with high resolution and performance. But Macs would be a nightmare with lags and glitches, LOL. Well that's why people who own a Mac is more productive because they rarely play games. if I own a surface, I'm not sure I will be using the pen either. But if they give me for free, I'll take it anyway :D

... Windows isn't a computer. If you worry about battery life, there're plenty of PC's that last as long as your Mac, even longer in fact...

At this point it's just bullying. Keep at it, MS.

Seriously, I'm so glad that advertisement like this is forbidden in the country where I live. :)

what sucks is that you live in a country that forces you to do things a certian way, I think smear commercials are rediculous, however, You should be FREE to do what ever you want when it comes to free speech. I did not like the apple commercials when they did it 5 years ago, and I do not like them now. Same for chev's commercials of the new trucks. DUMB. throw a tool box into a modified (thinned) F150 pan...look holes! Good products sell themselves...No need for attack commericals. Actually MS has been doing this for awhile now with their cortana vs. Siri ads as well.

Who gives about a pen if the Surface Pro 4 can't sleep or wake up from sleep. Or fast boot doesn't work. Or after Anniversary Update (and a few reinstalls) it can't even restart or shut down without freezing. First they should get the basics and then add some extra features like pen. Surface Pro, Surface Pro 2 and Surface Pro 3 were awesome. And then came Nadella and his Windows 10. And nothing works anymore. No wonder Apple sells record amounts of their MacBooks.

Exactly. Microsoft needs to get their own house (and software) in order. Want to know what helped killed Lumia? W10M's buggy, not finished, half-assed OS.

Completely agree. The original Surface Pro was the best device I ever bought, even though now Microsoft has abondoned it with no new drivers in months (just look at the latest Intel generic driver versions compared to ones pushed by MS on the Surface), thanks Nadella. Since Nadella it has been one disaster after another where Microsoft turned fans and defenders into people that don't give a **** about Microsoft or their crap anymore. WP is dead. The W10m OS is still a buggy mess with half the stuff barely working. Windows 10 is very far from a full working unified OS with UI inconsistencies and bugs and incompatibilities seemingly multiplying with every damn update. It's just hard to watch this whole thing going down in flames and Microsoft board and shareholders sitting on their hands waiting for the crash.

Although this commercial seems stupidly corny, these side by side comparisons, where you highlight your opposition's weaknesses, unfortunately work. The current mud slinging brawl in the 2016 U.S. presidential campaign is a shining (and sad) example. I don't own the surface, but if I had to pick between it and MBA or MB, I'd go with the Surface, despite all of my non-mobile devices at home being from Apple.

Yeah, look at all those apps Surface doesn't have - which is a big deal with the W10 eco-system is all about universal apps. Oops.

Well, what about using one of the billions of regular apps that it can run?

I have seen better ads in my life.

Nothing about that commercial would make me buy a Surface tablet. Its just stupid and annoying treating people like thay are ******* morons. All this does is tell me Microsoft hired some idiots that make decisions on what adds to approve.

I'm an Apple fan. I have a 5k iMac, iPad pro and iPhone 6+. I love them. At the same time I have a Dell XMS 8900. I love it too. I will say the Mac is more reliable, but in the end they both perform a given task equally well. That said, I just bought a Surface Pro 4. I think I might need a technology intervention. I haven't had a lot of time with it, but so far I like it. I don't know if the commercial will sell more Surfaces, but I thought it was entertaining.

Typical Microsoft John20212, treat their customers, future customers like morons. Exactly....showing this they hit the nail on the head!