Latest update for Windows 10 9879 preview prepares it for the next 'awesome' build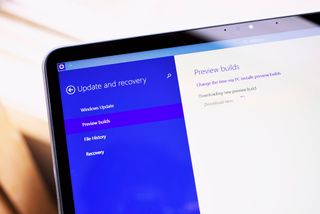 Microsoft is still offering Windows Insider members new automatic updates to the current 9879 Windows 10 preview build. Today, they should see the latest update to the OS, with this one preparing Windows 10 for the next major "awesome" build release.
As posted by Microsoft's Gabriel Aul on his Twitter account today, "Hi #WindowsInsiders - One more WU update today. This one preps your system to take the next build from FBL_AWESOME branch." As he revealed in a blog post on Wednesday, the "FBL_AWESOME" build will be the next major update to the Windows 10 preview. It should add a number of new features to the OS, and its due for release sometime in early 2015.
A leaked 9901 build made its way onto the Internet a few days ago, but we would not install it on your PC, as it will prevent Windows 10 from getting any future automatic updates from Microsoft.
Source: Gabriel Aul (Twitter)
Get the Windows Central Newsletter
All the latest news, reviews, and guides for Windows and Xbox diehards.
Isnt fbl awesome the name of the team working on windows 10??

And what bout windows phone???
Where there will be FABULOUS team for Windows phone??

Balmer like to use the word "DELIGHTFUL" when describing Windows Phone. Smh

We should get a second big update via PFD program till the end of year.

Awesome. I guess I'll revert back to Build 9879 from 9901.

Hopefully this means desktop Cortana alpha

Yaaay! Microsoft, you have my support! The world is looking forward to Windows 10! Gogogo!

A small group of people are laying back Microsoft windows phone, people with a bad test, old fashioned, people who ran from Android and they can't even use windows, windows phone keep the transitions and designs but needs to get some colors!,some beautiful animations,some people are even fine with black and white? Microsoft needs to go the way other OSes are moving and stop listening to a bunch old fashioned people.

Something like Android where half of apps are design disaster and a crime against good taste?

Are you trying to say that our apps look better than android apps? Aren't you one of the people I have been talking about? Jesus Christ!!!

All this time I was under the impression Windows Phone was the better designed OS compared to Windows8...and I've been right all along.

im liking so much the way Nadella is making decisions for Microsoft. offcourse they are a company more for corporates but windows 10 seems much promising. the next gen gaming will make Microsoft go big with windows and windows phones. imagine when windows 10 comes devs will develop the games which droid and ios will hardly or never see. with direct x12 Microsoft will capture the mobile gaming world too and then giving people the opportunity to buy windows phone bcoz it wil sync well with our pc games and xbox live support.

I think you may have a word in the last paragraph

I'm sorry, but there's no universe where I pair "Windows 10" and "awesome" in the same statement.

I'm sorry, but Windows 10 PfD is already awesome. Try it.

Everything is Awesome, when .......

Wow, some people are just sooo insanely negative they dump on W10 before its even finished, maybe they are Apple employees.

Update not needed. So what's going on?

Smallest update I have gotten if this was the update they mentioned. Was only like 76kb, lol.

I updated using my HTC 8x on AT&T as a hotspot. I'm ready for the next update in January WOOHOO !!!!!