The latest Windows 10 TV ads show children learning about the world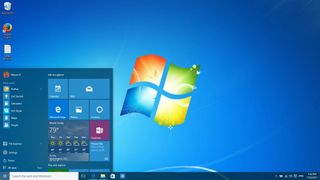 Microsoft started promoting Windows 10 about two months ago with a series of TV commercials that used cute babies to show how the operating system should be easier to use for them compared to older versions of Windows. Now a new series of TV ads have launched that no longer show cute babies. Instead, they show how school children could use Windows 10 to learn about the world and maybe do some great things in the future.
The new ads, which like the previous ones are narrated by actor Ethan Hawke, are all about giving kids the tools they need, via Windows 10, to discover and expand their knowledge and perhaps, one day, change the world with their own efforts.
Image 1 of 4
What do you think about these latest Windows 10 TV commercials? Let us know in the comments.
Source: Windows (YouTube)
Windows Central Newsletter
Get the best of Windows Central in your inbox, every day!
I'm using the XP wallpaper.

We need a new, super HD version of the XP wallpaper

Better than the stupid "hero" wallpaper of windows 10!

New that would be cool sight.

Title not found, getting this alot lately.

The app is old but I was still able to each the video lol

Ads play a vital role in taking the product to the customers. Lack of promotion is one of the main reason behind the fact of less windows phone users.

Hopefully Windows 10 and Windows mobile 10 will change that. It'd be nice if they started putting out some ads that show the integration of the two. With the millions of windows 10 users already, that's potential for a bunch of new phone customers.

They can't do this yet because mobile isn't available to the public. Hopefully they will when mobile is available.

Sure they can, they put out windows 10 ads while it was still in preview. Though where we have no clue of actual release date, it'd probably be wise of them to wait and do ads no more than a month from release.

I love these commercials. Adorable and get you right in the feels

I can't wait to see what my kids become one day. Good ad. Posted via the Windows Central App for Android

Okay I'm not whining but why are the video links always broken and when will you update the WC App to fix these issues.

the how to draw a hand part was awesome, seriously, i found a use for me of that great funtion :D i haven't thought of that.

I thought that was a really bad bit. 'show me how to draw a hand' and then you see a picture of a hand. Could the kid not have, I dunno, LOOKED AT HIS OWN HAND!!??

As usual, nice touchy feely commercial, but does not make me want to buy the product. That "baby one" was horrible. Why would I get windows 10 or a PC now, when the baby would not be anywhere near it until years later?