Latest Windows 11 Insider build tests File Explorer promos for Microsoft products [Updated]
If you don't like it, be sure to speak up.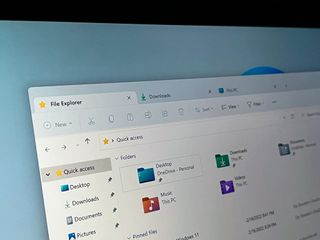 (Image credit: Windows Central)
Update March 15, 2022, at 2:20 PM ET: Microsoft's Brandon LeBlanc told The Register that the promo banner in question has been turned off and wasn't meant to be externally published.
What you need to know
As is the whole point of the Insider program, Microsoft is currently testing out a new inclusion within it.
Windows 11 Insiders may see a small self-promotion banner inside of File Explorer that points to various Microsoft products.
In our independent test, we could not see this banner, implying the inclusion is being A/B tested.
If you're not a fan of self-promotion and can't stand it in your Windows experience, you may want to sit down for what comes next: There's been a sighting of self-promo in File Explorer.
As spotted by a Windows Insider MVP on Twitter, some Windows 11 Insiders may see a banner inside File Explorer raising awareness about Microsoft Editor. The exact text you may see is: "Write with confidence across documents, email, and the web with advanced writing suggestions from Microsoft Editor."
We could not see the new File Explorer banner ourselves, which implies this little addition is being A/B tested and that not everyone will see it in their build. Still, if you do see it and aren't happy with the idea of various Microsoft services and products being promoted within your Microsoft services and products, get on the Insider feedback app and voice your thoughts. That's what these test builds are largely about, after all: Gauging community reactions and pivoting where appropriate.
There's no guarantee the promo banner will ever leave the testing phase, or that feedback against it will have any impact. It's a world of unknowns. The only certainty is that the vocal population on Twitter is not happy (just see the replies to the above tweet for evidence of that claim). One tweeter mentioned they saw a promotion for PowerPoint templates.
For other news relating to File Explorer, check out our hands-on with Windows 11 build 22572.
Robert Carnevale is the News Editor for Windows Central. He's a big fan of Kinect (it lives on in his heart), Sonic the Hedgehog, and the legendary intersection of those two titans, Sonic Free Riders. He is the author of Cold War 2395. Have a useful tip? Send it to robert.carnevale@futurenet.com.
I would jump ship so fast if this hit retail.

Yea, this is pretty disgusting.

Effing garbage idea. I hate it in every way possible. Stop it now MS!

Yep, that's it. I'm not going to get another PC ever again. There's no reason to stay at all. macOS is just a better OS, in a much better ecosystem, with way more powerful chips and NO ADS EVERYWHERE

I don't understand being angry at MS contemplating or testing anything. If they actually release something you don't like, then sure, getting angry or dumping them makes sense, but to get angry at their asking for feedback on an idea seems counter productive. The alternative is for them not to ask... like Apple doesn't. Isn't that clearly and objectively worse?

For some people, being angry is the only way they can feel important.

It is just a suggestion to use another of their products which is free. When editor came available they did this in Edge and the Office apps. Not seeing why folks are so angry about this.

Slippery slope concept. Might be a little different if MS Editor were actually useful in File Explorer, but just a little. This indicates that the ability to inject ads into File Explorer exists. This uses a free MS product as a test, but it clearly implies the ability to inject ads for anything. Imagine being in File Explorer and searching for pictures of your dog when a banner pops up for Amazon pet accessories. There is a difference between ads supporting the content I am consuming for free in a web browser, and ads injected into productivity applications that I have paid for and am using to produce my own content.

This was not an ad for pet accessories. I have seen similar in Outlook even for this same Editor feature. They do it to announce new features that may not surface themselves in an obvious fashion. If it was a commercial ad I would not like it at all, but for something that is no cost and makes my life easier I have no problem.

Slippery slope is a fallacy, not a foundation for an argument lol.

I had that in current build (non insider). I was fast to put my comment on feedback hub.

I don't believe that you had an ad in File Explorer in a release build. That would have been big news. Maybe it was someplace else? In any case, thanks for providing feedback in the hub. That's one of the best ways (if not the best way) to help ensure MS remains customer-focused.

Promos should go in the notification tray.

That would be pathetic. Not only is an ad there wrong, they made it look like an error/alert (triangle with exclamation mark) to trick people to look and act on it. It's bad enough they pushed their biased News platform all over the place and announced they are soon going to trick users by showing 'news' posts as individual widgets mixed in with your normal widgets. If you want to promote Microsoft Editor for example, promote that within the relevant apps when that feature gets added to said app (just like OneNote UWP and major Edge releases do)! The only other valid place to push it is in the Notification feed. Anywhere else is unnecessary and unproductive, which goes against everything they promote.

Leave the "extras available to you" in the menu(s) where they belong and have always been.

One Commander is my new go to.

I would not want this, but I respect that MS is testing it in the Insider program. I'd even wonder if they have no intention of bringing it to general release and are just trying to promote the Editor to a segment of the insiders (likely many of the Windows influencers are also Insiders) to raise awareness about it. This has certainly got it into the news (albeit in a pretty negative way).
Windows Central Newsletter
Thank you for signing up to Windows Central. You will receive a verification email shortly.
There was a problem. Please refresh the page and try again.