Leaked image confirms removable 3,340mAh battery in the Lumia 950 XL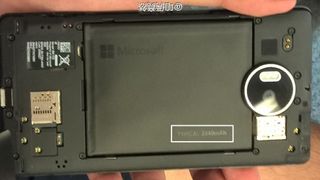 A new image of the Lumia 950 XL has leaked out ahead of Microsoft's event tomorrow in New York. The new photo shows off what appears to be the upcoming smartphone's battery, a removable 3,340mAh power plant.
The leak comes via Steve Hemmerstoffer, which will surely please those who are eagerly awaiting a new Lumia smartphone with a removable battery. Said feature will enable those who find themselves away from power outlets for some time to replace the battery once it's empty. There's also a MicroSD slot for all your expansion requirements.
We'll be attending Microsoft's event tomorrow where we should learn more about what the company has to announce – so do remain tuned to our feeds.
Source: Twitter; thanks to everyone who tipped us!
Get the Windows Central Newsletter
All the latest news, reviews, and guides for Windows and Xbox diehards.
Rich Edmonds was formerly a Senior Editor of PC hardware at Windows Central, covering everything related to PC components and NAS. He's been involved in technology for more than a decade and knows a thing or two about the magic inside a PC chassis. You can follow him on Twitter at @RichEdmonds.
Hm..
Natural mineral water

Fav artists + Eminem + Slaughterhouse + Kendrick with Schoolboy q

Ice Cube, LL Cool J & Fabolous. Jay-Z, Nas, Outkast, Kendrick & Snoop got their moments too

Also kid cudi for the high days

Kendrick poops all over that track

No one smokes Haze anymore,smh

Still lighting purple and lemon

And definitely NO Beasters!! NorCal only

Sprekers - hard root beer

In Australia "root" in slang for "f*ck" e.g. Did you root her? or Do you wanna root? So with that in mind "Hard root beer" sounds very dirty ;)

There was also a rumor about google apps coming to W10M

There was also some rumors about rumors

But, they were only rumours!

Yeah, I read that too. I hope it's true.

Do you mean Project Astoria?

No, Google releasing official apps on Windows 10. It's just a rumor but I seriously hope they surprise us tomorrow!

Tom Warren tweeted about it last night

http://www.phonearena.com/news/Google-may-prep-YouTube-Hangouts-and-othe...

the rumors started because microsoft and google settled the old lawsuit that started with Motorola.

Astoria = Yes!!!;
Google Apps = No thanks!!!

Google apps will make WM more attractive to common consumers. I see @gmail.com addresses everywhere. And while 3rd party apps are good, having official apps would really help WM.

They just changed their slogan from "Don't be evil" to "Do the right thing".. So now i'm expecting even worse behaviors..
If it is the right thing for them to abandon millions of users after they have become what they are only because of the Microsoft desktop ecosystem..

Screenshot... Or it didn't happen

http://www.phonearena.com/news/Google-may-prep-YouTube-Hangouts-and-othe... see

Can u imagine all google Services apps in Windows 10 Mobile..it would be Great as hell..

Not at all... It's no use to me. And this may harm Microsoft Service Ecosystem

And some lovely Qi charging pins in the upper right hand corner! It's kind of bizarre how the battery is slighlty behind the camera housing.

Yes - just wondering, is the battery shaped or does it fit under the sensor housing for the camera? Anyway, can't wait for tomorrow!

@Poirots Progeny:
The camera module seems to cast a shadow onto the battery. That makes me assume the battery is placed under the camera.

Its for nfc.not qi charging pins

If you say so. But I'm going to choose to believe that in a phone that has Qi wireless charging those are charging pins and not for NFC, instead of listening to a stranger on the internet (until proven otherwise by concrete evidence). Have a good day:D

Qi doesn have charging PINS. uses charging COILS. Which are enclosed in a sleeve, on virtually all phones with the capability. Why would you think wireless charging would need pins???

Because the coils are on the cover that has been removed and many windows phones have pins for Qi to connect a Qi case or cover. Sorry buddy but I think those are the pins for Qi too.

Because the coils have been removed and are on the back shell, at least what I assume. This is the case with the Lumia 830.

My Lumia 810 and 925 had pins for Qi enabled backplate/covers.

Those of us who own and or have seen the backside of a Lumia 830 cover know what he us talking about. If the phones support Qi and will have removable covers, then this is entirely plausible.

Wish there was a successor to the 1520 :( probably won't go below 6"...

Not if you were hoping for a 6" screen... I not happy they stepped 0.3" down, but I'll definitely get one! I'm on a 930 because my 1520 broke and I really miss my big phone

I'm sure I can get used to 5.7", but sucks that we're going the wrong direction...
.....
I was hoping for 6.2"

To me, 6" was a bit big for me, and I have huge hands. I'm looking forward to selecting between 5.2" & 5.7".

Well there are plenty of options below 6", but now there are no options for us who likes 6". Well the only option being to stick with the 1520 or cut off 0.3" and get a 950 XL which I will.

Let's just wait for this alleged surface phone...
....
Hopefully, they'll have more than one size option.

It was niche to begin with. Even Apple has had a hard time making large phones popular. Seems Samsung takes the cake. If Microsoft is going to focus and trim product offerings then removing niche device from line up make sense.

Same here. If not 6" then a bit more would have been better

6.2!?get a tablet Posted via the Windows Central App for Android

Do you think you're the first person to ever make that washed out comment?...
.......
Ok... If MS makes a 6.2" Lumia tablet, with all the functionality of a smartphone, then of damn course we will by it!! Why would we not?.. Duuuuhhhhhhhh.... SMDH

Hi Rod, sorry that you didn't get nearer to 6. Are you planning on getting a Cityman? On another note, I met a guy with a 9inch phone. Unbelievable size, but he swore it was the best device that he has ever had. Personally, it was ridiculous imo.

Who makes a 9" phone? That's bigger than my dell venue 8 pro.

It was truly crazy. I was at a BBQ, and had been discussing phones with a friend. I'd just seen his iphone 6 plus, that was bent. He was moaning like hell about it. I go inside and talk more phones, looking for ones bigger than mine, as I want to see if they are easy to get on with. One chap passed me what I thought was a tablet. It was huge, but I can't recall the brand. I'll try and find a link.....

6+" all the way. Why do they have to be same 5.7 as the Iphone and Galaxy 6 whatever.

Lumia 950 XL is the successor to the 1520. It's only 0.3 inches smaller!!

No. The only successor to the mighty 1520 is another 6" phone.

Agree.. Need at least 6", and a device that screams high end..

I know everyone is different but I sussed out my sister's 640 xl to see how much of a difference losing that 0.3" would make and I found the hold and look to be very similar. Now I'm not saying that you will feel the same way but its worth grabbing a 640xl in store somewhere to get an idea of the difference in screen size. You might find it's not too drastic for yourself either.

So high end = bigger? Do you drive a hummer and wear those polo shirts with the 4" logos?

I won't say the 1520 isn't a great phone but it never screamed high end. Actually it usually screamed crack the giant phone joke on that guy. (usually from jealous iSheep) But if screen size and not specs are your buying determinators thats your choice. Honestly looking at pictures of the 950XL and a 1520 I don't to many physical differences.

You can say that,,, but it really depends on who you ask.... For someone like you, who obviously never had a 1520, it might seem like a worth successor... But, from a current 1520 users perspective they might have expected more.. It's a nice device, but everyone's expectations are different, and people here need to learn to respect that..... We need to promote options, and diversity,, not just giving into whatever MS throws at us, and following the crowd.
.......
That's what made WP special to REAL fans in the first place... It seems a lot of people hear either haven't been here from the beginning, or forgot that... This community used to be really opened minded... Now, it's just full of a bunch of iDroidish minded bullies who can't take others opinions without shitting their pants.... What kind of device do you currently use❔❔

This is how I feel about my 1020 and its camera. Really need to see photos tomorrow before I even think of preordering the 950xl.

I was a 1520 owner. As is my mother and was my brother. 6" is a tad bit unwieldy unless your my mother who lives big fonts. I'm interested to see if the .3 makes enough of a difference. Just need to hold it. I also wonder if it will fit into a pocket or cup holder more easily. It is clear that this is their happy medium and that the 950XL is the successor in spirit to the 1520.

Exactly! I loved my 1520 but every day use was very hard with that size.. 5.2 and 5.7 is more like it Posted via the Windows Central App for Android

That's the exact reason why MS decided to go with 5.7".... And, it's great they have a device that size now...

You're really crying about that. 3" difference huh? High five man. Posted via the Windows Central App for Android

He's just mentioning what he prefers, and wishes what's available.. How is that crying? The only person hear crying is you...
.....
A lot of pathetic, fans here now.

Man chill out. It's literally not that big of difference is what I'm saying. If it was the same size as the 5.2" phone then yeah but it's literally a 0.3" difference. Posted via the Windows Central App for Android

I totally agree with you... I might get this device, but it just doesn't say high end like our current 1520s... Doesn't seem like a incremental enough upgrade....
.....
It's nice, but smaller, and onscreen keys?.... IDK

I thought the XL had off screen buttons, it looked like it did from the pictures but maybe I didn't see it clearly enough, that'll be a real shame if it is on screen.

On screen buttons suck for everyday use.

Here are my thoughts/.02c, I don't believe the 950xl is a worthy successor to the 1520. I cracked my screen a couple of months back and luckily I was able to get another defective 1520 with a decent screen to replace mine. That said, during the process, I contemplated waiting for the flagship, but now I'm glad I didn't. I currently run win 8.1 gdr2 on my 1520 and it's as close to win 10 without making the full switch that you'll get. The 950xl is a nice device don't get me wrong, but "personally", I feel it is a step back from the expected "upgrade language (hear me out) what are the significant advantages of the 950xl over the 1520? Newer win10 build, check (still waiting for it to be worthy of the update, tried it months back on my 1520 and it thoroughly made me hate my phone temporarily), 3gb of Ram check ( that would be a worthy mention if the performance of the 1520 was crappy with 2gb, which it was not), Iris scanner for windows hello (I'm personally not sold yet because I believe this would be gimmicky pending when there is mass adoption) and then continuum (I chuck it up along the same lines as iris scanner). So in essense the newer features of the 950xl sound cool on paper but I believe that would be subjective on if it made it a worthy upgrade over a 1520. Now what I believe would have been worthy inclusions in the 950xl to make it worthy upgrades to the 1520 and 930 alike would be 1. A fingerprint over Iris scanner why? Because the fingerprint scanner can be dual purpose vs just the iris scanner( authentication and for health/heart rate monitoring) 2. I believe the camera is already decent but improve the algorithms accordingly to make it still the one to beat (we'll see tmr after windows event) 3. Capitalize on prior tech that was ground breaking when you came out with the 1520 (improve nfc adoption, usage and versatility, improve the seamless transitions between you wifi ac antennas/radio), 3. Inclusion of an IR scanner would definitely increase the performance and productivity aspect of the phone. I have a L635, and it's an understatement to say I detest them (just as people make the argument that you can hide the buttons, I have a counter argument-if your screen is cracked, good bye to your on screen buttons vs capacitance buttons that would still make your phone somewhat useable (verified personal experience). So to me, the 950xl is a letdown and if the rumors about price hold true, then I can definitely see the writing on the wall for windows mobile. Even though I won't switch to it Because it's still lacking some key features I need like wireless charging, the upcoming BlackBerry slider Priv/Venice looks like something that shows attention to detail and an effort to make a premium product (even though the thought of android on it "grinds my gears to no end")

Priv or 950? November can't come soon enough

Not sure which I'm picking yet, Priv or 950

Priv is still running Crapdroid, and it's camera will suck compared to other flagships

Didn't blackberry adopt Nokia camera technology for newer phones?

What do you mean? Never heard that before. Posted via the Windows Central App for Android

Definitely better than 1520

Genuinely, lol'd! Thanks, needed a good laugh this morning!

Would the battery for the 950XL fit in to a 950 housing? or do we think that the Camera module will restrict this?

5.7 and a 5.2 phone. Probablly not.

Its weird... See the battery and camera...

You won't give them when you know that this device will cost between 800-900$ and 700$ for the regular 950
Damn it!

Where have you seen those prices?

He just converted the claimed Spanish retail prices with wrong exchange rate. Posted via the Windows Central App for Android

I hope Microsoft has something up their sleeve left for tomorrows presentation; at least software wise. How about some lockscreen magic (actionable notifications)?

Like releasing the Band outside the US and UK? I wish.

If you're in Europe: order the band from the Microsoft UK store, have it delivered anywhere in Europe.

Band 2 In Australia PLEASE

What about the 950? Removable battery and micro SD too?

I am still waiting for a wow factor. Yes the 950XL has great specs and all, but make people envy it

People dont envy Windows phones. They're more like "what's that thing..?"

Now there's a great idea. Kill off everyone that isn't part of the 3% world market share. Then Windows will have 100% market share. Unfortunately, it won't be any more people buying it than now, and since Microsoft won't have services on the rest anymore, they'll lose money. Perhaps not a good idea?

No, it will just lead to huge inflation because you'll be left with 3% of populaton and 100% of the total money mass. So prices will rise but so will wages. This time next year, we'll all be millionaires!

I still find it a great idea.

Well, it would eliminate the app gap. ;) All developers that are left would be exclusively developing for W10M. LOL

Yeah, make gold or "rose gold". SMH

Definitely +1 on that sentiment

Can anybody explain the advantages of a triple (LED) flash to a non-photography buff?

Yes. Better better lighting = better better pictures

@Double M:
Thank you, i guess.
I was actually thinking it might bring something more sophisticated to the table. The iPhone's dual-flash for example has two different colour tones to help ammeliorate the accuracy of colour registration.

We have Rich Capture which is better than iphones gimmick shit

You asked for a non photography buff answer, got one and the responded with photography buff jargon. iPhone will still have the worst flagship camera on Wednesday

Triple LED typically gives 3 colors in varying degrees that allow the camera to flash whatever color is needed to "make up" for the current lighting situation and create more natural colors. How's that for "non-photography buff" terminology? In addition, it can provide a varying degree of brightness, and get much brighter than single and dual LED flashes. Dual LED like in the iPhone can provide different colors, but only has 2 colors so can't do RGB and can only compensate for specific, predetermined lighting conditions. 3 color can compensate for any lighting condition, not just predetermined. Since the person that "predetermined" the compensations won't actually be where you are taking the picture, it's better to have unlimited options. That's my 2 cents on it. Yet again, another reason the new Lumia Camera will be better than iPhone camera.

Um, RGB in a flash is kinda pointless and I doubt that is how the 950 series is dealing with their flash. The reason the iPhone uses a two LED flash is because photo exposure to light is on a sliding scale from daylight to tungsten (basically orange to blue). You could certainly utilise a triple LED system to further refine the gradient but its unlikely to be RGB as that doesn't come into play when it comes to the vast majority of interior lighting (and definitely not outdoors).

Daylight to tungsten is only one of many gradients in this world. There are also varying colors of LED lighting environments, or have you never been to a play or concert? What about flourescent lighting, which the iPhone's dual LED is horrible with compensation? Flourescent lighting is the most common lighting in current use. There is also the blue tints in late evening and red tints in early morning. Flourescent lighting can give green tints. It's not all about orange to blue, which are the only predetermined fixes with an iPhone.

Maybe he only visits open air concerts during daytime.

Why diez this matter if the autofocus and shoot to shoot will be slower than iPhone 5. Please.

Kind of pointless to speculate on the speed before we're able to get it measured.

None. A flash coming from the same place as the lens always looks crap. Flashes on little cameras are a bit pointless. It's more important to have a really good sensor. Hence 20mpx over 41. The sensors on these phones are going to be best in class, I'm sure. Plus, everyone is going on about the hardware... It's so not important these days, all new smartphones are nigh-on identical in specs. It's the software that makes the experience.

They do have some awesome power banks available now though ($35/45/55) so as far as an extra battery goes, might as well just have those... =[

Eventually your battery is gins to lose its juice over time. A removable battery was a great idea Posted via the Windows Central App for Android

For people that keep their phone for 2 or 2+ years, a user replaceable battery will extend the life of the phone. Something I always do with mine. Besides, I've carried the extra power banks, and when your phone is low, and you need to talk on it, being tethered to a power bank is a real pain. Nice for charging while you're not using it, but a spare battery can be slapped in and you start using the phone right away. I'd rather have the battery than the power bank, thank you. Give me a power bank that lets me insert my battery for charging it while I have a new, spare battery put in and that would be the ultimate. ;)

Is it really possible to remove the battery?it looks like the camera module will get in the way.

Yep, it slides right under it

putting the battery back wont be a problem i suppose. But when you remove it by lifting it up will sure get the module.

Oh come on. Use your brain.

oh come on use your eyes. look closely. batteries are not flexible.

@Joshwin:
Then remove the camera module first...
There's probably enough give under the camera module left, to slide the battery in and out.

I hope so. But it looks like there is not enough room under the camera module in this pic. if you lift the battery up sure it would lever the module. may be we have to do be bit more careful.

Well, that helps with it not being a full 6 inches I guess

That's what she said. I'm sorry forgive me I couldn't help it

I was waiting to see if someone gonna say this lol

Tomorrow decision time tomorrow.

Mdma party tomorrow cause we love ms

Anyone notice some 14 updates today in the store. I got updated when I checked updates

Updater is your middle name

I'm rockin a 640 now and battery life is awesome

Rocking a 930... Forever... Getting old. Also have a 830 from my telco "on eval" - overall it feels like so much a better phone. Here's hoping the 950xl maintains the softer on your hand, more feedback feel. I'll get one regardless, but really hanging for the Surface Phone.

Cant help but wonder why the camera module is so much bigger on the XL compared to the 950. I can see some broken cameras already when people try to remove the battery :-D

How often do you remove your battery?

To ya'll in NY,as the event 2mrw keep us informed

Needs to go everywhere.....
.......
Unfortunately, we all know how this device will be marketed..... Most likely poor,, like every other WP device before it..

What will piss me off is when AT&T buys is on exclusive and kills it like always.

Looks like a feature-phone. Lets hope its priced accordingly.

Priced as a feature-phone?

2 ya'll in NY,please kip us informed as the event progresses 2mrw

Surely these are the "for business" phones, because the rumored specs (on multiple sites) of the surface phone surely makes it the "for the fans" phone...

The only problem I can see with the surface phone is it being at 5.5"....
......
Let's hope they have two versions.... 5.5", and a 6" option.

0-100 with a battery swap is always better than quick charging. I just can't wait to see what that camera can do. Posted via the Windows Central App for Android

How do you charge the second battery?

Universal mobile phone direct battery charger, search ebay.

Okay, so I say free 950XLs should be given to everyone who posts a comment for this article, including me. ;) Of course, a spare battery and a 200GB microSD card should be included, along with a Munchkin, and I don't mean from Oz. At least get me a 99.99% discount so I can afford it. LOL

HAHAHA, IKR! I'm stuck with 620 cuz I can't afford any better phone

Might as well ask for a 2TB microSD rather than puny 200GB.

Except that a 200GB microSD actually exists. A 2TB is still only a dream. ?!?

I can't wait for Microsoft's event tmw! When is it tho? >.>

This is good news if it turns out to be true since it could also mean swappable color back covers. :)

With every leaked pic, the so call high end device is looking very cheap....i don't think I will want to spend so much on this device...guess I'll keep my 925.

Yeah, nothing about it is really wowing me, and the shape looks uncomfortable, in my opinion, to hold.

You lot Are so hard to please! Just get an android if you don't like these handsets. To keep going on about it is a waste of time. These Are the phones being announced take it or leave it! :)

Your generation sucks cause everything is about "looks" nowadays.

Except my only issue is comfort at the moment and it will be immediately alleviated once I can hold the phone and it feels ok.

And still boring and ugly

Remember 2 year plan after that no more "Windows Mobile".

This is good news for another reason. You might be able to buy a back cover of your own color choosing, making what ever color they release the phones in less of a problem. My own Yellow 950 XL seems possible now. I just hope Microsoft will make varius back cover accessories.

Also heavily relying on this possibility. They did it with other models with removable backs so I would be shocked (and disappointed) if they didn't for these.

Has Microsoft done this our was it only Nokia?

What a shitty setup. Why is that camera ring hovering over battery space? It will tear easily due to accidental bumps everytime placing or removing battery. I have been so supportive of these phones but really this is an awful design blunder.

Are you removing your battery every day? Silly

I hope this photo is fake and photoshopped. 'typical 3340mah'- really?

Seems real unfortunately. And I zoomed in on the leaked photos with the cover on, and it seems the removable back cover will have its own perpendicular ring around the bump of camera ring and not a slanted design like they have been doing previously. It is such a jarring design. Really though. Who oversaw it? They look gorgeous from afar. But sadly missing the attention to detail. Oh well. I hope I'm being paranoid and it isn't what it seems.

Yes, you're being paranoid. Have Dr. House stick you with that needle already. You'll feel alot better.

Looking forward to the Final Version of the 950XL.

Isn't 950 xl actually the successor of 1520?

That doesn't really matter....
.......
It's a good device in itself.. I'm not really comparing it to the 1520....
Rather it's sad we aren't getting a SERIOUS 1520 replacement... We'll just have to wait and see what the future holds.... The story of a WP fan.

So it's not a serious repalcement because of color options and .3" of screen size??

Battery temperature wont affect the camera module integrity by resting on it?

They have engineers... Let's not bring up issues that aren't even an issue yet...

Doesn't the Snapdragon 810 have issues?

What time's the event tomorrow?

In my opinion, the screen sizes of the new phones will always be subjective. Some love 6+ inch screens; others like me, will prefer slightly smaller sizes, despite big hands. I'll take using the phone with one hand over needing two hands.

I wish the presentation was today or I didnt have classes tomorrow. I want to go there badly

I'm excited about the new phone.

Dont know if i care as id still get another mugen to replace

And I see MicrosSD and SIM slot, so as a Windows Phone this will be the best, Hope it goes to all carriers including Verizon.... Maybe I can get my company to get it for me :)

Yeah.....for the return of removable batteries. Now bring back xenon.

This is getting interesting. Hoping some good camera news so I can leave my LG G4 on the table and bring my 950XL instead ;)

Have a removeable battery is OK, but without the ability to purchase an extra batter with an external charger I find the need minimal.

It'll be good for those that keep their phones for an extended period of time. Batteries do not run optimally forever so this will benefit those the most. The removable backplate also allows those to choose different colors hopefully.

That design oversight bothers me I guess I'll get the ugly looking 950.

Don't understand why people are arguing over a phone. You either like it or not, and in my case, I do like it, and I will buy the 950xl. I currently own a 1520 running the latest WM10 build (buttery smooth), I love it, but I think I will like the 950xl even more.

@guyman101... Agreed... I own a Lumia 928 (Verizon). I'm am eagerly waiting for the 950XL. Ready to jump ship since Verizon may not have plans to support the 950XL. I'm not on contract and certainly don't plan on signing a contract anymore. I'm voting with my pockets from here on out. My one gripe with the 950XL is the omission of capacitive buttons. But I think I can accept it until the "Surface Phone" is announced? We can only hope :-)

Everyone's talking about a Surface Phone. Has Microsoft actually confirmed this?

I'm convinced (Considering the rumor is true) that this a move by Google to counter Microsoft's recent partnerships with popular OEMs such as Samsung to have their services preinstalled on Android devices. Google identified a potential threat in the long run. Anyone whom use a Android phone, but still use Windows 10 OS will recognize the benefit of Microsoft's ecosystem. Take Cortana, Outlook, and Xbox One for example. If consumers become satisfied with Microsoft's services, Google will eventually take a hit. Just my thoughts.

Here's hoping replacement batteries are actually available this time

Are we not going to talk about the camera module which is sticking out to cover a considerable space on the battery slot like an accident waiting to happen? At all?

A quater of the outer bezel? Proably not.

I think tomorrow they will say W10M (they could have used windows phone 10 but they're not know for making the best decisions, we all know that) will be ready until 2016, I really would like to have it this year and then plan with what phone I'd like to replace my beloved 920, actually I'm fine with my little heavy rock but if I can and there's a good Lumia phone out there to replace it, I'd do it.

YES! I'm stoked to see another flagship phone with a removable battery this year!