Leaked Windows 10 screenshots could be of the RTM 10240 build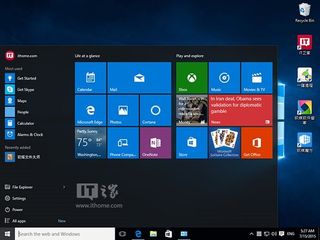 The RTM (Release to Manufacturing) build of Windows 10 may have shown in a batch of newly-leaked screenshots of Microsoft's next PC operating system. The images show a build number of 10240, which our sources have claimed will be the RTM version of Windows 10 when it is launched on July 29.
The images come from Chinese-based ITHome, which has been the reliable source of Windows 10 screenshots leaks in the past. Aside from the build number, there's nothing in these screenshots that shows anything new in terms of features in build 10240. Microsoft has already announced it has temporarily suspended the release of new Windows 10 builds for Windows Insider members while it prepares for the full launch of the OS.
Source: ITHome
Would like to see new lock screen features.

Yeah, right. Lock screen should have some additional features added, at least for phones.

They would have completely development Live Lockscreen beta and integrated to O.S including Gestures Beta

I read in wc forum of a dev who was working on a pattern lock for windows phone and he demoed a working app, but he told he built it using lock screen API which Microsoft has kept private, so he couldn't publish the app

I wish I could disable my lock screen and just use my power button to unlock my phone.

I don't like the swipe up to see the login screen aka (in my opinion) the lockscreen ... they should remove it and should add to choose which wallpaper we want instead of the Hero wallpaper, not that i don't like it but i don't see the point just like with Windows 8 to have a lockscreen which you have to swipe up on a non touchscreen device. Posted via the Windows Central App for Android with my Note 4.

On non-touchscreen (or touchscreen with keyboard) you can press any key to "swipe up" the lockscreen.

I would just like the lock screen to be a part of the login screen ;-) Posted via the Windows Central App for Android with my Note 4.

Are you sure? I could swear that only Esc and the up arrow worked when I tried a bunch of keys last night

Yes normally it should. Posted via the Windows Central App for Android with my Note 4.

I like the lockscreen for quick view of notifications and calendar. I take a quick peek at it every night be bed to know when my first meeting is. Also,if they bring back the Spotlight lock screen, hat has some possible neat potential too. Interactive locksreen.

The spotlight lockscreen has/had neat potential. It was there in 10130, bu gone after (not sure exactly what build it was removed)

Wait... Edge Logo remain unchanged?? WTF, 11.000 change petitions for nothing

As exciting as this is...I'll wait for the official download from Microsoft's own servers.

10166 to 10240....? Such a huge leap...

The RTM candidates had build numbers 10176 to 10240 in steps of 16 instead of steps of 1.

Yeah I was wondering that. And with the large amount of bugs, are they sure its ready.

I think this is there plan. They are collecting data from every machine that has been installing the insider builds. They know what mother boards, cpu's, and other system components works best with Windows 10. They are not releasing Windows 10 for every PC on July 29th. They will be releasing it to the systems they already know work best with Windows 10, then they will gradually release more to other systems as time goes on.

Not sure what build you are on, but from 10130 to 10166 has had a tremendous amount of bugs taken care of. I have a couple of little quirks, but in all nothing huge, for me. 10166 a SP3.

How do you know what bugs are in 10240?

MS was rolling multiple new builds everyday and we the insiders were way behind in comparison to what they were testing internally.

Could be also build 10502

Builds 10500 and higher are builds for the update in fall.

Windows 10 x 1024 :) Posted via the Windows Central App for Android

And yet no coloured title bars.. It's like MS is giving us the finger

I still want a darn flow keyboard for touch!

I wanted that too.
Feedback! Owh wait, too late.

You can expect much more Windows Phone and touch features on bigger tablets and PCs along with Windows 10 Mobile launch later this year, including swipe keyboard. This RTM release is very much aimed at traditional PCs. It's not too late because they will keep refining and adding features regularly, no need to waste feedback on that as it's already highly on the planned list.

It is too late to get included in the RTM build. -_-

Here's hoping we'll get this build for Insiders today, as an upgrade from 7, 8.1 and older builds of 10. Fingers crossed. :)

They're not releasing anymore builds as of yesterday in preparation for July 29th release.

Read Gabe's announcement again: It says availability is only temporarily halted, in fact, they want to deliver the next build (which I would assume is the RTM) via the "production channels" that will be used to deliver the final on July 29th so we can test the production channels.

They didnt say when it would be turned back on. I assume we will get a build before the 29th. Maybe not, but they never specified.

I find the announcment entirely clear on the fact that there will be a build before July 29th. What we don't know is when and whether it will only be available as an upgrade for previous builds or for all. Since we know from various sources that today is very likely for the RTM sign-off, I don't find it too far-fetched to hope for the RTM build today or this week.

I wish they would release it early to insiders. There are still some dig issues with 10 on my Asus tablet, like the start screen freezing up.

Windows 10KiB :) Posted via the Windows Central App for Android

Looks super slick but can't pinpoint why...

Even now, I can't see anywhere their new Suggested Apps from the Store section within Start Menu

What is the icon for Music?

It's a mesh of a 'G' (for Groove) and a record player.

Huh. I never noticed that.

Only the recycle bin should be updated. Still looks rubbish... Posted via the Windows Central App for Android with my Note 4.

I would like to see how efficiently handle thermal and battery now.

I am so looking forward to the increased performance that will result from them turning off all the debug code that is presently running.

Build 10.0.10241.0 spotted on Buildfeed

Yeah, I've seen it. Wonder if 10241 is going to be RTM now? Maybe they still fixed a few bugs that appeared in 10240.

same...looks like they found bugs on 10240 and they compiled a new build....So there may be possibilities of seeing a new RC 10256.

well they are not going to stop development on windows 10 hopefully :O

aren't RTM build numbers typically denoted as a multiple of 16?

10240 will be tranfered to RTM banch ...it will be compilled as RTM n will get a new Build no for Eg.10400.

10240 is a multiple of 16 - but we'll see what happens!

A bit upset that i am still not seeing start screen sync tile layout that we had in 8.1 for those who own multiple devices. Ahem. ((Me). The same also hold true for download to one device get option for installing in other .

Our Start Screens are getting eviscerated by 10. And now we have a 3 medium tile width limit. I'll be on 8.1 awhile longer. :(

I just hope to switch between Light and Dark theme like in Windows Phone / Moblie

I think insiders will get this build/RTM in a few days to properly test the distribution of the build via Windows Update.

I've still seen a few bugs in Build 10166, especially with Microsoft Edge and Cortana. I hope that such a large leap from 10166 to 10240 means they squashed all those bugs.

Was sure that Microsoft said Edge and few other items on list won't be on Windows 10 release, in the screenshot Edge is on the list! Personally happy that is there however wondering if we'll see any of the others which were meant to be included at later date.

Lets do it. I'll be glad to see the last of that watermark on my screen

Why always China ? Every leaked build is coming from China only. is there any relation with Microsoft and China.
Windows Central Newsletter
Thank you for signing up to Windows Central. You will receive a verification email shortly.
There was a problem. Please refresh the page and try again.