Use 'Sleep Study' to learn what drains your battery on the Surface Pro 3 and 4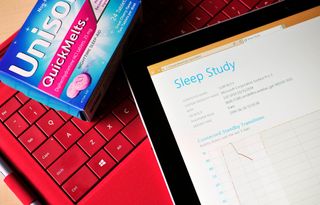 A few days ago I did a primer on InstantGo aka Connected Standby on the Surface Pro 3 and other Windows tablets. To refresh, InstantGo is a new low-power battery state the lets the system update email, Skype and other Modern apps while the device is in standby mode. But what if you think something is abnormally draining your battery?
Over on the Windows Experience Blog, Kevin Chin introduces readers to a new tool built into Windows 8.1 christened 'Sleep Study.' In short, Sleep Study is a diagnostic tool that reveals in high detail what is draining the battery on your Windows 8.1 devices with InstantGo enabled.
What is fascinating is how Microsoft built Sleep Study to not impact the battery itself. In fact, you're not adding this tool to your system, but rather generating the diagnostic report. For instance, I just ran Sleep Study for the first time on my Surface Pro 3, and it pulled up multiple 'sessions' from the last 3 days when the device was in InstantGo mode. So there's no work here to be done as Windows is already gathering that information. From the blog post:
Very cool stuff.
In order to run Sleep Study, you will need a device that supports InstantGo such as the Surface Pro 3, Dell Venue Pro 8, Dell Venue Pro 11, Asus T100TA, ThinkPad Tablet 2, Surface, and Surface 2. Regular PCs and laptops won't benefit from this at this time, though newer models may in the future if they enable the feature, and the chipset supports it.
You'll also need to run Command Prompt from an admin level. You can do this by simply typing 'Command Prompt' in the Windows 8 search bar and then right click to bring up the context menu. Select 'Run as administrator' to get started. You'll also want to have a temporary directory created to output the report, such as C:\Temp, so make sure you have that created beforehand. Finally, just enter in 'powercfg sleepstudy' at the command prompt to produce the analysis.
The final report is spit out into the temp directory as 'sleepstudy-report.html', meaning you can just open it in a web browser. The whole process took only seconds to generate. Everything from network information to software and hardware activity reveals itself in the report. It's even color-coded with green, yellow or red for activity level intensity.
I won't explain what the report means because it's very, very detailed, and Chin did an excellent job of explaining how to read it. So once you get started, head over to the Windows Experience Blog linked below to get all the finer details.
I have to admit that Sleep Study is a fascinating and useful tool. Everyone has conspiracies about what is and what is not sucking up power on their Windows devices when sleeping. With this tool, you'll have all the evidence to prove your point, so keep it in mind if you ever suspect something is wrong.
Source: Windows Experience Blog
Get the Windows Central Newsletter
All the latest news, reviews, and guides for Windows and Xbox diehards.
Daniel Rubino is the Editor-in-chief of Windows Central, head reviewer, podcast co-host, and analyst. He has been covering Microsoft since 2007 when this site was called WMExperts (and later Windows Phone Central). His interests include Windows, laptops, next-gen computing, and for some reason, watches. Before all this tech stuff, he worked on a Ph.D. in linguistics, watched people sleep (for medical purposes!), and ran the projectors at movie theaters because it was fun.
Surface Pro and Pro 2 do not count. See the original article, please.

You can use powercfg to find other power drain types on surface pro entire line. Like what woke it up last, prevented sleep, what is causing running power drain, etc.

You can also pour thru the logs in event viewer aswell

The SP3 looks so beautiful! *_*

-___-
Strange, but whenever I hear of SP3, I remember Windows XP SP3 first. I should get used to it already lol
Wish regular laptops could benefit from this as well but I liked the idea that it does show the report without actually draining noticeable amount of battery ...

Dang now you're gonna have me thinking this

I still think of dvp as that sad odm built wp7 device. To bad benq coulnt have comeback directly instead of being an odm

All the tools are there, just need to set up the logging system and check the reports.
You can log pretty much any windows event.
Its a pain in the arse but possible.

WP8.1 needs something similar.

Battery Saver comes pretty close. It shows foreground/ background use by app once u select an app from overview screen. Not nearly as detailed but useful none-the-less.

Psst! You can open command prompt in admin mode from the start button..... It is a much easier way! ;)

Yup, Win + X or right click on the Windows button on the desktop.

hm does not work on my surface 2. Telling me that there was an unexpected error - maybe because of lack of privileges. But I am running it as Administrator

Sounds like they still cant get these random bugs squashed from pro versions of windos even after 4 releases(not including 8.1)

Great thing to know, just ran it on my surface 2.

Lumia 2520 is a no go huh?

2520 has connected standbt, hence its a go...

I wish WP8.1 Battery Saver showed how much the screen was using and was more detailed :(

I hate how after 2 days of doing nothing with 100% charge at the beginning, my dv8pro is dead -_-

I have found that leaving Skype or some other communication app runing while in wait state makes the network card kill the battery. I started using task manager and killing the skype process. Makes a huge difference on battery drain. I have a Surface Pro3, Pro2, Surface 2, and Surface RT. They all have somewhat of the same problem, except the Pro 2 because it goes in full sleep mode. I am fairly certain it is an issue with NIC management on Windows 8.1 trying to maintain those background connections.

Thank you so much for the tip :) will definitely try it out

http://C:\Windows\System32\sleepstudy-report.html , i accidently deleted my last comment but heres my report. i hope the link works. if it doesnt tell me how to share it

Unregistered device SE sucking all my battery on surface 2. Anyone know how to fix this?

USB and micro SD card never turn off, they are a massive battery drain. Can this be changed?

HOUSTON, Opps: MICROSOFT / NOKIA, we STILL have a batery discharge problem on NL 920 with DP 8.1 & all updates: Per numerous comments here, to Nokia, etc., any use, & esp. any highway map use still drains battery 15-35% / hour, with lots of heat discharge. So, how about a sleep study for the NL 920 ? ? ? Artzznyzz

Cool, I just ordered a Venue 11 Pro from the Dell Outlet. Didn't even realize it supported this feature. Thanks for the tip.

I tried it just now and it works. At first it wasn't then it prompted me to put powercfg/sleepstudy. Hey Daniel can you update that or is obvious to place a forward slash

Do they got this for windows phone 8.1??? I'm still suffering with my Lumia. And I don't want to hear answers about background tasks, I got the same background tasks in 8.0 and didn't have battery issues and overheating like that.

Standard problem with Lumia. My 920 is on 3rd battery.

powercfg /batteryreport will produce output on the older Surface models. It will show you, among other things, your battery's charge capacity (you'll see it trending downward) and a report of expected battery life in hours per charge based on your usage.

Gladly the SP3 isn't in InstantGo for ever, seems to switch over to hibernation further prolonging battery life when not being used. I've had some massive drains with InstantGo on my ThinkPad Tablet 2, waiting a couple more seconds after not using it for ~4-5 hours is fine. At least I can know it won't be dead when I try to use it.