Review: Lenovo Ideapad Lynx Windows 8 Tablet, a more budget friendly option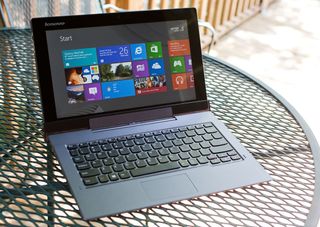 There is a modest assortment of Windows 8 tablets available these days. We've taken a look at the Microsoft Surface, the Acer Iconia W510, and the Samsung ATIV Smart PC500 and find them all to be capable Windows 8 tablets. We now turn our sights on the Lenovo Lynx Windows 8 Ideapad.
The Lynx is a 11.6" tablet that is well built but one of the more budget friendly tablets available. The tablet alone is currently running $350 over at Amazon.com and if you shop around (and take advantage of some timely coupons), you can snatch up the tablet with keyboard dock for under $400.
Lenovo did a respectable job with the Lynx and while there is some room for improvement, we found the Lynx Ideapad to be a steal of a deal and another capable Windows 8 tablet.
Design
The Lynx tablet measures 11.8 x 7.4 x .37 inches and weight a measly 1.47 pounds. The weight is distributed nicely and the Lynx feels as though it weighs a lot less. With the 11.6" screen, the Lynx is larger than the Microsoft Surface and Acer W510 but is comparable in size with the Samsung Smart PC500 but with a slightly lighter feel to things.
Along the top of the Lynx you'll find the power button and microSD card slot that is protected by a hinged plastic cover. On the top left side you will find the screen rotation lock and volume key. To the right side is the 3.5mm headphone jack and micro HDMI port. The Lynx's speakers rests on either side, just above the mid-way point.
To the bottom of the Lynx is a micro USB charging port. This is one of the places where Lenovo really did a good thing with the Lynx. In using a micro USB port to charge the Lynx, your Windows Phone chargers can be used in an emergency. The micro-USB port can also be used as an I/O port and is also used as the keyboard dock's point of connection.
You have a 2MP front facing web cam but no rear facing camera. The Lynx lacks NFC but does have Bluetooth 4.0, Wi-Fi, an ambient light sensor, proximity sensor, and a compass.
Packaging includes the charger, micro-USB cable, a micro-USB to USB cable and a microSD prying pin. The microSD slot is a little on the narrow side and the pin (more or less a paper clip) can help push down on the card to allow the spring to release and raise the card. I found a fingernail works just as well and you avoid the risk of losing the microSD prying pin.
Another nice design feature with the Lynx is an internal, magnesium alloy roll cage frame to protect the internal components. The shell of the Lynx is textured plastic that does have a little give to it but with the roll cage in place, the give shouldn't be a concern.
No complaints whatsoever about the screen. The screen quality makes for a rather pleasant experience when using the Lynx. Brightness levels were good, colors had a little pop and the touch sensitivity was very responsive. I do not believe (can't find any confirmation) that Gorilla Glass is in play with the Lynx. If the Lenovo opted against using Gorilla Glass, it may very well be the only area where the screen is lacking.
How's the screen outdoors? Not too bad. On a bright sunny day you may have some glare issues but the screen is viewable. The ambient light sensor does keep things in check a little and if it gets too dim, you can always go into the settings and turn off the auto brightness. On the plus side though, the auto brightness setting does help with power management.
Overall, the Lenovo Lynx is designed very well. The Lynx has a nice feel to it, a sharp looking screen, and it won't weigh you down. The microSD card flap is the weak point and if you access the expansion slot a lot, you're likely to lose it eventually. The Microsoft Surface Tablets are likely the cream of the crop with respect to build quality. While the Lenovo Lynx has a bit of a plastic feel to it, its build quality is respectable in its own right.
Under the Hood
Under the hood the Lynx is fitted with an ATOM dual core 1.8GHz processor, 64GB of internal storage and 2GB of RAM. Everything is powered by a Lo-Ion polymer battery that is rated for 8 hours.
The ATOM processor moves things along nicely for the most part and helps the Lynx get the most out of its battery. 64GB of internal storage gives you a little more elbow room and with the microSD expansion card slot and your Skydrive account, storage should not be an issue.
The Keyboard Dock
The Lenovo Keyboard Dock for the Lynx has a bit of a plastic feel to it but not in a Fisher-Price toy manner. The keyboard is one of the nicer feeling we've seen. Keys have a bit of a bounce to them and the keyboard size is very receptive to larger hands. The keyboard has a multitude of function keys, one of which closes any open applications with a single stroke. Which means no more Alt+F4 key presses.
The touchpad on the other hand is a bit on the sensitive side. More times than not a simple brush was seen as a tap that launched an app or another unwanted action. Unfortunately, I do not see any settings to adjust the touchpad sensitivity.
The keyboard dock is fitted with an internal battery that charges the Lynx's battery. Essentially doubling the battery life of the Lynx to about 16 hours. The keyboard dock has two USB ports and a micro-USB charging port that will charge both the keyboard and tablet. The only thing missing is a SD Card reader.
The docking area is basically a pocket that encloses the bottom frame of the tablet. Metal hooks latch on to the docking ports and the Lynx snaps into place with an authoritative click. There were a few occasions when it took a few seconds for the keyboard dock to register with the tablet. During that time the keyboard is more or less a big battery but once it kicks in, it's performs just peachy.
The keyboard can be a little pricey, often running close to $150. However, it is often on sale at various retailers (and directly through Lenovo) for $100. If your budget will reach far enough, the keyboard dock makes for a very appealing accessory.
Software
The Lenovo Lynx runs the 32-bit version of Windows 8. Lenovo did a nice job of keeping the pre-installed software to a minimum and whatever is installed, can be uninstalled if you need to free up storage space.
Pre-installed software varies from market to market so what's installed on my Lynx may be a little different than what's installed on someone else's. In general, you have the following installed.
Lenovo Cloud Storage, Microsoft Office Trial, Nitro Pro 7 PDF, Norton Internet Security, SymSlient, AccuWeather, Amazon Kindle, eBay, Encyclopedia Britannica, Evernote, Fresh Paint, Merriam Webster, Norton Studio, Rara, and Skype
No complaints about the software aspect of the Lenovo Lynx. I do wish that there was some consistency to the pre-installed selections. For example, my wife had Photoshop Elements 11 pre-installed on her Samsung ATIV tablet and the Surface came with the full version of Office. Both would have been dandy on the Lenovo.
Side Note: Last night I updated the Lenovo Lynx to Windows 8.1 Preview and it really makes a difference. Not sure what fine tuning Microsoft did but the ATOM processor seems to have a little more pep to it and Wi-Fi performance moved along with a little more gusto as well. Windows 8 isn't a slouch when running on the Lynx but 8.1 shines noticeably brighter.
Overall Performance
While the Lenovo Lynx is a budget friendly Windows 8 tablet, Lenovo really didn't scale the Lynx back too much. It is missing a rear camera, NFC, and more than likely Gorilla Glass (still haven't confirmed). But I don't see any of these missing items are deal killers.
64GB of storage with the expansion card (and SkyDrive) will satisfy most and the micro-USB port is a really nice feature and eliminates the need for proprietary chargers.
The screen is respectable, build quality solid, battery life gets you through the day (if not days) and overall performance has enough zip to prevent you from falling asleep as apps load. The keyboard dock expands the capabilities of the Lynx with an extended battery, extra USB ports and a very comfortable keyboard. I do wish the touchpad was a little less responsive though.
Of the tablets we've reviewed which is the best? Between the Surface, Acer, Samsung and Lenovo all three are capable machines and cover a wide range of price points. As with most of the Windows 8 tablets, I don't see them replacing my laptop but rather supplementing it.
The Surface has the better build quality and had Microsoft offered a keyboard dock, it might just be the clear front runner. I think the Samsung edges out the Lenovo with regards to features and maybe a slightly better screen. The Acer also gets high marks for build quality but the keyboard is a little on the cramped side (or at least it was for me).
The Lenovo Lynx can hold its own nicely up against the other Windows 8 tablets. The 11.6" screen means you get a little more real estate not only for screen size but also keyboard size if you opt for the keyboard dock. Then when you add in the cost, the Lynx may be the best bang for you buck in Windows 8 tablets.
Overall, I'm very pleased with the Lenovo Lynx (more so now after installing Windows 8.1). The keyboard gives me enough elbow room to be comfortable and the tablet has enough gusto to meet my on-the-go computing needs. If you're in the market for a budget friendly Windows 8 tablet, the Lynx is worth considering.
You can find the Lynx through various retailers such as Amazon.com (opens in new tab) and Staples (opens in new tab) as well as directly through Lenovo (opens in new tab). Pricing ranges from $350 up for the tablet and $99 up for the keyboard dock.
George is the Reviews Editor at Windows Central, concentrating on Windows 10 PC and Mobile apps. He's been a supporter of the platform since the days of Windows CE and uses his current Windows 10 Mobile phone daily to keep up with life and enjoy a game during down time.
Wow, this might be a good option for my Mum who isn't quite ready to drop $1000 on a Surface :P

That's the only thing keeping me from buying a Surface Pro. But for $450 with that sweet keyboard, you can't go wrong. I might own a Lenovo tablet in the near future.

That keyboard and the micro USB charging are the two biggest selling points for me.

Nice option indeed, but until there is Windows 8 Tablet with 4G LTE for $499 or less, I will stick with my Kindle Fire HD 8.9in 4G LTE.

Could you use a 4G USB dongle? or just use internet sharing on your 4G phone? I can only see myself using this on WiFi 95% of the time

If I can snatch up the two for under $400, I'm sold.

Found the tablet for $350 and keyboard for $100 at Staples then used the $100 off coupon code they were running to drop the package price to $350. Couldn't resist.

George, is that offer still running this weekend or available online?

All of the $100 off coupons I've seen are expired. Care to share the code? If so, in-store only or online available? Thanks George!

There is a 4th of July weekend sale till the seventh. 20% off a single item in store, so you can get 20% off the tablet and the keyboard is $100, so it comes out to $370 plus tax.

Hmmm... Might want to read the coupons fine print.
"Not valid on Back to School Savings pass, Ink and Toner Savings Pass, desktop or laptop computers, tablets, netbooks, Apple® products, Bose® products, Amazon Kindle®, NOOK®,.... "

Damn. Thanks for saving me a trip.

Damn, both seem to cost £500 over here! That is such a price increase, cheaper to ship it from the US I bet...

Yeah, I was disappointed by that as well.
Somehow for most products the pricing seems to be
(Price in £) = (Price in $) x 1.n
where n is a random number between 4 and 9

This looks perfect for my little brother... It would be nice if it had gorilla glass though!

I have a question.. If you get a windows tablet why would you want an atom processor other than for the battery? I'd stick with a windows 8 pro for more programs or a windows rt personally. I think its confusing with 3 different OS's.

You must be new to Windows. Windows 7 had 8 or 9 different versions.

No im not. Simple question I asked as to why or who would want a limited full windows 8 versus getting a pro version. And Microsoft shouldn't run a million os's on there tablet lineups in my opinion.

Windows 8 is only limited in terms you cannot connect to your workplace's domain, and cannot use some encryption on the disks. These are not commonly used by most people. Buy Pro version only if you want use it in the office, otherwise buy the more budget-friendly Windows 8. RT is only available for ARM tablets, you cannot install anything else on that ones. It is straightforward in my opinion.

Thanks for the clarification on it. I was under the assumption that windows 8 was a broken down pro version were not all programs will work on it. But I do know the limitations of the rt. I have a surface rt. Quite like it too. I still think there should only be the pro and rt though. But the pro needs to be justified by its specs for cost. Not its OS program. imo.

Yeah it can pretty much run any program, the only places you'd be limited is in virtual machines and the things he mentioned dealing with domains and group policies which you likely are not using unless you are connecting this machine to your work accounts.

"Remote Desktop connections, the ability to participate in a Windows Server domain, Encrypting File System, Hyper-V, and Virtual Hard Disk Booting, Group Policy as well as BitLocker and BitLocker To Go"

http://en.wikipedia.org/wiki/Windows_8_editions


Typo. "of the three", then you list 4 options.

That threw me for a bit too.

Here in Germany it's over € 500 (without the keyboard). That's about $ 650. WTF?

Similar situation in the UK.

I have been looking for a tablet running the full version of Windows to keep on my motorcycle. But with the prices, none felt like they were worth it. This however is priced perfectly. I do have a question though. Is the 64gb that comes in the device used for the OS install? Or is the OS on a separate bit of memory not accessible by the user?

This is definitely more my price range. Unfortunately my car needs tires and they cost more than most houses. Sigh. . . Always something seems to get in the way of my toys

I hear you. My car needs $1400 of engine work done and it's a pain saving that up when other costs keep popping up.

As its £600 / $905 here in the UK I think I'll give this one a miss.

I got one of these just to try it out, and overall I really love it. In fact, the faculty at my school loved it so much that they're ordering one for every student next year. I don't have the keyboard though, but I can usually get 2-3 days on a single charge. My only complaint is there's not enough RAM in it (low memory messages all the time with a few metro apps open) and win 8.1 gives me WiFi connectivity issues. Other than that I love it - and got it for $403 at best buy with price match to amazon

I've been looking at this one, now that I was convinced to not get a Iconia W3. The low memory errors concern me.

I got the Lynx from the Staples $300 deal but I decided to return it. Overall it is a good machine, however there are several things I don't like:
1. The form factor is not right. At 11.6 inch, a 16:9 tablet is way too wide. It is not suitable for one hand usage. Hopefully OEM will start to make 10 inch 16:10 Windows tablet.
2. There are glare issues, either outdoor or with an overhead light source.
3. Low memory warning keeps poping up. Maybe Windows 8.1 would improve it?

I was in the same boat, I really wanted to like it but there were several issues so mine went back.
1) its too big for a tablet and both plasticy and extremely light. I know that lighter is generally better but it just feels cheap compared to my nexus 7. The screen was okay.
2) I had the low memory come up time to time. 2 g's is all that it will ever get.
3) it was not clear if it could run in extended desktop connected to an external monitor. I confirmed it could. but there is no good way to do this reliably. Docked into the keyboard the micro hdmi is in the upper right and the microhdmi to vga would literally dangle from the side. There is NO video out on the docking station. If you decided to go with a bluetooth keyboard and flip the tablet so that the micdo hdmi is now in the lower left, the mico usb port is now at the top center and if you want to also connect a hard drive, the usb OTG cable is now hanging. What I would have liked is having those ports on the dock so that I could just slip the tablet in and out without having to individually connect and reconnect every time.
I think the ATIV has the same problem but the HP envy X2 has a full size HDMI port onthe dock, but it is significantly more expensive and out of my range.


Has anybody used Photoshop on this tablet? Or Illustrator? How is the performance? The 2gb ram are worrying me.

I use an Acer W510 which has the same innards and while the entire Creative Suite (I use CS6) will install and run, don't expect to be doing anything intensive.

Dreamweaver runs fine, and there's little different between how it runs on my i5 machine, just takes a little longer to load at the start.

Photoshop also takes longer to load and if you're dealing with smaller images and files you'll be fine and it's great to have them on the go in a portable device but if you're constantly making large, print ready files it probably will be too slow for you.

Illustrator and InDesign have always been resource hogs and they take a while to load up, I've not really used Illustrator on it enough to test but InDesign is again, ok when open but it's a chore to work with documents with more than ten pages when they're graphically intensive.

So yeah, it all works, but unless you're a standard home user (I would recommend this to a lot of my friends and family with no issues) this is a companion device only. For anything beyond Office you'd want something more powerful if you're planning to do loads of work on it. And a higher res/larger screen too!

I love using mine when I'm on the go as it's thin and light and portable (and makes a great tablet when detatched) but for serious work, I carry my i5 slate with me.

Hope that helps! :)

Thank you, prettyconfused. I'm planning to buy a Win 8.1 tablet-and-dock machine this Christmas season but you're right. More horsepower is needed and I'm not a fan of pixels so a higher res display sounds like a must.
I'll keep an eye for the best machine out there for me. Thanks again.

This tablet is striking! Perfect combination of size + portability and price!
I could not help but think though why is a mid range (core i3 + 4-6 GB ram + 128 GB SSD) or even a top range (core i5 + 6-8 GB ram + 256 GB SSD) is not available. There are small compromises that most biz people wouldn't care like poor camera quality and such, which even the surface has left behind, and the plastic frame keeps the weight and price down, it should be a nice aquisition to business people and students alike, people who need that extra power in hand but do not care for fancy materials but would like a thin light tablet!
Regards

I picked this up brand spanking new for $299 including shipping and tax from Staples.com. I absolutely love this tablet. It's everything I wanted in a tablet and then some. As a previous owner of an iPad and Motorola Xoom, this Lenovo is my favorite tablet by far. If it had more storage, it would replace my laptop completely. I didn't get the keyboard dock though, I just used my Logitech bluetooth keyboard that comes with a nice stand.

How much functionality do you get with the virtual keyboard? Just curious.

Any idea when a 7-inch Windows 8 tablet would be coming out?

I think Acer makes one already, the display was up when I bought the lenovo ideapad but there was a sign saying their allocation was delayed.
Its the iconia w3 and its 8 not 7 inches.