Lenovo LINK pulls double duty as a PC flash drive, remote control for your Android phone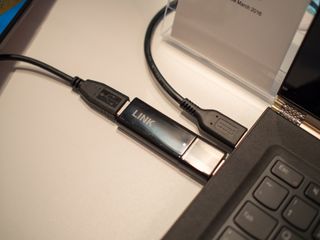 Lenovo is well known for its Windows PCs but also has a growing Android smartphone business, and the new Lenovo LINK is a new accessory that ties the two together. At its most basic level the LINK is a 32GB flash drive, but when you look a bit closer you'll notice it has USB 3.0 port lined up opposite of its USB plug where it connects to your computer. When you plug your phone into that USB port via a standard USB cable, it turns your computer into a remote desktop, of sorts, for the connected phone.
Once you have the Lenovo LINK app installed on the phone and the companion software on the computer, connecting your Android 5.0 and above phone to a Windows 7 or later PC pops up a splash screen letting you connect right away. By default you'll have a remote view of your entire phone, where you can navigate and interact with it using your computer's mouse and keyboard. You can use apps, respond to messages, and even copy and paste information between the phone and the computer. You can also drag and drop files between the two devices, and it all gets transferred over the USB cable.
Image 1 of 2
The second mode of interaction keeps all of the content on the phone's (or tablet's) screen, but lets you use your mouse cursor and keyboard over on the remote device. You can quickly switch between using the phone and the computer by dragging the mouse to the edge of the screen toward the other device, and you still have the ability to switch between modes and copy text or files between the devices. This second method doesn't make a ton of sense for phones, but could easily work as a rudimentary second screen experience with a tablet that has a stand.
Considering everything that the device enables, along with its ability to simply be a flash drive that allows for power passthrough to your phone (saving a USB port), it's a pretty neat buy at just $40 for the 32GB model. If it looks like something you're interested in, you can be on the lookout for availability starting in March 2016.
Windows Central Newsletter
Get the best of Windows Central in your inbox, every day!
Android? I do wish continuum would also do something like this. This and the ability to use WP apps on Win10.

Seems like continuum technology is making its jump to android pretty fast. Why buy windows?

You are confused, obviously. Continuum has nothing to do with (only) remote access to your phone. There are other options witch let you do the same thing, on an android handset for a long time. I guess you never used a windows phone as well. Don't get one. Not for you.

Lenovo should make a Universal Windows 10 App and show a Windows phone in continuum remote controlling an Android phone. Maybe then people like the OP migh get a clue.

It is nothing like continuum. It just mirror your screen like in windows 8.1. Only additional feature is that you can drag, drop and use keyboard as well. The biggest difference is that what happens on the computer screen also happens on mobile screen. So definitely not continuum.

This is the inverse of Continuum.

This has very little to do with Continuum. This let's you remotely control your phone from your PC. Continuum turns your phone into a PC.

Except it doesn't if your using edge

I'm not understanding you. Edge in Continuum looks almost exactly like Edge on the desktop.

Need this for windows phones plugged into windows computers. Seriously!!

It is, via Project by Screen using any old Usb type-B

With keyboard support? I just downloaded that and I've only mouse interaction.

Why would I even care. Personally I will never buy another spyware ridden android/ google anything.

Yep, same here. I don't even us Chrome anymore.

More dongles :( I'd prefer this level of functionality wirelessly, but I suppose a physical connection would be more reliable. And $40 for these features + 32GB is pretty decent.

A wired connection is also sort of needed to save the battery from depletion. Streaming and computations for everything necessary would likely be power intensive.

Oh no it's got Android being mentioned in the article. KILL IT WITH FIRE!!!...and so on and so forth.

Why are we talking about Android on windows central instead of Android central? I'm just curious, not griping

Because it works with your PC which runs on Windows

Well...the dongle requires a WINDOWS computer, the majority of WINDOWS users uses Android...this is WINDOWS Central...see the pattern? For example, this is something that interests me as a Windows PC user and an Android mobile user. By being posted here too, the site also gets my view which means ad revenue etc etc. By the way, this was cross-posted with Android Central ;)

It's not Continuum, its Project My Screen for Android!

Pretty cool, but this shouldn't require no nonsense dongle. It should be doable via just the software alone. This should be part of the Phone Companion app on Windows 10...

In a near future: "Microsoft announces a new app for Android and iOS that unlocks the Continuum dock and makes it work with other devices". You know this is bound to happen, people...