Lenovo reportedly working on 11.6-inch Yoga 3 Pro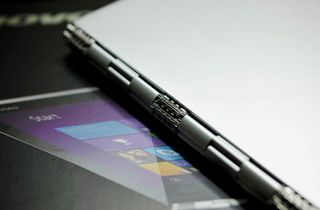 It looks like Lenovo may be working on a smaller model of the popular Yoga 3 Pro convertible laptop. After having launched a 13.3-inch model, Lenovo may be working on an 11.6-inch variant of the Yoga 3 Pro sporting an Intel Core M processor. Like the larger version available now, the smaller sibling is said to have the same hinge design, allowing the laptop to fold into different positions to fit your use best.
According to a report from Mobile Geeks, the laptop is expected to come in three configurations and two color options ranging in price between 599 and 999 euros, or roughly $750 to $1250 with today's conversion rates.
The publication notes that the laptops are listed on Amazon Germany at this time:
Lenovo Yoga 3 11 with Intel Core M 5Y10c, 4GB RAM, 128GB SSD - 599 EUR
Lenovo Yoga 3 11 with Intel Core M 5Y10c, 8 GB RAM, 256 GB SSD - 799 EUR
Lenovo Yoga 3 11 with Intel Core M 5Y71, 8 GB RAM, 256 GB SSD - 999 EUR
What do you think of the Lenovo Yoga 3 Pro with the smaller screen, especially when compared to Microsoft's now discontinued Surface Pro 2? If you're interested in what Lenovo's doing, be sure to check out our unboxing and impressions of the 13.3-inch model.
Source: Mobile Geeks (translated)
Chuong's passion for gadgets began with the humble PDA. Since then, he has covered a range of consumer and enterprise devices, raning from smartphones to tablets, laptops to desktops and everything in between for publications like Pocketnow, Digital Trends, Wareable, Paste Magazine, and TechRadar in the past before joining the awesome team at Windows Central. Based in the San Francisco Bay Area, when not working, he likes exploring the diverse and eclectic food scene, taking short jaunts to wine country, soaking in the sun along California's coast, consuming news, and finding new hiking trails.
How about a non-Pro (and cheaper) version?

They have that in the yoga 2... Posted via the Windows Phone Central App for Android

Some weird words in the middle of this article, please edit.

Agreed. I have a headache now. Tried using the Rosetta stone, but even it just shrugged.

Some alien gibberish may be?

Completely agree... But looks like a quote or excerpt. Maybe the app needs to do a better job of indicating what is a quote in an article. Jay? :)

That was one of the most poorly written articles I have ever tried to read on this website. I'm not being mean, I'm just saying I was interested, but could not follow the chip variant explanations very well.

So because you couldn't understand the article, it is poorly written? Okay fella.

It actually is written poorly smart fella... Explain me the most paragraph about battery life and soc if can?

Explain me? Should I make something out of the beginning of your sentence fella?

Yeah it is poorly written

So, as you see, kingll, from other responses, you are a fuck up.

Guys if you open it in IE, it appears to be a quote. It wasn't immediately clear in the article.

Vorgänger, Beim, Sicch. What are those words mean?

Predecessor and With in German, not sure about 'sicch'

microsoft surface is better than Lenovo Yoga. I will be more exicted to see a surface mini(with 8' screen, cellular connectivity..)

Same here... I bought three tablets during black Friday weekend (HP Stream 7, Toshiba Encore 8, and HP Stream 8)... What I learned is that Microsoft badly needs a premium 7-8" device. All but one of those three devices was returned within a week. I only kept the Stream 8 because it has WWAN support and only cost $179

What I need is a core M powered yoga tab 3. Same design as the yoga tab 2 with all its modes and PEN support. That will be the awesomest tablet ever built.

I gave my whole family Lumia 2520 RT tablets YEAR AGO, normally theyd all have viruses , toolbars, realplayer, itunes and flash, java crap installed and slow to a crawl, but... wait, no!! THey are all immune to virii and that other stuff. and running perfectly. WINDOWS RT rules! (for certain users)

If computers in your household are full of viruses and all that crapware I think you need to do more on educating the family about using computers as opposed to buying new (and frankly, short lifetime) hardware. I have the same problem as you. Pretty much have told them "if you're going to install something. DOUBLE CHECK WITH ME"

That works fine in a small household, but in a large household... Not quite so much. Besides Mike Semblence's approach was best for his situation. Personally I would do the same if i had the cash and if it wasn't for me or my older bro the entire house will be infested with ipads, iPhones and apple certified accessories -.-". Sure the collective ecosystem would have worked well, but it is not cheap and at the time of austerity; money is best saved as opposed spent on luxury items.

As a professional translator to be, let me just say: Google translate =/ good translation (which is a good thing for my future employment chances I guess) And with that out of the way, the cheaper one sure sounds like it might be a nice upgrade for my T100 without completely breaking the bank like an SP3 would. For those who are wondering: Vorgänger = predecessor, beim = ~'with the' and sich = himself/itself (and doesn't need to be translated here, Germans just loooove their pronominal verbs in the weirdest places)

Trotzdem wer weiß das nicht? lol

I may be alone in this (for now) but I just want my 15-16" Surface Pro. For the tablet stuff, I find Windows Phone to be more than up to the task.

Interesting, you can't find it by searching on amazon.de, but the links on Mobile Geeks do work and it can apparently be bought already "ready to be sent in 1-4 months"

Why no tablets have the same battery like macbook? Why using such low energy core m in yoga 3, it still cannot match macbook? Windows 8 might be the reason.

I'd assume it's Apple's weird battery set up, plus aggressive software management. Meaning if you want comparable battery life it's coming from Microsoft or not coming. Posted via Windows Phone Central App

Depends which model you're referring to. The air is a pretty big exception as they achieve that by incredible software management (as pointed out above) and by fitting in a screen that doesn't take much power. The Pros benefit from their software management too. Microsoft is comparable with the Surface range. If they hadn't put such a high resolution display on the Surface 3, it'd probably match the air. Apple really has an advantage there as they pretty much control the entire manufacturing of their laptops (vertical integration). Microsoft doesn't have that luxury so they have to design a system that'll work on thousands of different set ups and still be efficient. They do a good job at it but that's completely negated by OEMs putting horrible software on their machines and saddling them with awful batteries (HP is the worst in this regard).

I want a 16:10 screen Yoga.

I'd prefer if they released a Yoga 3 Pro which actually has a function key row (Hitting Fn + 2 is just stupid) and which came with Windows Pro as default - You know to actually match the name of the thing.

Is the market really crying out for an 11.6" laptop? I think one of the main problems with the S3P is that the screen is too small.
Windows Central Newsletter
Thank you for signing up to Windows Central. You will receive a verification email shortly.
There was a problem. Please refresh the page and try again.