Lenovo ThinkPad T470 review: The cream of the T-series crop
Is the ThinkPad T470 the best Lenovo T-series laptop ever? Quite possibly.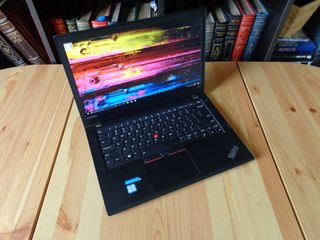 After testing a few different T-series and X-series ThinkPads from Lenovo, you sort of expect some of the same strengths and weaknesses. No, the T470 isn't perfect, but it does a lot of things better than other ThinkPads. It isn't as light or thin as some others, and it might not have a convertible design. But it's a real performer in a well-balanced body.
Whether it's for an enterprise setting or personal use, the ThinkPad T470 knows exactly where it sits, and for that reason it seems like the linchpin of the entire T-series.
About this review
Lenovo supplied Windows Central with a review unit of the ThinkPad T470. It has a seventh-generation Intel Core i5-7300U vPro processor, 16GB of DDR4 RAM, and a 256GB PCIe solid-state drive (SSD). This exact configuration costs about $1,600 from Lenovo.
Lenovo ThinkPad T470 hardware and tech specs
Lenovo does a great job of offering a lot of configuration options for its T-series laptops. There is plenty of low-end hardware for bulk buys in an enterprise setting, and there is also lots of high-end hardware for when you need a personal powerhouse.
Here is a full list of the tech specs in the ThinkPad T470.
Swipe to scroll horizontally
Category
XX
Processor
Intel Core i5-7200U (up to 3.1GHz)
Intel Core i5-7300U vPro (up to 3.5GHz)
Intel Core i7-7500U (up to 3.5GHz)
Intel Core i7-7600U vPro (up to 3.9GHz)
Dual-core
Storage
500GB SATA HDD
Up to 180GB SATA SSD
Up to 1TB PCIe-NVMe SSD
RAM
4GB/8GB/16GB/32GB DDR4-2133MHz SODIMM
Display
14-inch HD (1366 x 768) TN, non-touch
14-inch FHD (1920 x 1080) IPS, non-touch, anti-glare
14-inch FHD (1920 x 1080) IPS, touch
Graphics
Intel HD Graphics 620
Ports
Three USB-A 3.0
USB-C Thunderbolt 3
HDMI 1.4
RJ45 Ethernet
SD 3.0 card reader
Micro SIM (optional)
Smart card reader (optional)
CS13 docking
3.5mm jack
Audio
Dual stereo speakers
Dolby Advanced Audio
Wireless
Intel dual-band wireless AC 8265
802.11ac (2 x 2)
Bluetooth 4.1
WWAN
Qualcomm Snapdragon X7 LTE-A (optional)
Camera
Front-facing 720p
Keyboard
Backlit (optional)
Touchpad
Precision
Biometrics
Fingerprint reader (optional)
Battery
Three-cell 24WHr (front)
Three-cell 24WHr (rear optional)
Six-cell 48WHr (rear optional)
Six-cell 72WHr (rear optional)
Weight
3.49 lbs (1.58 kg) Three-cell + three-cell
3.92 lbs (1.78 kg) Three-cell + six-cell
Dimensions
13.25 inches x 9.15 inches x 0.79 inches
336.6 mm x 232.5 mm x 19.95 mm
OS
Windows 10 Home
Windows 10 Pro
Color
Black
Price
Starting at about $880
What you'll like about the ThinkPad T470
The ThinkPad T470 is the classic matte-black color on a magnesium and fiber hybrid chassis, with a soft-touch finish on the outside lid and on the bezel, and more of a hard, textured finish on the inside, including the palm rests. There is still some sparkle in the paint, making it stand out when the sun catches it.
While the soft finish does a good job of repelling oil from hands, the inside, including the mylar touchpad, picks up a lot of smudges. It takes a wipe now and then to keep it looking good, which I think is a small price to pay for the ThinkPad look. At the top of the display, built into the bezel, is a 720p front-facing camera.
The same dual-hinge setup you find on most T-series laptops is here, and while it isn't as tight as the hinges on the ThinkPad X270, you'll still have no problem using this laptop in a moving vehicle. Unfortunately, you cannot open the display with one hand, something that you'll sorely miss if you've used a laptop with this feature. The lid opens far enough to lay flat, but it does not rotate all the way around, even on the touchscreen configuration. If you're looking for something that doubles as a tablet, this isn't it.
The ThinkPad T470 comes loaded with ports
There's really nothing like a laptop that takes advantage of its size to offer a ton of ports that are nicely spaced out. On the left side of the laptop is Lenovo's proprietary two-pin charging port, a USB-A 3.0 port, and a USB-C Thunderbolt 3 port that doubles as a charging port if you choose to buy the USB-C charger. If you choose to include a smart card reader, it is also located on the left side, well away from the other ports.
Image 1 of 2
On the right side, there's a bit more congestion, but Lenovo did a good job planning things out to allow you to have everything plugged in at once. Here you have a 3.5mm jack, two USB-A 3.0 ports, an HDMI 1.4 port, an RJ45 Ethernet port, an SD card reader, and a Kensington lock slot.
Despite its size, the ThinkPad T470 is portable
The ThinkPad T470 isn't exactly what you'd call a small device, but it remains relatively portable at just 0.79 inches (19.95 mm) thick and weighing 3.49 pounds with two three-cell batteries. For its size, the thickness really doesn't appear out of proportion when you sit it, closed, on a table. It sits at an angle if you have the six-cell, 74WHr battery in the rear slot. However, the dimensions and weight aren't what matter here; it's the other features that really allow you to carry it around with you wherever you go.
The wide selection of ports means you don't have to carry around an extra sack of dongles just so you can use your accessories. The optional LTE-A mobile broadband lets you take the laptop on the road without losing internet access. And the Power Bridge battery system will keep the laptop juiced up for a lot longer than a normal work day.
I got about seven hours of regular use with the two three-cell batteries, and double that when using the six-cell, 72WHr rear battery. If you're often working away from a power outlet, the Power Bridge is an invaluable feature that not a lot of laptops offer.
Classic Lenovo keyboard with TrackPoint and Precision touchpad
As expected from Lenovo ThinkPads, the keyboard is outstanding. The chiclet keys have a curved design that makes them easier to type on, key travel is just about perfect and you won't feel like you're bottoming out when you hit the deck, and there are three levels of backlighting to help you work in the dark.
One problem you might have with ThinkPad keyboards is the placement of the Fn and Ctrl keys — they're reversed to resemble a Mac keyboard, and getting used to hitting the right key will take a bit of getting used to. One other problem on some ThinkPad keyboards is how crammed together the arrow keys and the PgUp and PgDn keys are, but thanks to the size of the chassis, they're more spread out and I didn't find myself hitting the wrong key nearly as often as with the T470s and the X270.
The mylar touchpad uses Microsoft's Precision driver, meaning you can use all of Windows 10's gestures to help get more done at a faster pace. It's smooth and tracks well, but the Synaptics settings are still a bit off. The review model had no problems with sensitivity, but other models with the Synaptics drivers have been known to have some sensitivity issues. These issues are easily righted by accessing the Lenovo Settings app, but it's frustrating when they're not correct right out of the box.
If you aren't a fan of the touchpad, you likely already know about the TrackPoint and its associated physical buttons. I usually stick with the touchpad, but testing out the latter device revealed no problems.
Also making an appearance is a fingerprint reader compatible with Windows Hello. It is placed well to the right of the keyboard, meaning the palm of your right hand won't hit it while you type. This is a welcome design choice and I was able to log in quickly each time I used it.
Lenovo ThinkPad T470 performance
This ThinkPad T470 came with an Intel Core i5-7300U vPro processor with a boosted clock speed of 3.5GHz, 16GB of DDR4-2133MHz RAM, and a 256GB Toshiba PCIe NVMe SSD. After using the T470 as my primary device for about a week, I expected the benchmark results to show snappy performance. This thing ate through whatever I threw at it, and I don't remember hearing the fan at all.
Keep in mind that the RAM has a slot that can be upgraded down the line, the SSD can be swapped out, and the WLAN card can also be replaced if you run into any issues.
CPU
Geekbench 4.0 Benchmarks (Higher is better)
Swipe to scroll horizontally
| Device | Single core | Multi core |
| --- | --- | --- |
| Lenovo ThinkPad T470 Core i5 | 4,394 | 8,580 |
| Dell Latitude 5285 | 4,635 | 9,289 |
| Lenovo ThinkPad X270 | 4,512 | 8,566 |
| Lenovo ThinkPad T470s | 3,919 | 6,077 |
| Lenovo Yoga 720 | 3,881 | 7,509 |
| Lenovo X1 Carbon Core i5 | 4,139 | 8,311 |
| HP EliteBook x360 G2 | 4,496 | 8,435 |
| Samsung Notebook 9 15 Ext | 4,316 | 8,320 |
| Dell Latitude 5480 | 4,625 | 15,401 |
| Dell Precision 5520 (Xeon E3) | 4,799 | 15,055 |
| Dell XPS 15 (9560) Core i7 | 4,503 | 13,587 |
| Dell Latitude 7280 | 4,381 | 7,935 |
| Dell XPS 13 (9360) Core i7 | 4,120 | 7,829 |
| HP Spectre 13 Core i7 | 4,100 | 7,469 |
| Surface Book Core i7 | 3,948 | 7,415 |
Despite there being an Intel Core i5 vPro processor in this review model (the Core i7 vPro is quite a step up), it keeps up and even surpasses some Core i7 processors in other laptops we've tested. Using it for word processing, heavy web browsing, and some multimedia playback saw absolutely no issues, but you'd no doubt want something a bit beefier if you're focusing on specialized tasks.
GPU
Geekbench 4.0 Graphics OpenCL (Higher is better)
Swipe to scroll horizontally
| Device | Score |
| --- | --- |
| Lenovo ThinkPad T470 | 21,276 |
| Dell Latitude 5285 | 21,921 |
| Lenovo ThinkPad X270 | 17,376 |
| Lenovo ThinkPad T470s | 16,635 |
| Lenovo Yoga 720 | 18,185 |
| Lenovo X1 Carbon | 20,932 |
| Dell Latitude 5480 | 21,616 |
| Dell Precision 5520 | 48,724 |
| Dell XPS 13 (9360) | 19,410 |
| Surface Book HD520 | 18,197 |
| Dell Latitude 7280 | 17,827 |
The integrated Intel HD Graphics 620 is not designed with anything intensive in mind, but it runs Minecraft well with max settings. This isn't a gaming laptop by any means, but it performs well in comparison to other laptops we've tested.
PCMark
PCMark Home Conventional 3.0
Swipe to scroll horizontally
| Device | Score | Comparison |
| --- | --- | --- |
| Lenovo ThinkPad T470 | 3,103 | Better than 62 percent of all results |
| Dell Latitude 5285 | 3,079 | Better than 57 percent of all results |
| Lenovo ThinkPad X270 | 3,009 | Better than 57 percent of all results |
| Lenovo ThinkPad T470s | 2,576 | Better than 40 percent of all results |
| Lenovo Yoga 720 | 2,717 | Better than 46 percent of all results |
| Lenovo X1 Carbon Core i5 | 2,965 | Better than 57 percent of all results |
| Samsung Notebook 9 15 Ext | 2,998 | Better than 57 percent of all results |
| Dell XPS 15 (9560) | 3,534 | Better than 71 percent of all results |
| Dell Latitude 7280 | 2,829 | Better than 52 percent of all results |
| HP Spectre x360 15 | 2,472 | Better than 41 percent of all results |
The PCMark Home Conventional test is important because it measures how well a bunch of your system components work together in a variety of everyday tasks. The ThinkPad T470 performed better than 62 percent of all reported results and did better than the majority of similar laptops we've tested. This blazing performance is evident in everyday use, and I really had no problems while using it.
SSD
CrystalDiskMark (Higher is better)
Swipe to scroll horizontally
| Device | Read | Write |
| --- | --- | --- |
| Lenovo ThinkPad T470 | 1,079 MB/s | 716.1 MB/s |
| Dell Latitude 5285 | 1,300 MB/s | 1,113 MB/s |
| Lenovo ThinkPad X270 PCIe | 1,049 MB/s | 636.9 MB/s |
| Lenovo ThinkPad T470s | 1,557 MB/s | 1,333 MB/s |
| Lenovo Yoga 720 | 1,904 MB/s | 1,169 MB/s |
| Lenovo X1 Carbon | 1,518 MB/s | 1,188 MB/s |
| Samsung Notebook 9 15 Ext | 1,365 MB/s | 1,213 MB/s |
| Dell Latitude 5480 SATA | 443 MB/s | 469 MB/s |
| Razer Blade Pro | 2,571 MB/s | 2,467 MB/s |
| Dell XPS 15 (9560) | 2,207 MB/s | 1,628 MB/s |
| Dell XPS 13 (9360) | 1,287 MB/s | 794 MB/s |
| HP Spectre x360 15 | 1,128 MB/s | 862 MB/s |
| Surface Book | 1,018 MB/s | 967 MB/s |
| Dell Latitude 7280 SATA | 428 MB/s | 412 MB/s |
| Dell XPS Tower SE (HDD) | 133 MB/s | 150 MB/s |
If there is one issue to find with performance, it's the Toshiba PCIe SSD. It doesn't perform as well as the Samsung PM961 found in some other ThinkPads, but it is user replaceable. Grab a cheap SSD at checkout to save some money, and put it toward a faster SSD sometime in the future.
What you'll dislike about the ThinkPad T470
Picking out the flaws in a piece of hardware as nice as the ThinkPad T470 is my least favorite part of a review, but luckily there are very few downsides here.
The display brightness and color are lacking
One of the most common problems with Lenovo's laptops is screen brightness. The T470 suffers the same fate. At maximum brightness in a shaded room, the 14-inch display with an IPS panel still seems like it should be brighter. Sure, the matte finish helps with direct sunlight, but if you like your screen bright, you'll no doubt find yourself angrily mashing the brightness button.
Testing the color shows a bit of a weakness as well. The T470's display hit just 65 percent sRGB and 49 percent of AdobeRGB. With other high-end laptops, you're usually looking at results somewhere in the ninetieth percentile. Still, the display isn't dull, and you get a nice contrast with a sharp picture. For a business laptop, it's fine.
The speakers really aren't great
To be fair, this isn't an entertainment laptop, but the dual stereo speakers located on the bottom front of the laptop are terrible. Whether the laptop's sitting on a flat surface or on your lap, they make a mess out of whatever you're listening to. Each time I sat down to watch a movie or listen to music, I quickly grabbed headphones.
Lenovo ThinkPad T470 review: Conclusion
For anyone in search of a new business laptop, the ThinkPad T470 should be near the top of your list, especially because a base configuration starts at about $881. No, it won't have the same power as the model tested here, but with a few small adjustments to the configuration, you can get a formidable performer for a price just north of $1,000.
With a wide range of ports, a Power Bridge battery system that lets you hot-swap batteries, a premiere keyboard that typists won't be able to get enough of, a classic TrackPoint and a matte-black chassis, this is a ThinkPad through and through.
If you can get around the dim display (which is easy unless you're primarily working outdoors) and weak speakers, there's really not much else you can knock. It's not the smallest or the lightest, but it definitely seems like the best mix of all the other ThinkPads out there.
Pros:
Power Bridge battery system gives you all-day life.
It chews through everyday tasks with ease.
Wide port selection, including Thunderbolt 3.
You can't beat the keyboard.
Standard ThinkPad durability.
Cons:
Display is dim and color could be better.
Speakers are garbage.
Get the Windows Central Newsletter
All the latest news, reviews, and guides for Windows and Xbox diehards.
Senior Editor, Laptop Reviews
Cale Hunt is formerly a Senior Editor at Windows Central. He focuses mainly on laptop reviews, news, and accessory coverage. He's been reviewing laptops and accessories full-time since 2016, with hundreds of reviews published for Windows Central. He is an avid PC gamer and multi-platform user, and spends most of his time either tinkering with or writing about tech.
That's a bad background to showcase a laptop display.

Two questions from a business stand point. first, are they compatible with the same docking stations are office use for T440s, T450s and T460s? Second, as they use 7th generation Core i processors, can they be fitted with Windows 7? A lot of offices didn't transitioned yet to Windows 10 and recently Microsoft stopped Windows 7 and 8.1 from running on most recent CPU families of Intel and AMD.

Yes. Compatible just the questions how many generations to come. They changed the port with the t430 or t440 and no pushing docks towards usb-c . Have 15 of those at work and don't want to end up with useless docking stations in two years

You should point out differences if not review the T470S also :-)

I am used to and love HP laptops, but for the last six months or so, I've been forced over to Lenovo. I must say, it leaves quite a lot to be desired. The Fn-key is shockingly stoopidly placed, the PC crashes about half the time I dock/undock it (with all latest drivers and firmware). It's just an inferior business laptop compared to HPs offerings in the same price bracket. I can't understand the rating this PC gets here

You can change the fn key on bios and make it f functions primary or swap with ctrl.

Lousy screen resolutions for a laptop released in 2017.

More is not really needed. Legacy apps already have problems with fullhd so what do I want with 2k. Just because you phone does it doesn't make it necessary for a notebook

I disagree. I have a Surface Book and with proper scaling, the fonts are MUCH easier to read. That's why they put the scaling function in Windows.

typing on a T460S purchased after owning SP3 and SP4.... sad to say the hi reg glossy screen with meh keyboards just don't cut it. Scaling is improved but still the only thing either surface has improved is the taller non 16x9 screen aspect ratio.

I am rolling those out in the office. People are happy. Doesn't have hello support for camera. I got the performance one and that didn't have the second battery also no hello camera support.

I'm a big fan of the ThinkPads with *good quality* keyboard, and the "skin" like surface. From the pictures, the T470 lacks the "skin" feeling of the surface. However, one thing I always hated is their weird reversal of the Ctrl and Fn keys. As I use the Ctrl key a lot in my work for keyboard short cuts (and hardly ever the Fn key), this reversal is horrible: it is much more difficult to hit the Ctrl key when touch typing in the location on the ThinkPads than the location "every other" manufacturer uses... :-(.

The UPS driver just handed me my new T470. For me it was the perfect balance of battery life, weight, # of ports, and additional storage drive capability, (will be running Linux on the second drive) between the T470, T470s and T470p. I had returned a T440s a while back for screen issues, so giving it one last try.

you can swap the Ctrl/Fn key function right from the included Lenovo UWP.

Still no 7 row keyboard, so holding on to an upgraded T-60 and a T410S maxed out on memory, which has a 16:10 screen ratio and no chiclet keys just to make it sweeter. As far as the Fn key being reversed it works fine the way it is, I don't need a ThinkPad to be "just like every other" laptop, but I would really like to see dual ThinkLights as proposed on the retro edition. Backlit keyboards are great for gaming in a dark room, but the ThinkLight gives you ambient ilumination to see beyond just the keyboard. In short, another year of hopes dashed. At least they haven't killed the Trackpoint!

I personally don't have any attraction to this old looking machine. OMO

Don't forget guys this is business and they need to make money. Watch a few YouTube videos and then take a decision. LOL

I use a T460s for work. In my opinion, the pageup and pagedown buttons are not crammed and too close from the arrow keys: they are exactly where they should be for a business laptop! Because they allow to use ctrl-pageup/down to navigate between tabs in Excel. It's extremely annoying for me to use Excel with other keyboards now because my right hand has to go far from the arrow keys to allow me to switch tabs, before coming back to them. The placement of pageup/down is carefully thought out and is the absolute best for a work laptop.