When Lenovo announced the ThinkPad X1 Nano, it was a bit difficult to get excited about it. After all, it looked just like a 14-inch ThinkPad X1 Carbon … but reduced. As it turns out, size does matter, and while it is true that ThinkPad X1 Nano is smaller thanks to that 13-inch display, it is also one of the most enjoyable Ultrabooks I used in 2021.
So, why do I think the X1 Nano is so good? It's the sum of its parts. A superb display, optional carbon fiber lid, and 4G/5G, all in a laptop that weighs just 962g (2.12lbs)? There's a lot to like here for the right audience.
Read on for my full review.
Bottom line: The ThinkPad X1 Nano highlights all the best features of Lenovo's premium ThinkPad of laptops, but with a focus on portability. Its featherlight chassis, excellent 2K display, and legendary keyboard make it a great productivity laptop for the frequent traveler.
For
Extremely light and portable design
Brilliant keyboard and trackpad
Outstanding 16:10 2K display
Optional 4G/5G
Zero Touch login/User presence detection
Against
720p webcam is weak for 2021
Antiquated exhaust system
Small sacrifice on battery life
Lenovo ThinkPad X1 Nano: Price, availability, and specs
The ThinkPad X1 Nano starts at around $1,056 on the Lenovo website. Users can customize just about every aspect of the laptop, including the OS, processor, RAM, storage, display type, and connectivity options like 4G or 5G.
Processors range from the latest Intel 11th Gen Core i5-1130G7 up to the i7-1180G7 (for this review, I used the Core i7-1160G7).
The storage and RAM peak at 1TB PCIe SSD and 16GB on the X1 Nano, respectively. There are only two display types, both 16:10 2160x1350 aka "2K." The differences are one is anti-glare, non-touch while for an extra $89, you can go with anti-reflective with touch. Both hit 450 nits of brightness with support for Dolby Vision (increases contrast for video and media).
Swipe to scroll horizontally
Category
Lenovo ThinkPad X1 Nano
OS
Windows 10 Pro or Linux
Display
13-inch touch or non-touch 2K (2160x1350) with 100% sRGB
Dolby Vision
450nit
Processor
Up to 11th Gen Intel Core i7
Graphics
Intel Iris Xe Graphics
Memory
Up to 16GB LPDDR4X
Storage
Up to 1TB PCIe SSD
Security
Match-on-chip fingerprint
IR camera with human presence detection
ThinkShutter camera cover
Kensington lock slot
dTPM 2.0 chip
Ports
2x Thunderbolt 4
1x Audio (headphone/mic)
Wireless
WWAN 5G/LTE/4G Capable
WLAN 802.11 AX
LTE CAT 20
Bluetooth 5.0
Audio
Dolby Atmos speaker system
3x 360-degree mics
Battery
Up to 17.3hrs
48Wh
Up to Type-C 65W
Weight
1.98 to 2.17 pounds (898 to 984 grams)
Dimensions
11.5 x 8.15 x 0.55 inches
292.8mm x 208mm x 13.87mm
Best Buy and Amazon also sell the ThinkPad X1 Nano as pre-configured machines with a more limited selection and configurations that are more likely to be sold. However, if users want 4G or 5G, they will need to order direct through Lenovo (who run frequent sales).
Classic but tiny
Lenovo ThinkPad X1 Nano: Design and features
At its core, the ThinkPad X1 Nano feels like a smaller ThinkPad X1 Carbon. You lose a few ports dropping down to just two Thunderbolt 4 Type-C (not unlike the Dell XPS 13), making this a simple Ultrabook.
Branding is very minimal with the traditional use of "ThinkPad" in various places, and some text for X1 Nano and Dolby Atomos placed throughout. Lenovo plays it cool, however, by making all that text slightly contrast black giving it all a very stealthy look. Lenovo rightly still uses a small red LED for the "i" in ThinkPad on the lid.
Image 1 of 2
Lenovo made the ThinkPad X1 Nano for a particular demographic: road warriors. It is ideal for those who fly frequently and have limited space with those dropdown tray tables. Throw in some 4G or 5G, and you have a thin and light laptop, that works anywhere and is easy to carry. And at just 962g (2.12 pounds) and 13.87mm thick, it certainly fits the bill. (I weighed both non-touch and touch X1 Nanos, and the weight ranged from 1.98lbs to 2.17lbs (898 grams to 984 grams).
When it was first introduced, the ThinkPad X1 Nano had a regular "classic black" lid, but there is now an option for a fancier carbon fiber top cover. The classic black is cheaper, starting at $1,275 (after a coupon) but is currently out of stock. The carbon fiber lid has the benefit of not only looking nicer but adding a bit more support as well, in addition to being better at hiding fingerprints.
Opening the ThinkPad X1 Nano lid and you are greeted with Lenovo's familiar "smile" keyboard design, TrackPoint red nub, and a generously sized Microsoft Precision touchpad. As expected, the keyboard is top-notch, and the trackpad is one of my favorites by Lenovo thus far, with a very satisfying click when pressed. Despite the smaller laptop chassis, the full-sized keyboard never felt cramped or limited — it felt completely normal.
Lenovo includes both Windows Hello infrared (IR) facial recognition and a fingerprint reader built into the deck for security. A fingerprint reader makes sense as users may leave the physical camera shutter, preventing Windows Hello IR from working. Both worked without a hitch.
One of the best features is Lenovo's "Intelligent Security," aka human presence detection, something I see more of in recent Intel-based laptops. The X1 Nano can detect when you are in front of it using an array of sensors. When you walk away from the computer, it auto-locks, and when you return, it detects your presence, turns on the display, and can log you in with Windows Hello IR — what Lenovo calls "zero-touch login" as you never make contact with the laptop. The system worked flawlessly, and Lenovo lets users customize the sensitivity of the feature under its Commercial Vantage software (user can also disable it). Besides added security, the feature also helps preserve battery life.
The 720p front-facing web camera is decent enough and gets the job done. Lenovo rates higher here than some other competing brands, but it would be nice to see the company embrace full HD (1080p) in all its ThinkPad laptops from now on. Lenovo is good, however, at making sure your image is bright at least.
Image 1 of 2
When it comes to audio, Lenovo falls below Microsoft, HP, and Dell, but the company is lately getting much better. The ThinkPad X1 Nano thankfully includes two top-firing speakers (near the display) and two on the bottom front edge. These are tuned with Dolby (Dolby Atmos), and while it lacks powerful bass and presence, the volume is excellent, and there is some solid spatial separation. The audio here is best suited for voice instead of music, making some sense on a business laptop. Users can tweak audio via the Dolby Access app with preselects for dynamic, game, movie, music, or custom by using the built-in 10-band equalizer (I preferred "movie" set to "warm" for my overall usage).
Ideal screens
Lenovo ThinkPad X1 Nano: Display
Lenovo made some wise choices for the screens on the ThinkPad X1 Nano, making it a strong point of this laptop. The resolution for both is 2160x1350 — higher than full HD, but not as battery-thirsty (and overkill) as 4K UHD. This "2K" range is the sweet spot for a 13.0 display, letting you enjoy videos, movies, and photo editing without any jaggedness.
Lenovo also went with a taller 16:10 display, something it has been doing across its ThinkPad X1 lineup in the last year. You get a more viewable screen compared to 16:9 and thin, symmetrical bezels. It works perfectly for this device, and there's no question about it.
I tested both displays — a matte, anti-glare non-touch, and the slightly more expensive anti-reflective touch option. Both are very good, with the matte choice being better for the person who wants to lessen eye strain or spends hours word processing.
For color gamut, the matte, anti-glare screen earned a 98% sRGB, 76% AdobeRGB, and 78% DCI-P3 — all decent and respectable for this PC class. The touch-enabled version with an anti-reflective layer scored slightly higher with 100% sRGB, 76% AdobeRGB, and 80% DCI-P3.
Lenovo claims 450 nits of brightness, and, for once, a laptop maker nails it. Our anti-glare display was exactly 450 nits, while the anti-reflective was a smidge higher at 457. Both displays can go as low as four nits at 0% brightness, making this perfect for working in the dark without being too bright for late-night work.
Lenovo also works with Dolby ensuring these screens support Dolby Vision. The included Dolby Access app lets users choose bright, dark, or vivid settings to optimize imagery using Dolby Vision and looks great, but is not exceptional.
No complaints
Lenovo ThinkPad X1 Nano: Performance and battery
Performance with the Core i7-1160G7 in our review unit is respectable but somewhat restrained due to the smaller chassis with limited thermal headspace. All the 11th Gen Intel processors I have tested constantly do well overall, and the i7 here is no different.
While it doesn't set any benchmark records, the i7 results in a very responsive and zippy system, thanks to the SSD, which averaged around 2,500MB/s for sequential read and 1,800MB/s for sequential write. The inclusion of Intel Iris Xe graphics also enhances photo editing and light tasks that require a boost to video performance.
Image 1 of 5
Battery life in a controlled battery rundown test (PCMark 10 Modern Office), which loops through web browsing, word processing, video calls, photo editing, and more, lasted an impressive 13 hours and 1 minute at 150 nits of brightness. That's likely thanks to the X1 Nano being Intel Evo certified. Of course, pushing the Core i7 much harder for sustained tasks or pushing the display up to that peak of 450 nits will drain the X1 Nano much more quickly.
Real-world usage for the X1 Nano using the Windows battery report, reflecting actual discharge rates over weeks of usage, suggests 7 hours but up to 10 hours on lighter tasks. Near max brightness and using that i7 will likely result in around five to six hours of longevity.
Due to the small chassis and single fan, the cooling of the X1 Nano results in some audible noise under load. Lenovo is still using an older thermal design where the fan is on the bottom, off-centered, and a single exhaust port on the right-hand side. Modern laptops tend to hide the vents in the rear of the display, giving a more appealing look. Because of this, if you use a mouse, you can feel some warm air blowing on your hand when using the X1 Nano. The laptop can get warm during a Windows update, but you won't notice any extreme temperatures on the underside most of the time.
Lots to choose from
Lenovo ThinkPad X1 Nano: Competition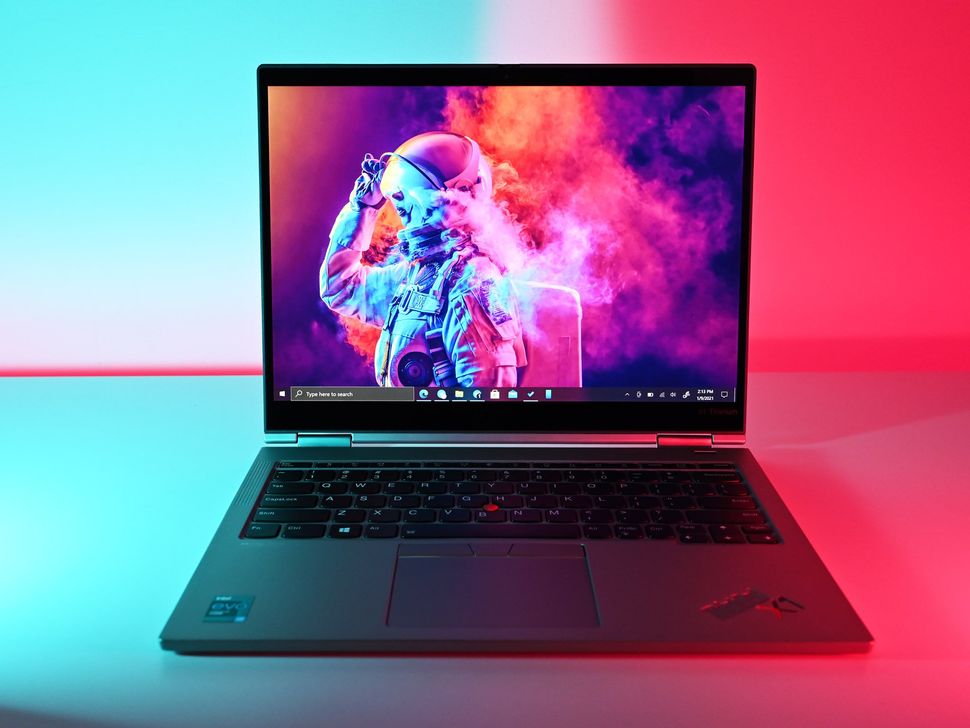 The 13-inch space for Windows Ultrabooks is easily one of the most crowded, resulting in plenty of options. However, Lenovo is reaching here for the super light, very compact business market where laptops weigh in the 2-pound range, which is more limited.
Samsung has the new Galaxy Book Pro, which is just a hair heavier at 2.29 pounds (1.04kg) but is thinner by almost 2mm. You do get a Super AMOLED display, but only at full HD and with a more traditional 16:9 aspect. It does, however, have a larger 63WHr battery and should outlast the X1 Nano.
Likewise, the new HP Elite Dragonfly and Dragonfly MAX come in at just 2.2 pounds (<1kg) and 2.49 pounds (1.13kg). They both have larger batteries, around 56WHr, and the MAX features an impressive 5MP full HD webcam making it much better suited for those who spend all day in video meetings. While thicker laptops, you do get a USB-A port, two Thunderbolts, and even an HDMI 1.4b, making it a more robust travel companion without the need for dongles. There are also 4G, 5G, and HP's popular Sure View Reflect technology to prevent onlookers from seeing your display. It's a perfect alternative if you prefer HP.
While not a business laptop per se, Dell's XPS 13 feels similar to the X1 Nano with a 13.4-inch display, same port selection/tradeoffs, and goals. However, it weighs much more hitting 2.64 pounds to 2.8 pounds (1.2kg to 1.27kg).
Finally, for those who want super light but want to lean more into the touch and tablet side with support for inking, Lenovo's own ThinkPad X1 Titanium Yoga is the obvious choice. You get similar processor options, 4G/5G, super-thin chassis at 11.5mm, and it weighs just 2.54 pounds (1.15kg). It's an impressive piece of kit that serves as a nice counterpoint to the X1 Nano.
You can get more ideas from our best business laptops and best 13-inch laptop recommendations.
Lenovo's linage is strong
Should you buy the ThinkPad X1 Nano?
Who it's for
Frequent travelers who need a light, security-focused PC
Those who adore Lenovo's keyboards, TrackPoint, looks, and history
People who want the option for 4G or 5G on a laptop
Smart people who know that 16:10 is the proper display aspect
Who it isn't for
People who want a convertible PC
Those who need longer battery life
If you hate dongles and need more ports
At the beginning of this review, I remarked, the X1 Nano is, in many ways, just a slightly smaller X1 Carbon. But that small size change makes all the difference. With the 16:10 2K display, excellent keyboard, trackpad, and decent audio, the X1 Nano is a joy to carry around, thanks to that ridiculous low weight.
I didn't think I'd enjoy the X1 Nano as much as I did, but I kept reaching for it every time I needed to go out or even work on the couch. The "classic" X1 ThinkPad design, the clean labeling, the typing, and the easy-on-my-eyes display kept me very happy.
The only downsides are the obvious ones like having to use a dongle for a Type-A port, the slightly more whiney single fan, and the good (but not exceptional) battery life when you push the display brightness higher. But these are also the apparent tradeoffs with just having a tiny, super-light PC. If you find any of these restrictions offensive, get the X1 Carbon, which solves all of them with aplomb.
Lenovo also needs to move the power button from the right side to the top of the keyboard deck, which is the current (and preferred) trend in modern laptops right now.
I should also mention that the touchscreen review unit did have a slight issue with the backlit keyboard where the LED was not aligned, causing it to be visible in use (and quite bright). While it's a single quality-control issue, I have had some minor quibble from Lenovo in the past when I've ordered my own ThinkPad X1 Carbon and Yoga. It's something to watch for, though also likely an isolated incident.
As to which model you should get, most people would be fine with the Core i5 as you still get Iris Xe graphics. Get the Core i7 only if you push Excel or need some frequent photo editing. The display choices are a wash — they're both fantastic. Note that the touchscreen model is slightly heavier (2.17 pounds vs. 1.98), but not noticeably so. While you can save some money with the classic lid, the carbon fiber weave adds a bit of modest flair and looks better but is primarily personal taste. For connectivity, the optional 4G adds $224 to the overall cost, whereas Sub-6 5G (Qualcomm X55) is a ridiculous $462, so give a think on how vital 5G is to your daily flow.
Overall, Lenovo strikes a realistic and welcomed balance with the X1 Nano delivering a compact laptop that still offers the "best" of its X1 ThinkPad line. If its mission is to satisfy those who need a solid, well-built, ultralight Ultrabook, then Lenovo has a winner here.
So darn light
Light as a feather, but few compromises

The ThinkPad X1 Nano highlights all the best features of Lenovo's premium ThinkPad of laptops, focusing on portability. Its featherlight chassis, excellent 2K display, and legendary keyboard make it a superb productivity laptop for the frequent traveler.
Daniel Rubino is the Editor-in-chief of Windows Central, head reviewer, podcast co-host, and analyst. He has been covering Microsoft since 2007 when this site was called WMExperts (and later Windows Phone Central). His interests include Windows, laptops, next-gen computing, and for some reason, watches. Before all this tech stuff, he worked on a Ph.D. in linguistics, watched people sleep (for medical purposes!), and ran the projectors at movie theaters because it was fun.