How Lenovo's radically thin ThinkPad X1 Titanium Yoga 5G came to be
Lenovo's gorgeous new Ultrabook aims to be a better tablet and laptop than Surface Pro. Here's how they did it.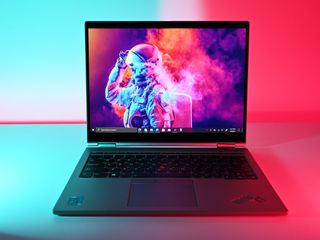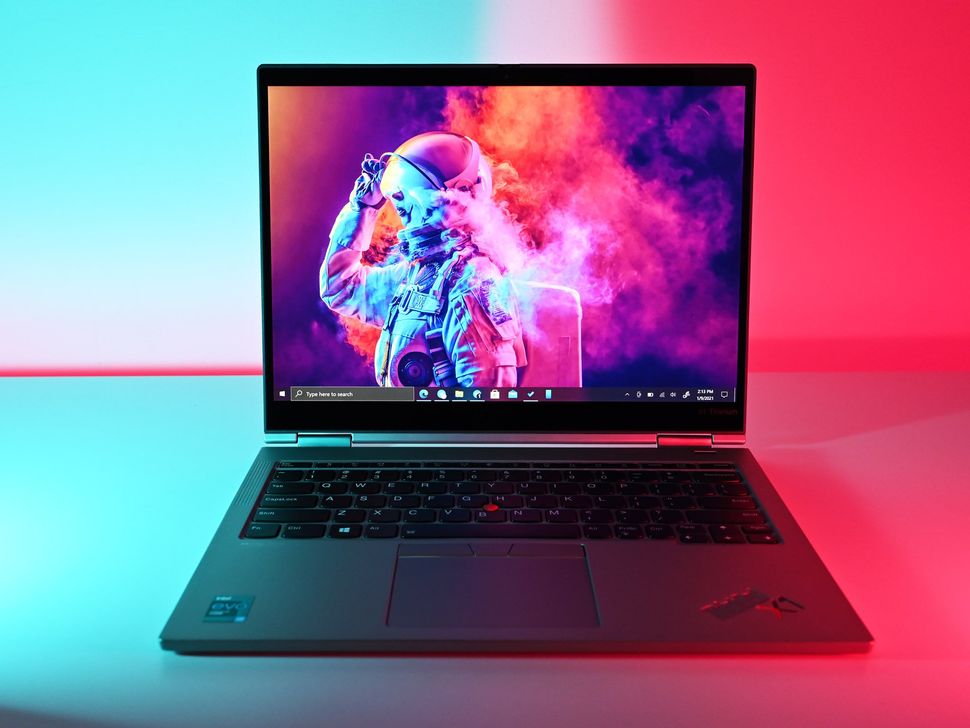 (Image credit: Daniel Rubino / Windows Central)
It is no secret that of all the laptops announced at CES 2021, the new ThinkPad X1 Titanium Yoga is among those I found the most interesting. It's the kind of 2-in-1 laptop that you expect to be ARM-based instead of Intel x86-powered. With 5G, a titanium lid, packed with features like Thunderbolt 4, and one of the first haptic trackpads, the X1 Titanium is both familiar and unique. It is quite literally the thinnest ThinkPad ever made.
But I had many questions about how Lenovo made the Titanium Yoga, and just as importantly, why. After all, you can order the 6th Gen X1 Yoga, which is also a 2-in-1 business laptop with optional 5G. What makes this so special?
So, we sat down with Thomas Butler, Executive Director of Commercial Portfolio & Product Development, at Lenovo to find out just what went into the ThinkPad X1 Titanium and why it exists.
Benefits of a tablet, but more like a laptop
Why make ThinkPad X1 Titanium Yoga?
Lenovo has been doubling down on its ThinkPad line for years with revised generations of current home runs like the perennial X1 Carbon and X1 Yoga. That line has recently expanded with the X1 Extreme (15-inch workstation), X1 Nano (smaller X1 Carbon), X12 tablet (Surface Pro-like), and even the experimental X1 Fold (new form factor).
The strategy has paid off with a recent second consecutive record-breaking quarter with revenue up 22 percent year-on-year of $17.2 billion. Compare that to Microsoft's admirable $2 billion on Surface, and you get the idea of why Lenovo is one of the biggest PC makers on the planet.
The X1 Titanium Yoga is another alternative for those focused on mobility and connectivity. It is not low-priced either, starting at $2,909 (Core i5, 8GB, and 256GB storage) and heading north of a sobering $3,800 for the Core i7 with 16GB and 1TB. That makes it not only of the thinnest ThinkPads ever but also one of the most expensive too.
Butler explained the reasoning behind the X1 Titanium, which aims to solve "the detachable problem," as he calls it. While devices like Surface Pro and even Lenovo's new ThinkPad X12 are tablets with floppy detachable keyboards, they are not great laptops for many people.
So, what about making an actual laptop feel like a tablet? How do you gain the portability and benefits of a tablet PC, but without compromising the design?
That's where the X1 Titanium leaves its mark. Combine unique materials for the chassis, extreme thinness, a 3:2 display, and the X1 Titanium becomes a great tablet and a great laptop. As Butler puts it, X1 Titanium is "optimized for a tablet without penalizing you for the weight of that keyboard." For comparison, Lenovo's new ThinkPad X12 is nearly identical in weight to the X1 Titanium but comes with a smaller 12.3-inch display instead of a larger 13.5-inch one.
Swipe to scroll horizontally
Category
ThinkPad X1 Titanium Yoga (Gen 1)
OS
Windows 10 Home
Windows 10 Pro
Processor
Intel 11th Gen with vPro
Core i5-1130G7
Core i5-1140G7
Core i7-1160G7
RAM
Up to 16GB LPDDR4x
Graphics
Intel Iris Xe
Storage
Up to 1TB M.2 PCIe SSD
Display
13.5 inches
3:2 aspect ratio
Touch
Dolby Vision
2256x1504 (2K)
450 nits, 100%sRGB
Anti-reflective, anti-smudge
Pen
Lenovo Precision Pen
Ports
Two Thunderbolt 4
3.5mm audio
Audio
Dual top-firing speakers
Dolby Atmos
Four microphones
Connectivity
Wi-Fi 6
Bluetooth 5.1
Optional: WWAN 4x4 MIMO 5G (LTE CAT20) / 4G (LTE CAT9)
Camera
Front-facing 720p
Privacy shutter
Security
IR camera
Fingerprint reader
Battery
44.5Wh
Dimensions
11.71 x 9.14 x 0.45 inches
(297.5mm x 232.7mm x 11.5mm)
Weight
From 2.54 pounds (1.15kg)
Color
Titanium
And like a Surface Pro device, Lenovo wanted something with a full-sized pen instead of a siloed one like with X1 Yoga (the Titanium is just too thin to house one anyway).
The X1 Titanium is undoubtedly small and light at just 2.54 pounds (1.15kg). With a 3:2 display, the Titanium is only slightly larger than an 8x10 sheet of paper. However, that screen is still a notable 2256 x 1504 resolution that supports Dolby Vision HDR with 100 percent sRGB color accuracy.
And this gets to the crux of why X1 Titanium exists. While the bigger X1 Yoga and other 2-in-1 laptops can turn into a tablet, they are only decent at it for short durations. Lenovo refers to this as "anecdotal tablet use" — laptops like the X1 Yoga or HP EliteBook x360 excel at it. But by being lighter, thinner, and more symmetrical in design, the X1 Titanium is suited for more than just occasional tablet indulgence. Flip its keyboard around, and the X1 Titanium truly feels more like an iPad Pro than a convertible laptop PC.
However, the only way Lenovo could pull off the Titanium's design is with some recent technological innovations.
Radically thin
Key ingredients: Intel, Sensel, 5G, and titanium
As the name implies, X1 Titanium relies on titanium as one of the core materials for its chassis. The pricey metal is used in the lid (along with carbon) due to its specific structural properties. Titanium is extremely lightweight but also incredibly strong. As Lenovo puts it, titanium lets them get "radically thin."
This is not the first Lenovo laptop with titanium. Lenovo first experimented with the metal back in 2005, but it never really caught on for what they needed. Now, 16 years later, titanium has finally found its niche.
Besides protection, titanium does double duty as the laptop's core when it is in tablet mode. When flipped around, it supports the display acting more like a tablet than a laptop. The titanium also has the pleasant side effects of being lustrous and shimmery, giving the X1 Titanium a distinct silver colorway that also resists fingerprints.
Image 1 of 2
The bottom chassis of the Titanium is a different story. It utilizes Lenovo's other favorite go-to materials: carbon and magnesium. Carbon is like titanium reversed: it is even lighter but not nearly as rigid. Magnesium is needed in the bottom half for "windowing," a term used to expose the internal Wi-Fi and 4G/5G antennas since radio waves do not bode well traveling through metal.
But it is not all fancy metals and alloys that make the X1 Titanium unique. Intel and Sensel are also needed to get that chassis so thin.
Intel's 11th Gen processors, Iris Xe graphics, and Evo platform let Lenovo cram a real quad-core 10nm Core i7 processor into the Titanium without using much space. Indeed, the entire motherboard is only a few inches long, thanks to Intel onboarding many advanced features like Thunderbolt 4 for the two Type-C ports and Wi-Fi 6.
I have already done a deep dive on Sensel – the US company behind the new haptics-based touchpad in the Titanium. Without moving parts and a few millimeters thin, Lenovo had more space to put in a decently sized battery.
Popping off the bottom lid of the Titanium, and you can see how packed it is inside. Lenovo crammed in two top-firing Dolby-tuned Atmos speakers, a 44.5WHr battery, a cooling fan with heat piping, SSD, two Type-C ports, and a 5G modem with antennas (5G requires more sophisticated antennas than just 4G). There's almost no "stacking" either of the components, which is why the Titanium's base is no thicker than an iPhone.
Image 1 of 2
Even the keyboard, a hallmark of Lenovo laptops, is not compromised. While regular ThinkPads have an ample 1.5mm of key travel, Lenovo only drops to 1.35mm on the Titanium — what Butler considers the bottom threshold for ideal typing. That is still way more than Apple's widely panned Butterfly switches (0.7mm) and even its more recent scissor-switch in MacBook Pro (1.0mm).
Future-proofed
ThinkPad X1 Titanium pushes the edge (with few compromises)
It is easy to read the headlines of the X1 Titanium and think Lenovo went thin for the sake of thin. It does make for good marketing. But that overlooks the benefits this design enables compared to existing 2-in-1 laptops and tablet-based PCs. Lenovo tells me it could have gone even thinner, but that wasn't the point as it would have sacrificed fundamentals like battery size, audio quality, and its keyboard.
In my conversation with Butler over the ideas that fed the X1 Titanium, it's evident that Lenovo has a clear target for this premium laptop. Ultra-mobile, working professionals who prioritize connectivity (5G), conferencing, inking, and tablet mode over everything else.
The X1 Titanium, though, does have minor tradeoffs besides that high price. With only two Thunderbolt 4 ports, road warriors will miss having expandability. Lenovo makes up for that by including a full port replicator in the box, complete with two Type-A ports, standard and micro SD card readers, full HDMI, and Type-C. Need Ethernet? There is a separate Type-C to RJ-45 connector included too.
Sure, it is the dongle life, but at least it is part of the package. And if that bothers you, Lenovo gladly points you to its latest X1 Yoga as an alternative. Want the smallness of the X1 Titanium but don't care about the tablet part? Check out the new X1 Nano.
But it's the coming together of all the latest tech that makes the X1 Titanium worth discussing. Lenovo could not have made this laptop without all these key pieces coming together in 2021. An increasing number of workers only need a quality display, a full keyboard, connectivity, and the ability to act as a tablet. For those people, the minimalist ThinkPad X1 Titanium Yoga makes a ton of sense.
Windows Central Newsletter
Get the best of Windows Central in in your inbox, every day!
Daniel Rubino is the Editor-in-chief of Windows Central, head reviewer, podcast co-host, and analyst. He has been covering Microsoft since 2007 when this site was called WMExperts (and later Windows Phone Central). His interests include Windows, laptops, next-gen computing, and for some reason, watches. Before all this tech stuff, he worked on a Ph.D. in linguistics, watched people sleep (for medical purposes!), and ran the projectors at movie theaters because it was fun.
That price though. Ouch. It's not comfortable using a 1.1 kg tablet like the Surface Pro 7 or Pro X with the type cover and this X1 Titanium. A Surface Pro without the keyboard is a lot easier to use with one hand because it weighs less than 800 g.

It's a lovely computer but at over$1,000 more than a similarly outfitted Surface Pro, I just don't see it. It's probably worth some premium in the$400-$500 range for the slightly larger screen.

There's a lot of good points here - but I don't understand what's so different to the HP Dragonfly (G1) from last year. It's even lighter with the same type of bells and whistles as this years Titanium Yoga. This article should have been written for that device a year ago, or for the updated model a couple of months ago or the upcoming refresh announced at this CES.

I severely disagree. I reviewed the Elite Dragonfly. It has a lot of potential, but I didn't love it including having issues with the modem crashing often. It was also using an 8th Gen CPU when everyone else was on 10th (that's a vPro thing). re: the refresh, I'd still prefer it had a 16:10 or 3:2 aspect, which would have made it a better tablet. Instead, it has a dated 16:9 display with a short throw for palm rest. It's a great 2-in-1, not a great tablet. That proves the point I'm making here with the Titanium, which is a great tablet. Dragonfly is better at "anecdotal tablet use." There's also just not a lot of invention/innovation with the Dragonfly. It's really nice, I'm glad they made it, but it's simply a light 2-in-1 laptop. We've seen that before. Also, I should mention, HP has not yet sent the revised edition for me to look at yet. Meanwhile, I do have this in my possession and it does a lot of new stuff not done before. When HP sends the new Dragonfly, I'll review it and compare it to this one. I think Dragonfly Max is interesting with that camera.

Yeah the 16:9 is a bit shabby in the Firefly, but the low weight I think is very important for a tablet. Bit subjective but I think I would even say it is more important than a bitter thinner dimensions.
The generation lacking behind is a bit annoying on the other hand iirc you do get the better batch of chips and vPro can be handy.

I am glad this time they're pushing the refresh out with 11th Gen vPro as 11th is a HUGE boost in performance/gpu and battery life. DF looks awesome, but it'll be really perfect when they re-do it for 16:10 or 3:2. I think they will, but won't be until another version or two.

Great article. I didn't realize it was the same weight as a Surface Pro w/ Type Cover. I would much rather have this form factor w/ its better keyboard. Kinda reminds me of the original Pixelbook. That said, I think I'll wait a little bit for the cost to come down and maybe for them to reduce that chin. $3K is eye-watering expensive.

I dig it...but need that price to come down to realistically entertain it as a replacement for my SP7.

Yup, I don't disagree. But maybe now people can stop saying Surface Pros are too expensive :P

FWIW, we all know that Lenovo's MSRPs are significantly inflated and there are almost always sales. While the X1 Ti isn't on sale at the moment, if you are a member of of one of their partner discount programs (basically if you work for most large companies) there is currently a discount that takes the Core i7 model with 16GB RAM and 1TB SSD down to a much more reasonable $1650 (MSRP $3799). A comparably configured Surface Pro 7 is $2299, before you add on the keyboard or pen. Surfaces Pros are still too expensive, unless you're buying one of their mid-range/low end "holiday sale bundles". This actually is the first device that I've seen that realistically has a chance to displacing my Surface Pro 5, since I really am about 50/50 on tablet/laptop use.

That is a big difference though I also see good sales for the Surface devices.
PS: don't you need to pay for the pen seperately too for the X1 Ti since it lacks a pen dock (and hence a build-in pen) compared to the X1 Yoga?

"FWIW, we all know that Lenovo's MSRPs are significantly inflated and there are almost always sales."

This is very true.

$4k 😂 Imagine all the things you can do with a spare 4 grand lying around, and you buy the most overpriced computer with 16GB of soldered RAM and a battery the size for an small Android Tablet.
I remember my laptop back in 2013 with 16GB of DDR3 upgraded RAM and a 43Wh battery. That wasn't even a premium flagship, just a cheap $700 office laptop from Samsung. And the worst part is, Lenovo is probably not going to release a 2-in-1 AMD Ryzen model with dedicated graphics whether it's a Thinkpad, ThinkBook, Ideapad or Yoga, because they need to sell Intel flagships.
It's a shame really, I was looking forward to the 2nd generation Ideapad and ThinkBook Pro lineup with AMD + Nvidia. I'm calling it now, Apple's Titanium MacBook will be a much better value than the Titanium Thinkpad, both in terms of specifications and hardware.

"$4k 😂 Imagine all the things you can do with a spare 4 grand lying around, and you buy the most overpriced computer with 16GB of soldered RAM and a battery the size for an small Android Tablet."

See comment above (shared below):

" While the X1 Ti isn't on sale at the moment, if you are a member of of one of their partner discount programs (basically if you work for most large companies) there is currently a discount that takes the Core i7 model with 16GB RAM and 1TB SSD down to a much more reasonable $1650 (MSRP $3799). "

Lenovo is also very fond of releasing with very high MSRPs only to run frequent public sales to bring the price down. This is common sense when covering Lenovo (and Dell and HP). Apple, otoh, doesn't do sales.

" Apple's Titanium MacBook will be a much better value than the Titanium Thinkpad"

This is a high-end enterprise PC, and you're comparing it to a prosumer creator device. You'd be bad at my job. The fact this has vPRO and enterprise-ready software (not to mention on-site support) plus 5G, touch and inking, are already differing features that matter for one camp and not the other. But sure, compare apples to oranges and think that's playing devil's advocate 🙄 I love no matter how much I educate some of you on computers/markets/features, you still have the technical sophistication of your average lifestyle tech site reader.

I'm just calling it like it is. There is little value in this laptop, whether you're an individual consumer or a business. other points:
1. Intel vPro's AMT has little to no use in the real world. If you've worked with IT people, you'd know this already. Not relevant but most firms actually tend to avoid it for security reasons. In other words, it's a ton of marketing bs. 2. "prosumer creator" Those are industries and enterprises composed of business people, who also happen to be individual consumers when they're spending their own money. Lots of companies use business portals to deploy MacBooks and consumer-branded laptops for good reason. Also Lenovo's public sales is more to attract general individual customers, business partners can get the same deal whenever they need.

On sale now at Lenovo for $1890.85 base model

I bought it and am using it... Got it on sale during Prez Day for less than 2k. The only problem I have currently is the Bluetooth... but I feel Bluetooth is just more and more unreliable as time progresses, not Lenovo's fault. It's super nice, light and convenient, battery life is good so far, I had a 2 hour Zoom meeting and it used the same percentage of battery as my SB3 did... the SB3 has a much larger battery, but I never liked how short of a life it had, it drained quickly... this one does not.
Windows Central Newsletter
Thank you for signing up to Windows Central. You will receive a verification email shortly.
There was a problem. Please refresh the page and try again.