Was Microsoft's Surface revenue disappointing during the 2020 pandemic? Don't overthink it.
By Daniel Rubino published
Whether it was sales of Surface hardware or Windows licenses, Microsoft had an outstanding quarter.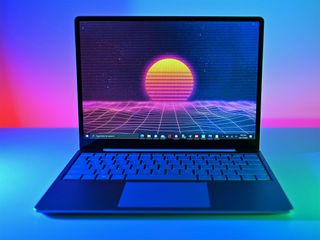 (Image credit: Daniel Rubino / Windows Central)
Microsoft reported for the first time that Surface revenue had exceeded $2 billion last quarter. We always see a big uptick in the Q2 results because they follow the US holiday push where discounts are often offered to ramp up volume. Compared to last year, Microsoft was up 3 percent, which is in line with Surface's growth over the last few years.
It's a nice number, $2 billion, although it pales compared to Dell (~ $11 billion), HP (~$10.5 billion), and Lenovo (~$14 billion), which have vastly larger production, distribution, and product lines from Microsoft.
But should we have expected an even more significant number from Microsoft due to the ongoing pandemic and push for Work from Home (WF) and Study from Home (SFH) market changes?
Not really. Here's why.
These are not the same
Dont compare revenue to PC shipments
I've seen some people toss around IDC's "up 13 percent" number for year-over-year shipments (302 million) in PCs as a reference point, suggesting Microsoft's 3 percent increase seems low. This comparison is strange for a few reasons.
For one, Microsoft is reporting revenue, not shipments, which is what IDC is estimating. Revenue can vary depending on the product's price point and volume mix. Microsoft could have sold fewer but more expensive Surfaces (like Surface Studio 2) or many lower-cost ones (Surface Go 2). We do not know because Microsoft never breaks those figures out to the public.
Second, IDC's numbers are not appropriate for this assessment anyway because it includes Google Chromebooks. Chromebooks do compete against Windows PCs, but it is a separate argument if you are challenging Surface PC sales compared to the rest of the Windows PC segment.
Going by rival firm Gartner's numbers, which does not count Chromebooks, it is estimated that 275 million PCs shipped in 2020, a 4.8 percent increase year over year.
That's a bit more sobering.
Of course, I just established that comparing an estimate of yearly PC shipments to quarterly revenue is a non-starter making the point moot anyway.
The takeaway, though, is significant: Windows PC sales were up in 2020, but it is not a massive resurgence (and Chromebooks played a large role, too). It's a bump in a market that has been flat or declining for years. One of the reasons PC sales were above-average in 2019 and 2020 had nothing to do with the pandemic, but rather End of Support for Windows 7 (opens in new tab), where enterprise scooped up new hardware.
It's a bump not a tsunami
The pandemic rush is about low-cost devices, not high-end
I don't think I have ever written a single review of a Microsoft Surface product where people didn't complain about the price being too high. It's a running joke here at Windows Central that when Surface Pro 12 and Surface Laptop 6 come out, we can already anticipate reader comments moaning that they're too expensive.
The fact is, Surface is premium, and like Apple devices, they often run higher than what some people consider a good value. Microsoft has been getting more aggressive in pricing these last few years (moving away from Windows 10 Pro to Home shaved off $100 across the board), but Surfaces are still pricier than comparable devices from the big three: HP, Dell, and Lenovo.
That's a good thing. If Microsoft were suddenly undercutting HP, Dell, Lenovo, not to mention Acer, ASUS, Razer, MSI, and others, I am sure its "partners" would not be happy about it. Microsoft already runs a fine line between trying to set the bar and angering its hardware colleagues.
I bring this all up because the product mix which sold the most during this pandemic were lower-cost devices. It was students, who suddenly had to study from home, who needed dedicated school PCs. Schools used to share laptops amongst students, but now they had to be one-to-one. And guess what – they were not buying Surface Book 3s, but rather more affordable options from HP, Dell, and Lenovo, who specialize in offering various products and on-site support.
Research firm Gartner reported on this trend in January:
For example, Lenovo sells the IdeaPad 1 (opens in new tab) and Windows 10 Home in S Mode for $200. HP just announced its ProBook x360 11 G7. Dell has the $539 Latitude 3190 2-in-1 (opens in new tab). And we just saw refreshed EDU laptops starting at $185 announced a few days ago.
On top of this, HP's consumer line (Pavilion, Envy) and Dell's (Inspiron) also fill the gaps for non-education devices.
Looking at 2020, Microsoft released Surface Go 2, Surface Laptop Go, Surface Book 3, Surface Duo, and refreshed Surface Pro X (SQ2). Of those, Surface Go 2 and Surface Laptop Go are the only ones remotely closes to being budget-friendly for schools or homes that needed an additional computer. Microsoft likely sold more Surface Laptop Go PCs than Surface Laptop 3s, but the profit margins are much slimmer than something like Surface Studio 2: sell more, make less.
That is not to say it was all low-cost devices that sold in 2020. Gaming PCs for the home also went up due to the entertainment value needed while being stuck in pseudo-quarantine. Here, Surface does not compete, but Microsoft does with Xbox, which did see massive gains tied to the hugely successful launch of Xbox Series S and Xbox Series X.
It's money in the bank either way
Surface rev is OK, Windows 10 Home rev is way up
Finally, while the Surface line likely did not benefit from what the market demanded in 2020 (exceptions for Laptop Go and Go 2), Microsoft still wins out.
Revenue from sales of Windows 10 Home licenses was up a staggering 24 percent year over year. And who bought those Windows 10 Home licenses? The same OEMs that make lower-cost laptops for education and consumer markets: Dell, HP, Lenovo, and Acer.
In the end, it is all money in the bank to Microsoft, no matter if it goes to Surface or Windows. The only important takeaway regarding Surface revenue is it is consistent and growing year over year. Everything else is just a distraction.
Daniel Rubino is the Executive Editor of Windows Central, head reviewer, podcast co-host, and analyst. He has been covering Microsoft here since 2007, back when this site was called WMExperts (and later Windows Phone Central). His interests include Windows, Microsoft Surface, laptops, next-gen computing, and arguing with people on the internet.
It is correct not to compare MSFT Surface revenues with other OEM, but, on the other side I think it would fair to compare it with Apple MacBook line's revenues increase (in percentage) that will published soon and I expect a large gap.

Sure, but MBP also seems to be Apple users upgrading to a newer model, not just so much newer customers. It also presumes that HP, Dell, Lenovo, Razer, etc. don't compete with Apple in that high-end market either, which can't be untangled from that analysis. Again, whether it's Surface sales or Windows 10 licensees for other PC makers, Microsoft is making money/doing well. Surface is, and always will be, a small player in the PC market as HP/Dell/Lenovo have a wider reach, more products, are in more markets, have bigger partnerships with enterprise/EDU, more support channels, and advertising deals with Intel. Surface is, and always will be, about being the north star for PC, not the widest selling PCs. I'm not sure why everyone is so fixated on it. If Surface had $5B in rev it likely took that volume from its partners, not Apple. Now, if Surface doesn't get YoY increases and Windows 10 licenses are down and PC shipments crater too, then I care/think that's interesting.

If I may echo Daniel's note a bit differently. We need to understand that Surface was not produced to kill its partners or compete with Apple PC.
Surface came about to force its partners hand to do better hardware wise and take advantages of Windows Os features, also, to help its partners reduce R&D cost, by allowing its partners to use its hardware design. If you visit to Microsftstore you will see lots of devices from their partners on sale, they genuinely want their partners to be successful which translate to their success as well. (FYI, I do believe they want their partners to do better than Apple PCs, not necessarily them). Simply put Surface devices are there to light hardware innovative fire under their partners to do better by showing them how with Surface lineups.

>Simply put Surface devices are there to light hardware innovative fire under their partners to do better by showing them how with Surface lineups. But has that happened, asoyemi? I think most PC OEMs still copy Apple *way* more than they copy Surface devices. Microsoft's lunch is getting eaten and it's probably why they hardly discussed it during the call: nobody wants to talk about 3% growth, while their direct competitors went up 33% to 48% year-over-year, Gartner and IDC respectively (I'm ready for the five-page article explaining why MacOS devices and Surface are not competitors; contrarians, start your engines)

Macbook sales were up 21% in the most recent quarter and according to the earnings call roughly half of that was people new to the Macbbok (switchers), so hardly "not so much new customers." From the call: "2:49 pm: Q: Growth rates for Mac and ‌iPad‌, how much of this is replacement cycle vs new folks coming into the ecosystem? What growth is more durable or predictable? A: Look at switchers, new to Mac and new to ‌iPad‌, these numbers are still worldwide about half of purchases. Install base is still expanding with new customers in it. That's true on both ‌iPad‌ and Mac. If you look on Mac, ‌M1‌ gives us a new growth trajectory that we haven't had in the past. If Q1 is a good proxy, there's a lot of excitement to ‌M1‌ based Macs. A lot more to do there, early days of two-year transition but we're excited with what we see so far. Best ‌iPad‌ lineup we've ever had. Others are using them as complementary to desktop rather than laptop replacement. 41% growth is phenomenal. Part is work from home and part is distance learning, but wouldn't underestimate how much of that is the product itself in ‌iPad‌ and Mac. Share in Mac is quite low, for the total personal computer market, so lots of headroom there."

M1 is more like an irregularity though, such an innovation will not return every year and other laptop manufacturers will over time get on track again (just like they did with casing, screens, precision touchpads etc where years ago only the Macbook excelled in the ultrabook market).

I doubt. M1 is a SOC and OEM get SOC from three companies: Amd, Intel and Qualcomm. No one of them has Apple financial resources to compete. Apple has a substantial competitive advantage and I do not see how the others competitors can catch up.

Ryzen 4800u / Ryzen 5800u is quite competitive to the M1 though. Consider this for second; the M1 is on 5nm while the competition is on 7-14 nm , improving on that alone will already shrink most of the gap in performance/efficiency. Of course not done in a year or so but same applied to all the other factors Windows Ultrabook's in lacked but they still catches up.

In calendar quarter 3 (Apple's financial calendar Q4) Mac sales were $9 billion, up 28% YoY. This is of course before the M1 machines were released - so I think your "irregularity" comment is misplaced. https://www.cnbc.com/2020/10/29/apple-aapl-earnings-q4-2020.html

Apple MacBook sales figures are amazing, they made +21% vs last year, no other Windows OEM performed so well. If you consider that Apple covers only the high end segment it probably means they have something like 90% of market share in devices with price over 1000 USD/EURO.

I think you've completely missed the MacOS total market share numbers from the past decade. Windows is at its lowest-ever market share in its history. statcounter: MacOS has 17.63% global desktop-laptop market share in Dec 2020
NetMarketShare: MacOS 17.65% global desktop-laptop market share in Oct 2020
Statista: MacOS has 17.07% global desktop-laptop market share in July 2020 https://i.imgur.com/FLmOsen.png Between 2015 to 2020, MacOS grew from 9% to 17%. Where was Surface? You cannot be a "north star" if consumers aren't running to your product. The companies that grow = they become north stars Microsoft's flawed thesis just exposes their own internal machinations and regrets, year after year; they knew they'd be competing against their own partners and this is the *best* they came up with? Imagine people saying, "See, Tesla doesn't really need to sell that many cars. It's to be a North Star for Ford and Porsche and Toyota and Audi and BMW." PC OEMs didn't care about Surface's "ideals, values, designs" once they saw that Surfaces don't move the units with sustained substantial growth. PC OEMs have in fact emulated Apple (switching to type-C, 16:10, staying on clamshells, etc.) instead of Microsoft. The signature choices of the Surface? Proprietary charging port, detachables & tablets, premium metal-only designs, deep-travel keys, etc. = nope. The market and the OEMs has slapped the door shut, repeatedly, because they know Microsoft failed, once again, to understand the hardware market enough. You can't do much without moving significant numbers of units; revenue is worthless. Everyone can make "better" devices if you price them at $1000 with $300 upgrades from a 128 GB SSD to a 256 GB SSD (SP7, for example).

I think this is a fair take. Surface is not about competing with the OEMs, but inspiring them. That explains the high price point, the premium build, the innovative designs (Surface Pro was a pioneer), and the litany of bugs in the past that went with that (hello, SP4). If the pandemic rush was about low-cost devices (which makes sense), then you'd think the largely premium Surface line would have been left behind. So 3% YoY in the Oct-Dec quarter is not that bad (vs. 4.8 for the non-Chrome PC industry overall). This is especially true given that there wasn't a big new Surface PC announcement in the fall (IIRC), which is the kind of thing that often drives premium brand sales. Of course price and category breakdowns would clear all this up. Also, to get the full picture of how the pandemic affected Surface, we have to consider the two previous quarters and how Surface's numbers compared to the competition. You'd think those two (April-June and July-September) would be when the biggest spikes in sales happened.

"I think this is a fair take. Surface is not about competing with the OEMs, but inspiring them."

Yeah, a TL: DR for me would be I don't see this as "Surface vs the world (macOS, Windows PCs, Chromebooks)", but rather as "Windows vs macOS vs Chromebooks" where Surface is but one small, but pivotal part of that Windows part.

>I think this is a fair take. Surface is not about competing with the OEMs, but inspiring them. I keep hearing this again and again, as if it is true. It simply is not. PC hardware OEMs are copying Apple *way* more often than Microsoft. Apple's design wins: 16:10 displays, type-C-only, clamshells, shallow keyboards, everything soldered Microsoft's design wins: 3:2 displays, proprietary charging / docking port, detachables & desktop OS tablets, nearly proprietary SSD upgrades, heavy focus on pen support, ridiculous form factors like a whiteboard and a folding phone Apple has always been and will always be the north star of PC OEMs because MacOS actually has had a decade of massive growth (9% to 17% over 5 years): https://i.imgur.com/FLmOsen.png Microsoft should give up on Surface if they can't be the north star. They do MUCH better when they really focus on the software / firmware side (Precision Touchpads, DPI scaling, improving efficiency, heterogeneous CPU scaling aka big.LITTLE). Microsoft should do what Intel's done with the "Intel EVO" platform: get specific requirements, but let PC hardware OEMS do what they do best. Surface is a non-entity for most PC hardware OEMs because its entire thesis ("The world loves Surface! You can be like Surface!") has flopped each year.

same old same old, WC will keep justifying all such misguided adventures until it is shutdown.

Is WC going to be shut down, or Microsoft? I mean you're trolling OK, you just could be a bit clearer.

2 billion revenue misguided adventure, said the dude commenting on business from his mom's basement

I will make it short: Microsoft disappounted me with windows phone and now they disappointed me with surface: Surface has become boring and I do not want to be bored. Care about your business clients, Microsoft, I understand that's your thing. But do not expect me to stay with you any longer. Today I ordered a macbook pro. I hope I will not regret but you did not offer me anything. F.. U..

Like if MacBooks had not been utterly boring since years.

Yes we all know how radically innovative the Mac ecosystem is.

M1 might be radically innovative technically speaking but not on how you would otherwise use a Macbook. Essentially it is a performance and battery life bump. The Ipad & Surface lines are much more radical innovative since they actually change your workflow.

Yeah yeah, and you get the same 5 year old MBP look!!

It's funny you make that "same 5 year old MBP look" joke, but the Surface Pro hasn't had a change (other than the black color) in 5.5 years. The height and width have been the same since the SP4 (October 2015), and the depth has change 0.1 mm from the SP4 to SP5, then hasn't changed. The display has been the same size and resolution since the SP4 as well. Like-for-like, the weight has changed a massive 11 grams, or as little as 4. The Surface Pro has done nothing of note to update its exterior design in several generations.

Which is a good thing, as it means that accessories like keyboards and the Kensington docking station will still work. Keeping the outside dimensions the same is a FEATURE.

These comments are in response to someone who has decided to move from Surface to MacBook because Surface has become boring. I don't see the problem in saying that MacBook has become boring too.

Besides what others mentioned the Pro line is also just one Surface product, products like Go 2, Laptop Go and Pro X do have slim bezels and thinner dimensions. Duo is also the thinnest dual screen phone out there. And Surface Laptop 3 has semi-thin bezels.

I get your complaints and disappointments, but it seems odd to consider a Macbook to be the solution. Macbooks aren't exactly innovative (unless you REALLY love USB-C and dongles). I'd say Macbooks are in basically the same class of boring, predictable hardware. Besides, saying "care about your business customers" is basically asking for reality to stay the same. Business customers got the SP7+, which is a pretty noteworthy set of improvements (ports, internals, etc.) over what consumers have gotten. Business customers are where their efforts in HoloLens and WMR have been aimed. Your complaints seem to be fair, but your solutions seem to fall flat. There are MUCH better ways to move forward than Apple, if you're looking for excitement or innovation. Razer, ASUS, Lenovo, and probably even HP and Dell have shown more variety in their hardware offerings of late. Apple? Not so much.

Macbook isn't innovative? Their new ARM chip completely embarrassed Microsoft's. It emulates Windows substantially faster then a native 8cx. They have begun switching everything to ARM. They are definitely innovating and showing their dedication to ARM while Microsoft continues to sit on their hands.

So with Surface revenue exceeding $2 billion last quarter, was it profitable? Does Microsoft even want Surface to be profitable?

Azure had a gross profit margin of 71% in the last quarter with a 50% growth in revenues. Surface might break 5%. Where do you think MSFT will focus their capital and workforce?

Uh, that isn't how MS (or any multifaceted company) works. As long as the unit is self-sustaining and serves a purpose, it endures. The premium pricing and significant revenue pretty much guarantees SURFACE is self-sustaining regardless of how it compares.
By that logic, MS should shut down everythinh but Azure and become a one-trick pony like FACEBOOK, GOOGLE, and even Apple who all get virtually all the revenue from one product line. (Apple is 80% iPhone. Should it ditch Mac? For a while it look like it was going to, going three years without refreshing the line. They've rethought that.)
Similarly, that logic would have Amazon get out of retail (low single digit margins,high infrastructure investment eating all free cash) and lose all the data and customer accounts.
MS isn't one of three most valuable companies around because of AZURE or XBOX or WINDOWS but because it has some twenty different units each bringing in a bilion or more in revenue. "A billion here a billion there, pretty soon it adds up to real money. " As some politician once said. SURFACE serves a purpose.
So does MGS and GAMEPASS.
So does MINECRAFT.
Ditto ZENIMAX. (Distinct from MGS, this one.)
Each addresses a different market with different needs and different value proposition.
They need to be evaluated within that context not against a different unit.
Finally, SURFACE isn't just about premium PC hardware but also about seeding niches that might grow into significant segments on tbeir own or even go mainstream, like SURFACE HUB, SURFACE STUDIO, and HoloLens. (Look at the growing number of companies trying to compete with SURFACE HUB.)
SURFACE did fine. It is healthy and growing as is most of MS.
That trillion dollar valuation will only grow.

You miss my point. Surface is a small player in the Windows hardware ecosystem. The overall health of the WinTel ecosystem is driven by Windows relevance in today's information world versus the Mac, iOS, Android, Chromebook ecosystems. Azure is all about letting all the different ecosystems play nice with one another. This allows all people to interact without being beholden to a specific hardware/software platform. MSFT will place money in Windows, Android (Surface Duo), Office, and all the other software services they provide. But they will place a ton of money into building out the Azure datacenters around the world. Is Surface self-sustaining? Yes. But Surface will never be a huge focus of MSFT and MSFT will make sure the WinTel ecosystem has all the support it needs to thrive by making Windows relevant. Will they work with Qualcomm, AMD, and others to make window devices more capable? Yes, this is the Surface Pro X and Surface devices running AMD processors. Will Microsoft write Office to work on macs, iOS, and android? Sure. And don't forget that MSFT paid a ton of money to Apple in 2000 (?) to help them avoid bankruptcy. MSFT committed to writing Office applications (Word, Excel, Power Point, etc.) for MacOS (before there was a thing called an iPod). Surface will always be a platform for introducing modern technologies into the Wintel ecosystem. Will it be highly profitable with high growth rates? No. Even it if just lost money/broke even, MSFT would keep it alive. But Daniels's prior point is important for everyone to remember. If Surface sales fell, Windows licenses fell and PC/laptop shipments fell, then there would be more important questions to ask besides Surface 8 and Surface Laptop 4.

But SURFACE *is* a big part of the MS push to keep the Windows ecosystem healthy.
Look back to what the OEMs were dishing out before SURFACE. Remember the bloatware? The endless sameness? MS and Intel putting out reference drsigns tht the OEMs ignored.
Well, SURFACE is the reference designs come to market to keep the OEMs honest. No more crippling Windows systems with adware and spyware to make a few pennies per unit.
SURFACE sets the example of what Windows hardware is supposed to deliver while setting a pricing umbrella that lets the OEMs make comparable systems and make a decent profit.
If SURFACE went away, the OEMs would be free to go back to the old model where the least they could do would be the most they would do.
That is why the pace of SURFACE evolution is important and why MS seeding the niches matters more than the quarterly profit margin of the unit.
And SURFACE carries out its mission while making money (most of the time.)
That's why HUB and the ARM tablet matter and why dual screen SURFACE matters. Somebody has to pioneer those niches until they're no longer niches. Somebody has to expand the ecosystem beyond desktops and laptops and OEMs weren't doing it and won't be doing it. Niches aren't where they venture.

If Surface is a small player than Mac desktops are an even smaller player, but does Apple kill them off? No they don't and for good reasons, same applies for Surface.

Mac is roughly 4-5 times bigger than Surface, big enough that Apple has ranked as the fourth largest PC maker globally. I think you need to research your "facts" better before you post.

Hmm you're correct in this case, they have grown quite a bit over the years. Surprises me actually, I mean I can understand growth because of M1 but before that...

"The fact is, Surface is premium, and like Apple devices, they often run higher than what some people consider a good value. Microsoft has been getting more aggressive in pricing these last few years (moving away from Windows 10 Pro to Home shaved off $100 across the board), but Surfaces are still pricier than comparable devices from the big three: HP, Dell, and Lenovo." Is Microsoft REALLY getting more aggressive? Cutting the price by $100 while charging $100 to go back from W10 Home to W10 Pro isn't really aggressive, they just cut down the SKU. That's not much different than saying MS got more aggressive with the SP5's pricing by dropping it $100 while taking out the Pen and charging $100 to get it back. Microsoft is lowering the hardware/software entry points, rather than making a package that is any kind of real value improvement. "For one, Microsoft is reporting revenue, not shipments, which is what IDC is estimating." Yeah, but I think it's objectively fair to note that Surface now has more products in its brand than ever before. It's no longer just measuring Surface Pros and Surface Books. They've now gone to 3 tiers of tablets (Surface Pro, Pro X, and Go), 3 tiers of laptops (Book, Laptop, and Laptop Go), Surface Studio, 2 tiers of audio devices (Headphones and Earphones), and the Surface Duo. Then you have the existing accessories of Type Covers, Pens, and Dials. There's an all-time high of revenue sources, just as much as revenue. "It's a running joke here at Windows Central that when Surface Pro 12 and Surface Laptop 6 come out, we can already anticipate reader comments moaning that they're too expensive." I wouldn't say that's a joke. That's just preemptively making a poor excuse for a valid complaint. Given how Microsoft has somewhat stagnated in Surface (particularly in the Pro's design), I don't think it's an unreasonable criticism. When "aggressive pricing" is defined as discounting a product while taking away features isn't al that exciting. Yeah, Microsoft has to be careful to not step on competitors' toes too heavily, but that doesn't really justify trying to out-Apple Apple in poor product value and being glacial in adopting new technologies and features (SP7+ is a perfect example where MS seemed to cut corners on a product, the SP7, for no good reason). There is, to me, a pretty wide gap between what MS is doing now and risking upsetting partners with products that are overly competitive.

This can basically be translated as "Well I'm not happy with Microsoft, so they must not be doing well as a company". Regardless of Numbers, Data, growth, sales, revenue, just about every possible metric where they have exceeded their AND their investor expectations, because you are not satisfied, they are falling.... Makes perfect sense I guess

Who cares about that. Azure is fine and all, but we are consumers and want to buy great products. Microsoft has been lacking when it comes to consumer products.

Who are you talking about? $2B says that people like surface just fine. If this hadn't been a notable report when Surface has outperformed itself in sales you might have a point... but it you're trying that Surface has gone "stale" and people aren't buying it, but we clearly see they are selling more than they did... You're kind of on an island in your thinking

So.. to recap. The universe doesn't revolve around you

surface isn't cheap enough to draw all the covid monies

The most important thing is Cloud sale is UP,
MicroCloud..err..soft FTW !!!

Heh.
Azure is barely starting.
The gaming side alone is going to explode (separate and distinct from GAMEPASS) as all the major gaming publishers set up their own streaming subscription silos, much like the big video companies (Disney, Warner, Netflix) are doing. They're going to need a lot of hosting support and not just hardware.
And then there's AI as a service and QUANTUM COMPUTING a bit further down the line.
MS is going to look very different by their Fiftieth...

If there is one thing i would not recommended, it us the purchase of low-end Pc, for reasons of performance with ever higher for power, quality (screen), and durability.
But price.Cyber monday ? Probably needs financing solutions, pay in one time is difficult.

Great player, loved him at Newcastle United.

One other possible factor is that the surface (tablet) line, based on my experience, is primarily purchased for corporate environments where folks need to walk around with their computer. With the closing up of (or at least significantly restricting the use of) many corporate offices, it may be that the primary purchasers of Surface haven't been buying recently.

Surface 7+ gives them reasons.

My take on this is that while surface did'nt do that bad, it could've done better had it pushed more innovation in its hardware a bit and targeted even more premium segments, resulting in better margins as well as that brand prestige that Apple enjoys. Doing this won't hurt their partners as much as they're mostly targeting mainstream buyers. Now lets just think of surfaces having better screens with matte displays, thunderbolt, surface pen being able to compete with apple pencil for artists etc, albeit with higher prices. The pandemic hasn't affected the high income segment much!

True, at least from a consumer perspective / freelancer perspective. From a business perspective the addition of lte, Go 2 and Pro 7+ (SSD hatches, bigger battery) the innovation is quite nice. Thunderbolt does miss here but recent usb-c versions do almost the same regarding docks and Pro 7+ is just released so it did not impact these numbers. From a consumer perspective I think the Pro 8 will be interesting. And Surface Laptop 4 while only a internal upgrade I think it actually quite major since the jump in AMD cpu's will be very interesting regarding performance (previous AMD cpu's were outdated).

Article is spot on, good job on differentiating the laptop categories.

I understand that in the grand scheme of things, 2 billion isn't close to the numbers that other OEMs are doing. But how desensitized are we that 2 billion isn't impressive? It's enough to make Surface a self-sustaining product line with yearly refreshes. It's enough to justify Microsoft creating a chip just for the Surface (SQ1). It's enough to create docks, and keyboards, and pens, and a multitude of color options for everything. So ultimately, it's enough for me.

Hard disagree. You've missed key data and it sinks this thesis pretty quickly. Surface was quite disappointing. MacOS devices are premium, too; still up 48% units YoY. Apple doesn't disclose retail units; still up 48% units YoY. Industry only did 4.8% growth? MacOS devices went up 48% year-over-year. You doesn't like IDC? Gartner says MacOS devices unit sales went up 33% year-over-year. The thesis that the market only wanted cheap options is frankly incorrect; MacOS devices went gangbusters. PC Sales Remain on Fire as Fourth Quarter Shipments Grow 26.1% Over the Previous Year, According to IDC
https://www.idc.com/getdoc.jsp?containerId=prUS47274421 Gartner Says Worldwide PC Shipments Grew 10.7% in Fourth Quarter of 2020 and 4.8% for the Year
https://www.gartner.com/en/newsroom/press-releases/2021-01-11-gartner-sa...
Windows Central Newsletter
Get the best of Windows Central in in your inbox, every day!
Thank you for signing up to Windows Central. You will receive a verification email shortly.
There was a problem. Please refresh the page and try again.