In late 2018, I reviewed Microsoft's first "Go" device and noted how it brought the fun back to Windows. After all, what's not to love about a tiny Surface PC? Well, for one thing, the anemic processor, which was somewhat fixed with Surface Go 2.
Surface Laptop Go, however, is a different mini-me PC. It packs a real Core i5 processor, has a slightly larger display, and while Microsoft cut some corners, it is a charming little laptop. After spending the last week with Microsoft's latest laptop, I am convinced Laptop Go is the perfect couch companion — or an ideal notebook for the classroom. (We like it so much, it'll likely make our list of best Windows laptops. But get the $700 model instead of the cheapest version. Here's why.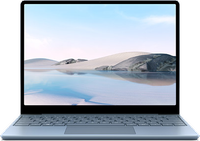 (opens in new tab)
Surface Laptop Go (opens in new tab)

Starting at $549 Bottom line: Surface Laptop Go is a smaller and more affordable Surface Laptop, and it nails all the fundamentals to deliver a surprisingly delightful computing experience. Most of that is attributable to the Core i5 processor, which results in a responsive OS. With decent battery life and compact size, this lil' laptop is perfect for the couch, class, or boardroom.
Mini Surface Laptop
Surface Laptop Go specs and design
There is not a lot of mystery when it comes to the Laptop Go. Microsoft made a smaller Surface Laptop, reduced some specs, but kept all the quality. For instance, about 50 percent of the chassis is still aluminum (lid and keyboard deck), but the bottom half is now a soft-touch polycarbonate. That decision not only saves costs, but it keeps the weight to just 2.45 pounds (1.1kg). It looks good and feels even better, especially for this price point.
Microsoft offers three color options for Laptop Go: its traditional platinum, a lighter sandstone, and ice blue, used for this review. It looks great, and the mirrored Microsoft logo on the front gives laptop Go a chic appeal absent from many other low-cost laptops.
Swipe to scroll horizontally
Category
Surface Laptop Go
Operating System
Windows 10 Home in S mode
Display
12.45 inches
3:2 aspect ratio
1536x1024 (148 ppi) resolution
PixelSense
Processor
Intel Core i5-1035G1
Graphics
Intel UHD Graphics
Memory
4GB or 8GB LPDDR4x
16GB (commercial only)
Storage
64GB eMMC
128GB or 256GB SSD
Front Camera
720p HD f/2.0
Security
Fingerprint Reader
Connectivity
Wi-Fi 6
Bluetooth 5.0
Ports
1x USB-C
1x USB-A
3.5mm headphone jack
1x Surface Connect
Audio
Omnisonic Speakers with Dolby Premium Audio
Battery
Up to 13 hours
Dimensions
10.95 x 8.10 x 0.62 inches
278.18mm x 205.67mm x 15.69mm
Weight
2.45lbs
1,110g
Colors
Platinum
Sandstone
Ice Blue
Ports are standard with just three on the left side: Type-A (10MB/s), Type-C, and one headphone/mic jack. Type-C supports display out, data, and fast charging (up to 60 watts). On the right side is the expected Surface Connect charge port, which also supports fast charging.
Onboard is an Intel Core i5-1035G1. It's a 10nm quad-core 15-watt CPU that's part of the 10th Gen Ice Lake series that launched in late 2019. It has a base frequency of 1GHz but can turbo to 3.60GHz, making it a much more satisfying solution than the Core m3 found in the smaller Surface Go.
Image 1 of 4
Surface Laptop Go ships with Windows 10 in S Mode (build 19041.450). All that means is, out of the box, you can only install apps from the Microsoft Store, ensuring a streamlined, high-performance Windows experience. If you need to install an app from outside the Store, you can switch out of S mode without even rebooting the PC.
For connectivity, Microsoft includes Bluetooth 5.0 and Wi-Fi 6 — a pleasant surprise. Reception is slightly below that of Microsoft's more premium line, but it should not be too much of an issue for everyday use.
The fit and finish of Laptop Go are outstanding. You can even open the display lid with one finger.
The screen is good
Surface Laptop Go display, audio, and camera
I can see many folks complaining about the measly 12.5-inch, 148 pixel-per-inch (PPI) 1536x1024 display. That PPI is the lowest of any Surface device to date, and yeah, if you eyeball the display yOu CaN sEe tHe piXeLs, but it is sufficient in everyday use. For some perspective, Razer sells a 17-inch $3,000 gaming laptop with a full HD display with a lower 127 PPI.
The bigger picture is the Laptop Go's display is very good quality. It reaches nearly 400 nits in brightness — the sweet spot for a laptop display that balances good battery life that is still viewable even in outdoor shade. It can drop to just two nits at zero percent, making it perfect for use in bed at night (which you'll want to do because of its size).
Color accuracy is fantastic, with 99 percent sRGB and a respectable 78 percent DCI-P3. Toss in some excellent color contrast, an auto-brightness sensor (I did not expect that), thin bezels, and touch support, and what more do you want at $550? Speaking of bezels, these are the thinnest Microsoft has made yet for a Surface (the Pro X has slightly thinner side bezels, but larger top and bottom ones).
Video and audio sample from Surface Laptop Go's 720P webcam.
For audio, Microsoft uses its dual "Omnisonic" speakers cleverly located below the keyboard deck, allowing no visible speaker grills to mar Laptop Go's clean design. The speakers are particularly good, reaching a decent volume level without distortion. While they lack deeper bass, they sound rich enough not to offend anyone. There is no Dolby Atmos to optimize the sound with more spatial presence due to the price point, but it has Dolby Premium Audio.
Dual microphones flank the front-facing 720P web camera. This camera is a teeny one by comparison to other Surface devices, which is one reason why there are no infrared (IR) sensors for Windows Hello facial recognition. While photo quality is not particularly good, it is impressive for video conferencing in Microsoft Teams or Zoom. Microsoft has always delivered excellent web camera support on its Surface line, and even at a lower price, Laptop Go does not disappoint. That makes this device ideal for work-from-home use cases, office meetings, or just catching up with a family member on Skype.
Typing master
Surface Laptop Go keyboard, trackpad, and fingerprint
Despite its small size, the keyboard on Laptop Go is exceptional. There is 1.3mm of key travel, it is spacious, the keys seem slightly larger than Surface Go, and it has terrific response and bounce.
But all is not perfect, and if there was one thing that bothered me about this laptop, there is no backlit keyboard. That choice was likely made to keep costs down (and enhance battery life), but it is a letdown on what is otherwise a near-flawless laptop.
The trackpad is one of the best Microsoft has made yet. It is exceptionally smooth, precise, and it has a satisfying, even-feeling click.
Image 1 of 4
While there is no facial recognition for Windows Hello for logging into Windows, there is a fingerprint reader built into the power button. However, this feature is only available on the $700 model (and above) instead of that entry-level $550 one. The reader is speedy, reliable, and it has a white LED that calls attention to it when it is needed. If Laptop Go is in standby, pressing the power button turns it back on and logs you in with just one press.
Peppy
Surface Laptop Go performance and battery
Unlike Surface Go 2 with its "just OK" Core m3, the Laptop Go has a full quad-core Core i5 10th Gen processor. It's a zippy fellow that makes Laptop Go feel like a real laptop in every way without lag (Edge, though, has a bit of a wobble when web browsing).
For performance, Laptop Go holds its own. A full-fledged Surface Laptop 3 with Core i5 does better on multi-core likely due to better thermals, but otherwise, Laptop Go beats a Surface Laptop 2 (Core i5) or Surface Pro 6 (Core i5) on tests like Geekbench. On something like PCMark 10, the results are similar with Laptop Go approaching or matching an 8th Gen Core i5 found in more premium laptops.
The one area where Laptop Go slides a little bit is the GPU. The G1 Intel UHD graphics beats UHD 615 in Surface Go 2 and even a gen-one Surface Laptop (Core i5). It only has 32 graphics execution units (versus 64), making it moderately better than UHD 620. It's not terrible, and you can even game on it (arcade, 2D, platformer), but for 10th Gen Intel chips, it's on the lower side.
Microsoft cools the chip with a single fan and vent system hidden near the display. The laptop never got hot (peaks at 110 degrees Fahrenheit, 43 degrees Celsius, at the exhaust area), and while you can hear the fan when gaming or doing a Windows Update, it never went above 52dBa. It has a nice whooshing effect with no high-pitched noise. The plastic bottom ensures a cool laptop with minimal heat transfer.
Image 1 of 2
The Core i5, however, will oscillate heavily under extreme load for long durations. This processor and thermal solution are best for short bursts of productivity versus prolonged, CPU, and GPU-heavy tasks.
Geekbench 5
Geekbench 5.0 (CPU) (Higher is better)
Swipe to scroll horizontally
| Device | CPU | Single core | Multi core |
| --- | --- | --- | --- |
| Surface Laptop Go | Core i5 | 1,185 | 3,390 |
| Surface Go 2 | Core m3 | 847 | 1,609 |
| Surface Go | Pentium | 376 | 947 |
| Surface Pro X | SQ2 | 798 | 3,046 |
| Surface Pro X | SQ1 | 725 | 2,819 |
| Surface Laptop 3 13.5 | i5-1035G7 | 1,177 | 4,413 |
| Surface Laptop 2 | i5-8250U | 909 | 3,372 |
| Surface Pro 7 | i5-1035G4 | 1,191 | 4,441 |
| Surface Pro 6 | i7-8650U | 1,113 | 3,519 |
| Surface Pro 6 | i5-8250U | 904 | 3,440 |
Geekbench 4
Geekbench 4.0 (CPU) (Higher is better)
Swipe to scroll horizontally
| Device | CPU | Single core | Multi core |
| --- | --- | --- | --- |
| Surface Laptop Go | Core i5 | 5,226 | 13,144 |
| Surface Go 2 | Core m3 | 4,028 | 6,804 |
| Surface Go | Pentium | 2,078 | 3,934 |
| Surface 3 | Atom x7 | 1,078 | 2,777 |
| Surface Pro X (ARM) | SQ2 | 3,649 | 12,300 |
| Surface Pro X (x86) | SQ2 | 2,379 | 7,422 |
| Surface Pro X (ARM) | SQ1 | 3,505 | 11,727 |
| Surface Pro X (x86) | SQ1 | 2,182 | 6,822 |
| Surface Laptop 3 13.5 | i5-1035G7 | 5,265 | 17,345 |
| Surface Laptop 2 | i5-8250U | 4,203 | 13,233 |
| Surface Laptop | i5-7200U | 3,725 | 7,523 |
| Surface Pro 7 | i5-1035G4 | 5,245 | 17,350 |
| Surface Pro 6 | i7-8650U | 5,037 | 13,864 |
| Surface Pro 6 | i5-8250U | 4,287 | 14,031 |
| Surface Pro 5 | i7-7660U | 4,513 | 9,346 |
| Surface Pro 5 | i5-7300U | 4,302 | 8,482 |
| Surface Pro 4 | i5-6300U | 3,319 | 6,950 |
GPU
Geekbench 4.0 OpenCL (higher is better)
Swipe to scroll horizontally
| Laptop | GPU | Score |
| --- | --- | --- |
| Surface Laptop Go | UHD | 24,905 |
| Surface Go 2 | UHD 615 | 19,488 |
| Surface Go | HD 615 | 16,490 |
| Surface 3 | Intel HD | 8,055 |
| Surface Pro 4 (m3) | HD 515 | 14,650 |
| Surface Pro 4 | HD 520 | 17,395 |
| Surface Book | HD 520 | 18,197 |
| Surface Laptop i5 | HD 620 | 19,256 |
| Surface Pro 2017 | HD620 | 20,688 |
| Surface Pro 2017 | Iris 640 | 30,678 |
| Surface Laptop i7 | Iris 640 | 31,010 |
PCMark
PCMark 10
Swipe to scroll horizontally
| Device | Score |
| --- | --- |
| Surface Laptop Go | 3,410 |
| Surface Go 2 | 2,554 |
| Surface Go | 1,808 |
| Surface Laptop 3 15 (AMD) | 4,006 |
| Surface Laptop 3 15 (Intel) | 4,604 |
| Surface Laptop 2 | 2,748 |
| Surface Pro 7 i5 | 3,992 |
| Surface Pro 6 i7 | 3,644 |
| Surface Pro 6 i5 | 3,501 |
| Dell XPS 13 2-in-1 7390 | 4,427 |
| Dell XPS 15 7590 | 5,521 |
| Dell XPS 13 2-in-1 7390 | 4,427 |
| Dell Inspiron 13 7390 2-in-1 | 3,764 |
| HP Pavilion x360 14 | 3,558 |
| Lenovo ThinkBook 13s | 3,468 |
SSD
CrystalDiskMark (Higher is better)
Swipe to scroll horizontally
| Device | Read | Write |
| --- | --- | --- |
| Surface Laptop Go (SSD) | 2,007 MB/s | 791 MB/s |
| Surface Go 2 (SSD) | 1,630 MB/s | 373 MB/s |
| Surface Go (SSD) | 1,185 MB/s | 133 MB/s |
| Surface Go (eMMC) | 260 MB/s | 145 MB/s |
| Surface 3 | 149 MB/s | 33 MB/s |
| Surface Pro X | 2,023 MB/s | 832 MB/s |
| Surface Laptop 3 13.5 | 2,338 MB/s | 1,583 MB/s |
| Surface Laptop 3 15 | 2,028 MB/s | 806 MB/s |
| Surface Laptop 2 | 1,509 MB/s | 811 MB/s |
| Surface Laptop | 486 MB/s | 244 MB/s |
| Surface Pro 7 | 2,040 MB/s | 809 MB/s |
| Surface Pro 6 | 1,632 MB/s | 814 MB/s |
| Surface Pro 5 | 847MB/s | 801 MB/s |
| Surface Book | 1,018 MB/s | 967 MB/s |
| Dell XPS 13 2-in-1 7390 | 2,400 MB/s | 1,228 MB/s |
.
For storage, the SSD is quite good at around 2,000 MB/s for sequential read and around 800MB/s for sequential writing, putting it ahead of Surface Go 2 and even Surface Laptop 2. Speed will be worse on the $550 model, which only has slower eMMC for storage, but it should still be better than Surface Go 2 (eMMC).
Battery life consistently came in between 7 and 8.5 hours using a Windows generated battery report. On PCMark 10 Battery rundown (Apps), Surface Laptop Go yielded an impressive eight hours and 45 minutes. That test loops through web browsing, Office productivity, and web conferencing with pauses in between to simulate real-world workloads. Brightness was steady at around 150 nits for consistency.
For power, Microsoft includes a 39-watt Surface Connect charger. You can also use any Type-C charger, as Laptop Go can handle up to 60-watts and supports Fast Charge by either method.
Surface Laptop Go availability and pricing
Surface Laptop Go should be available on October 13 in the U.S., Canada, Japan, Australia, and New Zealand. Additionally, Surface Laptop Go will be available on October 27 in the following countries:
Austria
Germany
UK
Ireland
Switzerland
France
Netherlands
Luxembourg
Belgium
Denmark
Finland
Norway
Sweden
Poland
Italy
Portugal
Spain
Bulgaria
Croatia
Czech Republic
Estonia
Greece
Hungary
Latvia
Lithuania
Romania
Slovakia
Slovenia
It should come to China, Hong Kong, and Taiwan on November 1. It should then come to Mexico, Malaysia, Singapore, and Thailand on December 6. In 2021, Surface Laptop Go is expected to come to more markets, including Bahrain, Kuwait, Oman, Qatar, Saudi Arabia, and UAE on January 12, India on March 30, and South Africa on April 13.
There are three models to choose from varying on color choice including:
Swipe to scroll horizontally
| CPU | RAM | Storage | Fingerprint | Price |
| --- | --- | --- | --- | --- |
| Core i5 | 4GB | 64GB (eMMC) | No | $549 |
| Core i5 | 8GB | 128GB (SSD) | Yes | $699 |
| Core i5 | 8GB | 256GB (SSD) | Yes | $899 |
Like other Surface products, when bought through Microsoft, customers get a 60-day return policy with their purchase (undamaged, original packaging) via the Microsoft Store Promise for Surface (opens in new tab). Eligible students, parents, teachers, and the military may qualify for a 10 percent discount through Microsoft.
It's charming
Should you buy Surface Laptop Go?
Who it's for:
Families who need an extra laptop
Students who want something for class
Those who need to do Office, web, email, video conferencing, and the basics
Anyone who needs a light, more affordable Windows 10 laptop
Who it isn't for:
If you like to type in the dark
If you need inking
If you want a convertible PC
If you want to do a lot of video editing or gaming
Going into this review, I was not expecting much from Laptop Go. After reviewing premium laptops, it is sometimes hard to get excited over something that is less in every way. But the more I used Laptop Go, the more I appreciate it – a similar feeling I had with Surface Go. But unlike Surface Go, the Core i5, SSD, ice blue colorway, and larger display let me enjoy it on a whole other level.
There's no way to say it other than Surface Laptop Go is a fun and lovely little laptop.
Sure, a higher resolution display would be ideal, or maybe even a backlit keyboard. But these are forgivable omissions to keep that price down. Looking at the core features – typing, trackpad, audio, display, size, weight, performance, and battery life – Laptop Go does an incredibly good job of balancing all that against its $550 to $700 price.
For students — whether working at home or in a college seminar — Laptop Go would be an excellent choice for tossing in your bag and taking notes (as long as you don't need a pen). The performance won't frustrate you, and the battery life should keep you going for the whole day.
Image 1 of 4
Families who are looking for an extra PC to share would also benefit from Laptop Go. It's not expensive, and it is a joy to use on the couch or propped up in bed.
Of course, you could get the $550 model, which is tempting, but the $700 model is the one to get. For that extra $150, you get a fingerprint reader, double the storage to 128GB, a faster SSD, and double the RAM to 8GB, all of which will significantly enhance your enjoyment.
Microsoft sometimes takes a few generations to get one of its Surface products just right. That's not the case with Laptop Go. It's nearly perfect for a gen-one release except for some minor quibbles, making it easy to recommend to those who desire a tiny PC.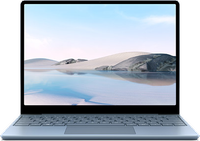 (opens in new tab)
Surface Laptop Go (opens in new tab)

Looking for something with the same design as the Surface Laptop but easier on the wallet? Look no further with the Surface Laptop Go with its 12.45-inch display, Intel Core i5 processor, aluminum and polycarbonate exterior, Omnisonic speakers, and Windows Hello-enabled fingerprint reader. The $700 model is the one to get.
Daniel Rubino is the Editor-in-chief of Windows Central, head reviewer, podcast co-host, and analyst. He has been covering Microsoft since 2007 when this site was called WMExperts (and later Windows Phone Central). His interests include Windows, laptops, next-gen computing, and for some reason, watches. Before all this tech stuff, he worked on a Ph.D. in linguistics, watched people sleep (for medical purposes!), and ran the projectors at movie theaters because it was fun.
Windows Central Newsletter
Thank you for signing up to Windows Central. You will receive a verification email shortly.
There was a problem. Please refresh the page and try again.