Microsoft Surface FY21 Q2 revenue hits over $2 billion for the first time
Surface had another outstanding quarter with a slight uptick in sales year over year.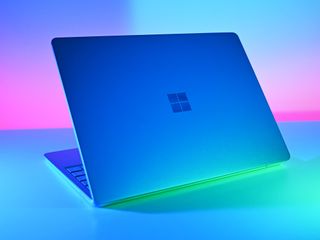 (Image credit: Daniel Rubino / Windows Central)
What you need to know
Surface FY21 Q2 earnings surpassed two billion dollars for the first time.
Windows OEM license growth was also up by one percent.
Microsoft's total revenue last quarter was a massive $43.1 billion.
Microsoft reported its FY21 Q2 earnings (opens in new tab) today, bringing in a massive $43.1 billion up 17 percent year over year from $36.9 billion.
Falling under More Personal Computing is Microsoft's Surface devices, which for the first time broke $2 billion, a modest increase year over year of three percent.
The results are boosted by holiday sales, where Microsoft has become a bit more aggressive in pricing, often offering discounts on its increasingly extensive Surface offerings.
Microsoft does not break out the Surface numbers individually, so it is unclear which device is selling the best. Microsoft launched Surface Pro X (SQ2) and Surface Duo this year along with its existing lineups of Surface Laptop Go, Surface Pro 7, Surface Book 3, Surface Go 2, and Surface Laptop 3.
Windows OEM growth was also up slightly by 1 percent, a mix of declining OEM Pro revenue (down 9 percent) and a significant uptick in OEM non-Pro licenses (up 24 percent).
Microsoft CEO Satya Nadella commented on today's earnings:
Xbox also did exceptionally well with a massive 51 percent jump in revenue due to high demand for Xbox Series X and Series S.
More details about Microsoft's quarterly performance are due later this afternoon during the earnings call.
Daniel Rubino is the Editor-in-chief of Windows Central, head reviewer, podcast co-host, and analyst. He has been here covering Microsoft since 2007 when this site was called WMExperts (and later Windows Phone Central). His interests include Windows, Microsoft Surface, laptops, next-gen computing, and for some reason, watches. Before all this tech stuff, he worked on a Ph.D. in linguistics and ran the projectors at movie theaters, which has done absolutely nothing for his career.
I wonder what people will complain about. This implies an $8 billion annual business. Of course it is a low margin business for a software company. MSFT's future is tied more closely to Azure and Office than whatever Surface does. But still, selling $2 billion a quarter in hardware is a good business. If you add in all the Xbox sales and various keyboards and the like and MSFT actually has a large hardware production ecosystem.

10 years ago, besides Xbox, would you have guessed this? A really amazing turnaround for the company.

Not quite. This is typically the big quarter of the year, the other three quarters are significantly smaller (typically around 1.3 billion each). The bigger question is why are this quarters numbers only up 3% over the same quarter last year when by all reports PC sales are booming in the pandemic?

Agreed. If we assume that the average Surface is $1000 (across all models and accessories) that means they only sell about 5 million units total per year globally. That's really low for the amount of mindshare that the Surface brand has.

Not that bad actually, considering Surface main goal seems to be 'inspire' OEM/laptop partners and its a premium brand overall (and even somewhat niche with the pen support & tablet form factors).

I wonder if the author of the mishaps article will still have that view after another record-breaking quarters. Clearly things are working but definitely room for improvement Edit: missteps*

To be fair to the Surface is Dead people, Cortana really does seem kind of dead lol ... YoY Surface growth even after the surge of purchases in the spring/summer is pretty good IMO. I wonder how it compares to the other OEM's. (Not that I pick stocks ...)

Dell can do around $11 billion a quarter, HP around $10.5 billion, Lenovo ~$14 billion. So, $2B isn't huge, but it's not nothing either.

Thanks for that. I meant the pattern of growth, not absolute sales in a given quarter. Just going with my gut here, but we'd expect a large surge in purchases in the spring due to the pandemic, and maybe a smaller one in the fall. So for a niche, high-end business, 3% YoY for the Oct-Dec quarter isn't bad because we're not including that spring quarter (I think it's their 2020Q4) and barely any of the fall purchases (which you'd think would be in the July-Sept quarter, 2021Q1).

Gartner says PC sales were up 10.7% YoY in the fourth quarter, so Surface's 3% is not all that impressive (underperforming).

That's a ridiculous misunderstanding and oversimplification of the market that assumes all PC sales are the same and that there aren't actual price ranges to consider. I should also mention out front: PC Sales != Microsoft Revenue These are very different things and can't be directly compared. Not sure where you learned that you assume you could. Surface = premium, high-end, and arguably priced higher than they should sometimes. HP, Dell, Lenovo all specialize in EDU markets, enterprise, and offer devices on the low-end up through premium with a much larger range of designs too. It's well known that the YoY 10.7% growth is because of EOL for Win 7 and the need for enterprise to upgrade (this is juice for HP, Lenovo, and Dell who all specialize there) EDU markets where, again, Dell, Lenovo, and HP all have very low-cost devices that are sold in larger numbers WFH/SFH secondary computers which are meant for kids, or as a second option that is below $1,000. Microsoft doesn't compete with HP/Lenovo/Dell for the same markets e.g., EliteBook or X1 devices are vastly different than a Surface Laptop. Considering the uncertainty of the economy and those concerned about having a job, it's no surprise that a premium Surface device would not sell as much as an HP ENVY or Dell Inspiron. These are vastly different market segments. Underperforming is only relative to Microsoft's expectations of sales, not your blanket analysis of what is a very complicated and varying market.

Microsoft hasn't made significant changes to their product mix or pricing in the last years, directly comparing their performance this most recent year with the same quarter a year ago is completely reasonable. And given that other premium market sellers (arguably more premium than Surface) have out performed the market I would argue that the performance of Surface is in fact very disappointing. You trying to slice and dice the market to hide those numbers is dishonest.

Your analysis is wrong and incomplete. Again, you compared rev to shipments, which is just baffling and puerile. I mean, really. You forget it's all money to Microsoft whether it is Surface rev or Windows 10 Home licenses rev (up 24%), which is from Microsoft's partners who did sell a lot more PCs in 2020 due to their lower price points. "Surface is in fact very disappointing." This is just opinion, not some analysis that is reflected by the market. Surface grows year over year. That's the story. I'm not sure why you think it needs to be bigger than it is when the goal is not to outcompete Microsoft's partners, but rather to set the stage for what hardware should be like. Surface is and always has been lower volume. They're in fewer markets than Apple, HP, Lenovo, Dell, and have a more limited product line, which also didn't comport where market trends were in 2020.

Without a significant change in ASP (average sell price) change in revenue is a very good predictor fro a change in shipments, nothing baffling or puerile about it.
Windows Central Newsletter
Thank you for signing up to Windows Central. You will receive a verification email shortly.
There was a problem. Please refresh the page and try again.