Lenovo's new ThinkPad X12 Detachable is basically a more powerful Surface Pro
Lenovo is ready to take on Microsoft's Surface Pro.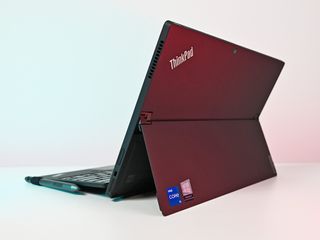 (Image credit: Daniel Rubino / Windows Central)
What you need to know
Lenovo announced the new ThinkPad X12 Detachable at CES 2021.
The PC features a form factor similar to Microsoft's Surface Pro, but with specs far and above what Microsoft currently offers.
The ThinkPad X12 Detachable is expected to go on sale later in January starting at $1,149.
Lenovo is going all-out for CES 2021, announcing a slew of new laptops. Among the latest is the new Lenovo ThinkPad X12 Detachable, a detachable PC that should appeal to anyone who is a fan of Microsoft's Surface Pro form factor.
While the ThinkPad X12 Detachable certainly takes its cues from the Surface Pro, it sets itself apart with a range of specs that outclass Microsoft's offering. That includes Intel's latest 11th Gen processors with vPro, along with Intel Iris Xe graphics for added integrated graphics horsepower. Thunderbolt 4 ports are on board here as well, along with Wi-Fi 6 and 4G LTE support.
Swipe to scroll horizontally
Category
ThinkPad X12 Detachable (Gen 1)
OS
Windows 10 Pro
Processor
Up to 11th Gen Intel Core i7 vPro
RAM
Up to 16GB LPDDR4x
Graphics
Intel Iris Xe
Storage
Up to 1TB M.2 PCIe NVMe SSD
Display
12.3 inches
FHD+
3:2 aspect ratio
400 nits, touch
Pen
Lenovo Precision Pen
Tilt support
Ports
Thunderbolt 4
USB-C 3.2
Nano SIM
3.5mm audio
Audio
Dolby Premium
Dual array microphones
Connectivity
Wi-Fi 6
4G LTE
Bluetooth 5.1
Camera
Front-facing 5MP
Rear-facing 8MP
Security
IR camera
Fingerprint reader
Battery
42Wh
Dimensions
11.15 x 8.01 x 0.35 inches
(283.3mm x 203.5mm x 8.8mm)
Weight
1.67 pounds (760g)
2.42 pounds (1.1kg) with keyboard
Color
Black
Image 1 of 3
The ThinkPad X12 Detachable can be pulled away from its keyboard to be used in tablet mode, and it's compatible with the Lenovo Precision Pen or Lenovo Digital Pen for inking. The backlit keyboard also includes Lenovo's iconic red keyboard nub for those who are fans. An IR camera and fingerprint reader also ensure that you've got multiple options to keep your PC secure with Windows Hello.
With a 3:2 aspect ratio and a 12.3-inch display, it's hard to ignore the similarities to the Surface Pro here. For those intrigued by the Surface Pro's design who want to go a little higher-end on specs, the Lenovo ThinkPad X12 Detachable may be just what you're looking for.
Image 1 of 2
Lenovo says the ThinkPad X12 Detachable is set to go on sale later in January starting at $1,149.
Windows Central Newsletter
Get the best of Windows Central in in your inbox, every day!
Dan Thorp-Lancaster is the former Editor-in-Chief of Windows Central. He began working with Windows Central, Android Central, and iMore as a news writer in 2014 and is obsessed with tech of all sorts. You can follow Dan on Twitter @DthorpL and Instagram @heyitsdtl.
Trumps the Surface and Thunderbolt 4... Will be interesting to see the reviews... I would be reluctant to buy a Chinese PC though...

This is less sexy/smooth than Surface Pro, it's more utilitarian. So, display is only full HD, bezels are thick, and the speakers are tiny. But, it's powerful, has a lot of ports, is rugged, and some other advantages.

Rugged sounds good, I was always worried my surface would break when using it at work, my HP has a rugged case for it but I think at tax time I'm thinking of upgrading to something with 4/5G (ideally 5G). It does seem like all the detachables only seen to be 4G, any word on if anyone is releasing one with 5G instead? And would you say the this or the Elite X2 would be a better buy if used in the field? I'm not too fussed about the resolution, as I've realised the work I do doesn't really need the real estate, and the higher resolution does nightmare things in games (seems to be an issue with Windows 10 where you have to mess with the display resolution to make sure games don't run at native res).

Ah, Ok, would be good to see you do a review of this Daniel...

Chinese PC is fine. It depends which chinese.
My 'surface pc' is 2017 Hauwei Matebook E Signature Edition. Lets just say its as thin if not thinner than any modern phone. I carry around everywhere as a diary. Can run 3d architecture and engineering programs at clients property, no need for laptop.
With 8gb RAM 7th Gen i5 mobile, runs better than an HP/Lenovo with the same RAM 10th Gen i7
I have other more expensive PC's but I've never seen a Blue Screen or had to reset because of a freeze, in 3 years. Its the best PC of the last decade.

The Lenovo consumers laptops were installed with Superfish at the time (I believe there have been 3 scandals, but only some laptops were shipped with superfish not all) while Thinkpads never had that issue (its their business line). Still the new Dell Latitude and the new HP Elite X2 both at 13.0 inch seem to be more interesting. That being said, the more competition the better. 😊

I've been waiting for Lenovo to update their detachable Think Device for a while now. The screen resolution is a bit disappointing (if your face is close to the screen all the time reading or taking notes or drawing, you really notice it) but otherwise it's pretty cool. Not making me regret my SP7 though.

Oh man! I love my SPX but I love a Lenovo keyboard even more. Might have to wait until the G2 of this device as Lenovo's firmware are sometimes a bit iffy on the first go. The HD display and thicker bezels don't necessarily scare me off either.

Sucks i's an Intel-powered device, otherwise I'd probably get it.

As a digital writer, Wacom AES pen is a good enough reason to buy this over the Surface Pro.
Battery life is probably also better with a more reasonable FHD+ resolution on a tablet.

Really? For me, Wacom EMR > Surface/MPP/NTrig > Wacom AES. But when it comes down to it, up-do-date versions of any of these technologies would do the job for handwritten notes.

Interesting. Tried them all (2020 models), and its Apple Pencil 2 > EMR/S-Pen > AES 2.0 > MPP 2.0 > USI > Synaptics for me. I'd say MPP 2.0 with tilt (used in MS Surface, HP consumer and Asus) is just slightly behind AES 2.0 (used in Lenovo, HP business, Dell and Acer high-end).
I'm using the latest HP Spectre x360 14 with HP's tilt pen, and the jitter and initial activation pressure is noticeably worse than my previous Lenovo Yoga laptop with AES. Not a huge issue on professional software that support enhanced streamline, of course.
Both are fine for digital note-taking, but for serious visual art and graphics work, Apple Pencil and EMR are still very much mandatory.

The article says 3:2, but Daniel above said it's only full HD (16:9 1920x1080). What's the vertical pixel count? For me, Full HD is not usable -- even at only 100% scale factor, that won't even get a full Word page on the screen or fit the full day's calendar in Outlook. 1200 pixels vertically is the barest minimum I find functional, and even that, just barely.

It is likely 1280 pixels vertically, full hd is easily misused (I see often 1920x1200 or 1920x1280 screens being called full hd on other sites too).

Ah, 1920x1280 wouldn't be too bad. So it would be like Full HD, plus enough additional pixels added vertically to get to 3:2. If so, that's a decent approach. I'd still prefer a higher resolution for sure, but that would at least be usable.

As mentioned it's 1280. Think: Surface 3, but with a larger screen. The issue for me for a tablet is it's hard to write small things (like subscripts or exponents). That's the issue I had with my Surface 3. Moving up to a Surface Pro, with its higher resolution screen, solved that. (Surface Pros also have a bigger screen, which also helps.)

It's 1920 by 1280, which is Full HD Plus, or Full HD+

Pretty cool, I do think the new Dell Latitude surface clone and the new HP Elite surface clone are both a bit more interesting since they have bigger screens (/small bezels) and still have goodies like Tiger Lake and thunderbolt. The Dell one even has a keyboard with cradle for its pen.

Out of all of them, (haven't used Dell), HP Elite X2 comes out on top I think, at least on paper. Bigger battery, better speakers than either, and same TB4 and Tiger-Lake with a decent keyboard.

Yeah I think so too, the (old) Latitude tablets did have an edge in servicing/repair.

Its specs are close to other new Surface rival, the Dell Latitude 7320 Detachable. Both use a 1920 by 1280 screen.
My main concern is battery life.
40 watt-hours Dell
42 watt-hours Lenovo
46.5 watt-hours Surface Pro 6, 7, and 8
50 watt-hours Surface Pro 7 Plus

7+ probably wins at that but the full HD+ screens do help reducing battery usage compared to 3k by 2k of the Surface Pro's. Since Tiger Lake is also more efficient than ice lake, all new ones will likely see decent battery life.

I really am bemused by people who say they cannot live with more than the 1920x1280 that is used by, for example, my Surface Go 2. Probably the same people who think a 4K screen on a mobile phone is a must. For work the basic resolution is just fine and is pin sharp. What would sell me the ThinkPad over the Surface is the keyboard and, in particular, that little red TrackPoint. Once one has used one of those going back to a Trackpad is a complete pain. My current solution is to use a Lenovo TP wireless keyboard with my Surface. ThinkPad TrackPoint Keyboard II - Overview and Service Parts - Lenovo Support GB
https://support.lenovo.com/gb/en/accessories/trackpoint_keyboard
Windows Central Newsletter
Thank you for signing up to Windows Central. You will receive a verification email shortly.
There was a problem. Please refresh the page and try again.