In last year's ThinkPad X1 Yoga (Gen 5) review, I noted that it was mostly a performance refresh as well as a way to get Wi-Fi 6 into the mix. The laptop was sound, but there wasn't really anything major that would move people to upgrade from a recent version. I also noted that it wouldn't be much of a surprise to see some fairly big changes coming with the sixth generation of the convertible laptop. It's now here, and it indeed has some new and welcome features, including a 16:10 aspect ratio for the display, Intel Evo certification, human presence detection, and more. I've been using the X1 Yoga (Gen 6) for a week to see just how well Lenovo implemented the changes and, ultimately, whether or not it's worth a buy.
Lenovo ThinkPad X1 Yoga (Gen 6)
Bottom line: With new display options, faster performance, better battery, presence detection, and a bunch of other premium features key to the ThinkPad line, the X1 Yoga (Gen 6) has never been better. It's the best convertible PC Lenovo has to offer, as well as one of the best convertibles on the entire market today.
For
New 16:10 display options are tops
Keyboard and wider touchpad are excellent
Thunderbolt 4, Wi-Fi 6, optional 4G/5G
Human presence detection
Overall flawless convertible design
Against
Camera could be 1080p at this price
No SD card reader
RAM not upgradeable
Lenovo ThinkPad X1 Yoga (Gen 6): Price, availability, and specs
Lenovo supplied Windows Central with a review unit of its sixth-generation ThinkPad X1 Yoga. Compared to the fifth generation, it has been upgraded with 11th Gen Intel Core processors (CPU) and Intel Evo certification, a taller 16:10 aspect ratio for the display, dual Thunderbolt 4, human presence detection, and a wider touchpad.
My review unit has inside an Intel Core i7-1185G7 vPro CPU, Intel Iris Xe integrated graphics, 16GB of dual-channel RAM, a 512GB M.2 solid-state drive (SSD), and a 14-inch touch display with 3840x2400 (UHD+) resolution. This exact configuration costs about $2,242 (after a common but generous discount) at Lenovo. If that's a bit steep, introductory models with Core i5-1135G7 CPU, 8GB of RAM, 256GB M.2 PCIe SSD, and FHD+ touch display costs about $1,320 at Lenovo. That's much easier to swallow, especially for this grade of PC. You can also find more expensive models at Amazon and Newegg, though you will have fewer configuration options if you're not shopping at the official site.
One major optional configuration you might be interested in is 4G or 5G connectivity with eSIM support. There also seems to be PCIe 4.0 SSD support listed in some reference documents, though there doesn't seem to be an option to add it on the official website. The system should have no issues supporting it, so you could upgrade with a PCIe 4.0 drive after purchase if you can't get one from the factory. Check out our collection of the best SSDs for some top upgrade options.
Following are the specs as found in the review unit Lenovo sent, with some optional specs mentioned for good measure.
Swipe to scroll horizontally
Category
Spec
OS
Windows 10 Pro
Processor
11th Gen Intel
Core i7-1185G7 vPro
4 cores, 8 threads
Up to 4.8GHz
RAM
16GB LPDDR4-4266
Dual-channel (2x8)
Soldered
Graphics
Intel Iris Xe
Integrated
Storage
512GB M.2 PCIe 3.0 NVMe SSD
Display
14 inches
3840x2400 (UHD+)
16:10 aspect ratio
Touch, IPS
Anti-reflective
Anti-smudge
Low blue light
Dolby Vision
Ports
Two Thunderbolt 4
Two USB-A 3.2 (Gen 1)
HDMI 2.0
3.5mm audio
Audio
Dual 2W speakers
Dual 0.8W speakers
Dolby Atmos
Connectivity
Intel Wi-Fi 6 AX201
Bluetooth 5.2
4G/5G (optional)
Camera
Front-facing 720p
IR camera (optional)
Keyboard
Backlit
Touchpad
Precision
TrackPoint
Security
Human presence detection (optional)
Webcam shutter
Kensington Nano lock slot
dTPM 2.0
Fingerprint reader
PrivacyGuard (display, optional)
Battery
57Wh
65W AC adapter
Dimensions
12.38 x 8.78 x 0.59 inches
(314.4mm x 223mm x 14.9mm)
Weight
From 3 pounds (1.35kg)
Color
Storm Grey
Material
Aluminum
All-around beautiful build
Lenovo ThinkPad X1 Yoga (Gen 6): Design and features
The X1 Yoga (Gen 6) is certainly familiar, though there are some changes to the overall design. Chassis dimensions have been tweaked ever so slightly. The Gen 6 model isn't quite as wide as Gen 5 (314.4mm vs. 323mm), but it is just a bit deeper (8.78mm vs. 8.5mm) and a hair thinner (14.9mm vs. 15.2mm). The color has changed a bit, going with Storm Grey this time instead of Iron Gray. The chassis is no longer listed as having any magnesium, but the removable bottom panel is suspiciously light. The laptop has undergone MIL-STD-810H durability testing to ensure it's built to last.
Despite how thin this laptop is, ports have remained mostly the same. You still get two USB-A 3.2 (Gen 1), HDMI is up to version 2.0, and Thunderbolt 4 is now the standard for the two USB-C ports. One is reserved for charging, though when your battery is topped up it can be used for anything. One port that has gone missing is the proprietary Ethernet extension port. You'll have to use a different type of dongle if you want wired internet, otherwise you're stuck with Wi-Fi 6 or optional 4G and 5G connectivity. You can also connect one of the best Thunderbolt 4 docks for even better connectivity. An SD card reader would go a long way here; if you're working with removable storage, you will need a dongle or dock.
The X1 Yoga's keyboard feels as good as ever during long typing binges. The large keycaps are slightly curved, and they have sufficient travel and a soft bottom. I appreciate the navigation keys — including Home, End, Insert, Delete, Pg Up, and Pg Down — having their own dedicated keys. Not everyone uses these all the time, but having to hit Fn first to access them can be very annoying. I also appreciate the arrow keys all being the same size. Keys are backlit with the standard white light, and the TrackPoint system with red nub sits firmly in the middle. The Precision touchpad feels wonderful when clicked, and it's wider than ever.
Flanking the keyboard on either side is a 0.8W tweeter. This is a move from the previous orientation between the keyboard and display, and I think it works much better. I like the look of the grille on either side of the keys, and audio is better balanced. The bottom of the laptop also has two 2W woofers to help fill out the sound. You get unmuffled audio whether you're in tent, stand, or tablet mode, and the sound is quite decent for a laptop this size. Four far-field microphones live along the top edge of the lid.
The camera is still set at 720p, but the picture seems better than on the Gen 5 model. I could be off the mark here, but I feel like it deals way better with low-light situations. Nevertheless, a jump up to 1080p at this price wouldn't go unnoticed. There's an IR camera included (it's optional), and there's a tiny webcam shutter for added privacy.
Another big addition to the Gen 6 models with an IR camera is human presence detection. The X1 Yoga can detect when you arrive at your PC and when you leave your PC, unlocking or locking appropriately without you having to touch anything. It's a great addition for anyone who often works in public, and it can be disabled if you're just hanging around the house. All models come with a fingerprint reader built into the power button (now above the keyboard instead of on the side), dTPM 2.0 chip, and Kensington Nano lock slot.
Overall, this laptop looks phenomenal. It's thin, it's balanced, and it makes good use of space on the inside. It's also brimming with extra features that make it fun to use. The X1 Yoga is the top convertible that Lenovo offers, and it really looks the part.
A screen you'll love
Lenovo ThinkPad X1 Yoga (Gen 6): Display and inking
One of the biggest changes to the sixth-gen X1 Yoga is the new 16:10 display aspect ratio. The previous generation had a rather large chin that was looking outdated; it's now the same size as the top bezel for some added uniformity. You get more display area for productivity work, and it just looks a whole lot better overall. Lenovo is offering four different displays here, three at FHD+ and one at UHD+ resolution.
This being a convertible laptop, you get touch functionality and a built-in active pen for inking no matter the display you choose. The pen lives in a silo on the side of the laptop, keeping a charge for whenever you need it. It is the thinner pencil design with 4,096 levels of pressure sensitivity, making it best suited for notes and sketches.
Instead of going with a glossy finish like many touchscreens, Lenovo chose instead to offer either an anti-glare or anti-reflective finish for the four screen choices. The basic FHD+ option is anti-smudge and anti-reflective, it has 400 nits brightness, and it has a low power draw. For about $30 more, you can get an anti-glare finish, 400 nits brightness, and low power draw. Next is the UHD+ model with anti-smudge and anti-reflective finish, 500 nits brightness, and Dolby Vision. Finally, for the most money, there's an FHD+ option with anti-glare finish, 500 nits brightness, low power draw, and Privacy Guard to keep people from looking over your shoulder.
The review unit has the impressive UHD+ screen. It's crisp, contrast is spot on, and there's no noticeable backlight bleed during everyday use. Testing color reproduction with a SpyderX Pro colorimeter, I got back 100% sRGB, 91% AdobeRGB, and 97% DCI-P3. These are stellar results, and you should have no issues dealing with color-sensitive tasks like photo editing. As for brightness, the screen gets down to 12 nits and goes as high as 510 nits. I had no issues working outdoors with this laptop.
Slightly above average
Lenovo ThinkPad X1 Yoga (Gen 6): Performance and battery
The X1 Yoga (Gen 6) is available with four different CPUs: Core i5-1135G7, Core i5-1145G7 with vPro, Core i7-1165G7, and Core i7-1185G7 with vPro. The review unit has the i7-1185G7 with four cores, eight threads, and up to a 4.8GHz Turbo speed. It's paired with 16GB of speedy dual-channel LPDDR4x-4266MHz RAM that's soldered to the board. You can get up to 32GB from the factory, so be sure you get what you need since it's not upgradeable. And while the system does support PCIe 4.0 storage, the laptop ships with PCIe 3.0 storage. In this case it's a 512GB SSD from SK hynix.
You get fairly strong CPU and integrated GPU performance here, and the SSD is rather fast for PCIe 3.0. The Intel Evo system isn't going to blow you away, but it's certainly going to be able to tear through just about any given task save truly intensive specialized work. I used it for Photoshop work without any issues, and it will even handle some light gaming after hours.
Here's a look at how the X1 Yoga (Gen 6) performance compares to a bunch of other laptops we've recently tested.
Image 1 of 6
I tested battery life with about 250 nits of screen brightness and the Windows 10 power profile set to "Better Performance." The laptop lasted nine hours and three minutes, a significant improvement from last year's model. Under the same conditions, the X1 Yoga (Gen 5) lasted eight hours and two minutes. Note that this is the UHD+ model; going with FHD+ would no doubt add a bit of life to a charge.
The back panel comes off rather easily, giving full access to the laptop's performance hardware. The X1 Yoga (Gen 6) has moved to a dual-fan system from the single fan in the previous model. They're both small fans, but they do a good enough job of keeping the CPU cool. Unlike the ThinkPad X1 Nano and its antiquated cooling system that has the exhaust on the right side, the X1 Yoga's exhaust is on the back edge of the laptop.
The M.2 SSD is easily accessible, and there's another M.2 slot for the WWAN module. Wi-Fi 6 is soldered onto the board. It doesn't appear that the laptop comes with the proper 4G/5G antenna if the laptop doesn't have the WWAN module from the factory, so be sure to configure it properly if that's a route you're looking to go.
Convertible countdown
Lenovo ThinkPad X1 Yoga (Gen 6): Competition
When it comes to high-end 14-inch convertible laptops, the HP Spectre x360 14 is at the top of our list of the best Windows laptops. It has a taller 3:2 touch OLED display with 3000x2000 resolution, it comes with a pen (though it's not integrated with its own silo), it has quad speakers, and the typing and pointing are excellent. It does not, however, offer optional 4G or 5G connectivity, it doesn't have as good of port selection, and it's lacking a bunch of the premium security and business features that come with a ThinkPad. It's a more stylish choice with its gem-cut style, but it weighs more than the X1 Yoga. Models start at about $1,200.
The Dell XPS 13 2-in-1 9310 is another high-end competitor if you want something just a bit smaller. Its 13.4-inch touch display has a 16:10 aspect ratio, and it's available in FHD+ and UHD+ resolutions. Performance hardware is similar, and the keyboard and touchpad are excellent. Like the Spectre x360 14, this is a laptop better cut out for a cafe than a busy office, especially if you're sometimes looking at heading out on the road. It doesn't have the same durability testing and doesn't have all the same security features as the X1 Yoga. The XPS 13 2-in-1 9310 starts at $1,127.
If you'd like to stick with Lenovo but don't want to pay as much, the ThinkBook 14s Yoga is another solid choice. Port selection is generous, you get upgradeable RAM and SSD slots, 11th Gen Intel Core CPUs run cool, and the build is still high-quality aluminum. The speakers could be better, the display options won't measure up, and you don't get the ThinkPad keyboard, but you can save some money. Models start at about $994.
Be sure to have a look at the best Lenovo laptops for more options.
Should you buy the Lenovo ThinkPad X1 Yoga (Gen 6)?
Who it's for
Anyone who wants a convertible PC with extra business and security features
Anyone who wants the ThinkPad keyboard and TrackPoint system
Anyone who has more than $1,300 to spend on a laptop
Anyone who wants a built-in active pen for inking
Who it isn't for
Anyone with less than $1,300 to spend
Anyone who doesn't want to pay for extra business and security features
Anyone who doesn't plan on using their PC as a tablet
The ThinkPad X1 Yoga (Gen 6) received a sizable refresh this time around, moving the system into a more modern stage that helps it reclaim its spot as one of the best convertibles on the market. The new 16:10 displays are a major step forward, with the UHD+ version I tested offering full color reproduction, tons of brightness, and not a lot of glare. The fact that you can rotate the screen around, pull out the integrated active pen, and jot down some notes adds a ton of versatility to a laptop that's already quite agile.
Typing and pointing on the X1 Yoga are anything but frustrating. This is a laptop built with productivity in mind; it will not stand in your way. Port selection has been updated (although the Ethernet extension adapter is gone and there's no SD card reader) with Thunderbolt 4, performance hardware is faster than ever, battery lasts longer, and zero-touch login has the laptop ready to go almost instantly. Optional 4G and 5G connectivity add just a bit of extra appeal for anyone who needs to remain in touch at all times.
Not only is the laptop packed with secure and practical features, but it also has the looks to fit in just about anywhere. The aluminum body doesn't have the usual black touchpad finish which some purists may dislike, but the Storm Grey is a nice middle ground for a laptop that wants to be both a reliable business partner and a nimble Ultrabook. If you're shopping around for a premium convertible PC that sits on both sides of that fence, the X1 Yoga (Gen 6) is an easy recommendation.
Change is good
Lenovo ThinkPad X1 Yoga (Gen 6)
Sixth-gen updates to the ThinkPad X1 Yoga move it back into place as one of the best convertible PCs on the market. If you want security, durability, and practicality, it should be seriously considered.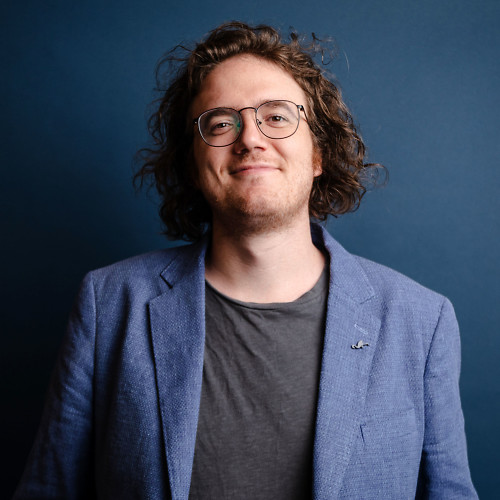 Senior Editor, Laptop Reviews
Cale Hunt is formerly a Senior Editor at Windows Central. He focuses mainly on laptop reviews, news, and accessory coverage. He's been reviewing laptops and accessories full-time since 2016, with hundreds of reviews published for Windows Central. He is an avid PC gamer and multi-platform user, and spends most of his time either tinkering with or writing about tech.