Microsoft needs to start using anti-reflective displays in Surface PCs — now
Move over glossy and take a seat matte. Anti-reflective PC displays are the best thing to happen to laptops, and Microsoft is nowhere to be seen.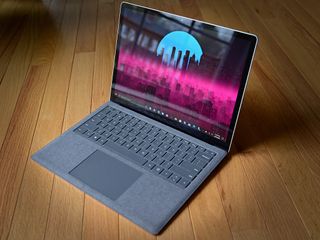 (Image credit: Daniel Rubino/Windows Central)
One of the perks of reviewing dozens of laptops every year is getting to see what cool features PC makers are adding to gain an advantage. The good news is all the big brands, including HP, Dell, Lenovo, Razer, MSI, ASUS, and Acer, are all doing great stuff.
But there's one area I want to see them all doing better: anti-reflective screens.
Microsoft took the lead years ago to shore up its display technology against Apple. It is now slipping behind many of its PC partners, especially in its continued use of super-glossy screens. Here is why it matters.
Glossy versus matte versus anti-reflective
When I mention anti-reflective, many people immediately think I am referring to matte displays and are repulsed by my recommendation. While I enjoy using matte screens for writing, the criticism that they wash out color and contrast is genuine.
Anti-reflective, however, is not matte.
Dell is one of the first companies to embrace the technology, which involves adding a layer usually behind the display (or on top). Its XPS 13 2-in-1 (9370) and new XPS 13 (9300) both use the technique with its Sharp IGZO screens, and it's fantastic (see above image). Both displays retain the glossy effect with excellent color, contrast, and brightness while also diffusing glare under bright lights. I expect the new XPS 15 to get the same treatment.
HP is also using the technique in its recent Spectre x360 13 laptop and its HP ENVY 32, which uses a particular anti-reflective layer behind the display with outstanding success.
Razer is using something similar in the Raptor 27 monitor, which is "non-glare." It does this while achieving some of the best color accuracies in a gaming monitor I have tested.
Many high-end TVs also are including the technology. The excellent site rtings.com performs extensive tests evaluating which televisions offer the lowest reflectivity because it is a crucial differentiator.
Why anti-reflective is important
Glare is a terrible thing on any display. If you spend hours behind one, the experience is taxing and exhausting. Glare is a problem because your eye will very briefly jump between what you are trying to read (text, image, watching a movie) and the light source reflecting on your screen. Your brain can't help it, and plenty has been written on the topic.
The other issue with glare is it is a dazzling light source that is often more intense than the illumination of your display – again, causing eye strain.
Many laptops for enterprise default to matte screens precisely because employees are expected to stare at spreadsheets and PowerPoints for hours on end.
But matte is not great for watching movies, editing videos, or doing any graphical work. As the lines between work, creativity, and home continue to blur, laptops must follow that trend. Dell (and now HP) know this, which is why both comnpanies have invested heavily in a middle ground: anti-reflective displays.
The glaring problem with Surface
To my surprise, Microsoft has not embraced this anti-reflective technology. All Surface PCs exhibit some of the worst glare I have suffered, including Surface Go, Surface Laptop, Surface Pro, Surface Pro X, Surface Studio, and Surface Book.
Glare is such an issue I'm now using a matte display layer (opens in new tab) to compensate on the Surface Pro X. Sure, it helps, but it also goes to the extreme with reduced detail and clarity. An anti-reflective display would avoid these problems.
One argument that could be made is that an anti-reflective outer layer can interfere with or even wear off with inking. Assuming that explanation is accurate, it does not excuse Surface Laptop, which pragmatically speaking, is not an inking device (even if it technically works).
But Dell proved on the XPS 13 2-in-1, which is a convertible inking tablet PC, that such concerns are invalid – or at least solvable.
And that is my point here: I do not care about the technical challenges; that's not my problem to fix. Microsoft has some of the best display engineers on the planet, and if any group could figure this out, it's that one.
So, come on Microsoft. Years ago, you pushed displays technology further than your PC partners. But in 2020, your screens are slipping. Whether it is color accuracy, the lack of Dolby Vision ("HDR"), and now anti-reflective abilities, your screens are no longer the best or brightest in the business. Let's fix that.
Windows Central Newsletter
Get the best of Windows Central in in your inbox, every day!
Daniel Rubino is the Editor-in-chief of Windows Central, head reviewer, podcast co-host, and analyst. He has been covering Microsoft since 2007 when this site was called WMExperts (and later Windows Phone Central). His interests include Windows, laptops, next-gen computing, and for some reason, watches. Before all this tech stuff, he worked on a Ph.D. in linguistics, watched people sleep (for medical purposes!), and ran the projectors at movie theaters because it was fun.
Great point. I think this is even more important for devices on which you write, and more so given that OneNote now has a dark mode.

Sounds to me like Daniel is under an embargo. It's like he's setting the stage for Microsoft's announcements later this spring/summer, doing Microsoft's bidding. If Daniel is under an embargo, it is irresponsible and unprofessional not to disclose that.

I'm not under embargo. Not sure what you're referring to here, either. I'm 99.9% sure Go 2 and Book 3 DO NOT have anti-reflective displays, which is why I wrote this. It makes me mad. I'm hoping that in the fall Pro 8 and Laptop 4 could fix this, which is why I wrote it now. I'm hoping this leans on the Surface team. I also think Neo absolutely needs this too. A more real-life answer is I packed up around 10 laptops this weekend to ship back to OEMs, While I was doing that, I was taking note of what I like and don't like for late 2019, early 2020. laptops. I have another article coming tomorrow on this topic.

You're being accused of knowing that Microsoft are going to announce anti-reflective screens but not being allowed to reveal that publicly, so you're saying that they should do it and then look like a psychic when it happens. I think someone likes a conspiracy a bit too much. Hey, I'm sure you're OK with being called irresponsible and unprofessional on zero evidence though.

lol, sadly, after a decade of this job, I've seen it all. I've also had plenty of people tell me this site is/will fail, etc. Yet, for every year we're bigger than the previous 🤷🏼‍♂️ I do wish Go 2/Book 3 were anti-reflective, but from what I've seen (Go 2) it is not. That means my review (like Laptop 3, Pro 7, Pro X) will have to call it out yet again.

Agree. I grow wary of seeing "me" on my Surface screens and having to "adjust" them to reduce glare. Anti-glare should be "standard equipment" not a 3rd party add on. No offense to 3rd parties intended.

Speaking of anti-reflective technology, wouldn't it affect touchscreens

How? I explicitly mention the XPS 13 and XPS 13 2-in-1. The former is touch, the latter supports inking, both are anti-reflective 🤦🏼‍♂️

Presumably there are considerations to be made if using a layer over the screen but clearly it's was not an issue that could not be addressed.

Stop using laptops in badly lit rooms. You're going to damage your eyes. It's not worth it.

In case this isn't sarcasm: Dude, come on.

lol "Don't change the laptop, change the world around you!" k

Do smartphones and tablet screens have anti-reflective properties? I know they have a coating to reduce fingerprints

At some point at least some iPad models had an AR coating built in, but as far as I can tell no one noticed. Adding cheap screen protectors doesn't help. I noticed recently Samsung started to ship their devices with cheap-looking screen protectors pre-installed - also doesn't help. It just feels like the glossiness of Surface displays is the worst. Right now I can see every detail of my face (and it's not pretty, haha). I'm no engineer but you'd think Corning would have come up with a universal solution by now.

They needed to since day one. Whomever came up with the glossy screen idea should be shot.

Funny how the Surface line doesn't have this since it is also tailored to enterprises and, as the article mentions, businesses need those matte/anti-glare screens so their employees' won't have their eyeballs fall out of their sockets from eye strain.

If you tried/used a modern display with an anti-reflective layer and HDR/Dolby Vision/500+ nits brightness you would feel differently. Being able to use a laptop outside, or under bright lights is a plus, not a minus.

I never use a laptop outside, I'm outside to get away from a laptop.

None of this changes the points I make, and I assume you do recognize your behavior with a laptop is not reflective of all users, correct? Even if you don't go outside, if you work under, I dunno, light bulbs or near a window the same effect is experienced. That is how light and glass work.

Over the years my employer has provided a Surface Pro 4, Dell Precision 5540 (the business equivalent of the 2019 XPS 15) and a 2013 MacBook Pro for work use. The glare on the Surface and the Dell bother me a ton. The MacBook is far, far easier on the eyes and sometimes what I pick up even though it has giant bezels, lower resolution, isn't nearly as powerful, doesn't have my preferred OS, etc. I'm thinking of buying a new personal computer in the next several months and I would love it if Microsoft addressed this.

Can you tell us what type of matte screen protectors you use on your Surface?

It's linked in the article.

Ah my apologies, totally missed it! Thanks so much!

Preach, Brother Daniel! 🙌

I just love the sentimental tone of this article especially in the last two paragraphs. If it works for anti glare screen wishes I think I'll use it more often for fixing half baked tablet and live tile functions I've been waiting for in the last 6 years and counting) in windows 10. Which is long overdue. And no, Windows 10X is not that answer.
But this is software. Daniel is talking about hardware. In that regard I would like to see the return of the the low cost replaceable battery. It is simply preposterous that such a beautiful device that works great is limited by the battery life and becomes a challenge compared to brand new. My surface Pro 5 was a great full day productivity device. It became a a twice a day charging device with battery life anxiety. Oh how many moments I've experienced a sudden shutdown while in an important meeting to have to interrupt it to find a suitable power outlet. Would be nice to just hit swap a new and continue working. Or like Samsung does just put a more beefy battery and an amoled screen with dark mode. Significant difference.
I have not experienced much hinder from glaring screen on my surface Pro. I use it a lot daily, the angle is well adjustable with the kickstand to offset the glare. But it is only my experience, it doesn't necessarily reflect others. But the battery life is definitely a real issue. Maybe achieve a higher ifixit score in that department?

Why is this aimed at Microsoft? Just seems like a VERY odd article.

Well, as I point out HP and Dell are already both doing this already. They're #2 and #3 for laptops. Lenovo needs to do this too, but many of their laptops are business use and already offer matte displays. This is specific towards Microsoft for a few reasons, however: Microsoft Surface is supposed to lead, not follow, trends in the PC space. Right now, for displays, they're falling behind. I'm quite positive the Go 2 and Book 3 DO NOT fix this issue. It ticks me off. But those devices are not my favorite Surfaces - Pro and Laptop are - and I'm hoping this can affect Pro 8 and Laptop 4 design decisions later this year. As a reviewer, Dell are making the best displays right now. I want to give them credit for that. With my recent review of the XPS 13 this difference with my Surface Laptop has been amplified. It's frustrating.

@Daniel Rubino I'm surprised by the push back you're receiving on what I thought was a fair and reasonable article.

So, you're not doing Microsoft's bidding. Microsoft is doing your bidding. Got ya. (Translation: Microsoft WILL HAVE matte displays for Pro and Laptop).

I'm simply pointing out what the best display tech is right now in the PC/laptop space. It's not Microsoft. I have NO info, either insider or official, on Laptop 4/Pro 8 for design, features, or even release. I want them to be anti-reflective, but I've seen/heard nothing to suggest they will be. I would like to change that. It's not a matte display, it's anti-reflective. I went to good lengths to explain the difference in the article ;)

I would have gone with: It's time for Microsoft to roll out the welcome matte for Surface PCs.

lol, while funny, I'm not arguing for a matte display in Surface ;)

Fair enough. I'll save that line for the next time I want to praise the X1 Carbon.

Daniel this is not an attack on you rather a compliment. You give off such sas in most of your replies and it's entertaining.

Nice comparison image. Strange indeed that Surface devices (especially Go and Pro) lack anti-reflective displays.
Personally I find reflections most obvious on monitors and tablets (outside).

I bought surface laptop 3 a few days ago. I see the glare which is heavy. Coming from mcbook pro, thinkpad which don't have this issue. My eyes hurt a lot.

I agree! I've been using macs for about 15yrs and am ready to switch to windows . I'm a developer and MS is offering an amazing dev experience via windows 10 now. I bought a surface about 3yrs ago and ended up buying a macbook pro 13 after about 6 months. The display quality was a big part of switching back. Mirror-like glare and crazy light bleed along the bottom. Still trying to figure out if any of the latest crop of ultra books is going to give me buyers remorse again.
Windows Central Newsletter
Thank you for signing up to Windows Central. You will receive a verification email shortly.
There was a problem. Please refresh the page and try again.