Lenovo Yoga Book C930 is a crazy PC you probably don't need (but will definitely want)
A future where typing will be less critical than inking is closer than you may think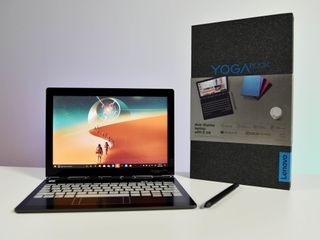 Lenovo has been pushing the boundaries of computing for a few years with its Yoga line but specifically the original Yoga Book. Introduced in 2016, the Yoga Book was a weird glimpse into the future. But it ran like it was in the past with an Intel Atom processor and weak full HD display.
Still, there's something inherently fascinating about the Yoga Book concept: a dual-screen mini PC that puts inking first, typing second, and with an overall focus on mobility. That's why I'm glad to see Lenovo continue with Intel's "Tiger Rapids" concept with the all-new Yoga Book C930 (or the "Yoga Book 2").
In January, I wrote an article stating that dual displays would be the next big push in 2-in-1 PCs. And I spent the last few days with the Yoga Book C930.
See at Lenovo (opens in new tab)
Yoga Book C930 tech specs
Unlike its predecessor, the Yoga Book C930 upgrades every area when it comes to technical specifications, and that bumped its starting price to a whopping $999. The trade-off feels worth it, though, as this mini PC packs quite a punch.
Swipe to scroll horizontally
Category
Lenovo Yoga Book C930
Processor
7th Gen Intel Core i5-7Y54
7th Gen Intel Core m3-7Y30
RAM
4GB LPDDR3
Storage
Up to 256GB PCIe SSD
Display
LCD: 10.8" QHD (2560x1600) IPS touchscreen
E Ink: 10.8" FHD (1920x1080) touchscreen
Graphics
Intel HD 615
Ports
2 x USB Type-C 3.1
Audio Jack
SIM card holder
LTE
Optional (Europe)
Biometrics
Fingerprint reader
Audio
Dual speakers with Dolby ATMOS
Pen
Yes
4,096 pressure level
Wacom
Bluetooth
Supports dual display
Battery
Up to 8.6 hours
35.8WHr
Dimensions
10.25 in x 7.06 in x 0.38 in
260.4 mm x 179.44 mm x 9.9 mm
Weight
1.71 lbs (775 g)
Yoga Book C930 is powerful
Lenovo is using a powerful Toshiba solid-state drive (SSD) that yields nearly 1,400 MB/s read and 600 MB/s write for storage speeds. On a device this thin and light you would expect maybe a lower-cost eMMC chip, but instead, Lenovo put 128GB of storage on board, which is surprising and awesome.
The Intel Core i5-7Y54 is a Y-series chip, which means it does not have nearly as much power as a 15W Core i5 found in most standard Ultrabooks. Nonetheless, it performs very well with 3,805 for single core and 6,884 for multi-core in Geekbench testing. For comparison that's equivalent to a sixth-generation Intel Core i7-6560 (3,494 and 7,469 respectively).
The one thing that may hold the Yoga Book C930 back is the 4GB of DDR3 RAM. While Windows 10 does an excellent job of managing memory, this is the one area where this PC can bottleneck. However, a device this small makes it unclear if people would push the hardware so hard to necessitate 8GB of RAM at this point.
Put the package together, and the Yoga Book C930 is the opposite of its predecessor with an Intel Atom processor. The Yoga Book C930 is a real PC, and it feels like one too, with everything being very responsive.
Image 1 of 2
The dual side speakers produce some pretty good audio for a device this size. Bass is lacking compared to larger laptops, but I wouldn't call it tinny either. The Dolby Atoms certification and software can let those speakers do more than expected.
The fingerprint reader looks excellent, but performance is so-so. I have had a few false reads, and on occasion when resuming from hibernation, the reader does not function at all. Putting a Windows Hello infrared camera into such a teeny display would seem implausible, but I hope some firmware updates improve that fingerprint reader in the future.
Yoga Book C930 impressive displays
Another area of upgrade for the Yoga Book C930 is the jump from a 10-inch 1920 x 1200 to a larger 10.8-inch screen with 2560 x 1600 resolution. The new version also supports Wacom AES inking (4,096 levels of pressure) directly on the color display. The Lenovo smartpen is included in the box.
Without yet having time to complete color accuracy and brightness tests, it seems like a very good display. It's bright, punchy, responsive and that 280 pixels-per-inch (PPI) density is sweet.
Move to the full HD E Ink display, and things get very interesting. Here are some early impressions:
E Ink is slower and less responsive.
Writing on it is OK – not great, but not terrible.
It feels like an Amazon Kindle for reading PDFs.
It has a "screensaver" image.
There are four different keyboard styles.
It's damn cool looking.
What do I think of typing on E Ink? It's nowhere near as good as a physical keyboard, but it is also better than you might think.
By trade I'm a touch typist – I don't look at my fingers – so while there is some adjustment to the Yoga Book C930 when its placed on a table, I can bang out a few emails, notes, or tweets with ease. The combination of haptic systems including vibration, visual shifting of the keys, and audio feedback – all of which are customizable – go a long way to simulate typing on a physical keyboard.
The way the trackpad can optionally auto-appear and hide is a fascinating use of E Ink's abilities. It requires an extra tap to activate the trackpad, but this is something I quickly adjusted too. If you prefer an always present – but much smaller trackpad – you can enable that option also.
Would I want to use this as a daily PC for my job? No. But I also did not hate it for short bursts of typing.
Yoga Book C930 battery is the weak link
It's probably not too surprising that the 38WHr battery, when combined with a QHD touch display and a second full HD E Ink display, a zippy i5 processor and SSD, results in just mediocre battery life. While I have more testing to do, five or five and a half hours of battery out of the Yoga Book C930 seems likely. Those numbers can probably go up if you configure the device with a Core m3-7Y30 processor.
A strong argument could be made that the Yoga Book C930 would benefit from having a Qualcomm Snapdragon 850 ARM processor, which would undoubtedly bump that battery life to eight or more hours – plus you'd get 4G LTE standard (it's now only an option for European markets, not in the U.S.). However, seeing as Intel initially developed this device, there could be some politics at play here too.
Who is Yoga Book C930 for?
So who should buy it? The Yoga Book C930 is entirely a concept-device brought to market for early adopters and boundary pushers. There are compromises, it costs a lot, and most people will not see a need for it.
Inherently, the idea here is to put inking first and typing second. Windows 10 is still too green in this area for an enjoyable all-pen experience, but with the last two feature updates to the OS Microsoft has made some great strides, such as inking in any text box, and navigating with a pen. There's much more work to be done on the software level, but it's clear this is where Microsoft and Lenovo are trying to move.
Image 1 of 2
None of this means physical keyboards are dead. But the concept of a PC is merely expanding to other form factors.
There's something inherently cool and useful about the Yoga Book C930. For reading e-books (right now just limited to PDF support, not books in the Microsoft Store), taking notes, marking up research papers, consuming media, and putting out quick response emails, the Yoga Book C930 is excellent.
At just 1.7 lbs (775 grams) and 10mm thin, the Yoga Book C930 is excellent to toss in a bag. It runs full Windows 10 Home and does not feel like some schleppy budget tablet from years ago. Lenovo (and Intel) are on to something with this design and refocusing of input modalities. The technology is likely still too early but letting the prosumer, and pro-PC crowd jump in on this tech is something that we should embrace even if you cannot justify the Yoga Book C930 for yourself.
Curious about the Yoga Book C930 and have some specific questions? Ask me in comments, and I'll try to explain them here or in our upcoming review.
See at Lenovo (opens in new tab)
Windows Central Newsletter
Get the best of Windows Central in your inbox, every day!
Daniel Rubino is the Editor-in-chief of Windows Central, head reviewer, podcast co-host, and analyst. He has been covering Microsoft since 2007 when this site was called WMExperts (and later Windows Phone Central). His interests include Windows, laptops, next-gen computing, and for some reason, watches. Before all this tech stuff, he worked on a Ph.D. in linguistics, watched people sleep (for medical purposes!), and ran the projectors at movie theaters because it was fun.
I'm curious what kind of experience the e-ink side can offer for students or professionals who do a lot of reading and document mark-up. Having to read for a few hours a day would be much more comfortable on an e-ink display. But what does software support look like, and how well does the pen work (if at all), and can you configure the main display to shut off while you're reading on the e-ink screen if you wanted to save battery? So many questions about the implementation and how it all works in the real world.

Good points. Yes, the displays shut off when you flip the device around like a notepad and you can use either one while the other is off to save battery - it does this by default. Notes are pretty basic for the writing app in E Ink, but you can save, export, etc. PDFs are just in the /documents folder, nothing fancy. Will dive a bit more into that next time.

It'd be nice the e-paper side supports Edge than we can use it to read news, comics and stuff.
It'd be great, if it just mimic the LCD side :p

They do have the ability to make it run FULL Windows 10 under E Ink. Saw it with my own eyes in a briefing ;) They don't have plans to enable it though as it's slow to do anything and don't want to frustrate users, but it was still super cool looking. Maybe down the road.

Yeah, this. Once this, plus the ability to run stuff like Onenote or a store app (eg Samsung Notes to use my Galaxy Note notes) ? on the e-ink side it would offer so much more and have some real appeal. This is V2 ? Maybe V3 will be good enough for me to leap in ? Assuming they stick with it ... awesome to see some innovation like this though.

Even If it only could show a web pages "reading view" in e-ink, I think that would be fantastic.

Is this like the original, and the pen doesn't function directly on the top screen?

No. Pen works everywhere is Wacom AES for top screen.

I love that they released this. I would love to see the e-ink display on the back of the main screen and then just have a regular keyboard as well. Or perhaps a try-fold model keyboard/hd screen/e-ink screen. The e-ink screen would fold to the back of the hd screen when open and in between when closed. Then you could have the keyboard detach if you wanted.

In 2018 I'm still loving my keyboard, but hey each to his own. If some knucklehead out there wants to try and be productive on this nightmare of an input device then have at it. BTW my hipster brother in law owned the 1st gen Yoga Book for about 2 days, and then wised up and sent it back. Why? The virtual "keyboard" LOOKED cool... but even he had to admit the "cool" experience was left wanting. That said... I'm sure a virtual keyboard has a use case. I just can't for the life of me think of what it is. When AI is good enough to accurately translate my speech to text, maybe. But until then...

This looks better in theory than in practice. Trying to type on that would be a nightmare. This is the proverbial solution in search of a problem that doesn't exist.

Your hot take is itself based entirely on theory since you haven't actually used the device. 🙄

It's not about making solutions to problems that don't exist. It's about innovating the design of computers. Do you really think we're still going to have the exact same physical keyboard 300 years in the future?

This is the right response. People who say "solution in search of a problem that doesn't exist." really do not understand technology or computing. Lots of people told me smartphones were useless in 2005 and that no one cared about email on the phone, let alone messaging. These people just simply lack vision.

I'm going to go out on a limb here and respond to your comment, rather than to the thread in general and say this:
I really like the look of this device, and I like it from a technical perspective, but keyboards have been around for a very long time (It's stating the obvious, but they existed long before computers), and have become ubiquitous for a reason. They are a very efficient way of doing a specific task. We've had a lot of practice at making them and a lot of practice at using them, which is why we still use them.
They are the single most efficient way to enter large quantities of text (voice recognition is great, until you have to go back and edit something, or until you need to update a document in a public area).
What has changed it that people have become more accustomed to using phones and tablets, and to using electronics in environments other than at a desk (Laptop isn't an oxymoron anymore).
People (I was going to say, the younger generation, but it's probably too generic a phrase for this), just can't type like they used to. They aren't taught to type in school, and they often don't pick up touch typing professionally (People on this forum are the exception, rather than the rule) as A) They don't need to type as much as people used to do, and B) They are used to using phones and tablets or sitting in less than ideal conditions that don't allow for ideal typing positions.
I personally use an older model mechanical keyboard. I can type faster than I can write, and I can tell if I've made a mistake simply because it doesn't feel right when I hit the wrong key. I can use keyboard shortcuts much faster than I can use a pen because I barely need to move my fingers and I certainly don't need to take my eyes off of the screen.
This used to be common. It used to be normal, but it's sadly a skill that's in decline.
I don't think that this laptop is a solution for a problem that doesn't exist (again, I love the concept), but I do think that it's a solution for a recent problem that has been created by our use of modern devices without fixed keyboards, and our rushed lifestyles that lead us to have to enter text on the fly.
Yes, this device is good for annotating, and it would be great to be able to switch between different languages on the fly (I've written documents in three different languages at once before, this isn't particularly common in the wider world). But the problem that it's solving is that "people" are poor typists.
Give them quality keyboard, a proper desk, and some typing classes, and watch them go.
Innovation is great, but sometimes it's better to upgrade the user than to upgrade the technology.

"I really like the look of this device, and I like it from a technical perspective, but keyboards have been around for a very long time (It's stating the obvious, but they existed long before computers), and have become ubiquitous for a reason. They are a very efficient way of doing a specific task. We've had a lot of practice at making them and a lot of practice at using them, which is why we still use them. They are the single most efficient way to enter large quantities of text (voice recognition is great, until you have to go back and edit something, or until you need to update a document in a public area)."

Two responses:

iPads

. People are fine owning devices where text entry is not the #1 modailty of interaction or usage.

Inking

. This device prioritzes inking - on either display - over typing as an input modality. Re: #2 is it too early, the software not ready? Probably. Is it also personal preference and specific use cases where inking makes sense

over

typing? Absolutely. Do either of those negate the market need, or innovation to make inking better - or as natural as real writing? Totally not. That's the innovation part you are missing. Being able to walk around and write (vs typing), or drawing out schematics, or marking up a PDF with notes is

still

a major area where people do work in that typing simply does not address. This makes a bold leap in that attempt. I also think you miss the concept that AI and machine learning is going to go a long way in the near future to help typing in less than ideal environment such sas this. The fact you don't even mention the possibility there reinforces this idea about lack of imagination. These are the kind of problems that AI/ML are meant to solve. Again, probably too early, but you have to start somewhere.

I'd argue that when the typewriter came out, a lot of people saw it as a solution in need of a problem. They could write just fine, and really how many people write that often and that much they need a typewriter? ;-) All that training to use it well, all that desk space taken up. Of course, times changed. I could see a lot of people these days working with touch screen input or pen input and occasionally pulling out a Bluetooth keyboard to type out that one long email/report, (or game than needs a keyboard or a controller) but mostly using onscreen inputs.

Actually, on my Dell XPS, i use the pen for any chat messages. Since i have it, i do more handwriting than ever before. It takes a bit to get used to it, but then it just comes so natural sitting on the sofa and just write with a pen. Also, making Powerpoints with Pen is so much more fun and also faster than it is with mouse.

It's actually not all that bad. I was a little concerned about it at first, but muscle memory just kind of takes over and your fingers hit the right spots. Not great for long papers, but for short emails and the like it is just fine.

Do you know if the yoga book c930 supports tilt brush with the wacom aes?

I haven't experienced any tilt support in sketchable and fresh paint with the included pen.

Why is LTE not supported in the US?

Checking on the LTE version, it appears it is compatible with LTE and 3G UMTS of T-mobile and ATandT. Just order one from UK and have them ship over....

Looks like an enlarged Surface Andy! :-)

A couple random questions:
- How configurable is the keyboard? I know you mentioned there are 4 different modes. Do any of them allow you to switch the Fn and CTRL (you know, so a sane layout)?
- I didn't notice if you said if it comes with Windows Home or Pro (I may have missed it). Assuming it had Pro (either pre-installed or upgraded) can it run Hyper-V? (I know, I know. Someone will tell me I shouldn't run Hyper-V on a machine like this. I'm not saying I would run Hyper-V on it. I just want to know if I could. For...reasons...)
- How picky are the USB-C ports about charging? Could you make up for the less than stellar battery life with a USB battery pack?

Can't configure the keys but can select different languages for the keyboard. Comes with Windows 10 Home. If you upgrade to Pro you can run Hyper-V on it. The USB-C ports are a bit picky but you can absolutely run a battery pack off it (just tried the Dell Type-C battery pack and everything lit up)

This is pretty enough I could live with it's faults. I hope they enable the desktop to extend onto the e ink screen. Seems like that would be great for reading and drawing apps.

They just need to add sone tech to make alphabet and symbols recognizable by touch. And pressure sensitive so it won't type if you just put finger/s on it lightly...

I won't be buying this anytime soon, but if you're going to do away with a physical keyboard for physical typing, it would be great to use the e-ink keyboard for swipe-typing, the way I enter text on my phone. It's almost as fast as physical typing though with more errors. I wonder if there are any technical reasons that would prevent swipe typing on an e-ink input device.

Yup my question is also can you swipe type. I can touch type no problem also but I find I rather swipe on a screen, especially the small swipe keyboard, not the big one

No swipe as this is the first E Ink KB of its kind, but there is room to grow for sure in two areas: Swiping. I agree this makes sense, though I'm not sure E Ink response time is there yet. Maybe. Text prediction and AI will be HUUUUGE (eventually) in assisting in less than ideal typing environments like this. It's not here yet, but Lenovo is using a third-party typing engine and in theory, it could get better down the road.

How easy/quick is it to switch between different languages on the keyboard? Do you need to go deep into settings, or is it simply a button on the keyboard? Do you know if there are any brick and mortar stores planning on carrying it? This looks intriguing as a second device, but I'd like to get my hands on the screen/keyboard and actually see what it is like.

Great review daniel. One thought however about this comment: "However, a device this small makes it unclear if people would push the hardware so hard to necessitate 8GB of RAM at this point." I don't think that should be the yardstick on memory - there is just no excuse for 4gb devices anymore. 8gb RAM needs to be the new standard for all Windows 10 devices; anything less is an unnecessary bottleneck with just no justification.

I would really like to see how taking notes with this would be. I think it is the right size and being able to use both screens at the same time would be useful to me. People say typing is better, however it has been shown, writing your notes, aids in retention. I often take notes I will never refer back to, just to help me retain more of what I hear.
The only thing that scares me off is the 1000 price tag and no LTE. I am trying to decide whether to upgrade my iPad to one with pencil support which would have LTE, move to a base model Surface Pro, or this. I would just hate to spend that money and discover that inking is better on something else.

So... I bought one! It's charging and setting up now (aka downloading my large OneDrive files) so I've yet to fully play with it, but I gotta say I love how snappy and smooth this is. So light too! The keyboard was easy to adjust to but I've yet to type anything lengthy up on it. Will report back maybe.
I actually bought this because I think it'll fit my needs perfectly, I mostly consume and read and take notes. The "work" I need to do is mostly on web pages and spread sheets etc. I appreciate the review you did on this, Dan, as I was hesitant, but Best Buy's return policy is good through January 2019 right now so I have several months to really play with this and if it doesn't work out then at least I gave it a good long try.
As for the 4gb RAM complaint that people claim (without actually trying it I noticed) I doubt very much that'll be an issue, especially after your wonderful Surface Go demo on that.

Any idea when the full review will be up?