Lenovo Yoga C640 makes the jump from ARM to Intel's 10th Gen CPUs
Intel's new 10th Gen CPUs replace the Snapdragon 850 platform seen on last year's Yoga C630.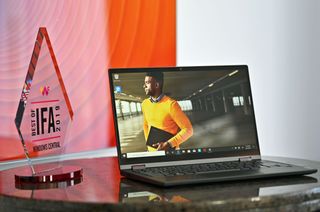 (Image credit: Daniel Rubino/Windows Central)
What you need to know
Lenovo launched the new Yoga C640 at IFA 2019 today.
This refresh drops the Qualcomm Snapdragon 850 chip seen in last year's C630 in favor of Intel's 10th Gen chips.
The Yoga C640 is expected to launch in October starting at $850.
Alongside the launch of its new top-end Yoga C940 2-in-1s today, Lenovo unveiled the new Yoga C640. The C640 is a substantial update to last year's ultra-portable Yoga C630, making the jump from Qualcomm's Snapdragon 850 platform to Intel's latest 10th Gen Core processors.
The focus for the Yoga C640 is still on being as portable as possible. The 2-in-1 laptop comes with 4G LTE connectivity so you can stay connected on the go, though there is a Wi-Fi only option as well. You'll also get optional Wi-Fi 6 connectivity, which is the latest Wi-Fi standard that is only just starting to trickle into the market.
The big change here is with Lenovo's choice of processors. You'll now be able to select between 10th Gen Intel Core i3, i5, and i7 CPUs. Along with the upgraded CPUs, you'll also be able to equip the Yoga C640 with up to 16GB of RAM and up to 512GB of storage. Lenovo states that you can expect up to 20 hours of battery life, which should get you through plenty of work if that number holds true.
Otherwise, the display remains at 13 inches with two 1080p options: 300 nits or 400 nits. There are also integrated far field microphones for Alexa and Cortana, fingerprint login support, an optional pen, and a privacy shutter for the webcam.
Here's a full breakdown of the Yoga C640's specs:
Swipe to scroll horizontally
| Category | Lenovo Yoga C640 |
| --- | --- |
| Operating System | Windows 10 |
| Display | 13.3" FHD IPS touchscreen (300 nits or 400 nits) |
| Processor | 10th Gen Intel Core i7, i5, or i3 |
| Graphics | Integrated Intel HD 620 |
| Memory | 8GB or 16GB |
| Storage | Up to 512GB PCIe SSD |
| Security | Fingerprint sensor, Webcam privacy shutter |
| Connectivity | 4G LTE, Wi-Fi 6 (802.11ax), Wi-Fi 5 (802.11ac) |
| Ports | 1 x Type-C (DisplayPort, USB), 2 x USB 3.1 Gen 1, Micro SIM Card |
| Audio | Stereo speakers, Dolby Atmos with headphones |
| Battery | Up to 20 hours |
| Dimensions | : 12.08" x 8.05" x 0.63" (306.8 x 204.48 x 16.1 mm) |
| Weight | 2.87 lbs (1.3 kg) |
| Colors | Iron Grey |
The Lenovo Yoga C640 is expected to go on sale in October starting at $850 with LTE (even less with just Wi-Fi).
Windows Central Newsletter
Get the best of Windows Central in in your inbox, every day!
Dan Thorp-Lancaster is the former Editor-in-Chief of Windows Central. He began working with Windows Central, Android Central, and iMore as a news writer in 2014 and is obsessed with tech of all sorts. You can follow Dan on Twitter @DthorpL and Instagram @heyitsdtl.
Disappointed to see they didn't go with the 8cx in this year's iteration. I guess there're still concerns around win32 app performance? Or does the 8cx cost that much more than the 850, that it made more sense to just go with Intel?

What ever the reason may be I haven't seen 1 WoA device announced yet. Hope we see something.

I've been checking out the 8cx. The problem is it's only competitive with Intel's 8th gen CPUs. Graphics performance is behind Intel already bad hd 620 and way behind ice lakes Iris plus. If 10th gen battery claims hold up, the only hope for the 8cx is to be significantly cheaper, which it won't be. I really want a viable option for Intel but right now it doesn't look like Snapdragon is it. Maybe if the 8cx version of this laptop is $850 against an $850 core i3....

I have the SD850.C630 and have to say that for a productivity machine the fears everyone talks about are overblown. First the C630 is fast, even on the handful of Win32 apps I use. The always connected, instant on feature is also a huge plus, and something Intel still struggles with. While I am betting the intel chips get nowhere near the 20+ hours of battery life they are claiming, my c630 routinely gets over 20 in real world use (I've gotten to the point I just leave my power cord at home). Quite honestly the only downside I have seen in WoA on a productivity machine (graphics aren't a huge concern here) is one program I use only had a 64 bit version and couldn't be emulated, but I just went back one version (honestly not much of a downgrade from a functional standpoint) and it had a win32 version that emulates just fine with literally no lag.

agreed i love my c630!!!
the battery life is insane!

No surprise ARM didn't work out. You buy a PC to get work done, not for battery life or "always connected". You have a smartphone for that. ARM just isn't a great choice when you need to get work done.

Obviously not. Why did Acer drop ARM from this device if it is successful?

Well I am a professor so I routinely use my ARM C630 for Office production, Web, media manipulation, extensive OneNote in the lab, wireless projection with live inking in class, a Win32 cheminformatics and structure editor, and I just fired up Civ 4 on it. I've only had one program I use for 'work' not run (just switched to the previous gen on that program)... but I have just starting leaving my power cord at home because even my 14 hours on days don't drain it. Plus the thing is only a hair thicker than my SP with the keyboard attached, but runs better and cooler.

Then why does the C640 drop ARM if it is so great?

But the 8cx means you can get 7th Gen Intel performance ("getting work done") with ARM battery life. The problem isn't ARM, it's the success of Intel squeezing lots of battery life and performance out of its 10th Gen chips. Intel may have out competed ARM.

I've had plenty of intel chips claim high battery life and never actually deliver anywhere close (oh well we turn down the screen, or we don't wirelessly project, or we throttle the chip), the SD850 actually does deliver around 20 hours without me having to change anything about my day, so I forget to charge it one night I am fine.

Is the Lenovo C640 the only new offering with 4G LTE? It appears that way.

I wonder what this means for project limitless, the 8cx 5g prototype they have shown.

I purchased 3 C630's and really love the form factor and benefits of arm but Lenovo's support for the device was terrible. Each of the 3 devices had their own unique issues. Calling in results in reps who have a limited understanding of how to troubleshoot regular Windows and non-existent understanding for Arm. I was finally able to locate the reimage tool on Lenovo's site but the image corrupted 2 of the machines. Hoping for a better experience when the 8cx devices start to show up on the market.

Wondering the same. It looks like Intel 10th Gen is about a big a jump as was the case from 7th to 8th, though the emphasis is different. 20 hours of claimed battery life (real life 12-14 in guessing) is huge for Intel, comparable to ARM but with beefier performance. That means there's basically no need for me, a battery conscious laptop buyer, to go ARM. And I don't think I'm alone.

Heat, fan noise, better wireless integration (ARM systems have demonstrated better 4G performance), plus I'm betting battery life will be nowhere near the claim in real life (intel always tweaks the system too much to get their claimed time).

Plus better responsiveness, I've never had an intel chip have anywhere near the instant on that the ARM chip give me.

> I've never had an intel chip have anywhere near the instant on that the ARM chip give me My 2010 MacBook Pro was on by the time I have finished opening the lid... somehow I do not think that this is processor-related at all. I suspect that the whole "instant on" for WoA is due to the fact that they were able to ditch all the bloat, ASL writers put in to support wide variety of OSes running on those machines.

do they'll present a new snapdragon 8cx device? maybe with a less confusing naming?
Windows Central Newsletter
Thank you for signing up to Windows Central. You will receive a verification email shortly.
There was a problem. Please refresh the page and try again.