Lenovo's Yoga 920 is a contender for the convertible laptop crown
Lenovo's Yoga laptops have long been considered the cream of the crop when it comes to convertible laptops, and for good reason.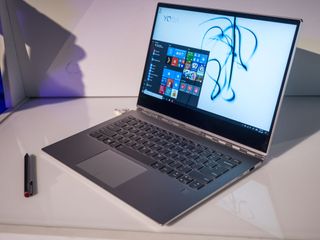 The new Yoga 920 takes everything we know and love about the Yoga line and gives it a thorough update. Could this be the new best convertible?
Let's start with the specs, which the Yoga 920 has in spades.
Swipe to scroll horizontally
Category
Spec
Display
13.9-inch HD or 4K IPS touchscreen
Processor
Up to 8th-gen Intel Core i7
RAM
Up to 16GB
Storage
Up to 1TB SSD
Ports
2x USB-C Thunderbolt 3
1x USB-A 3.0
1x audio jack
Security
Fingerprint reader
Pen
Lenovo Active Pen 2 with 4096 levels of sensitivity
Weight
1.37 kg / 3.02 lbs
The Yoga 900 series has been Lenovo's top-end convertible laptops (and among our favorites), and the Yoga 920 carries on that tradition. It sports the newest 8th-generation "Coffee Lake" Intel Core processors in i5 and i7 varieties, packs up to 16GB of RAM, and a spacious 1TB SSD storage option. All of that powers a 13.9-inch IPS touch display in your choice of Full HD or 4K resolution. Opting for 4K also means opting into a higher-power processor, both of which will eat into your battery life — Lenovo claims 15.5 hours of battery life for the 1080p version, while opting for 4K will cut that down to a still reasonable 10.8 hours.
Even with its marvelously thin bezels, Lenovo worked hard to put the camera back where it belongs: on the top of the display. Goodbye, up-nose selfies from the below-screen camera of the 910. The signature watchband hinge of the Yoga series carries on into the 920, and it's as beautiful, smooth, and solid as ever.
Image 1 of 5
Lenovo's partnered with Dolby to build Atmos audio into the Yoga 920. You won't notice it much with the speakers on the laptop itself — they're good, but not mind-blowing — but if you plug in good headphones the Yoga 920 begins to sing.
The Yoga 920 sports an all-metal unibody design and will be available in three different colors: platinum, copper, and bronze. Sorry for anybody hoping for a darker color. In addition, they'll have a pair of laptops with Gorilla Glass panels stretched across the back… they just happen to be sporting the symbols of Star Wars in the form of a red Rebel Alliance logo on white or the gray Galactic Empire on black.
Image 1 of 2
The Lenovo Yoga 920 will be available in October 2017 for a starting price of $1329.
Windows Central Newsletter
Get the best of Windows Central in in your inbox, every day!