LG announces first 16:18 'Square Double' display; lets you see more, move less
The days of vertically challenged monitors are numbered.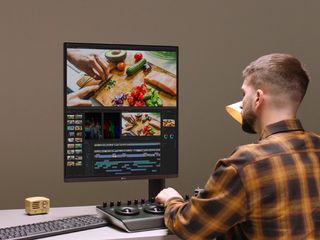 (Image credit: LG)
What you need to know
LG is announcing two new monitors as part of its CES 2022 lineup.
The first is the 32-inch, 4K LG UltraFine Display, and the second is the LG DualUp monitor that introduces the 16:18 format to the monitor market.
More details about these monitors will be revealed at LG's CES 2022 press conference on January 4, 2022, at 8 a.m. PST.
LG has new screens coming to consumers, and we now have our first sneak peek of what the offerings will look like. We know about two monitors that are set to appear at the company's CES 2022 lineup: The LG UltraFine Display and DualUp monitor.
The LG UltraFine Display contains a lot of what you'd expect from a high-end screen. It provides 32 inches of action at 4K UHD (3,840 x 2,160) resolution on a Nano IPS Black panel with a 2,000:1 contrast ratio. It also supports AMD FreeSync and features a variety of ports including USB-C, DisplayPort, and two HDMI slots.
Meanwhile, the LG DualUp monitor is shaking things up by moving past the ye-olde constructs of 16:9 and 16:10. Instead, it's going all-out with a 28-inch 16:18 "Square Double" QHD (2,560 x 2,880) display. It sports a brightness cap of 300 nits compared to the UltraFine Display's 400, and a 1,000:1 contrast ratio compared to the UltraFine's 2,000:1. Also, the DualUp doesn't play ball with AMD FreeSync. But in exchange for drawbacks on the specs, you're getting a brand-new screen format.
What's super interesting is the DualUp "elevates user comfort with the ultra-adjustable LG Ergo stand which saves space as it clamps securely to most desks and tables." So, no traditional stand, but a clamp instead.
LG notes that the DualUp's unique design "helps reduce side-to-side head movements, the main cause of neck pain." Indeed, the monitor looks great for video editors who can have the content on top and editing tools on the bottom in one large window. It also opens the door for more creative setups, including side-by-side DualUp screens.
All we know is it's cool, different, and we're excited to try one out ourselves.
The DualUp has the same port selection as the UltraFine. Both monitors have 5ms response times and the DualUp supports auto-brightness.
More details about both machines will be revealed at CES 2022 during LG's virtual conference on January 4, 8 a.m. PST, so tune in then for additional information including pricing.
Windows Central Newsletter
Get the best of Windows Central in in your inbox, every day!
Robert Carnevale is the News Editor for Windows Central. He's a big fan of Kinect (it lives on in his heart), Sonic the Hedgehog, and the legendary intersection of those two titans, Sonic Free Riders. He is the author of Cold War 2395. Have a useful tip? Send it to robert.carnevale@futurenet.com.
Looks like the perfect monitor for something like an iPad Pro ?

Almost impossible to buy a small secondary monitor these days.
Not everyone wants or needs 2 x 24 or 2x 27.
One 27 and small 17 inch would do.
Can't buy em. This double up is too big

Would also be great for retail displays and for design.

At 1000:1 contrast ratio, I'm guessing it also doesn't support HDR, which unfortunately rules that intriguing form factor from working well for visual creative work. I don't do too much of that myself, but I don't think giving up HDR is a compromise I'd want to make buying a new monitor in 2022. Otherwise, I'd love to put 3 of them side by side for my main workstation.

It has "HDR10,", so not real HDR in a significant sense. The bigger 16:9 one is HDR400.

I would love to edit videos with this! We need height for editing.

16:18 is a double-stacked 16:9 setup. It looks interesting for video editing but it's too square for documents. How about doubled 3:2 to get 3:4? Or a horizontal iPad-style 4:3.

Not sure it's so bad for documents. With something like Word, you could have some side stuff like outline and review columns and still have a full document view.

I could definitely use it for my Adobe indesign work

Man, I never thought I would see the day that people would ask for the original TV aspect ratio back again. This wouldn't be too bad for documents, nothing would beat 16:10 for that, but this would be ok, it allows space for other information.

"I never thought I would see the day that people would ask for the original TV aspect ratio back again.", that is also because manufacturers pushed for 16:9 screen to cut costs (eg a 16:9 14" screen has 12.3% less screen area than a 4:3 14" screen, http://www.displaywars.com/14-inch-16x9-vs-14-inch-4x3). But now that people buy more premium laptops, it would be logical partially reverse this trend (thankfully 16:10 and 3:2 are slowly becoming more mainstream again for laptops).

You could always snap 2 documents vertically (may need to use FancyZones). I also like this square ratio for snapping 4 windows.

A 16:9 with a vertical division becomes two 8:9.

I would think your eyeballs don't want to go up and down as easily as they go left and right. If you have progressive glasses, this monitor would suck. Progressive glasses change prescription as you look up and down. It does save desk real-estate though.

It will be interesting to see how games support it. Widescreen and even now ultra widescreen took some time until they got support. This could work well for RTS games and MOBA, out of the box. Also twin stick shooters and mostly every top down game. We'll see if this trend continues. I like seeing new things done in the monitor space.

This one should named as Snappier monitor. Multitask would be easeier.

Just finished watching the new Matrix and I'm sure the duelup, is used in it. Looks pretty slick if it was

I'm sure there's a niche for this ('cause there's a niche for everything), but "consumer" is not where I'd expect it. Yeah, LG... they're such rebels.

Looking forward to the first 16:18 laptop 🤣

LOL, nice. The good news is there is finally room for a numeric keypad.

I would like to see 2-1 laptops with a similar screen (so in tablet mode you have this large screen area like an Ipad Pro 13" or Surface Pro 8 has), it also better ergonomic wise in laptop mode since the screen is more on eye height.

Pass. I'd rather have 2 separate 16:10 displays, which is probably way cheaper too.

I'm going to need 3 of these for my home office. These would definitely help me be more productive. Gotta figure out how to convince the bean counters at work. 🤔

Seems very useful for a work pc, and ergonomic wise too. I would be nice if something similar would be translated to something portable too, like maybe a bigger Neo with some kind of stand and bluetooth keyboard/touchpad.

I do dig the design of this screen, It's feeling very tall, But not too tall to look, But I think this screen will be target for people who coding and video editing.

i think this would be a great monitor. can't wait to see it in person. if priced right, I will buy one
Windows Central Newsletter
Thank you for signing up to Windows Central. You will receive a verification email shortly.
There was a problem. Please refresh the page and try again.